[feature image from reuters.com]
I'm going to be honest here — Occupy Wall Street stresses me the fuck out.
There are a lot of things that needed to be said about Occupy Wall Street that have already been said. And that's a good thing. Since its launch in New York just over a month ago, OWS has expanded and developed, responding to criticism and refining its message while broadening its base. Such activity has solicited near-constant commentary all over the Internet (must be the hashtag); Autostraddle discussed it here after its launch, and here on the ground a few weeks later.
So. According to a bunch of signs held by a bunch of people, We Are the 99%, but upon further inspection, I'm not so sure. Call me a cynic or a Republican (just kidding, don't ever call me that), but ever since the Occupy movement kicked off in New York just over a month ago (and I've attended OWS in three different cities since then) I've just been having… weird feelings about it. And it's this weird visceral knee-jerk reaction of discomfort that makes it feel so stressful.
Because I'm an activist, aren't I? Don't I have radical politics? During college didn't I emerge sleepless from my dorm room after having spent the night deconstructing class, race, the two-party system, capitalism and the military-industrial complex as if I were the first person on earth to, like, notice the machine, man? Wasn't I just waiting for other people to notice and agree? Well I was, and now here it is, so why does it feel so strange?
Occupy Wall Street is correct in that it's starting a large-scale conversation about class. At the same time, it's also problematic because it oversimplifies the class struggle. To characterize the fight as 99% vs. 1% and then to attribute this disparity solely to Corporate Greed, while true in some ways, overlooks a lot of details. It forgets the stratification that exists within that 99%. It characterizes everyone's struggle as the same. It sometimes forgets that, although the 99% do not hold the majority of the nation's wealth, that some people within the 99% grew up and are still living comfortably while others have only known poverty in their whole lives.
We need to recognize this as class war, but we need also to recognize the complications that come with it. We need to recognize and take advantage of intersectionality and diversity that does exist and isn't reflected, and it has to be more than just Occupying the Hood. Because yes, it is powerful to recognize that the rich become rich at the expense of the rest of us, and yes, it is fucking radical to call that out on a national – and now on a global – scale, but we have to remember to give a nod to history. We have to recognize the historic systematic injustice that has landed certain groups of people at the bottom of everything. It's recognizing that race isn't just a separate and indefeatable (or worse, nonexistent or irrelevant) animal, but rather that it is something that is intrinsically tied to the socioeconomic structures that OWS is trying to topple today.
This movement, despite its best intentions, can be problematic. Brooklyn Boihood discussed it here, and Colorlines did a roundup of commentary here. Economic inequality, joblessness, police brutality, and a lack of resources that promote social mobility? These grievances are problems that Indigenous people, people of color, women and immigrants have been facing for literally all of American history. But now these problems are creeping into the white, upper middle class, and now everyone is appalled that people could possibly be treated this way. Real talk: for anyone not in that small percentage this has been our history. For some, it continues to be their reality.
We're participating in a conversation in which the tone and terms are being set by upper middle class white people. That is not the 99%. And so it leads to a conversation that is exclusive in nature. The term 99% is, sometimes, a disservice to itself and to the people it claims to represent.
But where exactly does my distrust stem from?  My hesitance to fully support OWS feels like somewhere I've been before. Somewhere where I put myself in a position of rally and support, only to find that when progress rolled around, it didn't always include me. And then I remembered: oh yeah, I'm fucking gay.
As a queer lady of color who's been active in the LGBT community, I've seen what it's like to be left behind. I've seen people in 'my community' or 'our community' attain victories under the banner of human rights struggle that are completely irrelevant to me, or only relevant to some. I've seen attempts at diversification, and often it looks tokenizing. I've seen maybe one million different permutations of the LGBT acronym itself – adding letters, rearranging letters, throwing in numbers – and I'm pretty sure it didn't actually make anyone feel all that more included. And so I have to ask, if Occupy Wall Street succeeds, who will be left behind?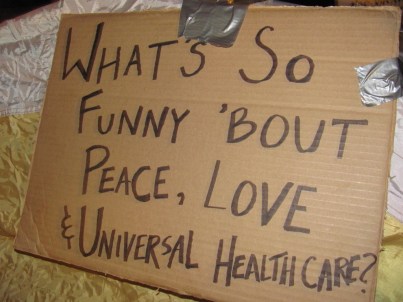 I don't want to be looking up at this movement from a distance or a place of silence. I don't want to be looking down on this movement from an ivory tower. This movement is interesting and meaningful because it is decidedly a very educated movement. And although a lot of its organizers and leaders (I know this is, like, a 'leaderless' movement, but let's be real about who's speaking and making decisions at these marches, okay) hold a lot of privilege, but hopefully that also means that they're educated about privilege. And if they're not able to recognize that, then honestly, what the fuck are we educating people for?
Am I being cynical or realistic? What is life? I'm exhausted from having an existential crisis every time I look at my Facebook news feed.
And I guess what I feel is hurt. Hurt as someone who has fought and talked and taught about justice, equality and visibility seeing a movement about these values taking off — and not seeing myself reflected in it.
I don't think it's wrong to ask what will be in it for me. I want to be included in the solution. I deserve it. During the Netroots Nation panel that I participated in, panelist Heidi Barton Stink made this point about inclusive spaces: If they're not meant to include you, then they never truly will. And maybe that's true. But what's also true is that this large movement is made up of a lot of smaller movements. The grievances that these protesters claim are grievances that people in the United States have been facing for generations, and it is because of  that that we should be involved. OWS makes the mistake of feeling like it in itself is the solution. But in reality, people have been working on finding a solution for ages. This is just a conglomeration of those groups, it's an opportunity to gain followers and allies; it's a wide audience for a number of messages. What exactly does 'success' mean for OWS? It could mean giving power to conversations and movements that activists, organizers and thinkers have been having for years. It could go beyond fighting against corporate greed to fighting for economic justice.
Having visited occupations in three different cities at three different points in the still-burgeoning movement, I've seen an explosion of progress, but I've also seen that there's a lot farther to go. Each occupation is different, although the general sentiment is of course the same. The conversations that I've witnessed and participated in have reflected a lot of the activist culture in the respective cities of New York, Chicago and Washington, D.C. I've seen a people's mic in New York that spouted mostly esoteric activist jargon about inclusion and consensus from the mouths of mostly white men. But I've also seen a people's mic in Chicago that included a diversity (an actual diversity) of speakers discussing their causes and experiences, speaking about hope and solidarity, and about how our greatest power is to empower each other.
One of the most meaningful statements I've heard in the protests has been in Chicago, where a speaker at the people's mic elaborated on the mantra "Enough is enough." The phrase, he explained, should be more than just a statement about being fed up with bullshit. It should mean that enough is enough, literally, and for everyone. Enough money to live comfortably, enough to eat, enough to feel safe. It was a check on power and privilege, from corporate greed to personal ego.
At the end of the day, I will support Occupy Wall Street, though I probably won't be camping out any time soon. The movement itself has ignited something fierce in thousands of people, and that fire has the potential to reside in thousands more — if the movement can diversify authentically.
A place where this is beginning to see success is in the inclusion of the labor unions. Corporations have historically abused and exploited immigrant labor, and now that fight is appropriately shifting its focus to communities of color and undocumented workers while still paying respect to the European immigrants who fought for labor rights legislation generations before. Why? Not because they're trying to appear more diverse, but because these are the communities that these issues are disproportionately affecting. OWS could take some notes from that kind of shift.
I will continue to support it because I don't think that support should equal silence and blind following, that's not a movement I want to be a part of. I'm not going to be silent because I'm not going to watch this movement take off and leave me behind. I believe that there can be change because OWS has responded to criticism before, and the call for diversification grows louder and louder with each blog post, each conversation and each news story.

People are drawn to OWS because, well, it's sexy. In an age of education, dissent is sexy, questioning is sexy; hitting the streets and camping out are all genuine, passionate and visceral reactions to a very real feeling of having been slighted. But it's also a group of people who don't quite know what to do with themselves. OWS is an easy thing to latch on to because it's there. Because it's real. Because people are talking about it, and even when that talk is criticism, that criticism is still validating its existence, because it's proving that OWS is something worth talking about. Now it's up to OWS to take that attention and that momentum and distribute it, because the only time that enough isn't enough is when you're talking about building the power of the people.