After Monday's US Circuit Court of Appeals ruled that Prop 8 is indeed unconstitutional, we were relieved of any doubt that Protect Marriage, the group pushing for Prop 8's existence, might try to take their case to the Supreme Court. That's pretty much all we know for sure, though, and a lot of that has to do with the makeup of the current set of Supreme Court justices — especially one Justice Anthony M. Kennedy.
Four of the nine Supreme Court Justices are generally categorized as "liberal" — Ruth Bader Ginsburg, Elena Kagan, Sonia Sotomayor, and Stephen Breyer — and four are conservative — Antonin Scalia, Samuel Alito, Clarence Thomas and John Roberts. Kennedy is also conservative, but he doesn't always fall in line with the other four, and he has a particularly non-stereotypically-conservative stance on gay issues. Court opinions he's written in the past have asked that gay couples be granted their dignity, along with "respect for their private lives," causing Scalia to complain that Kennedy had "signed on to the so-called homosexual agenda."
Stanford law professor Pamela Karlan seems confident that Kennedy will rule against Prop 8 — "He is a California establishment Republican with moderately libertarian instincts… He travels in circles where he has met and likes lots of gay people." But not everyone feels as confident, and other people's perceptions of Kennedy's potential ruling have a lot to do with whether Prop 8 will make it to the Supreme Court at all. While a majority of 5 out of 9 votes are needed to decide a ruling, at least four justices also need to vote on whether or not the Supreme Court will hear the case at all. If no one else in the Supreme Court is confident that Kennedy will rule the way they want him to and make sure their opinion is the majority, they may just not vote to hear the case.
But Kennedy does have a fairly strong history of considerate and respectful opinions when it comes to gay rights cases, and if the case does manage to go to the Supreme Court, he may be one of the most important allies marriage equality has ever had. He also has a minor conservative loophole, in that while the Court of Appeals did agree that Prop 8 was unconstitutional, they didn't say (like Judge Walker did) that it was because it was discriminatory. Instead, the ruling was based on the fact that gay couples in California had already had marriage rights, and taking them away was unfair. So if he so chooses, there's a way for Kennedy to agree with Walker in a court of law without necessarily having to make any sweeping statements about gay rights or discrimination.
Coincidentally (or not), Kennedy actually wrote the opinion in the case that formed the precedent for striking down Prop 8, Romer vs. Evans. In 1996, the court's ruling said that a voter referendum in the state of Colorado couldn't legally prohibit recognition of gays and lesbians as a protected class under the law — in short, that even though voters had supported it, it wasn't legal to prevent queer people from being protected from discrimination. The state argued that all the referendum did was prevent gays from accessing "special rights," but Kennedy's written opinion disagreed — "To the contrary, the amendment imposes a special disability upon those persons alone. Homosexuals are forbidden the safeguards that others enjoy or may seek without constraint." Kennedy also questioned whether the amendment proposed by the referendum had any legitimate relevancy to the state or state government. Years later, Judge Vaughn Walker wrote in his decision on Prop 8:
"The guarantee of equal protection coexists, of course, with the reality that most legislation must classify for some purpose or another. See Romer v Evans, 517 US 620, 631 (1996). When a law creates a classification but neither targets a suspect class nor burdens a fundamental right, the court presumes the law is valid and will uphold it as long as it is rationally related to some legitimate government interest… Most laws subject to rational basis easily survive equal protection review, because a legitimate reason can nearly always be found for treating different groups in an unequal manner. See Romer, 517 US at 633. Yet, to survive rational basis review, a law must do more than disadvantage or otherwise harm a particular group… Whether that belief is based on moral disapproval of homosexuality, animus towards gays and lesbians or simply a belief that a relationship between a man and a woman is inherently better than a relationship between two men or two women, this belief is not a proper basis on which to legislate. See Romer, 517 US at 633…"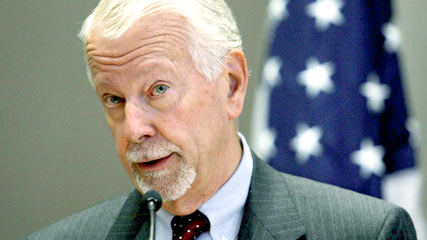 A Supreme Court ruling, if we get one at all, likely won't come until at least 2013. There's no way to know how Kennedy will rule, and it's possible that even he doesn't know at this point. The justice system isn't always an ally for marginalized groups in America, and it hasn't always been our friend even in this specific case — for instance, the stay that means marriages still aren't legal right now in California regardless of how many times Prop 8 has now been declared unconstitutional. But to the extent that we have won victories in court, Kennedy has been behind a surprising number of them, and it may be safe to begin hoping, just a little bit, that he might be behind us now too.