In this 90-minute video recording of JoJo Siwa's mother's apparent podcast "Success With Jess," we find our bubbly protagonist, erstwhile reality star and current entrepreneur / movie star / recording artist / hairbow enthusiast JoJo Siwa, exploding with happiness on the sofa with her girlfriend, Kylie, who keeps a hoodied arm slung around JoJo for the parts of the interview in which they are not simply clutching each other's hands or staring at one another with undying, eternal, long-lasting devotion.
Why, one may ask, did I witness ("watch" is probably generous, as I multi-task fairly aggressively) a 90-minute video of JoJo Siwa and Kylie being interviewed by JoJo's Mom about their relationship and how Kylie became JoJo's girlfriend? In order to do so, my eyes were forced to endure a morally suspect number of motivational signs, often coated in glitter, adorning the tightly-packed gallery wall of the podcast room.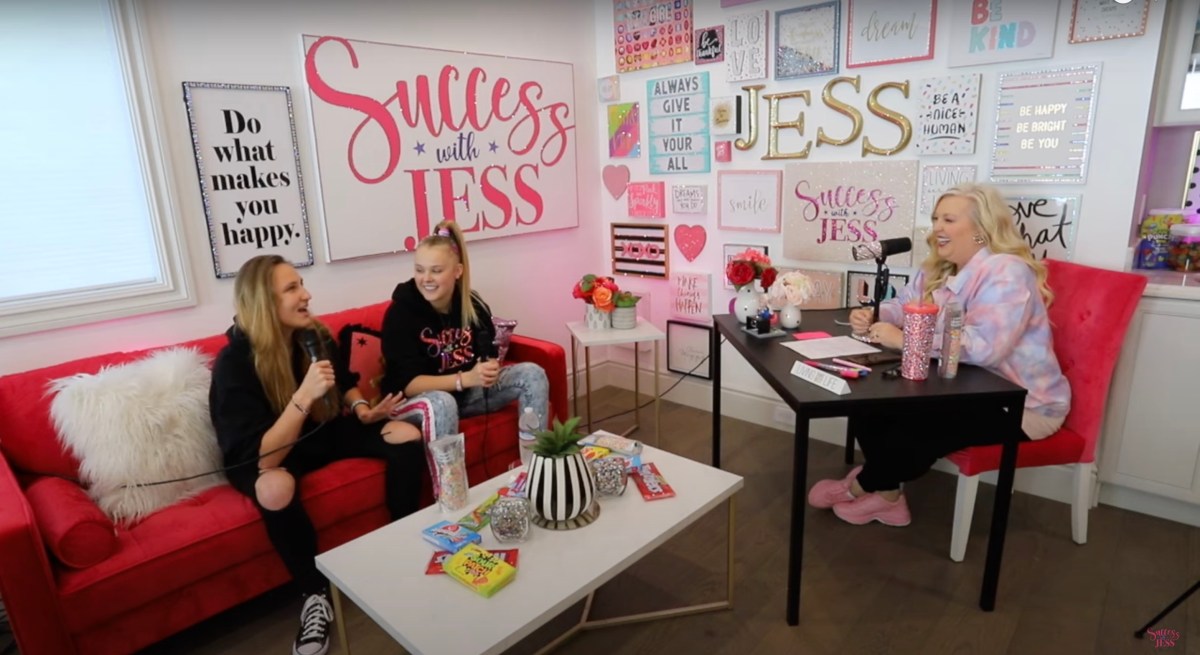 I truly don't know, but y'all it was really fucking cute! It's rare to experience this level of personal disclosure about a lesbian relationship from anybody, let alone a famous person, let alone a young famous person, let alone a famous person with a popular line of children's apparel at Wal-Mart. Like many of you I had no idea that JoJo Siwa existed until she came out earlier this year, at which time I learned that she not only existed, but was perhaps the most well-known Gen Z personality to ever come out as queer. Since then, she's been incredibly open about all of it, undoubtedly inspiring many of her fans to live their own truths.
I invite you, too, to experience the blissful all-in joy radiated by two teenagers who have never had their hearts broken and sleep in a bedroom made out of actual candy. They have no filter, you see. They want to tell us the story of every moment of their courtship — meeting, crushing, their internal journeys with their own sexualities, Kylie allegedly being a "player" before JoJo came bopping into her life, Face-Timing, butterflies, kissing, holding hands, teasing, all of it. There is a particularly touching story that begins with "So, we were on the Rock and Roll Rollercoaster—" There are moments when the overprotective elder dyke in me wants to say "okay slow down" but then I change my mind every time, recline into my Wayfair couch, and simply smile at the screen and say, "bless their hearts."
In this video, we learn that JoJo calls Kylie "love bug" and Kylie calls JoJo "pretty girl." There is a small section devoted to their employment of baby talk that I could not endure, but I'm confident others will find it endearing and relatable. We learn that Kylie, who lives in the Florida Keys, has switched to home-schooling for her senior year of high school in order to spend more time with JoJo. Apparently Kylie came to JoJo's in May for a two-week visit and did not leave until I don't know, last week? Listen.
The confidence with which they dispense relationship advice! The steadfast adoration in their starry-eyed gazes! The eagerness with which they actively want to be alive and have in fact never found the world to be more full of awe and wonder than it is at this very moment! "I didn't realize til the end but I was smiling the whole time," wrote one YouTube commenter. Honestly, somehow, same?