Today is Canada Day! Isn't that fantastic? We're big fans of Canada around here — in addition to having a few Canadian writers and tons of Canadian readers, my girlfriend is Canadian and she talks about Canada all the time. Having visited Toronto, Windsor, Victoria, Vancouver and Halifax, I strongly agree with her assessment that Canada is a fantastic country filled with nice people and also clouds.
Last year we celebrated Canada Day with 50 Pictures of Ellen Page, but she's definitely not the only Canadian worth crushing on. This year we've assembled a list of just some of the many delightful Canadians from our queer & trans communities to present to you. You've probably already figured that part out yet.
24 Kick-Ass Lesbian, Bisexual, Queer, Trans & Otherwise-Identified Canadian Performers, Athletes & Authors
++
18. Anna Paquin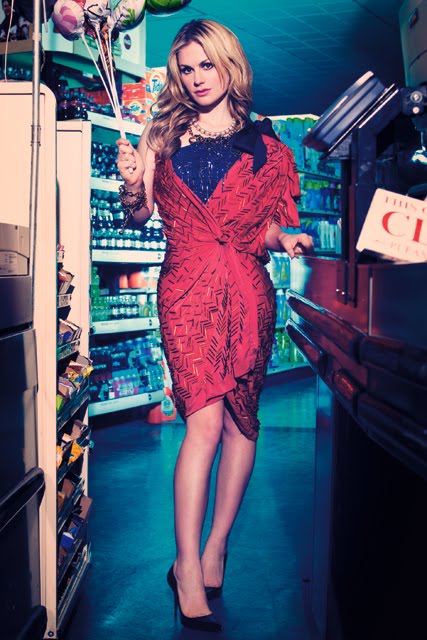 Bisexual actress Anna Paquin stars in True Blood and won an Oscar for The Piano when she was only 11 tiny years old!
++
17. Nalo Hopkinson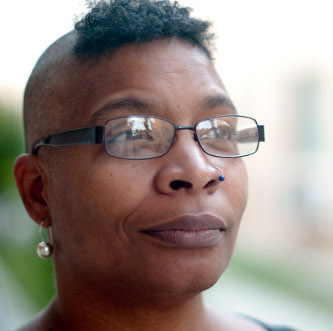 Nalo Hopkinson is a prominent award-winning sci-fi/fantasy writer who I actually first heard of because I worked for her literary agent for nearly two years. (Her book The New Moon's Arms was about to debut during my tenure there.) Born in Jamaica, Hopkinson has been a Canadian for over thirty years, where she writes novels, edits anthologies, teaches and freelances as an arts consultant.
+
16. Samantha McLeod
Fun fact: the girl who played Cherie Jaffe's daughter Clea in the first season of The L Word — you know, the one who had a big fat lesbian crush on Shane and then ruined Shane's affair with Cherie and it was all very sad — is Canadian and also queer.
+
15. Hunter Valentine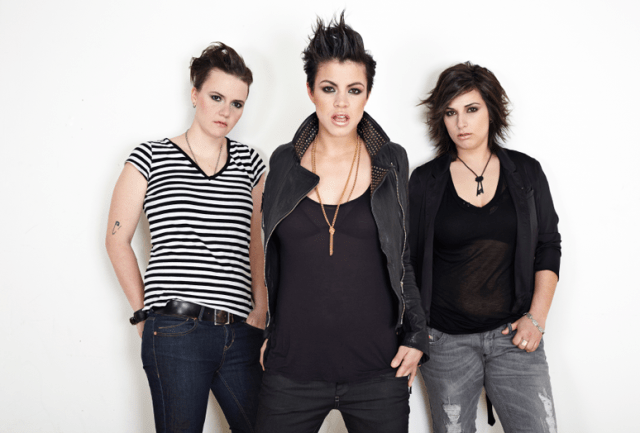 These alt-rocker ladies have been making a name for themselves stateside, specifically in Brooklyn (look out for them in The Real L Word's third insufferable season!), but Hunter Valentine is actually originally from Toronto.
+
14. Gloria Eshkibok
This two-spirited actor, singer and activist has appeared in numerous theatrical, television and independent film productions and is the lead vocalist for the Unceded Band. Gloria was born/raised on Wikwemikong Unceded Territory in Manitoulin Island.
+
13. Lesbians On Ecstasy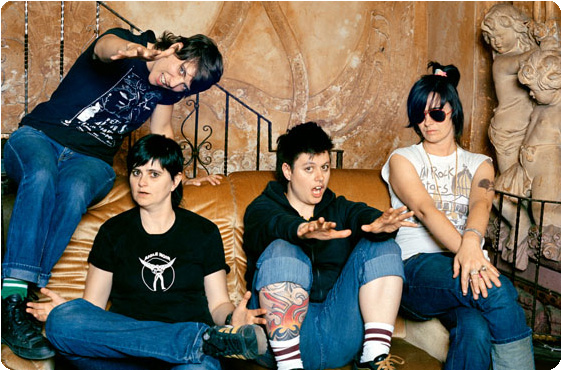 Since 2003, Lesbians on Ecstasy have been sharing their delightful electropunk with the world by making albums (Their self-titled debut was awarded "Album of The Year" by The Advocate) and touring — including a recent spot opening for Le Tigre.
+
12. Peaches
Queer musician Merril Beth Nisker, aka "Peaches," was born in Toronto and currently dwells in Berlin, Germany. Her electroclash/synthpunk/dance-punk music is known for its critique of gender norms and sexually explicit language. In addition to making albums, touring and doing backup vocals for people like Pink and Christina Aguilera, her music has made it on TV shows like The L Word and movies like Mean Girls. Also, her outfits are epic and now I have "Lovertits" in my head.
11. Jane Rule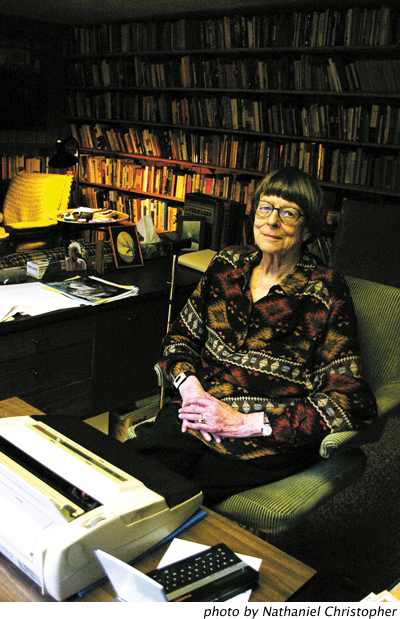 Lesbian writer Jane Rule is a Woman You Should Know About. She was born in New Jersey but, after college and working abroad, settled in Vancouver, Canada, with her partner Helen Sonthoff (they would later move to Galiano Island, where Rule passed away in 2007). You've probably seen Desert Hearts (if you haven't, you should!), a seminal lesbian film based on Rule's groundbreaking novel, Desert of the Heart. The novel, the first of over a dozen Rule would write during her lifetime, was rejected 22 times before it found a home and provoked scandal — Rule recalls "I became, for the media, the only lesbian in Canada. A role I gradually and very reluctantly accepted and used to educate people as I could."
+
10. Ivan Coyote
Born in the Yukon, Ivan Coyote is a writer, spoken word performer and writing teacher. They write a column for Xtra! and has published seven books with Arsenal Pulp Press. You may be familiar with their spoken-word piece dedicated to kick-ass femmes.
+
9. Dionne Brand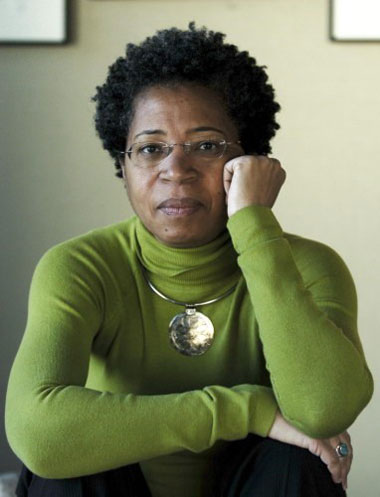 Poet, novelist, essayist, teacher and documentarian Dionne Brand uses her writing, art and research to address race, class and other intersectional issues. She's published multiple books of poetry as well as the non-fiction book Rivers Have Sources, Trees Have Roots, for which she and her co-author interviewed Canadians of color about how racism has impacted their lives. Brand emigrated to Canada from Trinidad in 1970 in order to attend the University of Toronto. Now Canada is her home and she became Toronto's third poet laureate in 2009.
+
8. Persimmon Blackbridge

Persimmon Blackbridge was a co-founder of the Vancouver-based performance and artist collective Kiss and Tell, which concerned itself with lesbian sexuality, a constant theme in Blackbridge's writing, sculpture and other artistic endeavors. She is "known internationally as a pioneer in feminist, queer and disability arts and culture." Mental illness is the other primary theme in her work including her novel Prozac Highway.
7. Michelle Dumaresq
Michelle Dumaresq has been competing as a professional downhill mountain bike competitor for over a decade and has been open about her transwoman identity since day one. She's featured in the documentary Dirt Divas, about female mountain bike racers, and is the subject of 100% Woman. The title was inspired by a t-shirt one of Dumaresq's transphobic competitors's wore to protest Dumaresq's inclusion in the event.
+
6. Elvira Kurt
Born in Toronto, Elvira Kurt is a popular stand-up comedian and television host — she actually hosted the second season of the gay wedding series First Comes Love in addition to working a serious stand-up schedule. Kurt's self-proclaimed gender identity is "fellagirly."
+
5. Sook-Yin Lee
You may recognize bisexual musician and actress Sook-Yin Lee from the John Cameron Mitchell film Short Bus, but she's best known in her Canadian homeland as the host of CBC Rado's Definitely Not the Opera.
+
4. Tasha Tilberg
32-year old Tilberg, born in Chilliwack, British Columbia, is a smokin' hot relatively famous fashion model. She's done heaps of runway work and appeared in advertisements for Fendi, Gucci, Cover Girl and Versace, among others, as well as magazine editorials in pretty much every fashion magazine ever. She recently married her partner Laura Wilson.
+
3. DeAnne Smith
DeAnne Smith, who started doing stand-up at the age of 25, was born in America but has been living in Montreal for so long that Wikipedia calls her a Canadian. You know DeAnne Smith because she writes for this website and is hilarious and tours a lot and sometimes is on the teevee.
2. k.d. lang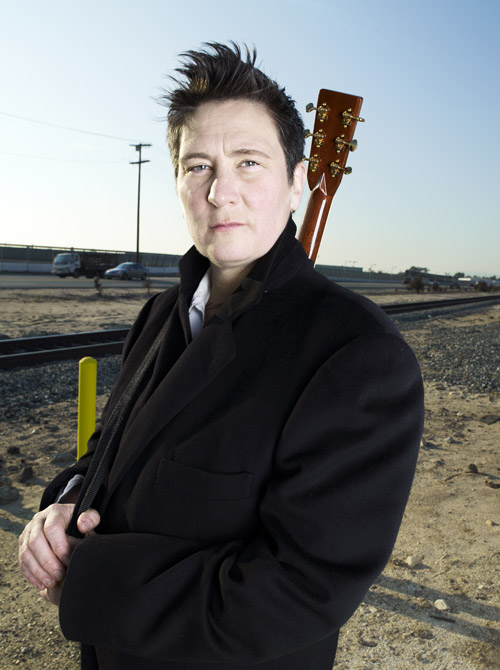 k.d. lang is a serious trailblazer and one of the first popular musicians to come out as a lesbian. I don't really know where to start with a bio on lang. You know k.d. lang.
+
1. Tegan & Sara
Duh.
Who are your favorite Canadians?