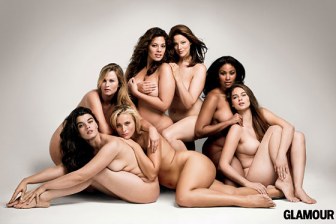 IT AIN'T OVER: Women's magazines are forced to take a look at the womyn in the mirror and tell her she can make that change — perhaps, Glamour believes, the magazine's long-term survival would be best ensured by employing models who appear to eat meals, exercise and shine with pouty lip gloss!! See,  it's almost tacky right now to promote aspirational thinness or glamorize starvation. It was evil before, but women's magazines don't care as much about evil as they do about tacky. So, Glamour is pledging to employ more Plus Sized Models … not without, obvs, an idiotic letter from the editor on this LANDMARK DECISION. I hope this issue also provides me with eight things I am allowed to splurge on and tips for just-out-of-bed hair! Actually I used to love Glamour, but lately it's been hard to handle — the airbrushing makes everyone look the same, and the blatant "GO SHOP BE A CAPITALIST" hand-wringing is uncomfortable to watch. Apparently everyone loved the normal-sized (incorrectly labeled as "plus-sized" in most discussions of her) girl in the last issue, I was one of them, and liked how subtle it was. Of course nothing can be subtle, now we have this. In some disgusting way, I feel I must purchase this magazine and support the idea that not every perfectly-skinned high-cheekboned genetically gifted beautiful lady is a size 2. Some unnaturally gorgeous women are a larger size! WAIT HOLD UP. I still don't feel better about myself, asshats. [-Riese] (@nym)
LADIES IN COMBAT: Forget about being a gay lady in the military, it's hard enough being a Lady in the military. In Australia, women are allowed to take 92% of military jobs and now they are fighting for the other 8 percent. There's arguments that women just aren't strong enough and that they'd be treated differently in hostage or torture situations.
CATALYST: The Caster Semenya controversy has raised questions about gender, being intersex, and now it's causing a GLBT debate in Jamaica.
SENSITIVE FRAT BOYS: Fraternities at George Washington University are making an effort to erase the homophobic culture of "frat life. "According to fraternal historian Nicholas Syrett, America's fraternity culture has thrived on a fear of homosexuality since the 1920's. All-male fraternal organizations, Syrett writes, "compensate for what might be perceived by outsiders as either feminine or gay behavior by enacting a masculinity [of] aggressive heterosexuality."
NO DUH! But GW frats are trying to turn it around. why? because "After all, GW's fraternity brothers are the nation's future congressmen, investment bankers, and CEOs. They won't reach those positions if their Google profiles turn up associations with homophobic and misogynistic fraternities" So that's cool. People are starting to realize that being associated with homophobia can hurt their futures. Because in the future hopefully homophobia's a thing of the past!
POLITIKIDS: Megan McCain weighs in on the media going after the daughters of Spain's prime minister dressing "goth." Intern X says, "when Megan McCain speaks we should listen." Also it's interesting to think about how the media views these kids, Meghan should know.