It's June, which means lots of Seniors just graduated from High School or College! Congratulations! But odds are some graduates are asking themselves "Now what?wp_posts 'Cause the economy is still super crappy and you know what sucks worse than being unemployed in a crappy economy – being unemployed with little to no experience, which is exactly where recent graduates find themselves. The antidotes are plentiful.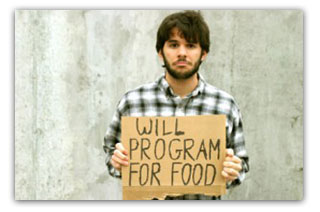 Today's graduates enter the work force not just competing against each other on relatively even footing, but with older (READ: experienced) workers who've been laid off or downsized from previous employers – workers who have the same degrees AND work experience to back that shit up. But take heart young ones. There is hope. Why waste your energy trying to get someone else to hire you when you can hire yourself? All the kids are doing it these days.
And, HEY, I hear lots of folks have a soul-sucking office job. Start your own business. Maybe you could open a cupcake shop, start an ironic t-shirt screen printing business or sell personalized dental dams on Etsy. You do you.
But whatever you end up doing perhaps you can start off on the right foot by taking some pointers from someone who has traveled that path to succes, Lady Gaga. The Wall Street Journal wants you Little Monsters to know What Aspiring Young Entrepreneur's Can Learn From Lady Gaga.
For example:
1. It doesn't take a silver spoon to succeed at a young age. Stefani Joanne Angelina Germanotta, worked her way into the public mainstream from humble beginnings.
2. You don't have to spend money to promote yourself online. Facebook, Twitter, YouTube, even AOL if your target consumer is the elderly.
3. Supporting a popular cause can make you popular, too. Like, I don't know, equal rights for all humans beings.