Welcome to Insta Crush, a new column on Autostraddle dot com where every other week we feature a queer Instagram account we love. I strongly believe that the way we all connect on Instagram is forging and fostering community in new and interesting ways, and I want to highlight the people contributing to that endeavor. Much like Instagram itself, these interviews are a little slice of queer life.
Today's Insta Crush is Jude of @mermaidqueenjude. Jude is a self-described queer and latinx fat story teller and creates so much amazing work online. Jude's links page includes so many different projects I sometimes wonder when she finds time to sleep! If you're looking for a fat activist, a talented photographer (@siguenadandoproductions), a bubbly podcast co-host (@yourfavefemmes), or simply a space to feel like it's okay to be your whole messy complicated self, Jude can provide that.
I loved Jude's work online before I met them in person, but when we first hugged in real life I could feel the sparkles radiating out of their heart. Jude truly puts her whole entire self into every single project they work on, and it shows. Here's the Mermaid Queen herself on their mission, their feelings about social media, and the best place to eat cupcakes in New York City.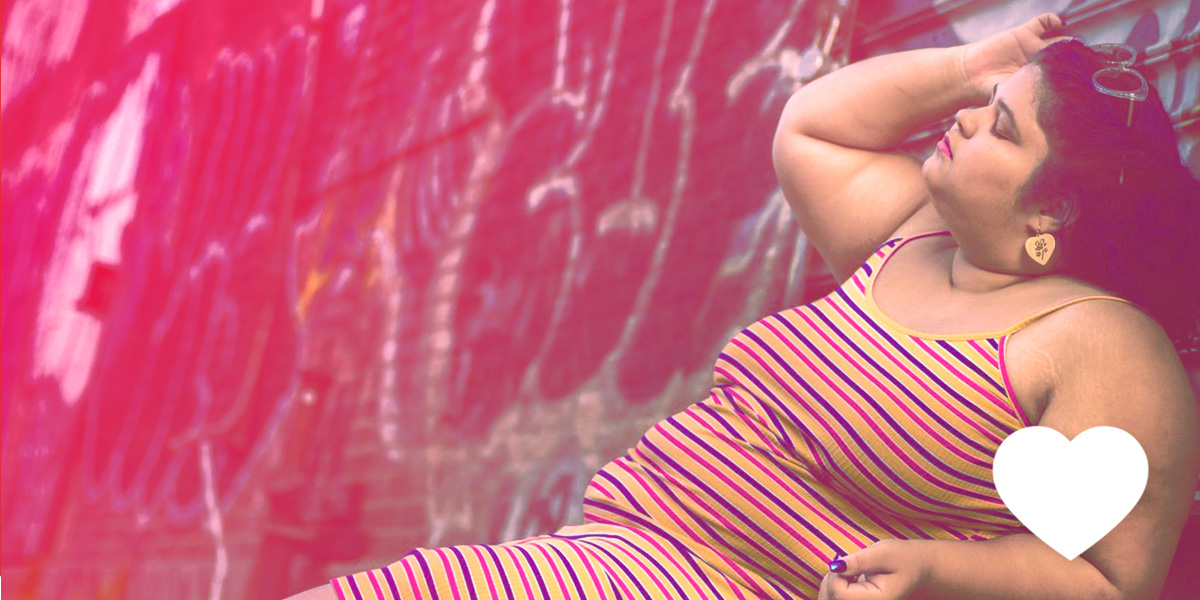 Where does your Insta name, @mermaidqueenjude, come from? Tell me the story behind it.
Wow, I love origin stories. Okay, so. When I was in high school in 2012, I dyed my hair all blue. I was the first one in my school to do it, so people started saying I had mermaid hair. For a while, my favorite animals were penguins, so between my friends my nickname was Penguin Queen. That shifted to Mermaid Queen when I dyed my hair. The @ mermaidqueen is taken by different people on each platform, so I decided to just do @mermaidqueenjude as a rebranding of sorts. I was already creating content on the internet (especially on tumblr) by a different name and I wanted a change.
What's your mission with your online content?
My original mission of my content was to create things that younger me would be proud of and inspired by. I wanted to make content for a young queer latinx fat girl in the world. It's now evolved into fighting for body justice, queer representation, and mental health representation.
I also have an online community called "the mermaid kingdomwp_poststhat prides itself on empathy, compassion, radical self-love and accountability, and so my mission is to empower the people in that community to live and love and be their best selves, as well.
What role does Instagram play in how you get your message out to people?
Instagram is bite-sized blog posts. It makes content accessible, it makes it digestible, and it makes it easy to share. I create these quote graphics with whatever I'm feeling, and an elongated caption to go along with it. These posts have to do with my identities and how I interact with the world, and it allows people to comment and understand what's going on. It also is faster than making a video, which is my primary form of content. But sometimes you just can't make a video and you have to do the content NOW.
What are you most interested in right now?
Right now, I'm working on building out the rest of my content for the rest of the year and talking to my community about what they want to see, and mixing it with what I want to do. I'm excited about branding out into fashion, makeup, skincare, all of these things that are important to me as a femme, but things that have not found their way to my online platforms.
What do you enjoy about building community online?
For someone like me who has multiple mental illnesses, is sober, and has chronic pain, building and discovering community online was a big part of my coming out process and discovering who I was. Building community online is fun and it's a way for me to stay connected, even if I'm inside for days at a time (which tends to happen). It makes building community accessible to me and it makes it so I don't necessarily have to leave my house. Bars and clubs are not exactly my scene, so building my own community that I could discuss and bounce off of was very important to me.
What do you not love so much – or downright hate, haha – about building community online?
People think that you're friends when you're not. There is a difference between knowing a person and knowing about a person. I recently did a video about boundaries and consent for creatives because more often than not, creators are expected to be available 24/7. There's this expectation to be "onwp_postsfor your communities, but that's just not healthy or safe. A lot of us, especially smaller queer creators, do a lot of work for free. I do a lot of free labor because doing identity politics is just not something that goes viral on YouTube, ya know. Someday. But I wish people understood that we need our own alone time as well.
How do you decide the topics you're going to discuss on Instagram and in your videos?
A lot of the times, the topics I discuss on Instagram and in my videos overlap. There's a lot of cross posting and cross promotion. Sometimes it's spontaneous and sometimes it's planned. I spend a lot of time on Twitter and follow a lot of fat activists, queer activists, body positive accounts, etc, so I can see what's topical and what's going on. My community also recommends things for me to cover, and I will often crowdsource and make polls about what they want to see.
When I started my channel, I did this thing where I selected "pillarswp_postsfor my content to fall into, and body positivity, mental health, and queerness are some of those pillars. So whenever I'm stuck, I try and decide on what I haven't covered that I should, anything that I've discussed in therapy, and so on and so forth. I spend a lot of time with myself and in my brain, so the content just comes from there.
What do you wish people knew about you that you're not sure comes across in your online presence?
I struggle with my body image, a lot. I am getting better about reminding people about that on the internet. But as someone who is still on the road of recovery for my eating disorder, I spend a lot of time in psych offices and my therapist's office to deal with the demons that I have inside my head. I have such a "go-go-go, you can do anything" attitude, that new people who come across my content don't know that I also struggle. Eventually they get it, because it'll come up eventually, but sometimes people genuinely don't know.
I think that people also struggle with my non-binary identity, even though my pronouns are in my bio. I use she/her and they/them pronouns and it makes people think that I'm faking being non-binary, but like… I would not fake the gender existential struggle tbh.
What's your ideal way to spend a day?
Okay, in this order: I sleep in, I go to brunch with a few friends, we have a few mimosas, we go to the beach and we swim and get tan, we go and get dinner, we go to someone's house and hang out and play games and watch movies and all have a giant slumber party and fall asleep.
If you and I were gonna go out to eat in NYC, where are your favorite spot(s)?
Thai-Holic! It's so fucking good. It's a Thai place and they have the best Pad See Ew.
Brooklyn Cupcake, also so fucking good. They make Puerto Rican and Italian inspired cupcakes.
Poco NYC. One of the best brunch spots with the best mimosas.
And then there are some hole in the wall Chinese food and pizza joints, of course.
What are some of your favorite Instagram accounts?
@comfyfattravels, @fatgirlflow, @velvet.curls, @maggiemcgill, @yrfatfriend, @fiercefatfemme, @fakeariellejane, @shannon_dsmith, @annieelainey, and honestly so many more…
Is there anything else you want to share with Autostraddle readers that I didn't include?
If you're looking for a cool rad online community, honestly consider joining me on social media and joining the mermaid kingdom. We are very open and love having new members as a part of our family. I love being a humbled mermaid queen, it's good for my Leo/Leo/Taurus self, it keeps me in check. My online community is something that I've poured every fiber of my being into, and am grateful for every single day. I upload every Tuesday and Friday over on Youtube and you can often find me screeching about body politics on Instagram and Twitter. Also doing a ton of self-promo. A ton.
---
If you have a suggestion about which Instagram account we should feature next on Insta Crush, leave a comment here or DM me at vanessatakesphotos.