This One's a Real Doozy
+ In Indiana, lawmakers advanced a particularly horrific abortion bill that would make it nearly impossible to have a safe and legal abortion. There's multiple levels of wtf to HB 1337, which was passed in both chambers of the legislation last week and which now awaits Governor Mike Pence's approval. First of all, under HB 1337, anyone who get an abortion must pay for a burial or cremation of the fetus, which is absolutely absurd! It would also classify fetal tissue donation for scientific research a felony crime. The bill also requires anyone seeking an abortion to have an ultrasound done 18 hours before a scheduled abortion, making the process even worse for women in Indiana, where there are only abortion services found in only four counties in the state. Someone who's already had to travel across the state, taking off time from work and/or away from their family, could have to stay there multiple days. On top of all that, it also dissuades anyone from getting an abortion based on "fetal anomalies" which could force a pregnant person to carry a fetus to term even though they know it won't survive once it's born. Even anti-choice Republican lawmakers are having a hard time supporting this bill.
"The bill does nothing to save innocent lives. There's no education, there's no funding. It's just penalties," Rep. Sharon Negele, a Republican who has sponsored anti-abortion legislation in the past, said this week at a hearing regarding HB 1337.
It's especially frustrating that abortion bills are becoming even more restrictive than they already are! Politicians are straight up breaching women's rights to their own bodies, and not even pretending it's anything different. It's outrageous that this easily made its way to the Governor's desk.
Bills, Legislation, Laws, Oh My!
+ Massachusetts's largest teachers unions, Massachusetts Teachers Association and the American Federation of Teachers, are backing a bill that bans discrimination against transgender people in the workplace and in housing.
+ A city council in Indiana passed a measure to add sexual orientation and gender identity to the city's human rights ordinance. Kokomo Common Council's vote 5-4 to implement the ordinance was met with lots of angry citizens who, of course, opposed the ordinance because they say it violates their religious freedom.
+ Remember when I told you that Oklahoma was considering a shit ton of anti-LGBT bills — a whopping 27 bills that discriminated against LGBT people in some way? Well advocates in Oklahoma have defeated all those bills, which is something worth celebrating!
+ Florida's Governor Rick Scott signed a pastor protection bill that says clergy don't have to marry same-sex couples — a protection they already had, according to the AP.
The Never Ending Presidential Elections
+ As you may have seen on the internet, Donald Trump rallies have been making headlines, memes and tragic video clips. First of all, Trump's supporters are beating up (primarily Black) protestors left and right because they're racist and even his campaign manager, Corey Lewandowski, allegedly assaulted Breitbart reporter Michelle Fields. But on Friday in Chicago, Black, Latino and Muslim students organized together to shut down Trump's scheduled rally at the University of Illinois at Chicago. Trump's campaign said they canceled for safety concerns.
+ Obama talked about the "vulgar and divisive rhetoric" found in this year's campaign trail at a luncheon today. "Too often we've accepted this as somehow the new normal, and it's worth asking ourselves what each of us may have done to contribute to this kind of vicious atmosphere in our politics… It is a cycle that is not an accurate reflection of America, and it has to stop."
+ Today is a super important day in the primaries for the candidates. In today's Super Tuesday, five states are holding their primaries: Florida, Illinois, Missouri, North Carolina and Ohio. On the Republican side, the candidates are scrambling to scoop up delegates. With Florida and Ohio being winner-take-all delegates states, they're crucial in determining how this nomination will turn out. For John Kasich and Marco Rubio, Ohio and Florida are their home states respectively and they're hoping to win them. But of course, Trump is hot on their tail, and in the case of Florida, Rubio is really trailing behind Trump in polls. If Kasich or Rubio lose in their home states, it's possible this will be the end of their campaigns. If Trump loses in these two states, it's possible this will be the difference between whether Trump win's his party's nomination or there'll be a contested convention in July, meaning delegates will actually work out who will be their candidate.  So today feels very high stakes for the Republicans and for us too because I feel very scared at the thought of Trump being the official Republican nominee. On the Dem side, Hillary is expected to win the Southern states while it'll likely be a close call in Midwest states.
Grab Bag
+ In New York City, 25 public schools will participate in a pilot program that gives middle school and high school students free tampons and pads. The New York City Department of Education estimates it will cost $160,000 to implement the program in Queens and the Bronx. Queens Councilwoman Julissa Ferreras-Copeland is the person who first sponsored legislation around free menstrual products for students. Her aim is to provide resources for low-income students to help them succeed in school. "Girls in these districts face the greatest financial hardships," Ferreras-Copeland said. "I want to ensure none of them lose class time, face illness or feel humiliated because their family cannot afford pads."
+ The White House appointed its first transgender LGBT liason, Raffi Freedman-Gurspan. She's a trans Latina and public policy expert. She was first appointed to a White House staff position last August but is now serving as outreach and recruitment director for presidential personnel and associate director for public engagement. She was a policy advisor at the National Center for Transgender Equality and was instrumental in passing Massachusetts's Transgender Equal Rights Law while she served in the state's House of Representatives.
+ A 20-year-old Native American man, Trevor O'Brian, died by suicide last week after years of anti-gay harassment.
+ A judge denied Kathryn Knott a reduced sentence for being part of an anti-gay attack in Philly, which means she will have to serve between five to 10 months for her actions. Her two male friends who were also charged relating to the assault got off with only probation and community service while she elected to go to trial. The judge told her that she had a "complete disconnection with the incident itself and a failure to take personal responsibility herself for the crimes she was convicted of." In 2014, Knott and a group of friends verbally harassed a gay couple which then escalated to violence resulting in one victim being hospitalized and needing his jaw to be wired shut.
+ Kenya's media regulator asked Google to block a music video by a band called Art Attack because the video features same-sex couples and "does not adhere to the morals of the country." Google ignored them.
+ A 13-year-old Haitian American girl from Brooklyn was raped by her male classmate and endured further humiliation and degradation when the video of her rape circulated around her middle school. She reported the rape and was met with inaction by her school's administration even though under Title IX they should've throughly investigated her case. Instead of providing legal services or counseling, the school administration sent her home and told her to transfer schools. The boy who raped her and videotaped it faced no consequences. Buzzfeed reports on how G.'s story is an example of how difficult it is to protect and help K-12 students who face sexual assault under Title IX.
A Series of Downright Hateful Events
+ Kevin Swanson, an evangelical pastor from Colorado, basically said on his radio show that Girl Scout leaders should be hung or drowned (just like the Bible says to do!)  because they support LGBT people. "You don't gain friends by exposing the Girl Scouts, it's an American icon… people aren't going to be all that impressed with you taking a stand against an organization that promotes lesbianism and abortion and contraception for 14-year-old girls." He might not be friends with us, but he's friends with Ted Cruz!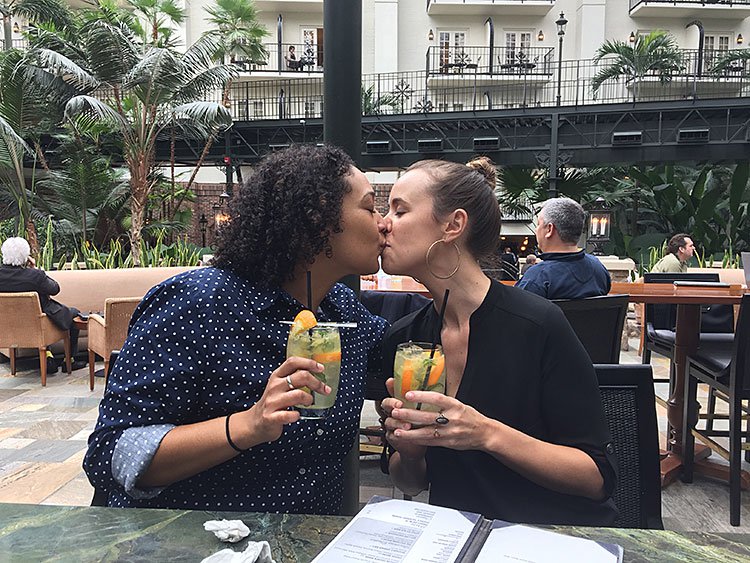 + A lesbian couple endured homophobic attitudes from other guests while staying at the Gaylord Opryland Resort in Nashville. Crystal Cheatham and Jardana Peacock stayed at the resort owned by pro-LGBT company Marriott International at the same time the super anti-gay and islamophobic National Religious Broadcasters conference took place. So all your favorite idiot pundits were all gathered in one place to talk about how the gays are ruining their religious freedom and stuff like that. Even politicians showed up, like Ted Cruz and Ben Carson. Anyway these women, were stared at, scowled at by the conference attendees and were even told that homosexuality was wrong.
+ Two stupid shitbags vandalized a Northwestern University nondenominational chapel. The two college freshman spray painted the chapel with racist, anti-gay slurs and also wrote the word "Trump."