Previously on The Fosters, Stef had a double mastectomy to prevent her inclusion on this list. Callie got caught in a cycle of being perpetually hoodwinked by the foster care advocate who bankrolled Fost & Found. Mariana started dating a Degrassi-looking fella named Nick whose main draw is that his dad owns a warehouse that can be used for birthday parties and Shakespearean rock operas. Writing that second thing is what Brandon has been doing all season, of course. Jude broke up with Connor over Skype, and also disappeared and reappeared in random intervals with nary an explanation. And Jesus met his birth dad; he's on the sex offenders list for sleeping with Ana when she was 15 and he was 18, and that's how the twins got born.
This is a delightfully Stef and Lena-centric episode, setting up for next week's R AND J ROCK OPERA FINALE, so let's just get the teenage angst out of the way real quick.
Mat and Zoey are making out at R and J practice, and so are Mariana and Nick. When Brandon calls them all to order, Mariana and Mat start squabbling about how the other one shouldn't be able to do any kissing with any other people in this warehouse, or date cast members, or date the people whose parents own this space, or generally just date people. Mat slips to slut-shaming so easily it's nauseating, disparaging whatever pop star comes to mind that landed on the madonna side of the madonna-whore dichotomy the music industry pushes every woman into. Nick jumps to Mariana's defense, and when both Mat and Mariana stomp away, Zoey explains that Mariana deserved all the name-calling because one time she cheated on Mat.
Nick cannot believe such a thing! Cheating! CHEATING? Mariana goes to Brandon for advice and he tells her one thing about sex is sometimes you wish you hadn't done it, but you can't let it dog you forever; you've got to channel your inner Elsa and let it go into the frozen tundra of regrets and recriminations. He's had an experience he's not really fond of either. Callie overhears him say this and assumes he's talking about her. (He's not. He's talking about his dad's ex-girlfriend.) So Mariana tells Nick that she did cheat on Mat, and she's not proud of it, and she doesn't intend to make it a pattern. He's cool with her explanation, so long as she promises to just tell him when she's into Mat again instead of ghosting on him. It's a deal.
About three second later, Mat and Mariana are smooching smoochily, pretending to be R and J, while Brandon stands over them and applauds that finally his superior directorial skills have broken though the barrier of their thespian limitations and pulled this performance out of them. Why, they really seem like they're in love, thanks to Brandon! Maybe after writing this musical about Romeo and Juliet like no one's ever done before, he'll write a musical about a Founding Father. He knows just the guy: Alexander Hamilton!
Before marching off to accept his Tony Award, however, Brandon canoodles for one minute too long with Courtney the bartender and Stef sees him, which means she and Lena have to give him a talk about being careful and also not having sex until he's 18 because Courtney's 21 and that's an issue. Brandon protests that Stef and Lena are three years apart and they pat his wittle head because he doesn't yet understand the difference between teenage years and adult years.
Jesus spends most of the day hanging out with Gabe at the R and J warehouse; he's helping them build a set, which he's legally allowed to do as long as there's an adult chaperone around. At the end of the day, though, he accidentally ends up there alone with Mariana and the police bust up into the joint like a SWAT raid because someone accidentally tripped the alarm. Mariana tries everything to keep them from forcing Gabe to share his ID, but they won't relent and ultimately end up arresting him for being alone with a minor.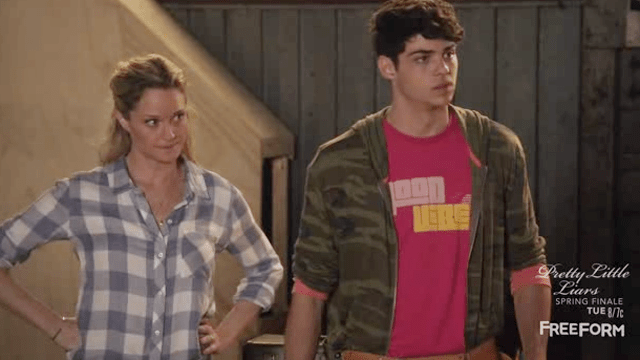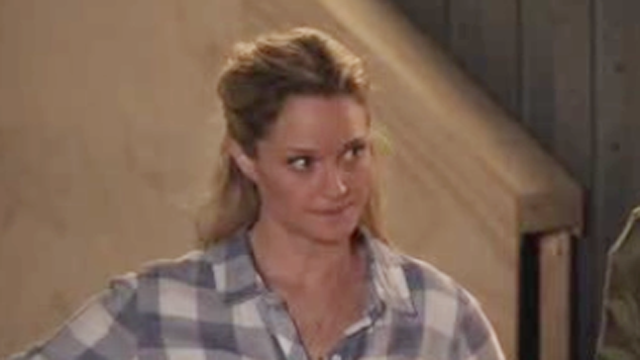 Callie, as usual, has a much more traumatic day. She's trying to help Daphne regain custody of her daughter, but the judge is leaning toward giving her foster parents full adoption rights if Daphne can't get a job that will allow her to support herself and her child without government assistance, which is the biggest bunch of bullshit I have ever heard in my life. She's a single woman of color whose earning power has been completely stunted by getting trapped in the foster care system and she has two weeks to find a job that will allow her to pay rent, bills, childcare, healthcare, and living expenses without assistance from the government that failed her in the first place? Fuck your bootstrap Republican bullshit, fictional judge!
Callie turns to her good pal Justina. Callie's interviewing her for her senior project, during which Justina weaves this yarn about how her parents were fostering a child that was like a sister to her, but then one night the state came and took her away and wouldn't even let her take her favorite doll. Later that night Callie comes across a video of Justina telling an audience the same story, except for she's the one getting carted away in the night with no doll, and not a foster sister. Callie confronts her about it and Justina says it doesn't matter that she's clearly a pathological liar; what matters is she can get Daphne a good-paying job and she can get her daughter back if Callie will just keep on marching to the beat Justina's banging. Callie agrees.
STEF AND LENA STEF AND LENA.
So.
Stef and Lena.
Stef is annoyed as heck about all the doctors visits she's having to go on to prep for her reconstructive surgery. She doesn't know why she didn't just let them do it when she was having the mastectomy, but Lena reminds her that her body was already going through a lot and she needed time to heal. In fact, as far as Lena's concerned, Stef doesn't need to put her body through anything else. She can cancel the reconstructive surgery and go flat and be done with it. Stef's worries are that a flat chest will make her look even more butch (Lena: "What's wrong with that?") and that Lena won't find her attractive (Lena: "I'll have sex with you right now if you want to.") Stef jokes and deflects but Lena is serious. She's in love with Stef, wholly committed to Stef, attracted to her through and through. Her breasts don't even factor into the equation.
If it's hard to believe thats's a conversation two lesbians are having on TV, wait'll you get a load of this: Lena talks to a couple of her friends at school who had breast cancer. One had implants done and the other did not. They're happy to talk to Stef about all of her options, and their own thought processes about what was right for their bodies. The only thing Stef hates more than talking about her feelings is talking about her feelings with someone who isn't Lena, but Lena nudges her to do it because she wants to support Stef but doesn't have the experience to do it.
Stef agrees and Lena's two friends come over and get almost immediately topless in their kitchen. It is easily one of best scenes in this show's history and one of my favorite TV scenes of all-time. One of the women opted for the surgery because she just likes having boobs, the other didn't but got nipples tattooed on and also a peacock because they symbolize self-expression and confidence and immortality, and because life is a turn on. They offer to let Stef examine their chests and Stef looks at Lena like "Are you for real?" And Lena nods back that she is, indeed, for real. It's very hilarious. It's also breathtaking. These four women in this kitchen completely unashamed of their bodies and not bending an inch to what the patriarchy says is acceptable or sexy.
Jesus comes trotting in and sees his moms in there with the naked ladies and is mortified. Lena awkwardly yells out, "IT'S A MEDICAL THING FOR MOM!" But I don't think it helps.
The next day Stef comes home from work and when Lena turns around from doing the dishes, her wife is standing there with sexy new hairs on her beautiful head. She says she wants to get the surgery because she likes having breasts, but she's done allowing internalized homophobia and the fear of the word "dyke" or "butch" having any power over her. She's a lesbian who wears a lot of plaid button ups and has short hair and that's what it means, to her, to be a peacock.
Lena basically drags her upstairs to bed. She loves her hair. She loves her body. She loves her spirit. She loves their life.
Next week: *snap* *snap* *snap* *snap* (That was my interpretation of Westside Story.)