Welcome to Idol Worship, a biweekly devotional to whoever the fuck I'm into. This is a no-holds-barred lovefest for my favorite celebrities, rebels and biker chicks; women qualify for this column simply by changing my life and/or moving me deeply. This week I'm basking in all things Cher because she reminds me of New Jersey, DC, and myself – no matter when I was.
Header by Rory Midhani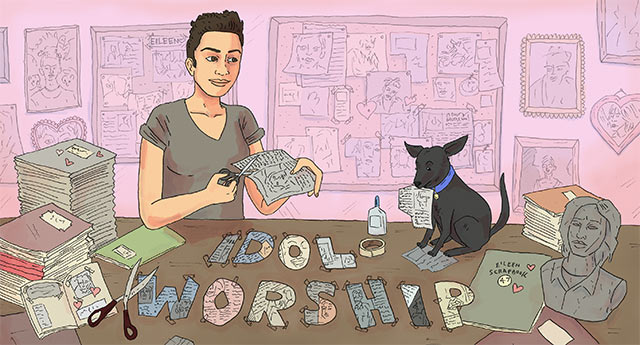 One of the first CD's I ever purchased with my own money was Cher's Living Proof in 2001. I was 11 years old. I had no inkling then that Cher would continue to be a part of my life, but I'm damn happy I got an early start on appreciating her.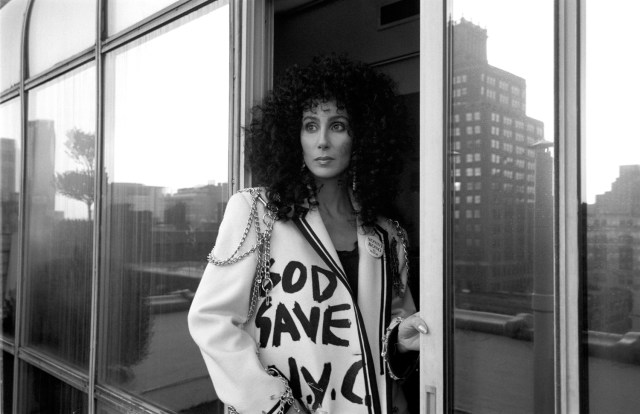 Cher made headlines this weekend by performing at New York City's star-studded Pride weekend, all of which occurred while I was getting kicked out of a bar in Brooklyn. She rolled up at 2 AM and performed her newest song, "Woman's World." No performance at such an event would have been complete, however, without an homage to the LGBT humans who make her status a pop icon possible:
Cher, standing below a giant neon LED signature of her name, told the crowd. "My first gay friend was when I was 9 years old — and I said this on Twitter — but I thought gay was a code word for fun."

She went on to thank her gay fans, saying, "I have had ups and downs in my career, and you guys have never left me. I was out, I was uncool, I was a has-been, whatever the [bleep]."

She added, "You guys have always been there . . . You've kept me in sequins."
Cher's come a long way as a gay advocate and activist, as well as a gay icon. Her biggest learning experience when it comes to navigating LGBT issues has obviously been her relationship with Chaz, her trans* son. When Chaz initially came out as a lesbian, Cher admitted to struggling with the news – but come hell or high water, she was determined to work through her fucked-up internal script and be a supporting and loving parent. Now, her son is out and proud and she is outspoken and loud about the inequalities he has been facing for years as an LGBT person on this planet we call Earth.
Before the personal became political, however, Cher had already been cemented a gay icon. Gay men have always loved her, and let's face it –  she's fucking fabulous. Costume changes, hair changes, theatrics and dramatics, an acting career on the side, longevity and songs about perseverance made it hard for any queers to stray from her side. Cher has a Wikipedia page dedicated only to her role as a gay icon. I'm not even fucking around.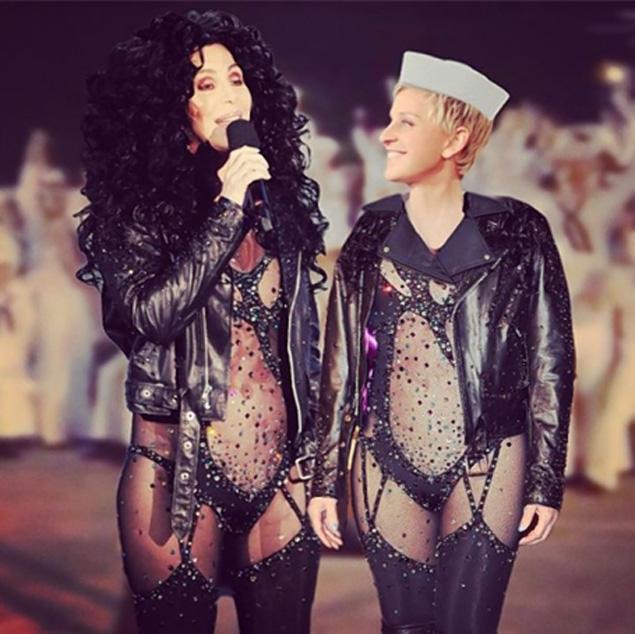 Now, Cher's status as best friend to all things queer is indisputable: she's keynoted by PFLAG, received honors from GLAAD and the Advocate, and carries the title of "the number one greatest thing about being gay." Word.
Personally, Cher played a major part in my own coming out – but not in the same way as, say, Madonna or the way Madonna looks rubbing sand on her body. None of Cher's songs ever made me "realize I was gay," but they did make me feel normal; Cher's lyrics about love have always been inherently assigned to the LGBT community out of mere association and her songs have long been meant to appeal to troves of gay human beings, and whenever I needed a vocabulary they were there to help with finding words. When I was straight and couldn't relate to songs about wanting to be with men, and didn't know why, I found solace in her songs about being independent and strong and a woman, and that being enough. When I hear her on the radio I remember my mother, my friends, pride parades, summer camp, shitty 80's movies I watched reruns of on TV. Cher's always been a part of my life. She's always liked me no matter who the fuck I was in the morning.
Cher's role as Mother To All Queers is good enough reason for every single human being reading this article to sit down, shut the fuck up, and listen to some goddamn pop music. So let's do that.
I loved Cher as a kid because "Believe" was all over the radio and that song was my mom's fucking jam. Chalk it up to her single mom status, but "Believe" was right up there with "You Oughta Know" and "Torn" as one of the songs my mom would raise the volume for and sing along to on our road trips to restaurants and shopping centers in Nowherseville, New Jersey. I remember being really struck by Cher's voice because it was deep. I always liked women who had deep voices because I could really sound like them when I belted out their words in my mom's Volkswagon Jetta.
Amanda and I once listened to this song together by accident and it was the first time someone else I knew really, genuinely, liked Cher. I didn't feel weird anymore. I recommend that everyone find someone else who likes Cher. Keep them in your life.
I was once watching a documentary or something on E!, probably, about Cher, and this song stayed in my head for years until I learned how to actually obtain music on the Internet. It's very strangely wise and the music is killer.
When I was a teenage feminist, "Strong Enough" was my anthem. Plus, my mom really likes disco and therefore I do, too, and this particular song is just very disco.
https://www.youtube.com/watch?v=LlDBUMX2DiY
Every single time I listen to this I'm just as interested in finding out how you know if he loves you so.
I think this is the sweetest love song of all time.