feature image via shutterstock
Hello and welcome to another edition of Autostraddle's College Lesbianage: a glimpse of college life through the wide eyes of six freshly fallen snowflake first-year queers. This month's update will be given individually! Today we've got Wellesley's Claire with some thoughts on her summer.
---
Two weeks before surgery, my girlfriend and I flew to Texas to visit my dad and his family. I wasn't very nervous about her meeting my dad or my stepmom, but I was a little anxious about how my baby half-sisters would react. They are young and they live in Texas. I was young and I lived in Texas once, too, and I have never had any queer adults in my life. Now I'm queer and technically an adult, and I would like to believe that my half-sisters look up to me. I wanted them to know about my relationship, because I wanted them to know that you can be in a healthy, queer relationship, but I also didn't want to put too much stress on it because I didn't want them to think it was a big deal. The end result felt like playing charades with someone who doesn't realize there's a game of charades going on. I appreciated how much my half-sisters loved my girlfriend, but I don't think they grasped that we weren't just friends.
Because we were somewhere new, we had to go check out our favorite place for a date: the science museum. The Houston Museum of Natural Science is possibly the best science museum I've been to. I have fond memories of a lot of the permanent exhibits from school field trips, so I was excited to go back. My favorite exhibit was always the gems and minerals hall. After long, hot, sweaty days in the Texas heat surrounded by noisy classmates, the gems and minerals hall was always dark, cool and quiet. It was a respite and I was looking forward to reliving it with my girlfriend.
My girlfriend loves tiny, delicate, shiny things as much as I do, so we were ecstatic to see the new Fabergé exhibit. I love to make really tiny art and in the sixth grade, I perfected the tiniest handwriting in the world – to the chagrin of all of my teachers. The petite flowers and tiny swirls on the miniscule eggs and frames and cigarette cases left me breathless. The other exhibits were equally great – especially the dinosaur hall, which was redone a few years ago. We had a lot of fun, and I was able to take my mind off of my impending surgery.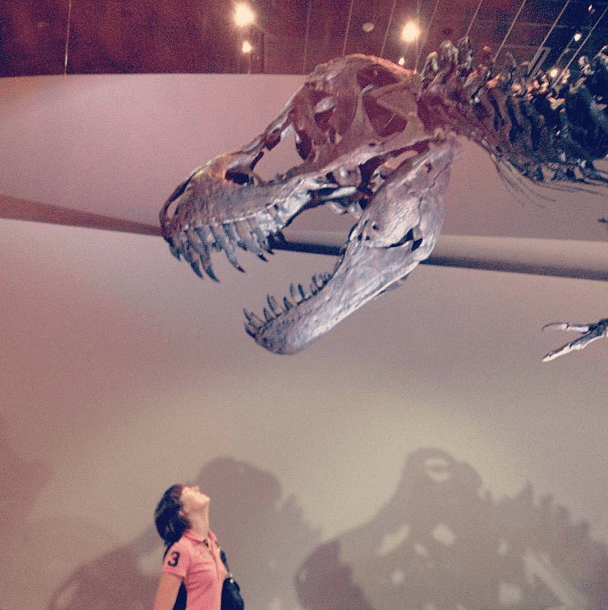 The only fear my girlfriend was willing to admit to before I went in for surgery was that I would come out of anesthesia and then say something about sex in front of my parents. Thankfully, I was possibly the most boring post-anesthesia patient ever and will not be becoming YouTube famous anytime soon. The surgery itself went well. They removed the middle third of my patellar tendon, as well as small chunks of my tibia and patella. They drilled holes through my tibia and my femur, threaded the tendon graft through the holes and then screwed it into place with titanium screws. The surgeon took a bunch of pictures throughout the procedure, so I now have some really cool pictures of the inside of my knee. I don't think I've ever seen real bones before, so seeing my own bones while they're still in my body was surreal. I also had a tiny tear in my meniscus, which he fixed while reconstructing my ACL. Apparently, if you wand directly over my knee with a military grade metal detector, I might be able to set it off. This excites me more than it should.
Recovery is going to be a really long process; I'll be on crutches for about three weeks. I should be walking without crutches or a brace after six weeks, but I won't be able to return to any sort of grueling physical activity for at least six months. In the mean time, I'm watching a lot of television, reading Game of Thrones, sobbing over the Red Wedding and crocheting a blanket. I try to move every day for a little while from my bed to the sofa, but that's about the extent of my world right now. Between general exhaustion from healing and tiredness brought on by painkillers, I'm about as active as your average sloth. This new sloth-like lifestyle suits me, though, and I'm happy to say that my summer has been pretty decent so far.