I Still Can't Believe is a TV Team series where we remember the things happened on television that baffle us — in good and bad ways — to this very day.
---
I mean, especially Kara Thrace.
The first time we see Kara Thrace (Katee Sackhoff) — more commonly known by her callsign Starbuck — she's lightly jogging. It's enough to tingle the gay spidey senses. Her hair is slicked back. On her, the leisure uniform worn by the Battlestar Galactica crew — a tight tank top over a second tight tank top — evokes an unmistakable air of dyke-debonair. In  her next scene, when we truly meet Starbuck for the first time, the gay spidey senses are more than tingling. They're practically quaking. Her hair is mussed now. Her dogtags are out. She clutches a cigar and cards, playing poker with her bunkmates and her asshole superior, who she eventually punches in the face after he pisses her off. Surely, we are looking at an erratic and cocky butch top.
Nope!!!!!!!! Instead, we're supposed to fully invest in the sexual tension between Starbuck and Human Potato (slash her former ex-brother-in-law?!) Lee Adama?!?!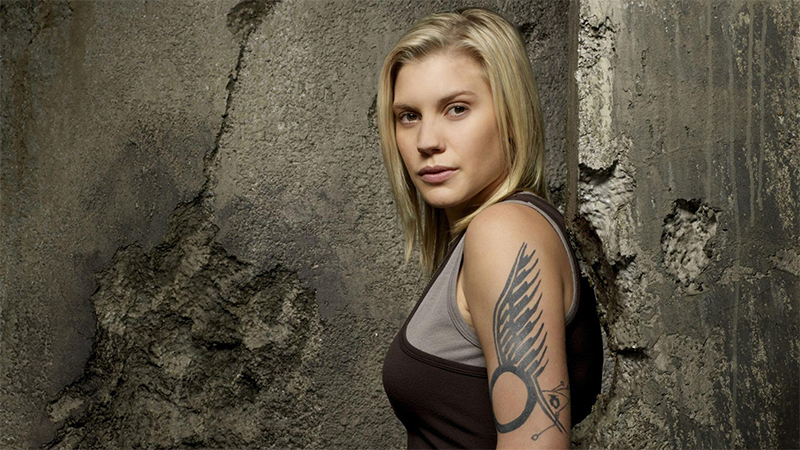 See also: Boomer?!
Boomer aka Number Eight (Grace Park) sports a low ponytail and what appear to be self-cut bangs when we initially meet her in the movie-length prologue episodes of BSG. I repeat: self-cut bangs. Scientifically, straight people do not know how to cut hair.
When I say I can't believe Starbuck and Boomer are straight, what I really mean is I refuse to believe it. In fact, I have overwritten all my memories of Battlestar Galactica—which I've watched multiple times — to make pretty much all of the characters queer. Cylons? Gay. Humans? Gay. We all know everyone in space is gay. Battlestar Galactica's suggestion otherwise? I simply refuse to accept it! You're telling me the vast and mysterious expanse of the universe which is ever-expanding (a fact that never fails to break my brain) adheres to the same boring and unimaginative constraints of heteronormativity that much of our dumb bitch planet Earth does? No way. There's no sound in space, but there's absolutely an abundance of homosexuality.
Okay, so as far as explicit queerness goes, Battlestar Galactica does offer a little bit. Recurring character Felix Gaeta (played by Alessandro Juliani, one of genre television's great underrated character actors) is gay, but it rarely comes up. And "sure," gay characters do not "need" to be "defined" by their "gayness"…but…I'm not asking for some big rainbow moment. I'm just asking for queer characters to have the same fully realized and compelling relationship arcs and love interests as the straight characters do. On a show that features a lot of smooching, would it hurt to include a few more smooches of the queer variety?
We get another whisper of gay in the two-hour special "Razor," which features Gina Inviere—one of the many aliases for Number Six (Tricia Helfer)—in a full-on relationship with Admiral Helena Cain (Michelle Forbes). To which I say: Could this not have been an arc more fully explored in the main series? Why is it relegated to the straight-to-DVD spin-off chapter?! (These are rhetorical questions. I know the answer is, broadly, homophobia.)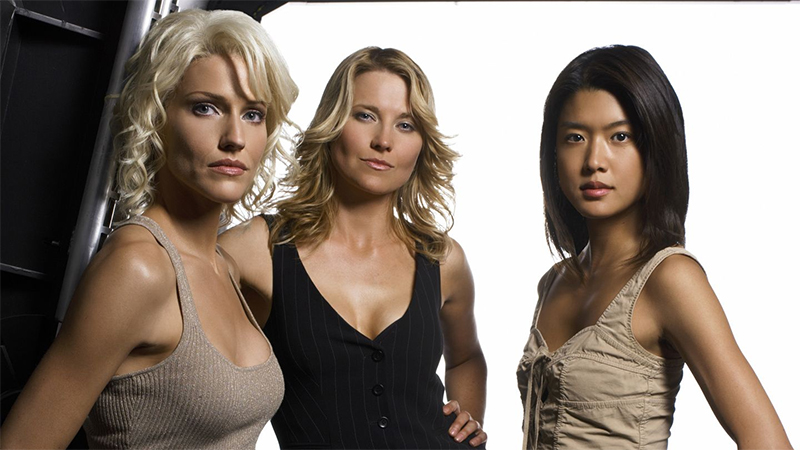 Ultimately, you're far more likely to encounter relationships between robots and humans than you are to find lesbians in the BSG universe. And I do not say that to disparage robot-human relations. I'm very pro-robot-human relations, and you can feel free to quote that back to me whenever you like.
So Starbuck is one thing, but do you mean to honestly tell me most of the thirteen models of Cylon engage regularly in heterosexual activity? ALL thirteen models absolutely scream bisexual energy. Again, we do get a whisper of textual acknowledgement re:the inherent bisexuality of Cylons. There's a brief love triangle between Gaius, Caprica Six (Helfer), and D'Anna Biers (queen of Sapphic subtext, Lucy Lawless). But considering all the chaotic bisexual energy these sexy robots are giving, there's a shocking dearth of bisexual chaos occurring on this show.
And GET THIS: BSG creator Ronald D. Moore once said the following: "We sort of always talked about the Cylons being basically bisexual in all formats." So the things I'm picking up were "sort of" put down in the BSG writers room. But the commitment to this "all Cylons are bisexual" ethos seems to have wavered somewhere between conception and execution. Because, again, the show simply is not bursting at the seams with textual bisexual chaos, even though it should be?????? Even though in my heart it is?
If you have not seen Battlestar Galactica and think I'm telling you to stay away, oh no! That's not what I'm saying at all! It's a very good show! One of my top favorites! But when we love something deeply, we are also keenly aware of its imperfections. I love Battlestar Galactica, and I wish it were gayer. I wish it were gayer, because I love Battlestar Galactica. You get it.