It is with a heavy heart that I mourn the loss of Alton Sterling and Philando Castile due to police violence. Less than 24 hours passed between the deaths of the two men; we barely learned the name of one before we had to learn the name of another. It's hard to be a person who feels empathy in a time like this, and it's especially hard to be Black in a time like this. When I think about these men, I think about the Black men that I know and love, and how devastated I would be if I were to lose them.
I also think about the countless Black women who have had to mourn recently; the mothers, the girlfriends, the sisters. I think about what it means to be a Black woman and to mourn, and how impossible it is sometimes. I think about Lavish Reynolds, Philando Castile's fiancée, who held their daughter calmly because she couldn't afford to react for the sake of her daughter. I think of their daughter, who comforted her mother even after witnessing an officer gun down a man in the same car as her. What pain must they have endured? What scars will they carry? I think about how in a press conference she screamed, "I need justice! I need peace!" And how even justice won't be enough. Not even justice will bring back a man who never should have been shot in the first place.
And yet, we find ourselves being forced to think about it over and over because it keeps on happening. As a Black person, it can often feel like I am constantly picking myself up off the ground. It is hard to keep living like this. And one of the hardest parts of living like this is that our voices are often the last voices to be heard. Big cable and internet news providers are the ones giving us most of the information, and it's often done carelessly. We hear conservatives and liberals alike defend police officers time after time again and it hurts.
It felt important for us to have a voice somewhere, so we've gathered a few of the Black queer voices and put them together here. These folks aren't the only voices saying things, but the things that they all say are important and necessary. We want to offer this as a place of healing for QTPOC in this time of tragedy. I also want to remind folks that the QTPOC Speakeasy exists as an online space for QTPOC Autostraddlers. It is for us and by us, and your voice will be heard there, loud and clear.
---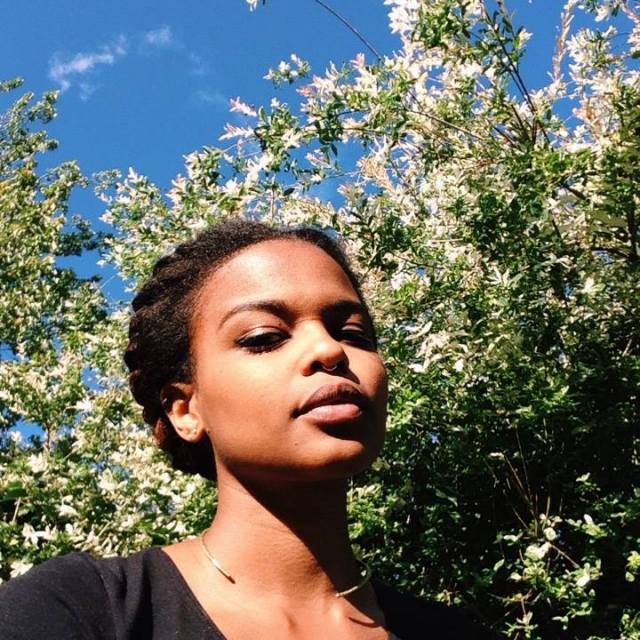 Ev'Yan
I'm sitting in the dark trying to sleep, but I can't get the video of Alton Sterling's murder out of my head, nor can I stop hearing in my ears the sound of his son wailing "I want my daddy." I didn't want to see the video, but it popped up & autoplayed on a website I was on. I can't unsee it. I've been trying to recover.
Through a fog of depression, I made dinner. I didn't want to. I wanted to lie down & close my eyes & try to forget what I saw, what I heard, how my heart felt when it fell to the pit of my stomach hearing that kid sob & cry & plead for his daddy. But, I forced myself off the couch & began chopping vegetables & sautéing garlic. I stir-fried rice. I added spices & sauces. I drank bubbly water. I stood outside & watched the sun set. I had started to refresh by the time I finished eating. Then, I heard of Philando Castile, & I broke apart again. I will not watch that video, but just reading snippets of his death nauseated me. His daughter was in the back seat. She watched her father die, then consoled her grieving mother, telling her, "I'm right here with you." A four-year-old child.
I'm sitting in the dark with even darker thoughts are spiraling in my head. Does my black life matter? Because I don't know if I can, in this moment, convince myself that it does, that yours does. We seem to be disposable. We are disrespected. Not valued. At risk for a public execution for simply being, & our deaths are played over & over & over & over, consumed with the same emotional distance as a stupid meme we've seen 100 times. Nobody cares about us. Nobody loves us. Nobody offers us mercy or grace. We are slaughtered like animals. I, for being black, can be slaughtered like an animal, my death broadcast all over social media.
We have families. We have loved ones. We are human beings. We have friends & passions & personalities & desires & dreams. We have faults but we are human beings. I am a human being. They don't care about us. They don't care about our lives or our stories. Our lives are less significant than a gorilla in a zoo. They don't care about us. I don't think they ever will.
Usually, when things like this happen, I'm able to find my inner strength. I'm able to know my worth through a thick cloud of doubt. I'm able to convince myself that my life matters so I can sleep & prepare for another day. But after back to back violent deaths, I'm tired. I'm tired of being strong. I'm tired of trying to hold my head up as another life gets taken. & another. & another. & another. & another. & another. & another. & another. I'm tired of having to champion my own life so hard. I'm tired of having to drill it in my head that my life matters, that I deserve to be here. I'm tired of feeling afraid. I'm tired of weeping for faces I have never seen before but are now forever burned into my memory. I'm tired of holding back tears whenever I pass a black man on the street because I know his life is in grave danger. I'm tired of looking at black & brown children I don't even know & grieving their deaths before they've happened.
I'm thinking of my dad. We haven't spoken in nearly 5 years. I estranged myself from him intentionally. But I'm worried about him. What if he gets pulled over for a broken tail light & ends up getting shot by the police? His chances at this point are likely. How terrible would that be? To have him die without me reconnecting with him? I'd never forgive myself. & I hate that I'm even thinking about this, about breaking a necessary boundary of separation between me & my father, just because he could be shot & killed by police. I hate that I'm even having to consider this. I hate the guilt I feel. I hate that there are six children who are going to bed tonight without their fathers kissing them good night.
I hate all of this. I'm tired.
---

After the deaths of Alton Sterling and Philando Castile, I found myself feeling angry at all of the people sharing videos of such violent executions. I kept thinking to myself, these aren't yours to share! Can't we let these people rest in peace?! Logically, I understand why people share videos of death, but in my heart, it feels wrong. I think about the ways that we remember things and how memories get passed down through generations, and I don't want my future children knowing this pain. I think about a friend of mine who is a mother to two beautiful Black boys, and how she stayed home to be close to them — how terrifying must it be to see your the man your son may one day become in these videos?
I took a class on race, gender, and Black performance in undergrad and we read an essay by Elizabeth Alexander called "Can you be BLACK and look at this?: Reading the Rodney King Video(s)". In it, she talks about what happens when Black people witness Black trauma, and how that memory sets itself into the Black body and resides there for generations. She writes, "Black bodies in pain for public consumption have been an American national spectacle for centuries." This isn't anything new. Just like our grandparents learned how to be Black from Emmett Till's bloodied, battered face in Jet Magazine, or from photographs of lynchings, we learn how to be Black from viral videos that are overshared and we learn just how much our lives mean to the American justice system every time a police officer isn't convicted.
I woke up this morning physically sick at the knowledge of another Black death. I felt it in my body in a way that seemed like I'd felt it before, in a way that felt like I'd been feeling this pain for centuries. Alexander calls it a "collective cultural trauma" that lives in our flesh and forms our memories and is reactivated every single time we witness the spectacle that Black pain has been made into.
I have felt this collective cultural trauma too often in the past years. The hashtag says #Every28Hours, but the reality is it's more often. The reality is that my Black trans sisters are being slain and we never hear their names, the reality is that Black and Brown queer youth are dying homeless on the streets and isn't that also an act of state-sanctioned violence? There are so many names we will not know, so many faces we won't see, so many hashtags we won't get. I keep thinking to myself, "How long, O Lord, will you keep abandoning us?" Why are we sentenced to death? What did we do to deserve this other than being born with brown skin?
And I guess I am just tired. I'm overwhelmed. I'm physically sick. My back aches and my head hurts and my stomach is churning. I want there to be something I can do. I want to know that when I decide to bring a Black child into this world that they will be safe to play in the park, to go to school, to be in their homes. But there's no way to know that. I feel like Mary Prince, an enslaved West African woman who wrote about seeing a pregnant woman get whipped. She said she couldn't bear to think about it, but that it was always present on her mind. This is the legacy of state-sanctioned violence against Black people that I live in.
But I have to heal myself, and my community, because I refuse to let white supremacists win. So I pet my cats a little longer, I cook dinner for my family and I fill it with love, I make and send cards to my QPOC family to show us all that we are going to make it. We have to make it.
---

I have a hard time with the way shame gets so much airspace on social media. We seem to skip over grief right into calling each other out for what we are and aren't feeling. And I'm not talking about calling out the system. I know that I do it myself — I get more angry about HOW people are reacting to things so I don't have to feel helpless and sad about what it is we are reacting to. I've been spending all week feeling really heavy about the people who died in Baghdad and Istanbul and Dhaka and Saudi Arabia and how they died. And when I log onto Facebook what I see are words like, "I bet you don't care about Baghdad." I mean, I get that yes, we as a nation and as the West are horrible at noticing when things happen in black and brown and especially Muslim places, that's real and that's a phenomenon that requires dismantling, and that is one of my principal concerns as a human and a thinker. But I've been thinking about those attacks all week, they keep me up at night, and I know I'm not the only one. Yesterday, there was this very quick turn from mourning the lives of Philando Castile and Alton Sterling to how white allies suck. I'm reentering technology from two months of being in an intentional educational environment in the woods so of course, I feel especially raw. But poetry and intimate conversation are so much BETTER for us than slinging virtual barbs. Poetry. Silence. Poetry. Art. Hugging. Silent dinners. Eye contact. And my experience of people from two months of constant one-on-one interacting and building intimacy is that we are all so much more emotionally present and raw than we give ourselves credit for. I wish we could find a way to change our narrative about ourselves. I think it's important that we realize that all of this blame can actually stunt conversation. This isn't me saying we aren't entitled to anger or that white fragility isn't annoying as fuck. It's just me saying the love piece is crucial. And it's way harder to practice.
---

Right now I'm feeling a mixture of sadness, anger, and frustration. I am sad because it seems like every day there is a new Black life lost by the hands of someone who is supposed to protect that life. Oftentimes, people say, "that could have been someone from my family" or "that could have been me." In these instances, that really could have been someone from my family. That could have been me. I have two older brothers who are Black and over six feet tall. My nephew is ten years old and getting bigger every day. I have a niece who is about to be seven, a two-year-old nephew, and twin nephews on the way. It is a shame that rather than worrying about having to buy them larger clothes and shoes, I have to worry that someone someday may feel threatened by their size and the color of their skin and take their lives. That is when my sadness turns to anger! It makes me angry that this is a concern that I have to have. I am angry that this is something that I have to teach! I am also angry because I'm not even sure how to teach this! What is to be taught? Comply, you die! Resist, you die! Every single thing about everything that has happened angers me from the arrest to the deaths, and to how it is shown in the media. And then my anger becomes frustration because I am upset and it seems like there is nothing done. I went to bed after reading about one murder and when I woke up there was another hashtag because another police officer had killed yet another Black man. I am also frustrated because after Jesse Williams's speech so many people said it was racist and unimportant. Well, here we are showing just how important it is! It also frustrates me when people respond to black lives matter by saying all lives matter. Yes, all lives do matter, but right now there seems to be a need to remind people that BLACK lives matter!
---
Jean
How can I choose to bring a Black child in the world when I know I might have to witness them not have the chance to flourish and grow when I know that one day I might watch them get gunned down and bleed out on the pavement? Even the fact that this thought has been put in my mind is an act of genocide.
---

I'm feeling sad, fearful, increasingly paranoid yet trying to convince my mind that it won't continue, that, selfishly, it won't come closer to me and my family, that it won't be us, that it won't be me. Living out of the country and coming back for six weeks of summer it's hard to come back to confederate flags waving from the backs of trucks and people supporting a man running for president who is supported by the KKK and other homegrown white American terrorists.
I'm taking care of myself by seeking out spaces where I can listen to other queer POC to not feel alone, trying, to be honest with friends about how I feel so as not to bottle emotions in, which is my knee jerk reaction to the frequent news like this, and to keep still and quiet until the pain and fear let up a bit. Reading. Trying to remember that these murderers are the unAmerican ones no matter what flag they are flying and what badge they are wearing and not forgetting that they cannot define my country for me.
I would feel more supported if I felt like white allies were trying harder. Don't tell POC how sad you are or only post about your sadness on social media. Call your representatives and your police departments. Go talk to your fellow white people waving confederate flags, go put yourself in those uncomfortable places you don't want to be in and do real work if you are really sad. White supremacy must be wiped out of our country, every single person needs to say it and every single person needs to believe it.