It was as though the world was determined to keep me from getting what I needed. Work exploded. I had an emergency wisdom tooth extraction. A surgery scheduling error set me back three weeks. I needed to borrow money from a tuition fund that my grandfather had left me in Waco, and we'd decided that what the simple folk of Merrill Lynch didn't know about me wouldn't hurt them. I assumed my former identity for the first time in half a year, acting as my own receptionist and hiding in the lab's darkroom to take their calls. Like a lot of my life, it's funny now because it worked and everything's fine. To cut my risk of bleeding and clotting problems, I stopped taking estrogen, a skin-crawling first in sixteen months. I told my father – hey, going to get some stuff done at this place and time, it's all fine, but I'd love a visit.
My father was an unhappy, emotionally abusive man throughout my childhood, but children can normalize just about anything and I blamed myself for feeling uncomfortable and afraid around him. When I started to come out, I felt obligated to help him understand me. It wasn't the best plan. My transition was an unacceptable departure from his script, a sign that I must have some "underlying" problem that would be intelligible to him. I just needed to take his money and go backpacking in Sweden, or do some other horrible privileged white shit. As a boy! Had I really considered how a tall, big-headed, big-boned emm-tee-eff would get along with the straight world?
When I told him about the surgery, it was clear that nothing had changed. First came the good old referendum on my personality. This time, he fixated on my qualified distaste for Andrew Solomon's appearance on Katie. H-how could I? That guy's book was great! Then it was time for Dad to Help Out with, not even joking, top google results for "facial feminization surgery."  Have you ever seen bad plastic surgery? It's gross! I had interrupted his secret honeymoon in Bali to tell him that I was getting major surgery, and this was very selfish, very thoughtless indeed. And so near my little brother's birthday, how could I? My insistent, fulminating transsexualism only proved the depths of my bitterness, my narrow-minded self-loathing.
Telling my father that he's an abusive, neglectful parent – that I have to see him as a problem to manage, in an ironic reversal of our relationship over all those years – was the one thing I'd held back. It was the easiest thing I'd done all day. That was the last thing I'd let myself think might get through to him, and the last unfinished business between us. He said that it was "very sad" that I felt this way, and that he sure hoped it gave me strength. He wrote again, hours later, to say that I was making it all up. My "uncontrolled anger" could only mean that I'm in "deep trouble."
Maybe he'll be hit by lightning and wake up a better person. I'm not holding my breath. Right now, it's enough to have that person out of my life.
I felt like an enemy of the Old Testament God as my plague of WASPs continued. My mother had made friends with an older trans woman through her work, Helen. Helen was a wealthy woman who'd transitioned later in life. She'd been a little more interested in me than I was totally comfortable with, but I know what it's like to want to be there for people. We'd gotten on well the first time we'd met in person, and I hoped she'd be a good friend to talk to during an increasingly nutso part of my life.
We met for drinks nine days before the surgery. I brought this up and mentioned how bullshit everything had become, and regretted it very quickly. Helen was on me like flies on shit. She had decided against getting FFS, and naturally that made it "the riskiest" trans-related surgery, it was "the last thing you do." Had I worked with her guy? Why hadn't I worked with her guy?
I was stunned. I was talking to someone who'd had breast augmentation and SRS. The risks of each are considerable, they happen to scare the hell outta me, and neither is something I want for myself if I can help it. But who fucking asked me? It's none of my business. So what the fuck?
I did my best to be kind, and I think it was a mistake. You're not going to change my mind, I said, and I've just disowned my father, this isn't the sort of conversation I can have right now. But holy hell. The woman had fucking pulled rank on me, babbling about "the view from fifty thousand feet up." I guess Lasik is better than I'd heard, if you can even fuckin' see me from there. She started up again via text message at seven thirty the next day. I'm not sure what she was expecting, but she didn't like the result. Good.
It was wearing me down. My mom and stepdad are kind, smart people, and they're my heroes, but their anxiety reached a fever pitch. I found myself being asked – What about the laryngyscope? What about the bone paste? These weren't bad questions. A lot of them were really good ones. But it felt like far too late for me to worry about that shit. We reached a low point when I found out that they'd quietly gotten in touch with the Big Name who'd dumped me. I was expected to fly out to see him, "just in case." I was angry. I didn't have a lot to actually worry about, but I didn't want to see them that freaked out when it couldn't change my decision.
My parents' distress was impossible to completely ignore. It's like when toddlers take a fall and look to see how adults react before crying or not. I had been ready, and still was, but between this and everything else I was feeling a lot less lucky. Insurance was no longer a sure thing and I wanted to be able to support myself and my partner through our move if that and her job hunt came to the worst, so it was prudent to cut costs. Thyroid cartilage fell off the list.
I'm not sure what to say about that. It was never that big of a deal. I'm sure that I can find a way to do it if I really need to. I was phenomenally, singularly lucky to be able to make even these decisions for myself. Most people don't have access to even basic medical care in this wasteland. I was only looking for some of what others take for granted, but I still knew that I was getting a lot.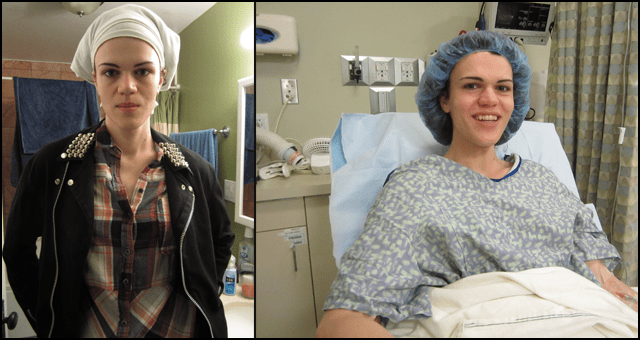 On Friday the 22nd, I fasted from midnight, tossed and turned until dawn, and rode with my family to a surgical center in San Rafael. I handed over a cashier's check and my advance directive. I changed into robes, met my nurses and anesthesiologist, and got stuck with an IV. The mood was difficult, but better than I'd feared. We're strong people, and just as importantly, it was six thirty in the God damn morning.
I was conscious in the operating theatre for maybe fifteen seconds. I hopped onto the table, extended my arms as directed, and thanked the nurse at my left shoulder for going ahead with the obvious crucifixion joke. Before I could wonder if she said that every time and if it had started to bother people, I was drugged unconscious and summarily catheterized.
A small incision was made under my chin, through the soft tissue envelope that lines the skull. Retractors positioned the surgical window over the anterior of my jaw, below my lower lip. An osteotomy was created, defining a wedge of bone. This was removed, and the new bottom and top halves of my chin were joined together with titanium. At our pre-op appointment, I'd asked Dr. T if I could keep the osteotomy "to make earrings and impress my Goth friends," and he'd offered to give it a shot. I'm told that the on-site pathologist balked, and they run the show. This was too bad – as you can guess, I am my Goth friend.
An incision was made along my hairline to the bone, and bleeding was stopped via electrocautery. The entire upper third of my face was peeled down, stopping at the eyelids. A bone burr was used to progressively remove portions of my frontal brow and orbital rim bossing, terminating at the earliest transition from white- to off-white bone tissue that marked the safe limit for this procedure.
My face was returned to its original position, then stretched subtly to effect a brow lift at the upper outside edges. Excisions were made at the hairline to compensate for the lift, and then at the lateral edges. This repaired and reshaped the bald strips that had given it such a recognizable "M" shape.
After a 6.5 hour operation, I came to in the same room where I'd gotten the IV. My view was squeezed in, obscured on all sides by ACE bandages and a head cast. A drain and collection vessel hung from the cast, its point of origin a length of surgical tubing that extended from under one corner of the hairline incision, along at least six inches of scalp. There was the predictable soreness everywhere that had had a tube shoved in it, and my jaw and forehead felt like God had wiped His ass with them. They also felt different. I could touch them, gently, and be sure. Holy shit. Whatever had been done to my brow was more than I'd let myself expect, but still totally familiar. Okay. I was at my parents' house by four in the afternoon, and back home the next day.
Recovery has been fantastic. I'm still fighting my insurer as they try to defraud me. But the time leading up to surgery was hell and I'm bouncing back faster than I'd ever expected. The pain is non-negligible but well managed. Sometimes, I can feel tiny spaces between the soft tissue and bone where things are still snapping back together. It's awesome. I have nerve damage that numbs my scalp and parts of my lower front teeth, with small patches waking up periodically to remind me that they're pissed off. It'll probably heal completely in time, driving me bonkers every step of the way. I'm not even slightly worried.
There's so much ignorance about how people like me relate to surgery – first off there's this obsession with SRS, "the" surgery, the "sex change" surgery, blah blah blah. And people tend to project that obsession onto us. Most people don't understand what it means to want life-altering surgery. Most people are fortunate enough not to have to. Few are in a position to make it happen on their own.
I'm less sure about my other concerns. I feel flipping great about my choice of surgeon. People develop very personal relationships with providers over this, and it is a very personal situation, and maybe that's fine. It's hard not to see an element of Stockholm Syndrome in the obsession with the few famous surgeons, especially after my run-in with Helen.
I haven't talked much about the results yet because I want to say this as clearly as possible, and because I want to end on a good note. So here it goes: the surgery fixed me. For all the noise, the fear, the second-guessing, and the waiting, it was as simple as that. I don't need to hold my breath until I'm fully healed, although I'm sure there's more to look forward to. I was better the second I woke up. Parts of me have a different weight. I protrude into the world differently than I did before, and it's fucking cool. I can feel it when I talk, smile, and laugh.
I've been very diligent about recording my transition. Our doctors may no longer advise us to tell our children that we're dead and move to the other side of the country, but the world still says that transition is incompatible with normal life. It's something you keep a secret. Being public was a way of showing that I wasn't afraid, even if I was kind of obviously vulnerable.
It was also a way to preserve evidence. When I was in a particularly bad mood, I could remind myself that I often looked or sounded just fine, and probably even did at the moment. It helped solidify the idea that dysphoria is a pathology. It wasn't a part of me that I needed to trust or accept, and it wasn't other people saw. It was something to ignore and wait out until I was myself again. You can probably imagine how I felt about recovering from major surgery, smartphone in hand. Maybe I could shoot a time-lapse!
I've done some of that, but it's felt a lot more like work than it used to. I think that I've spent less time looking in the mirror this week than at any other point in my adult life. I'm not avoiding it. God knows my eyebrows have needed attention after a few days in a head cast. But I just see myself and don't have to fucking look for it any more. I feel secure about my identity in a way I've never been able to before.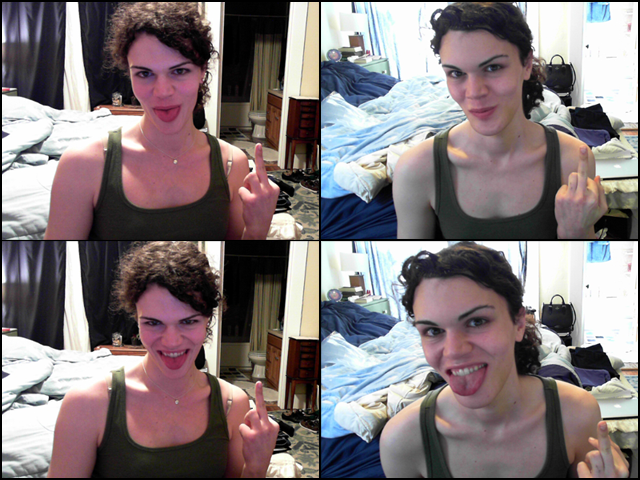 Getting FFS has been what lets me take it for granted. The idea that I'm female can become something unremarkable and basic about me, even if just in my own head. I understand if that doesn't make sense: I'm very tall, I spend more time than most on hair management and have hands that would make Lana Kane blush. My breasts are "totally excellent" but may or may not ever quite match my ribcage. And, oh right, I can pee standing up. But call the cops, I don't give a fuck. I'm grateful.
---
Olivia is a scientist, cooking enthusiast, and latent telepath currently evading the authorities in San Francisco, CA. She likes sour patch kids and carries a waiver of discretionary termination in seven systems.
---
Special Note: Autostraddle's "First Person" personal essays do not necessarily reflect the ideals of Autostraddle or its editors, nor do any First Person writers intend to speak on behalf of anyone other than themselves. First Person writers are simply speaking honestly from their own hearts.
Pages: 1 2See entire article on one page