I've only been to Florida once in my life, I went to Disney World on a family trip when I was about ten years old and forced my family to go to the Nickelodeon Studios where I believe I threw a tantrum about something. That was in Orlando, Florida — I'd never been to Miami until a few weeks ago when I was invited to come and explore the city and all its queer vibes by the folks at The Greater Miami Convention and Visitors Bureau.
Now, let us talk about what I knew about Miami before visiting:
Eva Mendes was in Will Smith's video "Miami"
Kid Fury is not from Florida but he is from Miami
Thank you for articulating being from Miami so well @KidFury. pic.twitter.com/kaZTEkHwz2

— Lo (@ItsLorean) October 14, 2019
Trina
City Girls "Act Up"
Where sex-positive icon (yet slightly homophobic) Blanche Devereaux resides
The Birdcage
Versace
That was the extent of my Miami knowledge which you can see is mostly pop culture driven. This was an opportunity to scour the city and see how comfortable I felt visiting as a queer and visibly Black woman. It's something that matters to me as I decide to leave the comfort of my home to check out places elsewhere, 'cos if I'm going to spend some money to get there you better believe I wanna make sure that I'm gonna be welcome. TikTok has shown that it's something plenty of Black folks are interested in knowing, as they have tons of Black travel influencers who break down how comfortable they feel on their travels.
Vacations are also a luxury to many folks, if it's a weekend or two weeks, many folks have to save and look forward to the trip throughout the year. This trip was gifted to me by the city of Miami which I loved! But I made sure to pay attention to not just the vibes of the places throughout my weekend visit, but the prices too.
I treated this as though I had saved a bit to go on a "Treat Yourself" quick solo getaway. One where you wanted to escape the cold of your midwest city after the holidays, to get kissed by the sun in Miami.
---
Day 1
I got to the airport (I'm a Delta girl for life) pretty early.
I had a layover in Atlanta and then after running through that big-ass airport to catch my flight — I landed in Miami!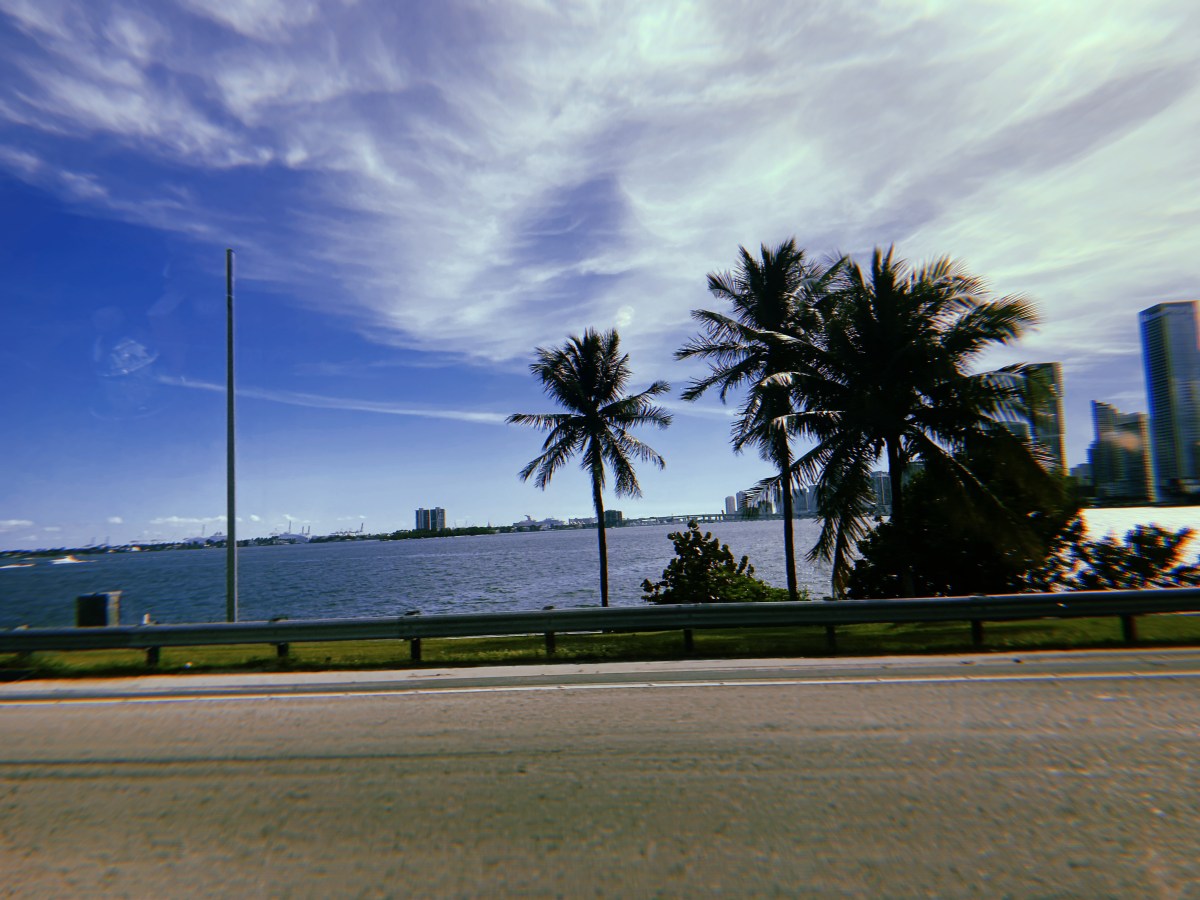 The Moxy South Beach
The first hotel I stayed in was Moxy South Beach…..which was literally TWO BLOCKS from South Beach. The gays apparently love the hotel 'cos in 2021 it was picked as a Gay Travel-approved hotel! The weekend rates are $350-$375 a night, which for the location and it being January felt like a good deal to me. The hotel was really cute, had hella modern vibes, lots of pops of neon colors, and the staff were pretty friendly with the exception of a few. I don't really enjoy people getting an attitude with me for something that wasn't my fault, especially if I am doing all I can to help the situation. My major qualm with the hotel was that most of the staff was white or white-passing, and so were lots of the guests. It didn't make me feel terribly uncomfortable — but it didn't not make me feel terribly uncomfortable. I enjoy seeing folks who look like me around me, especially when I'm in cities I don't know.
Anyway, checked into the room and it was cozy and again VERY modern. I am an unpack-everything sort of traveler 'cos I don't want to live out of my suitcase, and I really don't want everything to be seen. Moxy didn't have any closets but instead this sort of very open-concept wall with hooks. It was cute, but I would have enjoyed something to keep my things out of sight.
The view was pretty, the bed was cozy, and the TV was perfect but THE SHOWER — the shower was sexy. I came here solo but I get the appeal of watching the silhouette of your hunny showering while you're in sitting on the bed, steam on the glass, just waiting for them to come out and make them dirty again. Alexa, play "Gimmie More".
We had a tour of the hotel (which has TWO pools and a rooftop to die for) and later in the evening, we were going to have dinner at Serena, the restaurant in the hotel. I waited at the bar for the rest of the crew (who were queer writers from all over the world! Brazil, London, Germany, EVERYWHERE) to show up for our reservation and I got free prosecco with this special coin that was given to me when I checked in. Everything had hints of pink so wow I was legit totally fine, it's a fucking pastel paradise in Miami.
*Bonus: If you are a points kinda babe, it's a Marriott hotel so you get those points and if you don't know the Uber x Marriott trick, read up on it here and get extra points!
Serena
We ate at Serena and I had a few appetizers ($18-$21), three of the best beef tacos I've ever had ($21), a few mezcal-based drinks called "The Rubio" ($18 each), and then shots of mezcal with the crew. Pepe is basically the best server I have ever encountered, he told us all about ourselves as we sat down. Not like he read us but as we arrived he greeted us BY NAME, asked how our cities were, knew based on our taste what we would order, and was all around a great vibe. The space is honestly gorgeous, probably one of the most beautiful rooftop restaurants I've ever been to and it didn't hurt that we were on South Beach. The breeze from the ocean was just right, the lighting was ready for photos, and the vibes were all around vibin'. It's stunning and the food was fucking phenomenal. There was also a fire angel in all white who mesmerized us all, and also scared me as I had in faux locs and omg did not want my hair to go up in flames on day one of my trip.
After dinner, I went back up to my hotel room and I was cozy as shit. I was running on two hours of sleep and ended my night in bed, writing this very article and watching "The Office". The hotel provided me with a laptop stand to use in bed and wow I never knew I needed one until I used this. It made it incredibly comfortable to work while I watched Pam and Jim at the start of their "Will they won't they" relationship and later drifted off to sleep and ready for day two.
Fits: Listen, it was day 1 and EYE WAS TIRED. But the weather was so beautiful AND I DIDN'T SWEAT BUCKETS! It was a perfect 71 and after I changed out of my airplane fit, I switched into a simple Black cotton dress for our little tour and meet and greet. For dinner, it was a green dress that fits me like a fucking glove. I bought my purple Brandon Blackwood bag out to play and orange sandals to complete the look.
Shelli's score for the day: 4.1/5 Minus points for the rude staff earlier in the day and for the odd anti-closet setup.
Day 2
Woke up refreshed and then got a little extra refreshed when I opened the curtains and saw that yes, I was actually in Miami Beach! Our guides told us to dress comfortably so I cleaned my face, popped on some chapstick and threw on some shorts and a tee, and headed downstairs. They gave us this backpack that very much came in handy, so I also packed that with water and some treats too since we would be headed to the Florida Everglades as our first stop in what would be a very full day.
Our drive to the Everglades was just over an hour, you'll def need a car to get there but oh my gosh is it worth it. We were going on an airboat tour and my biggest fear is open water. I didn't want to bail but I told myself that if I was still very scared when I got there that I would simply have to let them know I couldn't do it.
We pulled up to Tigertail Airboat Tours and I was still feeling it so on I went. The Everglades were far more beautiful than I'd ever thought they'd be. Cyprus trees, gorgeous birds, wildlife just chilling, and the coolest part — the sounds. We were led by Houston Cypress, a native of the Everglades and queer person of the Miccosukee Tribe. Houston is a founder of the Love The Everglades Movement, which is leading efforts to keep the Florida Everglades alive. I really didn't think this would be my favorite part of the trip but it was. Yes, I saw alligators and even held a baby one, but the best part was hearing Houston talk about the history of the Miccosukee people. Houston also talked about the goal to help queer people feel connected to the outdoors and especially The Everglades. Houston has led many events in The Everglades with a focus on queer community, like when a group came out to look at the stars, or when they put on water waders and actually walked into the water to explore! At one point we were deep into The Everglades and our captain turned off the boat and we were led into a moment of silence — it was unbelievable. To be outside in this gorgeous piece of nature that I never imagined I'd be in, with a group of queer folks, sitting in silence surrounded by this beauty was breathtaking.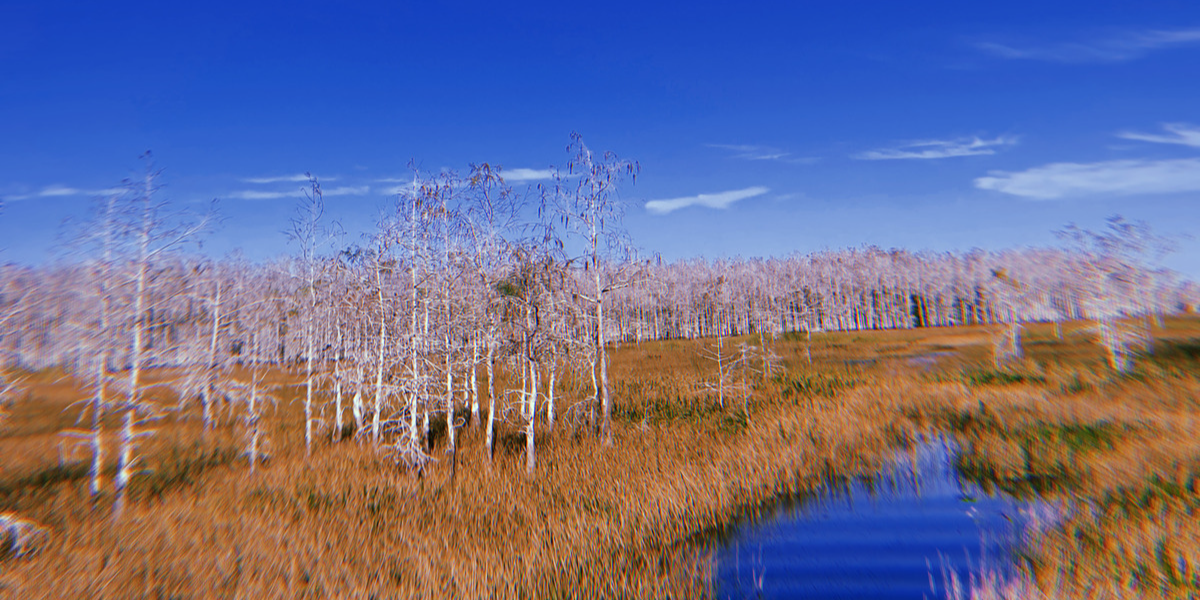 After leaving the tour we went to Robert Is Here where I had the best smoothie I've had in my life and also saw cute chickens and goats! Then we went to Schnebly Redland Winery & Brewery where we had a wine tasting. I'm sorry but a group of gays tossing back wine and snacking on cheese on a Friday afternoon? Absolutely the fuck yes.
Once they had us all sentimental from the tour and a little tipsy from wine tasting they were like "TIME FOR INFORMATION STATION!!" we headed back to Miami (or Miami Beach which I learned are two separate places), where we went to the LGBTQ Visitors Center to meet up with what is basically all the head gays over some of the cities biggest queer events. I met folks like Antonio Mendez a.k.a Queef Latina who is the creator of WIGWOOD — this year it's February 4-5 — which is a celebration of all things queer and drag! And I also met Radskillz, the official photographer for Sweet Heat — this year May 16-22 — and it's one of the largest queer girl parties in the United States every year.
Founded by DJ Dimples in 2008, every year actual THOUSANDS of dykes, lezzies, queer babes, le$beans, studs, and bi-babes go to South Beach to attend the event. It's made up of parties, picnics, chill events, and more. It was very important to me because I have never had interest in going to queer girl events that are similar because well — they are mostly attended by (and aimed at) white women. I love when massive amounts of queer babes get together to have some fun under the sun, but I have zero interest in it when most of those babes are white. Sweet Heat was started by a Black babe and to this day the team is like 90% Black babes and the other 10% are visibly POC folks.
The attendants, hosts, DJs, and other crew are also mostly Black and brown folks and it means the absolute most to me. It felt really refreshing to meet Radskillz and the crew because on the trip I was mostly surrounded by cis gay men. Our amazing PR contact Itzi was the only other queer babe around constantly, but she was working her ass off to make sure everything was running smoothly. Oftentimes when folks say stuff is LGBTQ+ — they are talking about gay men. Lesbians and queer babes are an afterthought even though we are the FIRST FUCKING LETTER. I was going to try and find all things dykey in Miami on this trip anyway but it felt really nice that at this moment I didn't have to go far to find it.
I got a drink with Radskillz and the crew and then had to head back to the hotel to change for dinner. Now, I don't know if what I am about to say next is legal in Miami but….the bartender gave me a drink to go. He told me that this was South Beach and it would be fine so I said "OK!". I walked back to the hotel with a bright blue drink in my hand, past multiple people AND THE POLICE DEPARTMENT and literally, no one stopped me. I saw other folks with drinks too and it seemed fine but what you better not do is go to Miami, have a drink while walking around, and then try to use this article as an excuse to get out of a ticket if you're stopped. I WILL DENY DENY DENY!!!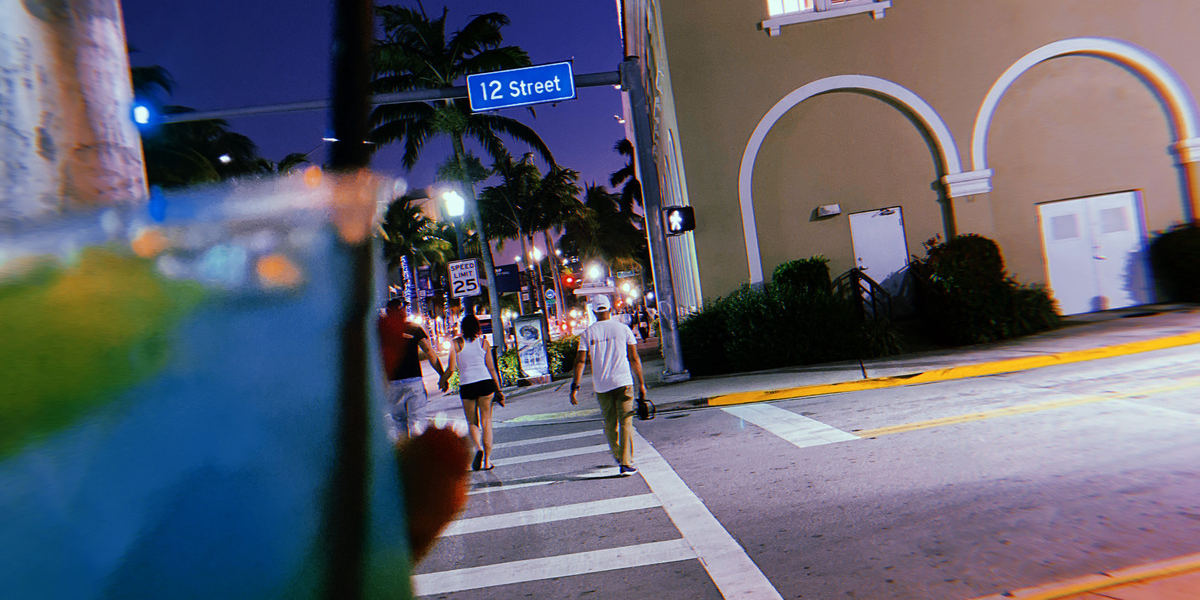 I popped on this green faux leather skirt I have with a sheer black top and some heels, and made my way to dinner at Havana 1957. The food was yummy, lots of giggles with the crew, including my new German BFF Dom who I have decided to kidnap and make my photographer. I had ropa vieja ($22), a drink with a stick of sugarcane in it ($17), and Cuban coffee as a sort digestif, and guess what — it is absolutely my new favorite thing. I told one of our guides Dan (and 1 of now 6 Libras I've encountered that I dig) and he walked me through how they make it and how seriously some folks take the making of it in the city. That struck a chord with me because I found/find such joy and peace in making coffee for myself and it actually inspired me to reconnect with it. I know it's not exactly the same but the first sip followed by that chat really reignited my love of making coffee.
We ended the night with dancing and drinks at Twist! It's one of thee coolest bar/clubs that I've been to, it has like seven rooms all with different vibes. We danced upstairs to Beyonce and my personal song of 2023 "I'm Good (Blue)", downstairs was reggeaton and dancehall, and on the pseudo back patio were video performances like Shakira at the Superbowl and Selena's performance at the Astrodome. It was an incredible night and later in the week we would end up having a tour of the club during the day, and there I would learn that in 29 years of being open they have never charged a cover. Usually, when I go to bars and clubs that are gay, it's mostly gay men and they for some reason feel like because I'm a Black woman (and I have heard firsthand many cis gay white men say they feel like a Black woman lives inside them which — maybe stop saying that question mark) they can touch and grab me. It goes from having a good night to having a bad one pretty swiftly, but at Twist none of that happened and instead, I was just dancing in the cool evening Miami heat having a fucking blast.
Fits: This day was very chill — shorts, tee, and keds in the morning and then a little Miami hottie at night. I didn't sweat my buns off in the Everglades and at night, the breeze was so good that the sheer top I was wearing made it all nice and cool. I wore heels at night and the city is very walkable, but I did get my toes stepped on a few times!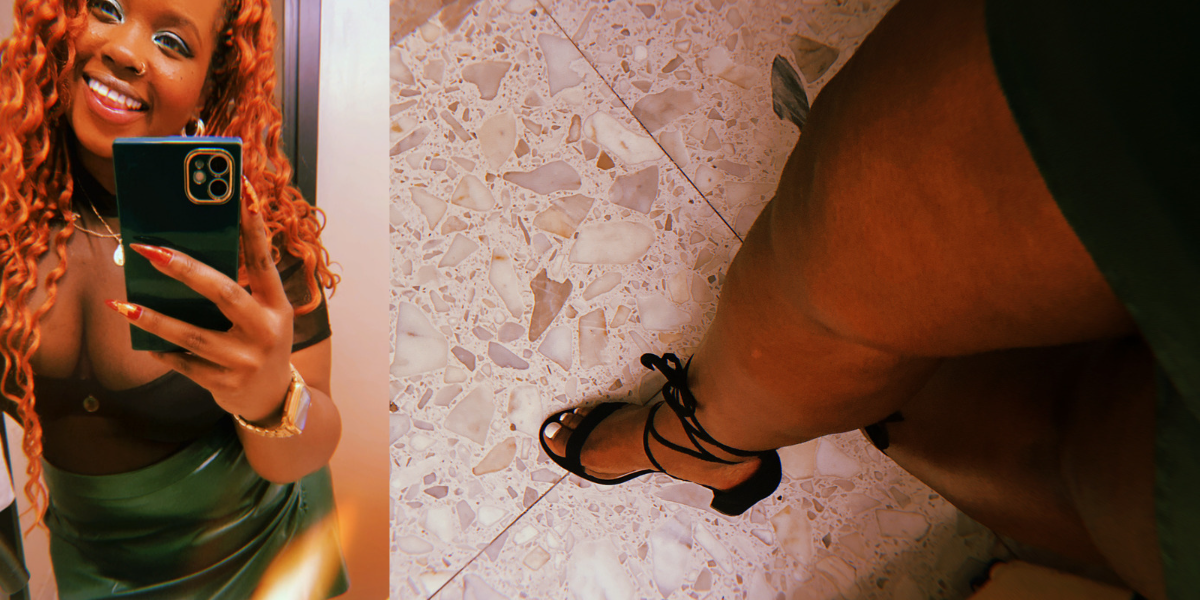 Shelli's score for the day: 4.8/5 The Everglades are stunning and I had the world's best smoothie.
*Bonus: I love fast food after a night out and guess what is literally like next door to Twist — a Burger King that sells beer and it's the only one that exists. A whopper and a beer before you go back to your Miami hotel to pass out? Yes Please.
Day 3
I woke up and immediately wanted breakfast! The hotel gave us a voucher for free breakfast downstairs at Los Buenos. It's a bodega-style spot that is in the lobby of The Moxy that also serves tacos and other treats until early afternoon. I got some tacos and juice and took it back upstairs to eat in bed while I watched cartoons. The food was good but what was bad was the attitude of the staff.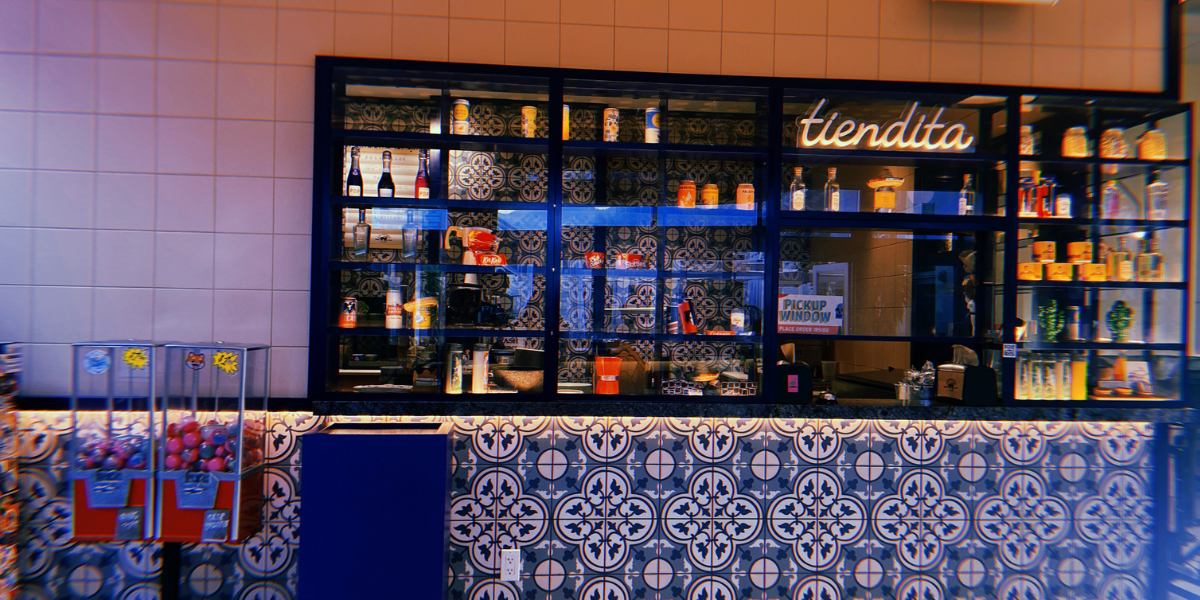 I used the voucher that was given to me and they did not seem happy about it. The total was about $16 but I of course got it for free with the voucher. It felt like she was pressed that I technically didn't pay for the food, which I get to an extent but —it's also not my fault it was free. It was given to me to use and if they don't want people to use them then perhaps they shouldn't give them out. I actually didn't think the entire thing would be free, I thought I'd have to pay for the juice and was ready to tip when I paid for it. I ended up buying a croissant that I didn't eat and tipped on that because I felt bad for getting everything for free but yeah — not the greatest start to the day.
After breakfast and packing up because we were checking out of the hotel later that day, I got a dash of work done in the lobby! I will say it was a vibe working down there. The colors mixed with the sun coming through the wild amount of windows woke me up and kept me working plus, it makes for a perfect IG shot. Another cute photo opp moment is the horoscope pay phone in the lobby that actually works!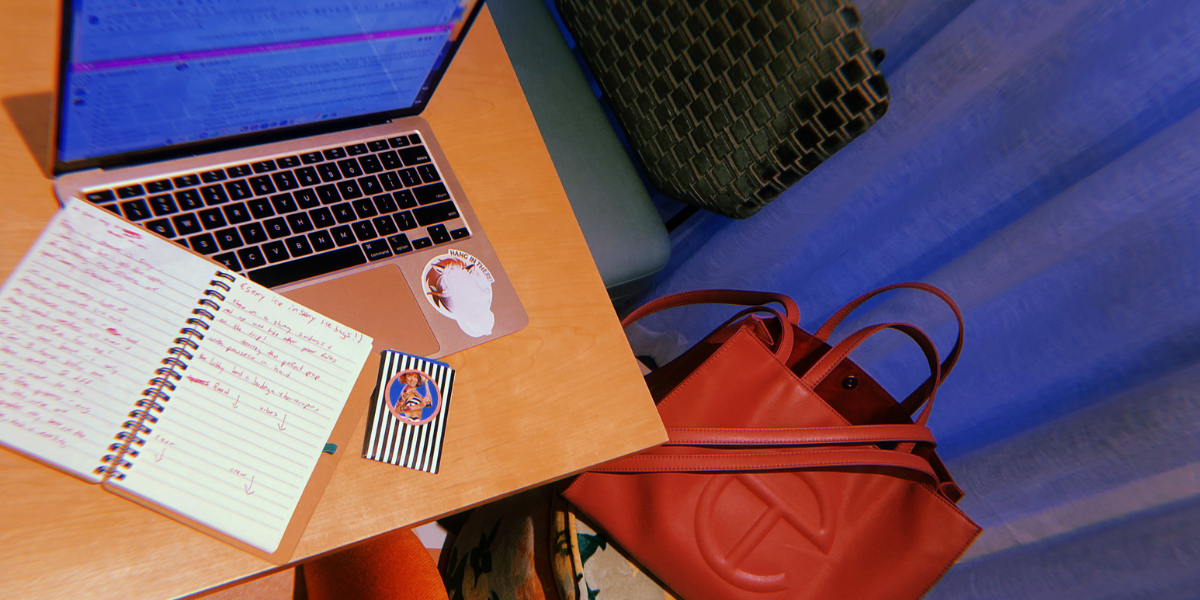 We went on a walking tour of queer Miami beach where I learned a bit of the queer history of the city and saw some famous pop culture spots like where The Birdcage was filmed and The Versace Mansion. The mansion is the third most photographed home in America, and probably increased in popularity after the death of the designer — and then again after Ryan Murphy's show came out. It felt a bit odd walking past it and also a bit disrespectful? It's now a restaurant and hotel and many folks were trying to get a photo in front. I questioned my own reasons for wanting to see it so badly. Was it because I'd studied the designer in college? Because I am obsessed with the designs from the early 90s? Because I dig captivating architecture? Or maybe because I have a bit of a love for the macabre? I don't know, but it was eerily exquisite.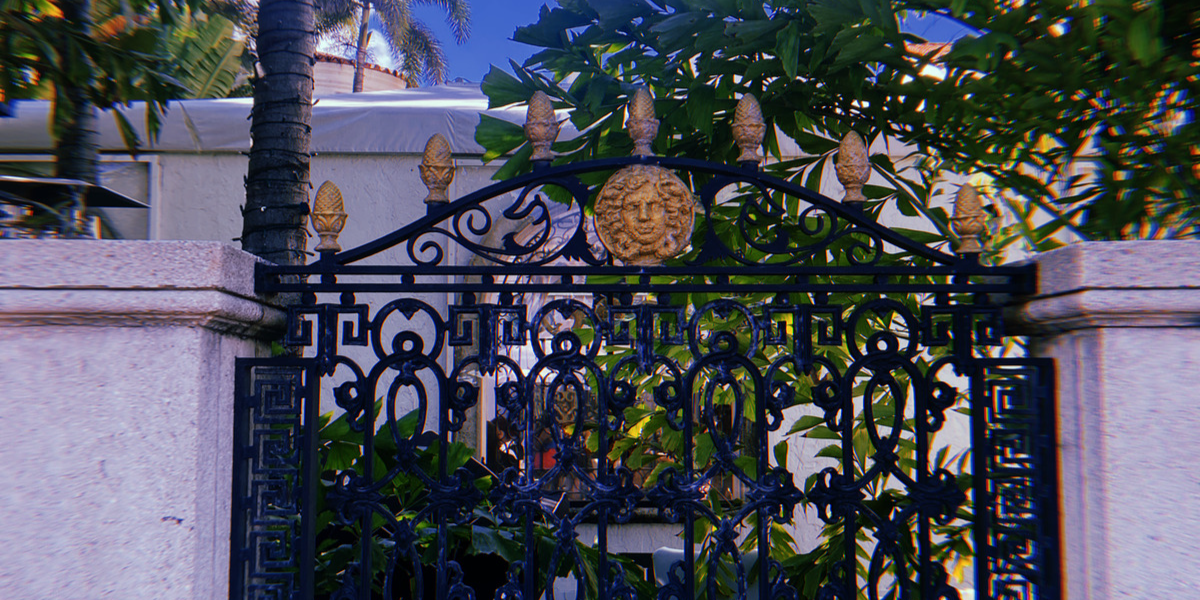 We popped over to The Wolfsonian for a private tour of the museum and I fell in love with pieces from the artist Roberto Lugo. My partner and I talk about art a lot and both have a big love for it. I was sending them photos of his pieces as we walked through the museum. He takes vibes of ceramics that are usually very white and European and twists them to show imagery featuring Black and brown folks, it's lovely. When I can afford it I shall be buying a piece of his work. We ended our afternoon with a drag show at The Palace! The food was meh but the performances were INCREDIBLE! I know and loudly shout for Chicago drag queens, and we all know about my affinity for one Miss Trixie Mattel but guess what? Miami queens are phenomenal and I hear that this season of Drag Race has its first Miami Queen!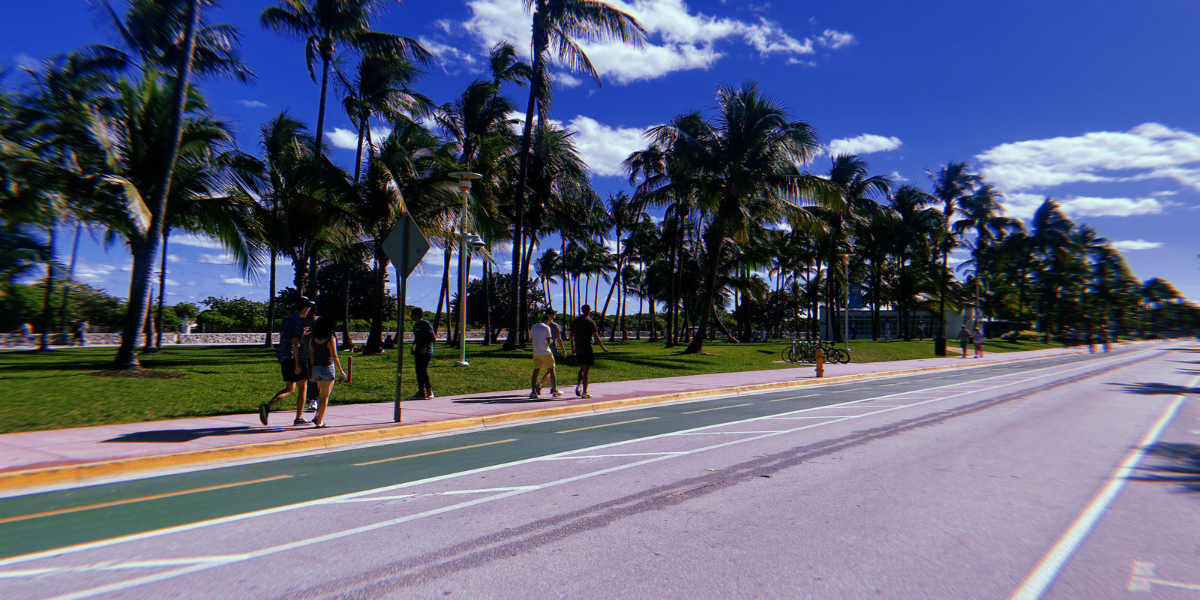 We changed clothes and checked out of The Moxy to head to the hotel where we would be for the rest of our stay — The Arlo Wynwood.
The Arlo Wynwood
On the short ride over from Miami Beach to Wynwood I felt excited. I started to see even more color — in the people and the art — and that felt so good. We passed so much dope graffiti, lots of food spots that were Haitian and Jamaican, beautiful Black and brown folks walking around, loud music coming from the cars at stoplights, it was wonderful.
It felt like I was back in Chicago in my neighborhood in the summer. I felt BEYOND comfortable as we got deeper into Wynwood and closer to the hotel. Gentrification is obviously very present, the area is/was called El Barrio, a neighborhood where Puerto Rican immigrants would call their new home starting in the 1950s. It is now a millennial's favorite type of neighborhood — a transitional one. It's still trying in some ways to stay true to the folks and spaces who were originally in the neighborhood while simultaneously trying to change it. It truly reminds me of Pilsen and I think that's why I connected with it so much. There is clearly money around and although I'm an outsider I could still feel the original cultural elements present. After speaking to some locals, it sounds like the area is doing an okay job of not erasing its history.
We got to the hotel and HOLY SHIT I DIG IT. The views, the vibes, the neighborhood, the staff, the rooms, everything was 10/10!!!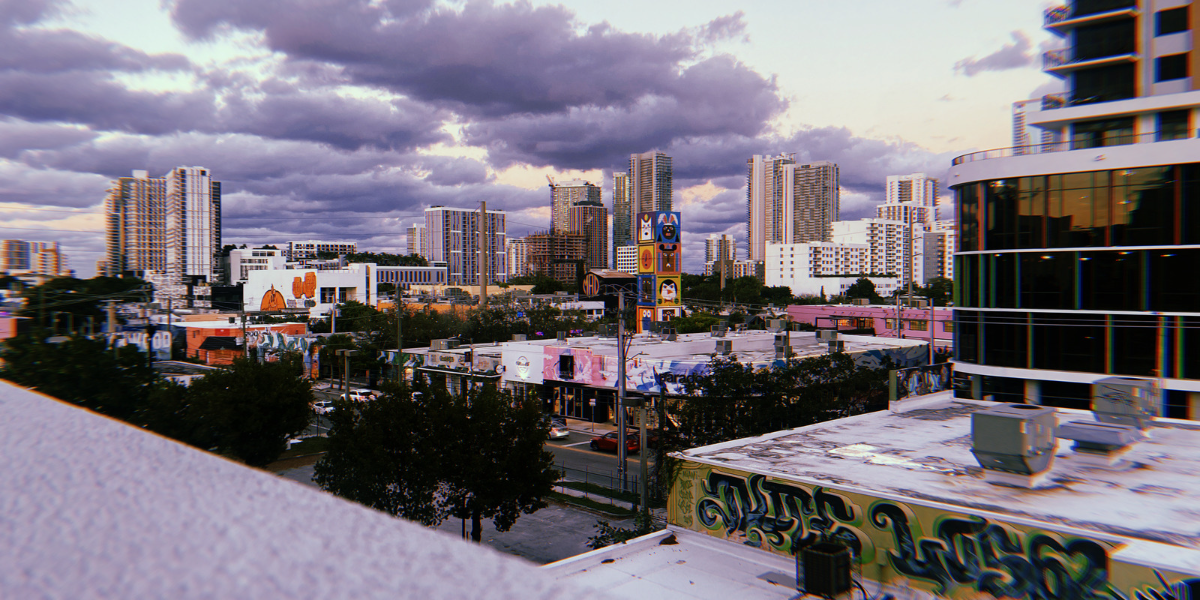 It's the first hotel in the area and it's just as artsy as the neighborhood it's in without trying too hard. One thing I fully loved (and again as a VISIBLY Black traveler) was the VISIBLY Black staff and guests. I felt relaxed. Something about chatting with the person at the front desk and we're both using AAVE, something about hanging out in the lobby waiting for an Uber and there are other Black and brown folks doing the same, something about walking to the cafe down the street and having a cute moment with a Black girl that complimented my Telfy asking how I managed to get that color — I felt welcomed and The Arlo was just the first stop in the neighborhood where I felt that way.
My room was great, I had a view of the neighborhood and further into the city, it was clean, high-key modern, had my own personal Nespresso machine (for FREE ESPRESSO IN THE MORNING), and had an actual closet for me to unpack and hideaway all my shit. The elevator situation was a little confusing, and the lighting in the bathroom isn't really great when putting on make-up, but other than that it was vibes all day. The king-size room and bed were a perfect size for solo stays or with a hunny! My fav touches were my name on the TV (VV cute!) and there was a light you could turn on for DND versus a paper sign! Just a simple little touch that made for a cool modern moment.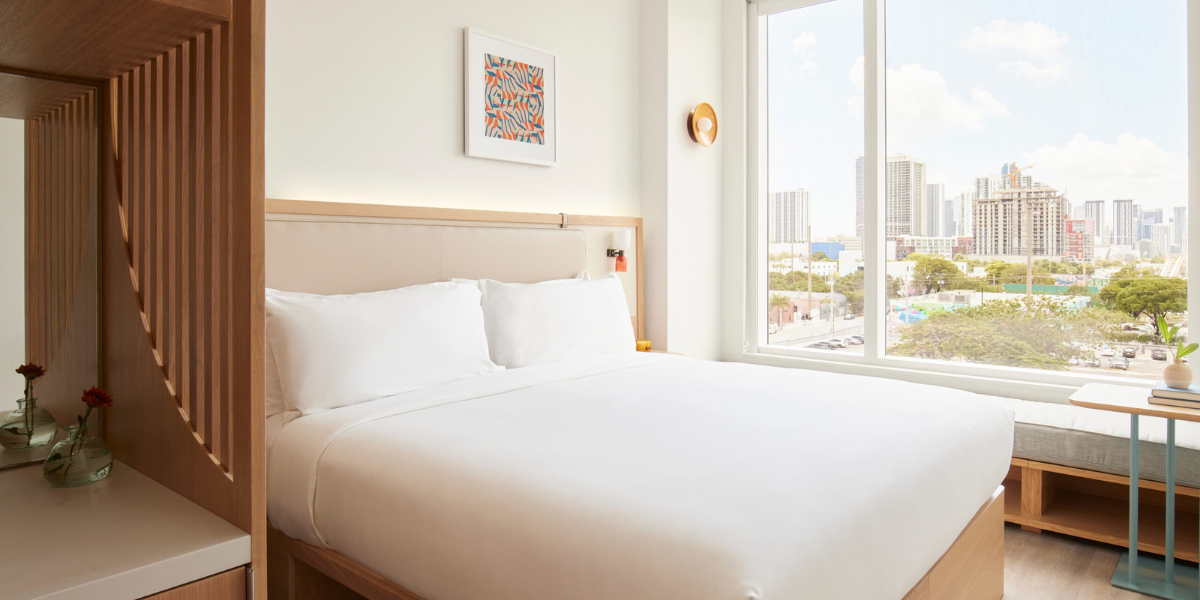 So let's chat price, for my size room for a weekend stay (Saturday to Monday) it's looking like $250 a night on the low end, and up to $500 on the high for the next few months. I did see a few nights for $800 but those looked like it during the time for spring break. It's def not cheap but like I said, I was treating this like a trip I'd saved up for to treat myself. For this May Taurus, it feels like an amount of money I'd be okay spending for just that kind of trip — but maybe I'd go during the week when it's significantly cheaper.
After showering and unpacking I had a drink on the 3rd floor at Higher Ground, which houses one of their three bars. Big vibes, beautiful views, dope staff, yummy ass drinks including mocktails. There are HELLA places to work at in this hotel, they have a gym with two Peletons (someone have them send me one), a perfect pool, and a great staff.
Later we had dinner at MaryGold's and it was one of the best meals I've ever had. Do I think the Jerk Oxtail Beignets were good? Yes. Do I also feel like places and dishes like this are the reason why Oxtail is so expensive which is pissing off West Indian people I know? Also yes. The presentation of the food was dumb extra but I mean, maybe these are the vibes people are looking for. I do wish that every place had a regular-degular cheeseburger on the menu (felt this way before watching The Menu thankyouverymuch) but that's just me. Also the salad was SMACKIN', I was reminded that I don't like Sashimi, extra reminded that I enjoy martinis, and triply reminded that chefs need to know that they are not Gordon Ramsey and nor is this The Bear but again — that's just me.
Fits: For our walkabout, I wore a simple tan cotton fitted sundress and sneakers. It was fine until someone drunkenly spilled mimosas all over me at brunch and I was sticky and gross in the sun for nearly 2 hours. At night I wore my green dress from the first night 'cos I had a wardrobe malfunction.
Shelli's score for the day: 5/5 I love niggas.
Day 4
Sunday morning I woke up and had some water after last night ('cos omg so much booze) and watched SpongeBob. My fav water is Acqua Panna and the hotel had it and it made me happy. Then guess what I SAW MY PARENTS! They recently moved to Florida and I haven't seen them in over a year! We went to our favorite spot — Dennys — and it was a lovely time!!
I went to the hotel to change and give my parents a tour, and the hotel staff was so fucking kind to them. The folks at the front desk were not the same ones who checked me in and didn't know who I was. I say that because on press trips they obviously want to leave a good impression, so it was good to feel that they would treat anyone that way.
I asked if it would be okay if my parents hung out in the stunning ass lobby for a bit while I freshened up and they were so kind and chill about it. That matters to me because I've visited friends in hotels and got looked at funny by the staff when waiting for them, and even told I couldn't wait unless I was patronizing the bar. Some of you may also think it was a weird ask since it should be obvious they could chill downstairs because I was a guest of the hotel, but you never know and I wanted my parents to be safe and unbothered. I want many of you who are white or white-passing, to know what a luxury it is to not feel you have to make your intentions known when you go into places. I'm not saying all folks who are Black feel like we have to, but I still do a lot of the time. I'm growing in my travel, and the more I do the less that feeling comes up but yeah.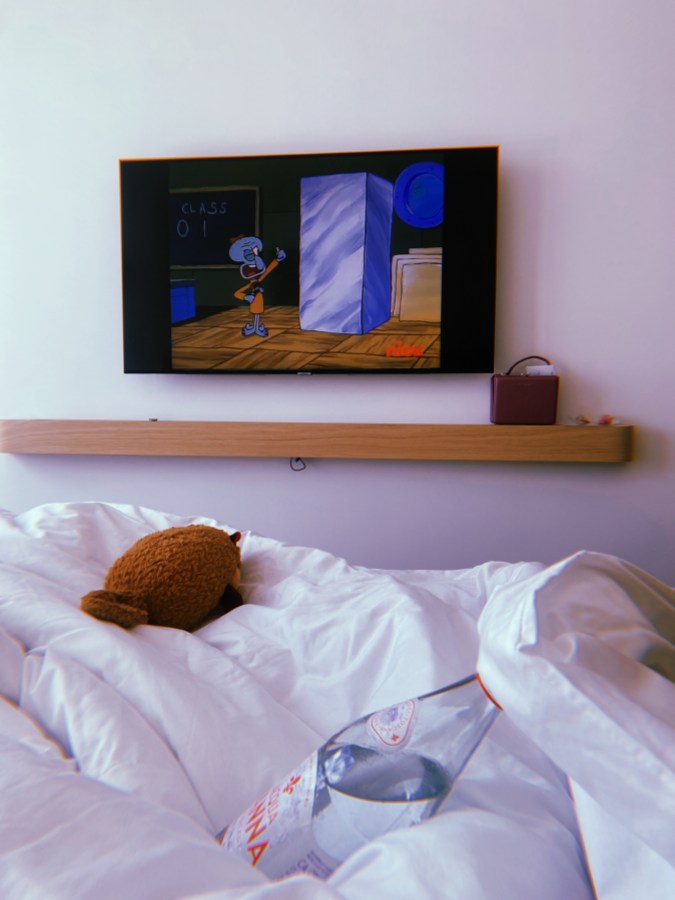 After taking cute pics in the lobby with them, my parents dropped me off to meet the rest of the crew at R House Wynwood for another drag brunch and again — EXCUSE ME WOW MIAMI QUEENS WIN AGAIN — also the food there was pretty damn delectable. Most drag brunches have shitty food (we come for the bottomless mimosas and a show) but this food was YUMMY!
Afterward, we popped over to Superblue Miami which is this trippy immersive museum. Flowers grew out of my hand, my heartbeat controlled the lighting, and at one point I was even walking in the clouds.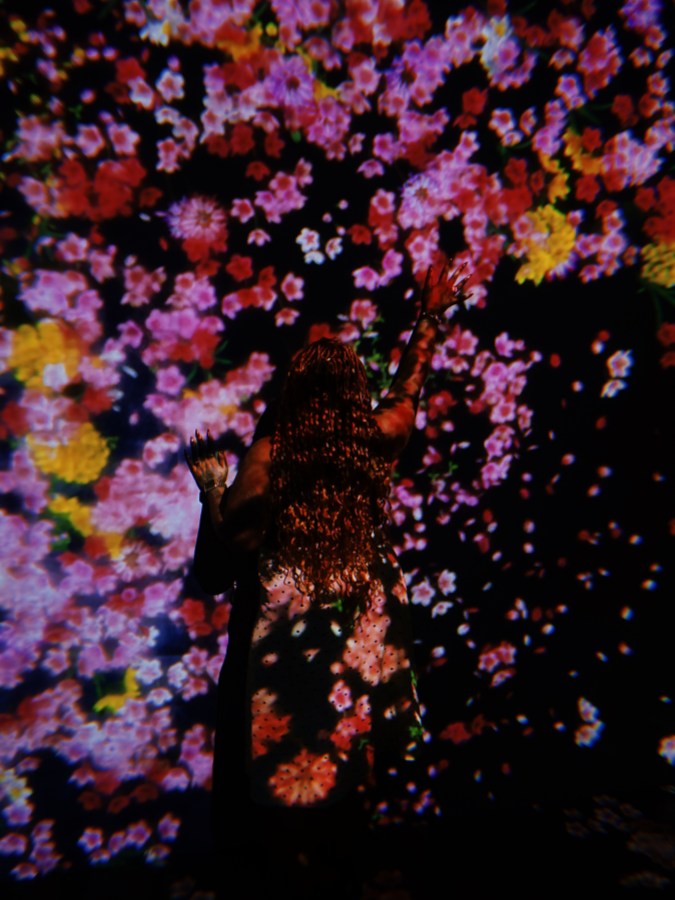 Last event up for the night was seeing Magic Mike Live! Listen, I'll tell you that the fellas are talented and attractive, but they seemed to steer clear of our group which was made up of mostly queer men. We learned it was put on our itinerary because the show made a big deal about wanting LGBTQ+ folks to come out. There is a HUGE gay male presence in Miami, and Channing Tatum and his crew are smart enough to not leave any money on the table, but if they want the gay dollars then they need to do a much better job at gyrating on all groups that are present. It should be made clear that most of the time — gay people don't wanna be where we are not wanted. The bottom line is don't invite us to your party if you don't really want us there, 'cos there are plenty of others that we would rather be at.
We ended with dinner at a food hall/bar/club called 1-800-Lucky. The vibes are a bit chaotic but it makes for a fun night and it's a like, three-minute walk from the hotel. I must have walked around four times before settling on a spot, I just wanted some spicy and sweet chicken and rice and I got it from Gold Marquess. We ate at SO MANY spots during the trip but this was my favorite and it was $16. I ate some at the spot and the rest at the hotel after a few drinks and a bit of shimmying. It should be noted that I was watching Talledega Nights while I ate it in bed.
Fits: During the day I wore a gay brunch-appropriate polka dot skirt and a black faux leather top with black strappy sandals. At night I reached for my favorite skirt in the world, its plaid and giving Peggy AND Joan vibes, and paired it with a purple top from the now defunct Premme. I added in pink pumpy Mary Janes and my Brandon Blackwood trunk and was on my merry Miami way.
Shelli's score of the day: 3.5/5 The coffee at the hotel lobby wasn't very good and Magic Mike was kind of a letdown for the fellas in my crew.
*Bonus: There is a machine in 1-800-Lucky that makes cotton candy and it's sweet as fuck and not that great but fun to watch — it's under the neon "Girls Girls Girls" sign.
Day 5
Woke up early and it was my last day in the city and I def wanted some time for myself.
I had been surrounded by people for about five days in a row. I did need a bit of space for myself and I dig alone time. This trip had been so beautifully packed with events, restaurants, and dope people — but I wanted to be around surroundings that I chose. I walked down the street to a place that felt like it was meant for the moment and it was ideal for the vibes I was searching for. I was in The Wynwood Jungle, covered by flowers, plants, art, and lights.
It was just me, my camera, and some coffee from The Salty. I started off listening to "Kids" from the Stranger Things soundtrack (felt right) and the sounds of Wynwood in between track changes.
My mom actually took my dirty clothes with her to their house to wash (mums are cute as shit) and so I'd hand-washed my skirt and wore it today, along with my partners favorite sweatshirt. They gave it to me before I left for the trip. It still smelled like them, and I was really missing them that scent made this solo moment even sweeter.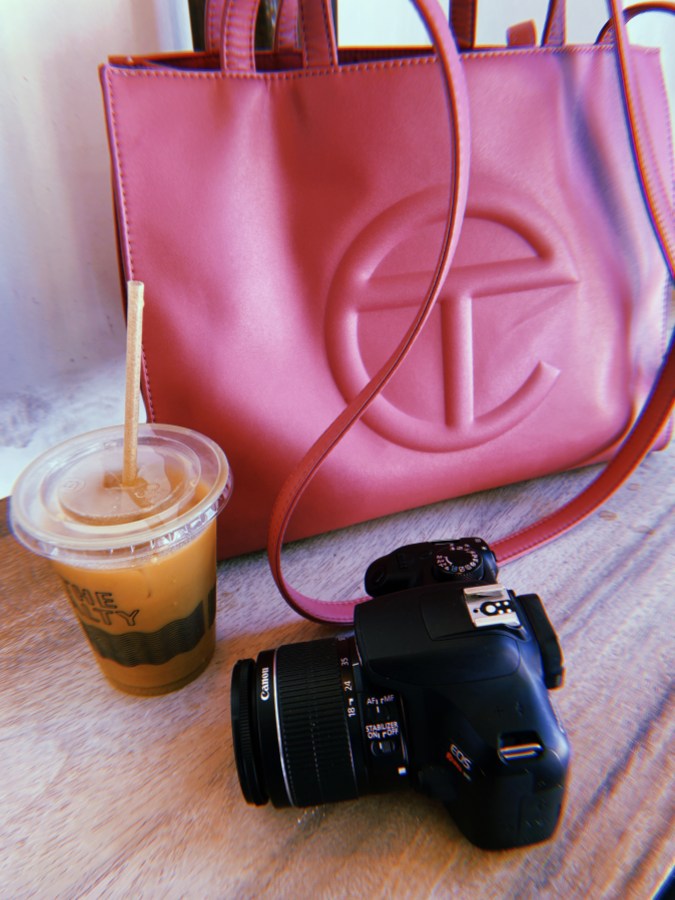 An hour or so later, I was back at the hotel to meet the crew for checkout. I'd already checked out before I went on my solo stroll and they were holding my luggage until I got back. We left for an art tour of the Miami Design District and I — had an okay time. Yes, it was beautiful, but it was enclosed by luxury and incredibly high-end stores. The art is great but it felt like it was making art even more inaccessible than it already is and it being right next door to Little Haiti didn't help my feelings any. I just couldn't stop thinking about that as we walked around. They did let me know they work with schools in the area in different ways to continue to let folks know the art exists there but I still felt it was…out of place.
We ended the trip with lunch a few blocks away from the design district at a Turkish restaurant, El Turco. The outdoor setting was beautiful, it was kinda quiet and we shared items from the Turkish Breakfast Tray and ended the meal with Turkish Coffee. I stepped away to buy a crystal with Itzi cos gay.
Back at the hotel, we said our goodbyes, and my dad actually came to get me so we could have another meal together before dropping me off at the airport. He gave me a hug, I was one of those people crying at the airport, and I was so emotional I signed up for Clear and then purchased a 7$ airport juice.
Fits: Plaid skirt and my partners fav sweatshirt from their university. Keds for comfort and of course the pink Telfy.
Shelli's score of the day: 3/5 I wanted to see my mom again before I left but Miami traffic turned against me, and Clear spelled my name wrong :(
---
So that was that! My first trip to Miami was a success and the queer vibes are defo present. All throughout the year, there are events happening, it's kinda like a forever pride in Miami. The colors are always popping, the sun is pretty much always shining, and the food is chef's kiss.
I would go back for sure and if I had to pick a place to stay it would be Wynwood. That neighborhood was giving me everything I needed for a quick vacation to get away from chilly Chicago.
Apparently, my trip was happening during Mercury Retrograde which I am usually hella aware of but have recently decided to ignore. I had no idea it was coming, I muted it on all social media and even set my TikTok algorithm to not tell me it was happening — but it ultimately got me. Getting back to Chicago was an insane time but I made it and got to say "Hello" to Atlanta on the way back.
So, I'm back in my city now, putting the finishing touches on this article all about this trip and getting excited for the next one.
Happy Traveling!