UPDATE: Kirk Cameron has responded to the response to his biogtry. The statement he gave ABC News:
"I spoke as honestly as I could, but some people believe my responses were not loving toward those in the gay community. That is not true. I can assuredly say that it's my life's mission to love all people. 
I should be able to express moral views on social issues, especially those that have been the underpinning of Western civilization for 2,000 years — without being slandered, accused of hate speech, and told from those who preach 'tolerance' that I need to either bend my beliefs to their moral standards or be silent when I'm in the public square. I believe we need to learn how to debate these things with greater love and respect," and added, "I've been encouraged by the support of many friends (including gay friends, incidentally)."
There you go, Kirk Cameron has been attacked by you! I hope you're all ashamed of yourselves. Anyhow, back to our regularly scheduled programming…



I wrote on Sunday about my complete and total inability to give a fuck about Kirk Cameron saying stupid shit about gay people AGAIN, primarily because Kirk Cameron has been saying stupid shit about gay people — and also about evolution, sidenote — for quite some time now. I've already written him off as a religious zealot who won't ever explain or apologize ("Never explain, never apologize" – Brian Kinney), and I'm sure many of you have, too.
However, The Advocate has gathered some of the celebrity reactions to Kirk Cameron's statements, and after reading the precious response of Jordan Knight (Jordan was in my favorite 1991 boy-band, New Kids on the Block, with his brother, Jonathan Knight, who is gay and came out last year), I knew I had at least two fucks left to give about whether or not you've laughed enough today. I'm sure people are gonna yell at him, but whatever, he's #justsayin: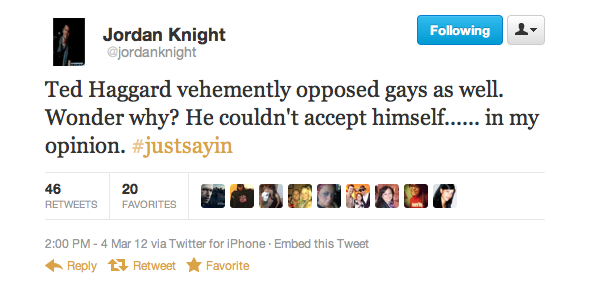 Heartwarming response from Tracey Gold, Cameron's cast-mate on Growing Pains:
I am a strong supporter of the #LGBTCommunity, and I believe in equal rights for all. #NOH8 #LOVE — Tracey Gold (@TheTraceyGold) March 5, 2012
And from Cameron's TV Dad, played by Alan Thicke: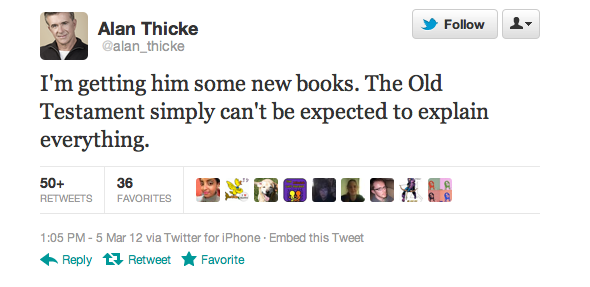 More tweets:
Debra Messing: "I want to thank Piers Morgan for his response to what he wud say to HIS child if (s)he came out: "Great, as long as you're happy."
Christopher Rice (novelist): "Kirk Cameron says marriage was defined by God in the Garden of Eden. No response from Cameron on why the world isn't full of talking snakes."
Roseanne Barr: "Kirk or Kurt or whatever Cameron is an accomplice to murder with his hate speech. so is Rick Warren. Their peers r killing gays in Uganda."
Craig Ferguson: "Rush makes me ashamed to be a middleaged white man and Kirk Cameron makes me ashamed to be a failed actor. We don't all think like that NoH8."
Sarah Colonna (comedian): "Wish I could go to the 80s & un-buy that Kirk Cameron poster. Loving God but spreading hate has never made sense to me."
Jesse Tyler Ferguson (Modern Family): "The only unnatural thing about me being gay is that I had a crush on Kirk Cameron until about 24 hours ago."
Martha Plimpton: "The word 'Equality' shows up too much in our founding documents for anyone to pretend it's not the American way. #usethe19th #equalitynow"
Zach Braff, actor "If Kirk Cameron hates gay people, why was he best friends with Boner?"
Hey Zach Braff! The guy who played "Boner," Andrew Koenig, committed suicide in 2010. Nice one! God I hate Zach Braff. Oh, late add from Dan Choi:
I think Kirk Cameron is gay. Actual straight men don't go that far. I used to hide via anti-gay comments too. #KirkCameron — Dan Choi (@ltdanchoi) March 6, 2012
Yesterday on The Talk, Sara Gilbert — who was young and famous around the same time that Kirk Carmeron was young and famous (and is now older and gay around the same time that Kirk is older and gay JUST KIDDING he's totally straight!) — said: "You really have to think about who you are hurting … the kids out there who aren't OK with who they are. In lesbian, gay, and transgender youth, the suicide attempt rate is 30 to 40 percent, and those kids hearing that message. …  He just needs to think about that. And when he's saying we're taking apart foundations in society, I would argue that there is no one who fights for marriage more than gay people."
While to be honest I don't think there are very many high school kids hanging on Kirk Cameron's every word, I'm glad she got that number out there, for real. I don't know, maybe I was wrong about not giving a fuck. Maybe the point wasn't his reaction, but everybody else's. If you're gonna get mad at somebody for being a totally homophobic and/or misogynistic asshole, this would be the week to do it.
Oh also, that dipshit Stephen Baldwin tweeted: "GREAT JOB Kirk !!! Let's pray one day Piers Morgan finds true Salvation, God Bless!"
Jesus Christ, can you please do something about this!?