Hello beautiful, and welcome to How To Own It, where store-bought fashion meets DIY crafts. Each week I'll be exploring an aesthetic theme, showing you some of the best ways to wear it and how to make it for yourself.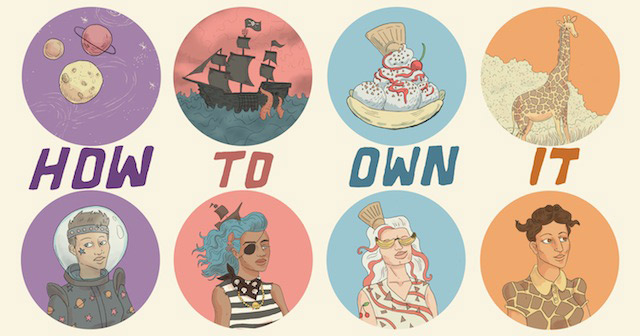 ---
A few months ago, I noticed that all of a sudden clothes were starting to look like summer sunsets, with colors fading dreamily into other colors, from dark to light. It was a welcome change from the rigidity of the color-blocking craze, with all its hard lines and right angles. I soon learned that this is a trend with a fancy name: ombré.  Ombré hair is also a thing, and makes me really which I had enough hair to dye. Currently, in general the ombré trend is still going strong, and now is the perfect time to get into it, because you can find still-relevant ombré clothes at recycled fashion hot spots or you can buy some new from your favorite store. Or, obviously, you can give something you already own an ombré update, and you can do it with supplies you probably already have around your home.
You don't have to update your usual silhouette to get on the ombré train. Since ombré is popping up everywhere, it's pretty easy to find one's go-to clothing shapes that have been dip-dyed in this style. Maybe some of these cute things will strike your fancy:
DIY Ombré
Can't find something you truly like/can afford? Same here. I scoured the internet for a how-to, but was dismayed to discover that in order to DIY my own ombré, I'd have to buy fabric dye, and it was this whole long complicated process that made me feel overwhelmed. Then I remembered how well bleach worked when I made galaxy print, and a whole world of ombré possibilities opened up! The only thing I bought to make this was a new tub scrubber (a tool suggested on Gina's Style Spot, where bleach was also used), because using the one I already own sounded kind of gross.
You will need:
An item of clothing
A bucket
Bleach
Gloves (Wear whenever handling bleach please. Also maybe open a window.)
Tub Scrubber
1. Select your item. I recommend something denim because it tends to be more forgiving of errors. I cut the sleeves off of this denim shirt because a) that's the kind of lesbian I am and b) I wanted to test this out on the sleeves first, because I was worried.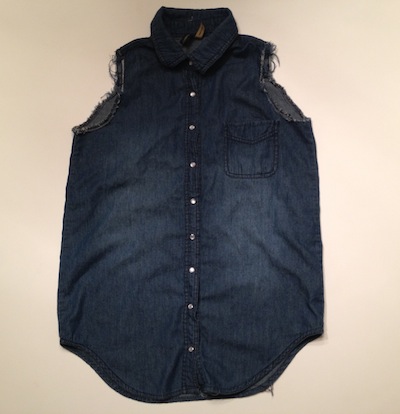 2. Fill your bucket with bleach about two inches lower then you want the ombré fade to start (because it will end up seeping upwards). Let it soak until the fabric is a few shades lighter than the original, but not yet white. For me this took about fifteen minutes.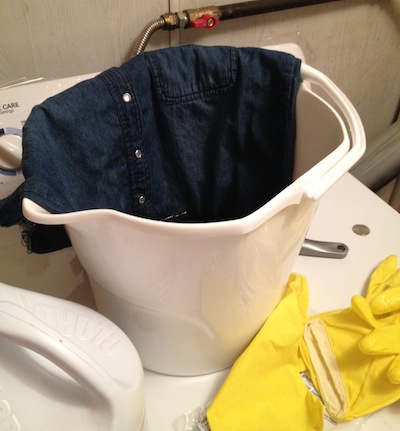 3.  Using the inside wall of the bucket for support, gently use the tub scrubber to blend the line between the original fabric and the first bleached section. Take it out and rinse it.
4. Now put it back in the bucket, placed so that only half of the bleached section is now soaking. Then let it soak until the bottom section turns white, or as light as you want it to be.
5. Wring it out and rinse thoroughly in cold water, and then throw it in the wash. (If you don't have immediate access to a washing machine, let it soak in cold water over night.)
6. I was talking to my dog when this picture was taken. That's not a required final step though.
---
 Want to know how to own a look? Email gabrielle@autostraddle.com or tweet to @Gabrielle_Korn.
Header by Rosa Middleton