This year I basically didn't see any movies. Well, I mean I saw a lot of movies but they were mostly comedies, super heros and things released in 3D. I can be better, I promise. So I'm using this years Golden Globes to sit back, laugh at some hilarious women and figure out what I need to see before the Academy awards. I am however completely up to date on every TV show ever and I have very strong feelings about all of it.
And (some of the) nominees are:
Best Motion Picture, Drama
Argo
Django Unchained
Life of Pi
Lincoln
Zero Dark Thirty
Best Actress in a Motion Picture, Drama
Jessica Chastain, "Zero Dark Thirty"
Marion Cotillard, "Rust and Bone"
Helen Mirren, "Hitchcock"
Naomi Watts, "The Impossible"
Rachel Weisz, "The Deep Blue Sea"
Best Motion Picture, Comedy or Musical
The Best Exotic Marigold Hotel
Les Miserables
Moonrise Kingdom
Salmon Fishing in the Yemen
Silver Linings Playbook
Best Actress in a Motion Picture, Comedy or Musical
Emily Blunt, "Salmon Fishing in the Yemen"
Judi Dench, "The Best Exotic Marigold Hotel"
Maggie Smith, "Quartet"
Jennifer Lawrence, "Silver Linings Playbook"
Meryl Streep, "Hope Springs"
Best Animated Feature Film
Brave
Frankenweenie
Hotel Transylvania
Rise of the Guardians
Wreck-It Ralph
Best Original Song – Motion Picture
For You, "Act of Valor"
Not Running Anymore, "Stand Up Guys"
Safe and Sound, "The Hunger Games"
Skyfall, "Skyfall"
Suddenly, "Les Miserables"
Best Television Series, Drama
Breaking Bad
Boardwalk Empire
Downton Abbey
Homeland
The Newsroom
Best Television Series, Comedy or Musical
The Big Bang Theory
Episodes
Girls
Modern Family
Smash
Let's do this starting at 8pm EST.
7:55 EST: Let's get this shit started. I may have spent other liveblogs eating delicious cheese and drinking red wine, but this time I think I'll save that for the Oscars. So tonight all I'm armed with is a bowl of Annie's mac and cheese, a bottle of seltzer and this really comfy sweatshirt blanket I have.
7:58 EST: I'm a sucker for red carpet photos
8:03 EST: "Ricky Gervais is no longer technically in show business." Ha. Love it.

8:06 EST:
NOOOOO. Meryl Streep is out sick!!
8:08 EST: This might be the first time I've ever actually laughed multiple times during the host's introduction. Like ever.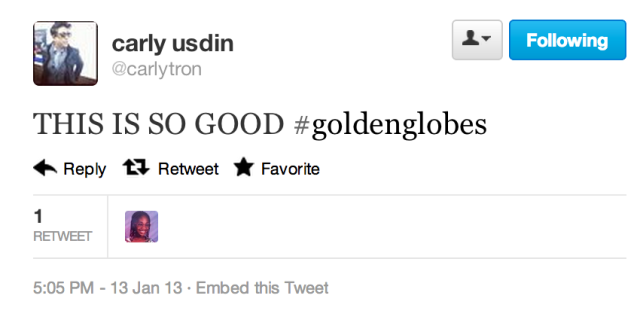 8:10 EST: Welp we're gonna hit the ground running on this shindig. Best supporting actor goes to Christoph Waltz for Django Unchained . I think he's going to cry and/or vomit on stage right now.
8:12 EST: Best supporting actress in a TV show, mini series or TV movie goes to Maggie Smith, no surprise there. Too bad she didn't take the flight in. She's probably saving it for the Emmy's.


8:19 EST: I'm surprised Game Change wins best miniseries. I love Julianne Moore like crazy but I thought Game Change had mixed reviews. It only has a 63% on Rotten Tomatoes.
8:25 EST: Welp looks like the Globeys liked Game Change better than the critics. My favorite gay-for-pay Julianne Moore wins for best actress in a miniseries or TV movie. I guess everyone loves a good Sarah Palin impersonation.

8:28 EST:
Tina Fey talking about
Hunger Games
? I think I had a dream about this once. But everyone was wearing less.
8:29 EST:Wow the HFPA president is actually kind of funny. It's really weird though that everyone sits at tables eating during the Golden Globes. Shouldn't they be awkwardly stuffed into theater chairs?
8:31 EST: I just decided I'm rooting for The Best Exotic Marigold Hotel. In other news, please don't let Jon Hamm win for Madmen. I'm so over it.
8:35 EST: Oh thank god. Damian Lewis wins for Homeland. Of course, Homeland is like the one TV show I'm not watching right now. Should I be watching it? Is that what all the cool kind are doing?
8:36 EST: That awkward moment when the whole Golden Globe system breaks down and no one knows what to do or say.
8:38 EST: I guess all the cool kinds are watching Homeland since Homeland wins for best TV drama.
8:43 EST:When I see John Goodman, I just think of him in The Flintstones movie.
8:44 EST: I feel like it has been a really long time since I last saw JLo. JLo, where you been at? I missed you!
Is there any doubt John Williams is going to win for best origional score for Lincoln?
8:46 EST: Welp, I feel dumb. Mychael Danna wins best original score for Life of Pi.
8:48 EST: Okay but well all agree that Adele is going to win for "Skyfall" right? Because: Adele.
8:50 EST: Yup there it is. Adele wins the Golden Globe for best original song. I love that Adele seems genuinely surprised that she won. I mean, we all knew it right?

Taylor Swift is not pleased.
8:55 EST: Wait. Did Tina Fey just sneak into that dude's seat and pose as him? Hilar. Less importantly, Kevin Costner wins for best actor in a miniseries or TV movies for Hatfields & McCoys.
8:58 EST: What on earth is Bill Clinton doing here!?!?! Holy shit they actually got a former president to talk about the movie Lincoln. Obviously because it's Bill Clinton he sells the fucking hell out of it. I honestly didn't much want to see this until now. Oh Bill.

9:00 EST:
Amy: OMG that was Hilary Clinton's husband!
Tina: That was William Rodham Clinton.
So happy right now. Also this happened earlier:
9:05 EST:Yay JLaw wins for Silver Linings Playbook for best actress in a comedy!! I love her forever! But she will always be Katniss in my heart.
JLaw: I beat Meryl!
9:12 EST: Wow Kristen Bell is so super pregnant! How did I miss that one? Also best supporting actor in a tv show/miniseries or movie goes to Ed Harris for Game Change which I think is sort of a shame because I really like Max Greenfield on New Girl.

9:15 EST:
Anne Hathaway wins best supporting actress for Les Misérables
God could Anne Hathaway look any cuter with that short hair? I love her. No seriously. She just said "blerg" and is crying. Adorbs. Although her hair does look a little old school Biebs.
9:19 EST:
Damn I want a snack but my kitchen is too far away to get there and back before the end of the comercial break. My life is so hard.
9:22 EST: Will I ever not associate Amanda Seyfried with Mean Girls? I think not. Maybe I just don't want to. Regardless Quentin Tarantino wins best screenplay for Django Unchained Although he sounds a teeny tiny bit crazy, I totally know what he's talking about when he says reading his work aloud to his friends helps him to hear it through their ears. I totally do this whenever I'm not sure if something is funny.

9:27 EST:
Lucy Liu looks fucking amazing. And just so all of you know, Debra Messing went to Brandeis where Rachel and I went! So no big deal it's a big deal. While I always want
Big Bang Theory
to win everything, it's nice to see
Don Cheadle win best actor in a TV show for House of Lies
. A few weeks ago my friends and I got into a pretty heated discussion over how to pronounce Cheadle. She thought it was pronounced Shield. I said Chee-Dal. Based on that announcement, I won. I love winning.
9:34 EST: Yay time for best foreign film! I have this rule where I watch whatever foreign film wins! This year the winner for best foreign film was Amour. It appears to be about sad old people so maybe I'll save this one for when I have a hangover.
9:37 EST: I feel like Lea Michele is so talented it makes me sort of sad that she's presenting instead of receiving awards. Obviously Glee isn't wining any awards, but I would love to see Lea in a live sung musical (I think post-Les Mis there will be many more).
9:40 EST:Claire Danes wins for best actress in a TV drama for Homeland. I love Claire Danes forever but is it okay that I just don't want to watch a show about terrorism? I just don't.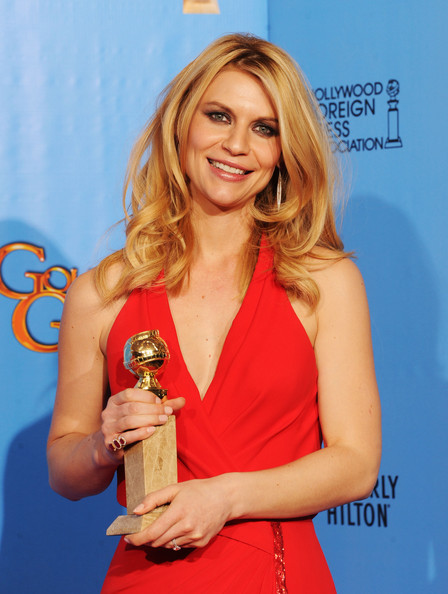 9:42 EST: I know you guys were on the edge of your seats about the whole "Lizz is hungry" situation. I ran up for a snack. Taleggio and crackers just FYI.
9:45 EST: I don't think Sacha Baron Cohen is funny at all. Also even though I obviously want Brave to win for best animated feature, I feel sort of like Wreck-It Ralph deserves a little love too. And Hotel Transylvania. Don't judge me.
9:48 EST: No surprise but still awesome, Brave wins for best animated picture. I hope this encourages Disney to produce more animated films feature independent girls with no love interest!
9:53 EST: Just saw the clips from Life of Pi. I don't want to see the movie because, um, I read the last ten pages of the book.
Now time for the most important category! I watch, literally every show in the best actress in a comedy category. I'm not sure Lena Dunham is actually better than Tina Fey, Amy Poehler or Julia Louis-Dreyfus but she has done a great job tonight making me feel like I haven't done anything with my life. Just to be clear, by "not sure Lena Dunham is actually better" I mean I think that she's not and Amy Poehler got ripped off. I think the Golden Globes are mostly just rewarding Lena Dunham for being young and being on HBO.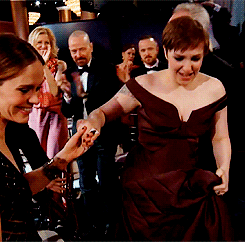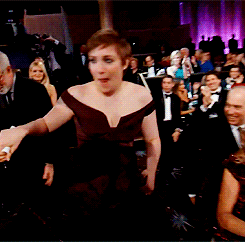 9:58 EST: Wait can anyone tell me if The Mindy Project could have qualified this year? Because Mindy Kaling is the funniest woman on television.
10:00 EST: Robert Downey Junior is one of my favorite actors because I don't in any way distinguish between him and Tony Stark. And I love Tony Stark. I couldn't tell you why he's roasting Jodie Foster now. Is it just because she's awesome? Whatever, I'll always take a tribute to a talented lezzie.

10:06 EST:
Also JFos looks stupidly good for 50. OMG is she about to come out?
10:07 EST: HOLY SHIT Jodie Foster just came out officially! Like on TV! Holy shit!!



10:12 EST: Um. Oh my god that just really happened.


10:15 EST: Okay I've collected my thoughts and pulled myself up from the floor. I think Jodie Foster pull that off perfectly. She got everyone all tense and nervous for a second, made a joke and then was like, "look, everyone knows I'm gay." She got to have a moment to talk about privacy while still officially confirming her sexual orientation which, at this point in time I think is important. Wow.
10:18 EST: I'm surprised it wasn't Lincoln, but Ben Affleck wins best director for Argo. Who ever thought Ben Affleck would become a legitimate grown-up Hollywood figure?

10:21 EST:
I feel like
Girls
is going to win best comedy but I really want
Big Bang Theory
or
Modern Family
to win.
10:23 EST: And there is it. Girls wins best comedy. I haven't done anything with my life. I need to write a pilot and get famous immediately. It does crack me up that Lena Dunham is somehow the only person at the Golden Globes reading from notes.

10:28 EST:
I'm exhausted. These are long. Also, should I be watching
Smash
? I'm seeing a lot of ads for it tonight. I'm a big sucker for advertisement.
10:30 EST: Christian Bale never fails to look totally creepy.
10:32 EST: Jennifer Garner is so pretty and amazing. My sister-in-law has met her a bunch because she comes into her shop in Boston. Apparently she is super nice. Hugh Jackman wins for best actor in a comedy or musical for Les Misérables. I always forget he's Australian until the moment he starts speaking. More importantly I feel like whenever I see him in a movie I'm always thinking "It's so cool that Wolverine has an acting career now." I also love how many people have been so wholeheartedly thanking and loving their partners. I really appreciate it. Its just nice to hear that some people really do love forever.
10:36 EST: I know you guys probably can't see it because of "local news" but there was just the funniest comercial for one of tonight's news pieces. It's about the trials and tribulations of a local (Providence/Rhode Island) marching band. I hope your local news ads are as good as mine.
10:38 EST: Whoa aftermath of 911. That shit got serious fast. It's not that I don't want to see Zero Dark Thirty, it's just that I don't really want to see any movie about war ever. It's a thing.
10:40 EST: OOOhhhh! Here comes best comedy or musical! I'm kind of rooting for Moonrise Kingdom.
10:42 EST: But I'm not a member of the HFPA and the award for best comedy or musical goes to Les Misérables I guess it does seem pretty impressive when you get to play "Do You Hear the People Sing" as the cast and crew walks up.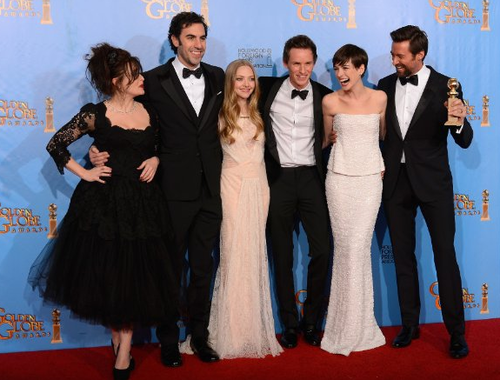 Also can we talk about Anne Hathaway and Amanda Seyfried's on-stage spooning situation? Adorbs.

10:47 EST: I just learned the other day that George Clooney had Bell's Palsy, a dysfunction of cranial nerve five that causes one half of your face to paralyzed, sometimes forever. I think that he should speek out about this more because it's really scary when it happens to people. Also, Jessica Chastain wins for best actress in a drama for Zero Dark Thirty. I hate when Helen Mirren loses. She's my fave.

10:50 EST: I can't believe Meryl Streep is out sick. George Clooney you are no substitute for the most amazing actress in the world. Oh, and Daniel Day-Lewis wins best actor for portraying a great American president.

10:55 EST: I think it's time for more Tina Fey and Amy Poehler. I needs the funnies. Actually, I think all that's left is the award for best drama.

10:58 EST: Is Julia Roberts wearing a pants jumpsuit romper thing? I like that she and the other presenters seem to be plahing it so loose and casual.


10:59 EST: Best drama goes to Argo

. Once again, I still can't believe that Ben Affleck became a real human. Remember him in Dogma?

11:00 EST:

That's a wrap! Tonight was actually really entertaining! I actually wasn't bored, which is really saying something for an award show. Well, plus Jodie Foster came out. Wowza.

Amy Poehler: Goodnight everybody! We're going home with Jodie Foster!

Welcome to the 70th annual Golden Globe Awards! Unlike the Grammys, Oscars, Emmys and Tonys the Golden Globes have neither a catchy name nor any real value in terms of prestige. So why am I watching this constellation prize showdown? Because Tina Fey and Amy Poehler are hosting and they are the funniest most amazing people in the world! For real! Look how adorable and perfect they are: