When kids are at their newest, choosing books for them is so easy! You grab some Mo Willems, some Margaret Wise Brown, some Dr. Seuss. You work your way up to Sendak and Virginia Lee Burton because how could you possibly deprive them of knowing Where The Wild Things Are or the heartbreaking tragic dive that is The Little House? You cannot. And you make sure you did indeed Pat the Bunny, and obvs Duck! Rabbit! and Ferdinand and everything Shel Silverstein even so much as sneezed at, and the classics and your favorites. But what if your radical punk anarcha/separatist queer crunchy unicorn spirit wants to shine shine shine via reading materials for the smalls in your life? And it does — it wants to shine so hard. Well of course you're gonna turn to zines and independent presses, as any good RPA/SQCUS would. Lucky for all of us, there are a bunch to choose from!
Below is just the tiniest list of four zines you might want to bring into your/your little responsibility's purview. This isn't comprehensive in the least, so if there's a zine, magazine or book for shortie small tiny tot youngen peoples that you want us to talk about, email laneia [at] autostraddle [dot] com!
He, Her, Him: Free, Fer, Frim
by Adrian Prawns Sinclair, illustrated by Sylvie LS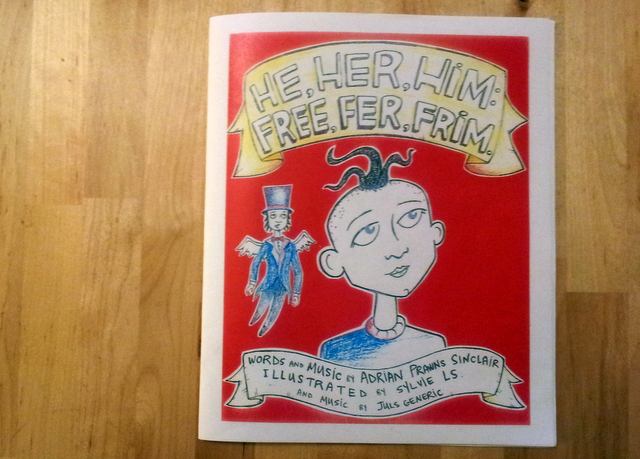 This is the story of a firloy named Han Majazi and fer first day of elementary school. Page one lets kids know that a firloy is someone who isn't a girl or a boy, and that their pronouns are free, fer and frim. Han's caretaking adults are Tuck-Me-In-Pick-Me-Up and Scratchy-Face-Belly-Laugh — this made me super nostalgic for the time when Slade introduced me to a new friend at the park as his "other tall person, Laneia," which is about as honest an introduction as you could hope for from a 4 year-old. In He, Her, Him: Free, Fer, Frim, neither Tom nor Sarah wants to play with Han because free doesn't replicate their ideas of rigid gender roles. Sarah is a real turd about it, sidenote. Tereese, Han's top hatted faerie best friend, shows frim that free's not the only firloy and even helps frim sing a little song (there's an email address for requesting a free CD, so you can sing along, !!) and there's a satisfying happy ending that I won't spoil for you.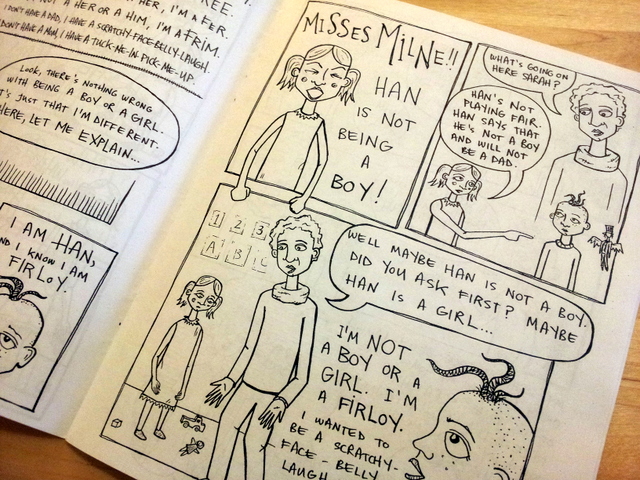 The illustrations are perfect and the writing presents Han and the idea of gender-neutrality as if it's something as plain as the nose on your face, if you'd just look. Kids might crack up after hearing new words like frim and firloy, but they won't be laughing at Han or fer story — it's just that new words are novel things when you're new, too. If your young human is a gender-neutral small thing looking for their own reflection in a book, this one would be such a good start. I wish there was a whole series! I wish there was a whole library/world.
How I Quit School, Issues 1-3
by Julie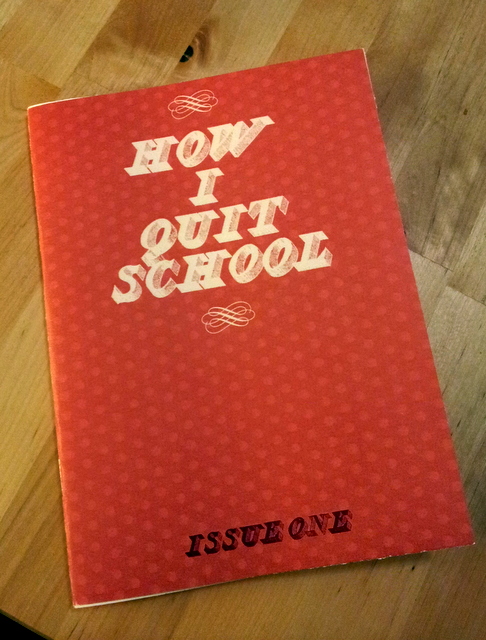 Julie's got a lot of feelings, but the one we're focused on in Issue 1 is the feeling that high school as an 8-hr workday plus overtime/homework is getting in the way of what's supposed to be life, and sucking the creativity and drive right from her youthful heart and soul. If you've ever skimmed The Teenage Liberation Handbook or even just sat in a 3rd period American History class "learning" about the same fucking wars for the trillionth time while you nod your head and doodle and wonder what your city looks like at 10:30am on a weekday, the idea of unschooling will be one that hangs around in your brain for a while, like a tiny gnat of possible opportunity. Advocates are hella quick to give the disclaimer that unschooling isn't for everyone, but Julie's story of self-preservation and realization kind of is. I haven't read Issues 2 and 3 yet and I'm anxious to see where this decision to quit school takes her.
How I Quit School Issue 1 is personal and honest: there's frank talk of cutting, apathy and depression, but those themes aren't the boat that takes you through Julie's story; they're part of the water. Your boat is Julie's confidence and self-awareness, which could easily be scooped up and placed upon the waters of your very own young person's life. Even if you aren't interested in unschooling, in Issue 1 Julie represents (via you know, actually being Julie) a valiant stab at autonomy. I loved it.
biff, Issues 1-5
edited/written by Allie and Bill Donahue, with various contributors
biff is something of a classic, which is weird because it's only a few years old. It's also terribly hard to find! But don't let that stop you from trying. Bill is Allie's dad, and Allie his daughter, and Biff was the name of their beloved kickass dog who passed away in 1992, and these two truth-seekers live in Portland (STOP ROLLING YOUR EYES RIGHT NOW) and here's the thing: this is what can happen when an older person participates in a project with a younger person — almost ANY project. Knowledge is passed along, strategies are shared, values learned. Everyone learns and grows from each other. It's synergy. It's everything you want the game of Clue on Saturday night to be. It's connecting. It's the thing you hold onto and sit with as long as you can, actually.
Allie is the kind of person I would've wanted to (and still want to?) be/be best friends with: funny, cool parents, doing weirdo interesting things I'd never considered. In Issue 2, Allie sends an invite to George W. Bush to come with her to Eagle Creek (in a white limo) so he can see the effects of a dam that was preventing salmon from reaching their spawning destination. Issue 5 discusses religion and death, and finds the editors exploring various places of worship within 432 paces of their home.
In the past few weeks, at church, I'd seen a whole new culture. I'd visited a new world. it's funny how close we can be to another culture and know nothing of it. But I'd made the trip now. And I'd come home to the bikey, wordy life that is my own. I'd come because—well, these churches didn't feel right for me. There was too much praising without question or thought. but I'd seen the churches. I'd appreciated them, and they were beautiful: full of song and wonder at this amazing world that surrounds us.

– excerpt from Mt. Nebo Church of god in Christ, 432 paces, by Allie
There are also tons of random top 10 lists, which I feel you're probably a fan of.
Wild Children: A Zine For Kids Age 0-18
edited by Glen Venezio, Peter Lamborn Wilson and Dave Mandl
Holy shit, ok — this is like if you could go back to 1987, take a cross-section of a bunch of kids' brains — but the cross-sections represented what they actually thought and felt for real — and then magically turned those cross-sections into poems that you then put into a time capsule and didn't open again until today. Or it's like the episode of Buffy when everyone is in each other's nightmares (S1E10 jsyk), but instead of the Scoobies, it's YOU and your 6th grade classmates. And I'll be honest, Wild Children sometimes either scares me or disappoints me, but it's SO FASCINATING. Some poems are very extremely arguably not for the smaller smalls, but this zine feels important. It's just kids telling their own truths, and I'm beyond compelled — almost obligated? — to listen. Maybe you don't let your kids read this; maybe you let it take you back to some honesty you'd left in an intricately folded note somewhere, and maybe you use that honesty to help a younger person convey theirs. I mean, nothing here is revolutionary, but it is. Just get this book. It feels important.
(Dear reader, I do not know what the fuck I am doing. So please do not try to understand, OK? Thank you! If you know what you are doing that is too fucking bad! I don't care.)

Today we are going to take a trip to bum-fuck egypt. Do you know where that is? It's west of tim-buck-too, and north of hell.
(Nice place.)

– excerpt from Untitled by Christopher, age 14
Wild Children is also available from Alibris.
---
Did you make a zine when you were 8 years-old? Are you making one now? How do you feel about everything in the world ever?