IT IS A LEAGUE OF THEIR OWN TRAILER DROP DAY AND LITTLE ELSE MATTERS!!!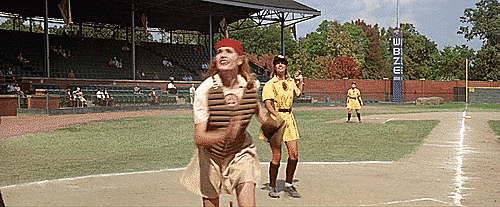 ---
Queer as in F*ck You
The 100 Most Influential Queer Books of All-Time 🥳
Elvira, aka Cassandra Peterson, Opens Up on the Freedom of Coming Out: 'I Feel Lighter'
Carolina Panthers Hire Justine Lindsay, NFL's First Transgender Cheerleader. "Lindsay says she will continue to 'inspire and help my African American beautiful trans sisters.'"
I watched Fire Island on Hulu last weekend and I hoping to gather some of my thoughts into a little review situation this week, but in the meantime I really want to say that even if you haven't seen the movie – if you want to read a truly excellent piece of queer writing about being invisible in white spaces, friendship, self-hate, and so much more, you should read this from E. Alex Jung: Pride and Prejudice and Fire Island
About 5 Percent of Young Adults Identify as Transgender or Nonbinary, U.S. Survey Finds. "Adults younger than 30 are more likely than older adults to say their gender differs from their sex assigned at birth, a new Pew Research Center report found."
I really did not have American Girl Doll Discourse on my 2022 Pride Bingo card, however: American Girl Doll Collectors Are Fighting Homophobia Within Their Online Community
Texas Legislator Proposes Ban on Minors Watching Drag Shows, ok but what counts as a drag show in this moment? Because I lived on Rocky Horror Picture Show when I was in high school
---
Saw This, Thought of You
The Depp-Heard Verdict Shattered the Greatest Myth About TikTok, Once and for All. "Body language experts, 'professional' opinions, Lance Bass lip-syncing testimony—it took a grim toll."
OK SO! I am not usually big on "straight allies" during Pride, but the queer history of Lil Kim is specifically tied to my niche interests, and I hope you all enjoy this surprisingly thorough Twitter thread:
an important thread on how lil' kim became rap's first lgbt ally when homophobia was the norm in hip hop. #Pride2022 pic.twitter.com/0VIeF5ScH6

— ⧉ (@NASTlESTONE) June 4, 2022
And speaking of twitter things, as you all know, I'm newly getting into sportsTM, but this looks! so! good!
If this team didn't exist, would there be a WNBA?

"Dream On," the newest @30for30, tells the story of the 1996 USA Women's Dream Team and the birth of the WNBA 🍿 pic.twitter.com/tjbh2zanoz

— ESPN (@espn) June 6, 2022
---
Political Snacks
Dianne Feinstein, the Institutionalist. This is a long read, but also my pick for Must Read of the day. I keep trying to find the words and I quite simply cannot — it's just so good.