This morning a teaser trailer dropped for Prime Video's A League of Their Own reboot series, and I let out a scream that broke at least three sound barriers.
Oh did you forget that Prime Video was rebooting the 90s gay cult classic to finally officially make it gay?? Starring Abbi Jacobson, D'Arcy Carden, Chanté Adams, and Roberta Colindrez — with a pilot directed by But I'm a Cheerleader icon Jamie Babbit?? With a promise to "take a deeper look at race and sexuality"?
Well, I DID NOT FORGET!!! Because A League of Their Own is singularly the most important movie of my gay childhood and nothing will matter or exist until August 12th, when this television show gets on my screen.
So how are we coping at Autostraddle? WE ARE NOT WELL!!!
Shelli: That's a teaser trailer alright.
It's the most arousing thing I've ever seen.
Drew: I. Am. So. Excited.
Kayla: Omgggg
Carmen: I'm on the phone with my insurance company so I haven't watched this yet and I am dyyyyyying.
[30 minutes later]
Carmen: UPDATE I FINALLY GOT TO WATCH THE TEASER
AHHHHHHHAHDHFAHFAHHHH
WELL
OMG
WELL
I MEAN
WELL
I
I CANNOT
I'M MAYBE REALLY DYING
Kayla: I have watched it 7 times ajkdjsakldj
Carmen: I almost sent y'all an audio recording of me screaming tbh.
I am unhinged at this point.
Riese: omg sliding into the base making eyes with the catcher
Carmen: Yes.
Riese: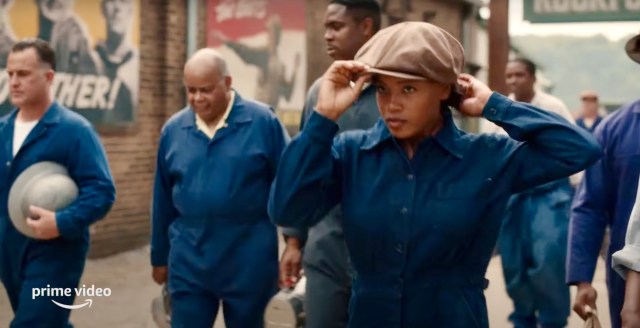 Newsies could never.
Welding, baseball, vintage jumpsuits, bicycles.
Carmen: WAIT BUT WHEN SHE THROWS THAT BALL AT THE END

Riese: Oh I thought that part was for me personally, I didn't know that was in everybody's trailer.
---
If you're going to spend the rest of your afternoon spamming the A League of Their Own trailer in your group chats — first of all, same. But second of all! You can also: read about the Top Ten '90s Movies Beloved by Girls Who Turned Out Gay (including A League of Their Own), take a quiz to see Which 90s Movie Made You Gay? (including A League of Their Own), and also read a short fun story about the time when I was six years old and forced my mother to rent A League of Their Own every single weekend — no, I am not exaggerating — for five months straight. Perfectly normal heterosexual behavior.
In conclusion, I have yet to watch this trailer without shaking the table. Please respect my privacy at this time.