Am I having bacon Mac n Cheese tonight for dinner? YES I A SURE AM.
---
Queer as in F*ck You
Story time!! Yesterday, on the first day of Pride, the American Girl Doll Company announced the limited edition re-release of known favorite among bookish queer girls everywhere, Molly, with this very *wink *wink, *nudge *nudge sounding caption:
Which reasonably lead The Cut to ask, ummmmm Did American Girl Just Out Molly? (It should be noted that Autostraddle co-founder and CEO, Riese Bernard, CORRECTLY named Molly as gay all the way back in 2016).
However, sadly, in response to The Cut, the American Girl released the following statement: "The new Molly collection releasing today is simply aligned with when all of our new summer product is debuting. Nothing more."
But hey, whose parents didn't try to push them back into the closet after a flashy coming out online? amirite?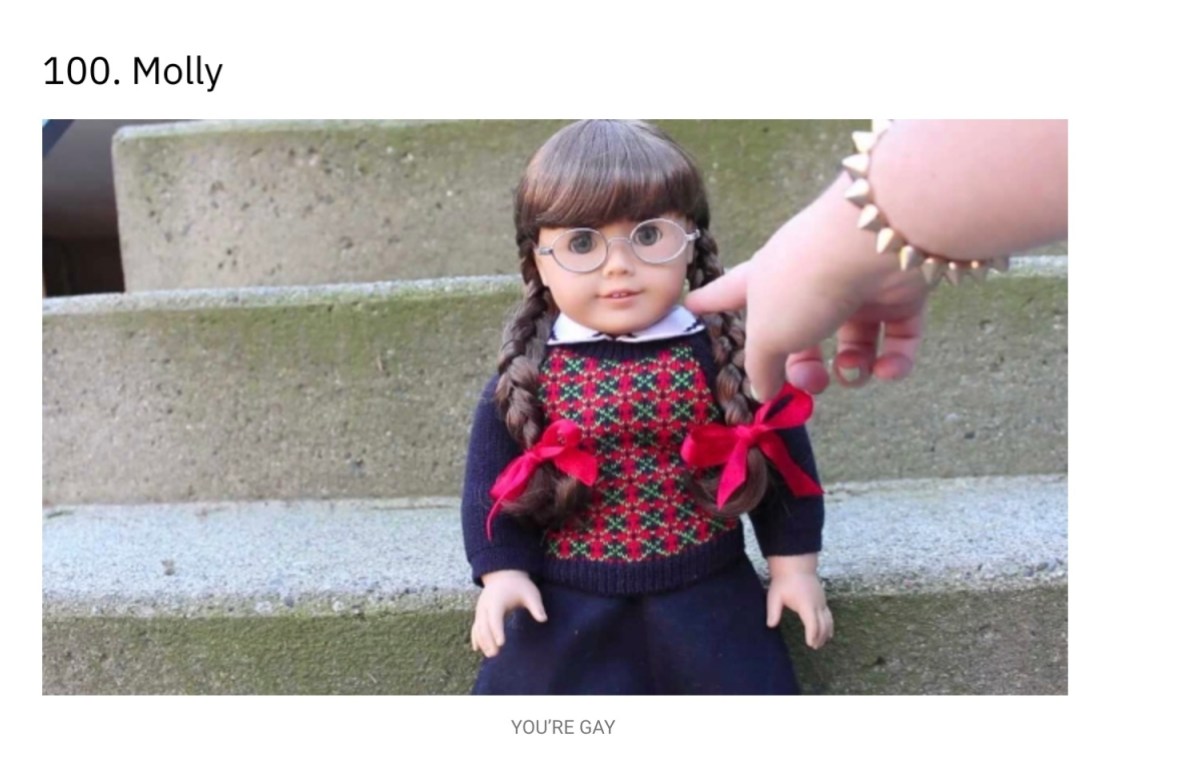 PS: While we're here, now is a great time to read which Historical Lesbian Bars Would American Girl Dolls Have Visited? 😉
Well, that's fun! Let's see about other news!
These Gay Moms Didn't See Their Family Represented in Children's Books — So They Wrote Their Own
Brittney Griner Receiving, Answering Wnba Players' Emails While Still Detained in Russia. "The emails are printed out and delivered sporadically in bunches to Brittney Griner by her lawyer after they are vetted by Russian officials." This is the kind of good news that's good news but also very frustrating news, because we shouldn't be in this situation to begin with. Anyway, #FreeBG. BRING! HER! HOME!
I Tried to Find a Size 20 Wedding Dress. Why Is It So Hard? No, this is enraging.
---
Saw This, Thought of You
Unlearning the Ableism of Cookbooks and Kitchen Wisdom
Still thinking about the Johnny Depp and Amber Heard trial? Then here's where to Donate to Support Survivors of Domestic Abuse. It always helps me to do something with my anger.
Thanks To TikTok, I Now Wear Boxers In Public
I've been watching more of the WNBA lately, and it's left me thinking about this a lot. Top Athletes Get Real About Their Periods.
---
Political Snacks
How Chase Strangio Became the Face of the Legal Battle for Trans Rights. I have such admiration and respect for Chase, and I'm so glad we're to uplifting him today.
The Lessons of Newtown for the Future of Uvalde
---
And One More Thing
Lynda Carter. That's it.
You're right. She's a superhero for bisexuals! https://t.co/G2m7guvmYc https://t.co/MLssq1yYiK

— Lynda Carter (@RealLyndaCarter) June 1, 2022
Love seeing all the love from LGBTQ+ fans today! Now here's one I call the "ready to fight your homophobic relatives" pose. Just kidding. (Or am I?) Haha! 😘 pic.twitter.com/5voHHdZViA

— Lynda Carter (@RealLyndaCarter) June 1, 2022
Well, it seems I've stirred things up a bit… 😘 While you're here, you should consider supporting these orgs during #Pride: @audrelorde @SRLP @TransLifeline… and if you're a parent, there's always @PFLAG!

— Lynda Carter (@RealLyndaCarter) June 2, 2022