A few weeks back, the same researcher who claimed in 2005 that 0% of men are bisexual released a new study which claimed that 0% of women are heterosexual. It was a bogus conclusion on a few levels. This week, another study about the classification of sexual orientation published in Psychological Science has been making the rounds and was written up on Quartz under the headline "Sexuality may not in fact be a continuous spectrum."
Alyssa L. Norris and David K. Marcus of Washington State University and and Bradley A. Green of the University of Southern Mississippi analyzed data gathered from 34,643 Americans in 2004-2005 for Wave 2 of the National Epidemiological Survey on Alcohol and Related Conditions. They determined that although women show more sexual fluidity than men, "sexual orientation is not a matter of degree but rather of distinct and meaningful categories." In other words: heterosexuality remains a very popular affiliation, homosexuality is definitely a thing, and, according to Quartz, "bisexual people, among Americans at least, are relatively rare." (That last bit isn't true and wasn't said anywhere in the study, but we'll talk about that later!)
This study was really hard for a girl who dropped her double major in Sociology in order to graduate on time to make sense of. It does seem that this analysis was equating "sexual fluidity" with "bisexuality," though? So keep that in mind going forward.
I should credit our resident scientist Laura Mandanas as a co-author of this article since I took up at least two hours of her life yesterday asking her for help but I don't want her to be held liable for any mistakes I make in this analysis, so!
On that note of personal confidence, let's dig in!
What was the point of this study?
These psychologists noticed that there was no consensus on whether or not the "latent structure" of sexual orientation is "dimensional ("ranging quantitatively along a spectrum") or taxonic ("categories of individuals with distinct orientations."). This has implications on several areas of practice for psychologists. I guess they feel that it's important to their work to understand the degree to which sexuality is genetically pre-determined OR the result of a combination of factors (one of which could be genetic) coming together or surpassing a certain yield in a "tipping-point model." Furthermore, these classifications have implications on how psychologists understand the relationship between sexual orientation and substance abuse and psychiatric disorders. They also wanted to figure out if their own model of determining sexual orientation, which considered several factors — not just self-identification — into account, lined up with this data. (It did.)
Ultimately, I'm not altogether sure that this study was intended to be interpreted and discussed by the press so much as it had implications within the field of psychology.
How solid was the data they were working with?
As aforementioned, this data came from a 2004-2005 survey focused on alcohol and drug use, which also asked demographic questions, including some about sexual orientation and behavior. The interviews were conducted face-to-face using direct questions and flashcards. These are the sexual orientation related questions:
Which category on the card best describes your feelings? 1) only attracted to females, 2) mostly attracted to females, 3) equally attracted to females and males, 4) mostly attracted to males, 5) only attracted to males.

In your entire life, have you had sex with only males, only females, both males and  females, or have you never had sex? 1) only males, 2) only females, 3) both males and females, 4) never had sex.

Which of the categories on the card best describes you? 1) heterosexual (straight), 2) gay or lesbian, 3) bisexual, 4) not sure
This is how that panned out: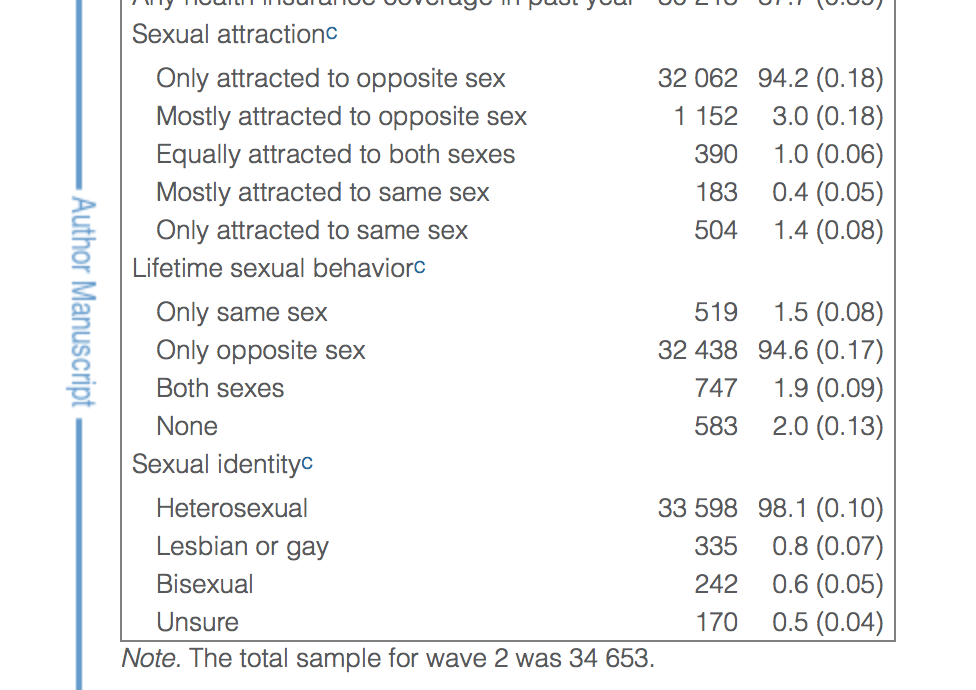 First, you're probably noticing that the number of humans reporting being lesbian, gay or bisexual are ridiculously low — this happens a lot when people try to count the gays, and you can read more about that here and here. But, as David Marcus told Quartz, there's really no way around that — "despite this risk, it's the only way to collect a large enough sample for taxometric analysis." In the Marcus / Norris / Green study, the researchers also acknowledge that the lack of a "mostly heterosexual" option for sexual orientation is a limitation on analysis, but also say that that limitation was "offset by the large size of the NESARC data set."
Also, the youngest age group surveyed, 20-24, accounts for only 7.6% of the total set, and multiple studies have found LGBTQ identification and same-sex sexual behavior being more common in younger age groups. 19.3% of the sample were over 65, 34.6% between 45-64, and 38.5% between 25-44.
The Norris Study didn't analyze data from all 34,653 subjects. As they said in their report, they removed the responses of anybody who hadn't answered any one of the identity, sexual behavior, or sexual attraction questions, as well as the 583 people who'd never had any sexual experience at all. In total, 1,128 people were excluded from their sample, and it's possible, as Laura Mandanas noted on this article about gay population statistics, that among those who didn't answer sexual orientation/behavior questions, "there's a good chance… they didn't answer specifically because they're queer."
Here's the numbers Norris and her team used, then, for their analysis:
You'll notice the "not sure" category no longer exists. That's 170 people who could very well be the most sexually fluid of them all, so it's too bad that they had to be thrown out. It's also interesting that 2.4% of men report exclusively having had sexual activity with other men… yet only 1.8% report being gay or bisexual?
It's important, however, for researchers to be conscious of the social/cultural climate under which this data was collected. These were face-to-face interviews, for starters, and researchers have since determined that you get much more accurate numbers about LGBT people from completely anonymous surveys. Plus, it was conducted over ten years ago, and although that's not much time, it's a LOT of time w/r/t acceptance of LGBTQ folks in America as well as public discourse around things like bisexuality. Honestly, I'm not even sure what I would've said had I been interviewed about my sexual orientation in 2004 — since I'd never had a girlfriend at that point, I probably would've said I was straight, even though I'd hooked up with girls and knew I liked them. I had nobody to talk to about my identity and therefore lacked the confidence to articulate it.
Furthermore, by the time respondents were asked abut their sexual orientation and behavior, they'd just sat through a significant number of questions about alcohol and drug use, health and family history. It's possible that respondents were less likely to report what society considers to be deviant sexual behavior after, say, disclosing unflattering information about their mental health and drug/alcohol use — especially if you're a parent or want to be one, as queers have historically had to oversell ourselves to prove we're capable of raising children.
So, although the analysis of the interconnected nature of these numbers is relevant to the researchers' aims, for us, drawing any real conclusions about the size of the LGBQ population based on these numbers would be a stretch. Like, for example, Quartz saying that "bisexual people, among Americans at least, are relatively rare." In fact, pretty much every other study conducted in the 2010s had bisexuality showing up as more prevalent than homosexuality — a 2011 Williams Institute study found that among those who identify as LGB, bisexuals compromise a slight majority (1.8% vs. 1.7%). National Health and Nutrition Examination Surveys conducted from 2003-2010 found 2.3% identifying as bisexual and 1.5% as homosexual. The General Social Survey found 2.2% bisexual and 1.5% gay or lesbian in 2012, and 2.6% bisexual and 1.7% gay or lesbian in 2014. A 2014 survey of 2,314 millennials found 4% bisexual, 2% gay, 1% lesbian and 3% refusing to identify.
What Did The Researchers Conclude?
The researchers were looking for the relationship between attraction, identity and behavior. They found that for men, experiencing same-sex attraction correlated with how they identified, but not necessarily for women.
The researchers determined that it is valid to categorize people as homosexual or homosexual. Turns out that when people say "I'm homosexual," they're telling the truth. Anyhow, this is in opposition to Kinsey, who felt very few people ranked definitively on either end of the spectrum, or people like Dr. Chris Donaghue, who told Mashable, "I hope to see more people identifying as fluid both in sexuality and gender, because most of us are."
Welp.
I think what confused me most about this research was that based on my own entirely anecdotal and completely non-scientific methods largely consisting of "engaging with the female LGBT community intensely for six years and hearing everybody's story," I thought we already knew the answer: lots of people are straight, many people are gay or lesbian, and many people are not gay or straight. And, for many LGBTQ people — but not all — there is a genetic factor, and that genetic factor can be the singular determinant of orientation, or just one of many factors that go into one's sexual orientation. (personally, I see myself as "bisexual by birth, lesbian by choice.") There you go! All done! YOU'RE WELCOME, SCIENCE.
No but really, Lisa Diamond, the most outspoken scientist on the subject of sexual fluidity, doesn't claim that everybody's sexuality is fluid: "There are gay people who are very fixedly gay and there are gay people who are more fluid, meaning they can experience attractions that run outside of their orientation. Likewise for heterosexuals. Fluidity is the capacity to experience attractions that run counter to your overall orientation."
Maybe all these contradictory studies show that there will never be a complete, specific picture of how sexual desire, attraction and behavior interact, or how fluid or rigid it is. I'm profoundly uncomfortable with studies that do claim to prove one or the other — that sexual orientation is always fixed or always fluid. The "always fluid" model, which is usually discussed specifically in the context of women, suggests that all women are capable of having a romantic and sexually compatible relationship with a man, which gives power to the Ex-Gay Conversion Camps, to reparative therapy, to "praying away the gay," to forced marriages and, in the worst cases, to corrective rape. It's also a belief that encourages straight guys to aggressively pursue women who've made their non-interest in men apparent, or for families to view their child's same-sex relationship as something they can "fix." Meanwhile, believing all sexuality to be fixed is a massive act of erasure.
Sometimes, in a rush to expand our collective minds and promote inclusivity, massive generalizations like "all sexuality is fluid" are made, usually by very well-intentioned people. It's important that sexual fluidity be understood and de-stigmatized. But we should be able to recognize, discuss and embrace  people with spectrum-based sexualities and life histories without needing to claim that all people identify that way… and vice-versa.
Sexual fluidity is a thing and so is bisexuality. So is homosexuality. So is heterosexuality. All of these things can co-exist and be recognized without one needing to describe everybody, and your particular gender identity and sexual orientation don't need to be universal in order to be valid.
In conclusion, don't believe everything you read on the internet.