Were you a child of the 90s and can't seem to shut up about it? As if! If you or someone you love has been affected by 90s Kid Syndrome™, enable their disease with these gifts that are way cool and da bomb. Lucky for us, the 90s have never been hotter, and it's actually really cool to rock this inspo. Get jiggy with it.
---
Like Totally Rad Accessories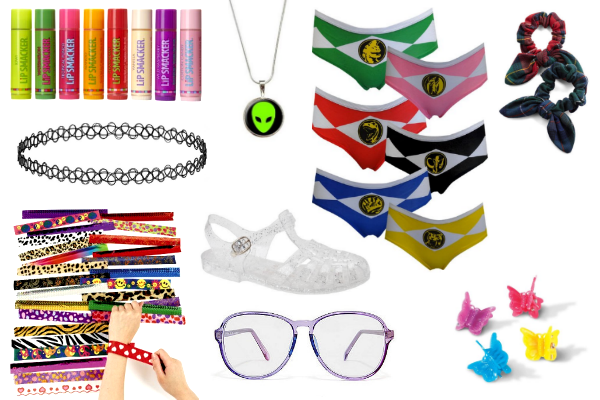 Lip Smackers: The original, the greatest. No peers. No mercy. Just truly delicious lip moisturizing.
Slap Bracelet Mega Pack: A staple of every birthday party you ever attended and the first official item your middle school banned due to alleged incidents of "slap bracelet violence." Now you can own 50 of them for no reason other than to own 50 of them.
Chokers: You're lying to yourself if you can't admit that you had at least 10 of these plastic wonders. Bonus points if you and your friends coveted the ultra rare rainbow one.
Plastic Rimmed Eyeglasses: Just like your church school teacher used to wear!
Alien Necklace: An essential part of every "I'm in love with Gillian Anderson" girl's uniform.
Jelly Shoes: You can smell them right now, can't you?
Plaid Scrunchies: Channel your inner Cher Horowitz while being useful to your hair. Or wear it on your wrist because you can, even if you and your friend just got drunk and shaved each other's heads.
Power Rangers Undies: Because there's nothing you can't do when your panties invoke the pterodactyl power of Kelly, the pink ranger.
Butterfly Hair Clips: I don't care how short your alternative lifestyle haircut is now. You can still find a way to incorporate timeless plastic butterfly clips.
Way Cool Closet Fillers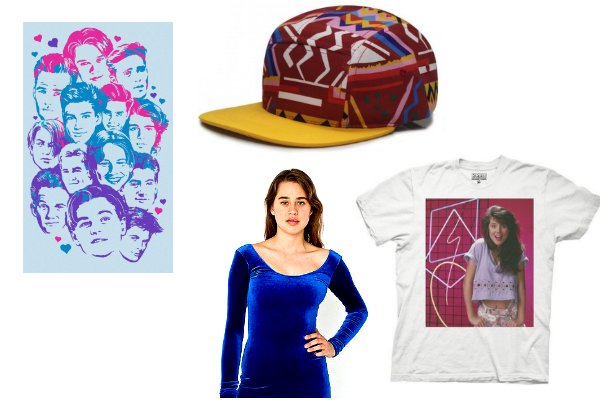 90s Heartthrob Tee: Remind everyone of where you really belong in the pantheon of teen heartthrobs! (Spoiler: At the tippy top, bitches.)
Kelly Kapowski Tee: Kelly Kapowski set us all up for disaster, as she gave us unrealistic expectations for our high school girlfriend. No one wears high-waisted floral print jeans like Kelly. No one.
Fresh Prince-Inspired Cap: In West Philadelphia, born and raised, on the playground was where I spent most of my days, until I realized that West Philadelphia was mostly populated by people I'd slept with and white anarchists, so I moved to another part of the city. That's how the song goes, right?
Velvet Long-Sleeved Dress: Because nothing says 90s like crushed velvet and wanting to dress like a figure skater.
Sweet Stuff for Your Pad
My Little Pony Mug: Before the Brony Epidemic ruined everything sweet and sacred about your childhood, these pastel ponies were kickass. Relive a time before man-children felt entitled to a brand catered to an audience of little girls, and sip on their fedora-shaded tears out of this darling mug.
X-Files Fleece Throw: You don't have to worry about that pesky flukeman showing up in your plumbing when the vigilant Mulder and Scully are snuggled up with you. Um, but seriously, can someone buy me this, like, yesterday?
Goosebumps "Welcome to Horrorland" Board Game: The ultimate sleepover activity can now become the ultimate adult sleepover activity. Because what fully grown adult lady at the bar is not going to be won over with "Do you wanna go back to my place and play my Goosebumps board game?"
Inflatable Furniture: Don't let memories of extreme discomfort and air leaks within a week of purchase discourage you from this totally adult purchase!
Glow in the Dark Stars: Get out the sticky tack.
Winona Forever Print: The greatest and most beautiful celebrity couple of all time. I will fistfight whoever disagrees with me. Disclamer: I am hardcore Kimye, too, but they do not have the tragic romance of Johnny and Winona.
Y2K Tech
Cadet Kelly DVD: A total classic and weirdly full of homosexual subtext. Rewatch it and get back to me if you have any doubts.
Life Size DVD: LiLo? Check. Tyra? Check. Lines you didn't even realize you'd memorized? Checkity check.
Flip Phone iPhone Case: There was something so beautiful about a flip phone. It was simple and chunky and you could get a tinny midi version of your favorite song as your ringtone. Or, you could put your CD into your boombox, and record 15 seconds of "Sandstorm.wp_postsYou could drop it on the bus or throw it across your classroom and it was pretty unlikely to break. When your mom and dad got mad at you, they'd take away your pink Razr and it felt like the end of the world because you couldn't call your bestie after dinner and complain about how that really beautiful girl in your class had such a shitty boyfriend, like, he obviously didn't appreciate her, right, and like, even though you didn't talk anymore and you used to be friends with you were little but now she's so beautiful and she has the worst boyfriend and it's not weird that you feel like she deserves better, right? Right?!
Lisa Frank Headphones: Shut the front door! These are so beautiful that they're making my eyes hurt.