+ Educational publisher McGraw-Hill will be updating a section of their geography textbook on slavery after a Texas mother posted two viral Facebook posts bringing attention to a glaring error. Roni Dean-Burren's 15-year-old son texted her a picture of his 9th grade geography textbook that depicted a map titled "Patterns of Immigration" with part of the text that read: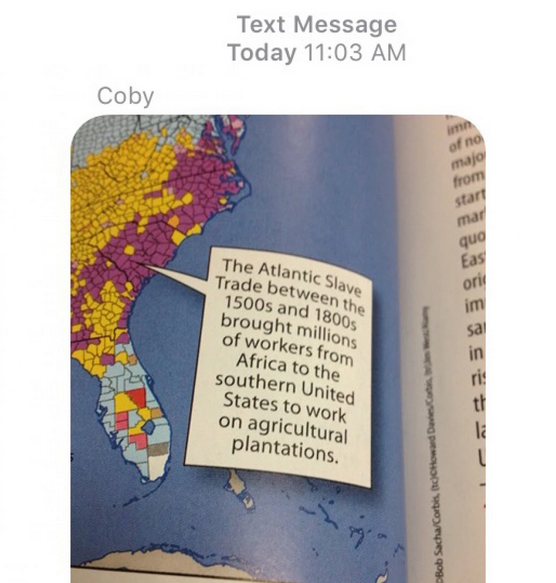 Dean-Burren, who taught English for 11 years at the high school her son attends, posted two Facebook statues about it. By using the word "workers" for the Africans who were forced into slavery, she says the textbook implies her ancestors willingly came to the U.S. and were compensated for their labor, which we all know is untrue. McGraw-Hill responded with a statement on Facebook:
"…we conducted a close review of the content and agree that our language in that caption did not adequately convey that Africans were both forced into migration and to labor against their will as slaves. We believe we can do better…"
They'll be updating the digital version and will include the changes in the next run of prints. Dean-Burren thinks it's a surface level win but thinks the publisher can do better by providing supplements or recalling the books. "Minimizing slavery in any way is a way of saying those black lives, those black bodies, that black pain didn't matter enough to give it a full description," she told the Washington Post.
+ Ramsey Orta, the man who videotaped the police custody death of Eric Garner on his phone, claims in a lawsuit that poison was put in his food by correction officers while incarcerated at Rikers Island in retaliation for videotaping the illegal chokehold a police officer used to kill Garner.
+ Hope Solo, the goalie of the U.S. Women's World Cup Champions, will face domestic violence charges again after a Washington state appeals court reversed the decision of a lower court. Solo was initially charged with two domestic violence charges in June 2014 for allegedly beating up her half-sister, Teresa Obert, and Obert's 17-year-old son. A judge dismissed the charges on procedural grounds and prosecutors immediately appealed the decision. It's unclear when the new trial will begin.
+ An Illinois state administrative judge ruled that Hobby Lobby violated the Illinois Human Rights Act when they refused to let long-time employee Meggan Sommerville use the women's restroom after she came out as trans. Sommerville, who has worked at the Hobby Lobby in East Aurora, Illinois since 1998, began her transition in 2007 and switched her name tag in 2010 with her correct name, which her employer was all ok with. The store drew the line at letting Sommerville use the women's restroom. Hobby Lobby kept changing the benchmark for Sommerville to use the women's restroom. At first, they said they would allow her to use the correct facilities if she presented legal proof of her gender change but refused her copies of her court-ordered name change, changed driver's license, social security card and a written explanation from her health care providers. They then said Sommerville had to have proof she had undergone surgery and then later asking for a changed birth certificate. The administrative judge rejected all these requirements. However, Sommerville's situation hasn't improved. She's still not allowed to use the women's restroom and is only allowed to use the unisex single restroom. The judge's ruling is only a recommendation, the Illinois Human Rights Commission still has to review it before it becomes final.
+ Volunteers are looking for a missing trans person in Houston named Darius Gatlin.
+ Since 2012, over 900 (out of more than 1,200) Texas school districts have quietly added references to sexual orientation and gender identity in their anti-harassment policies, The Texas Observer reports. 
+ A new study finds that the Affordable Care Act has significantly reduced the number of uninsured LGB people in the U.S. Nine out of 10 LGB adults, or 89 percent of LGB adults, have health insurance according to data gathered in the winter of 2014-2015 by the Urban Institute. However the study shows that LGB Americans, especially lesbians and bisexual women, still struggle with access to and affordability of care even though their access to insurance has improved.
+ Hillary Clinton made an appearance on Saturday Night Live and played a bartender tending to "Hillary Clinton" as played by Kate McKinnon. The skit involved lots of wisecracks about Hillary's political career, including talking about same-sex marriage. At one point, the real Hillary mocks herself for not supporting LGBT rights sooner. When she was running for President in 2008, she opposed same-sex marriage and in 2011 tried to block gay-inclusive passports.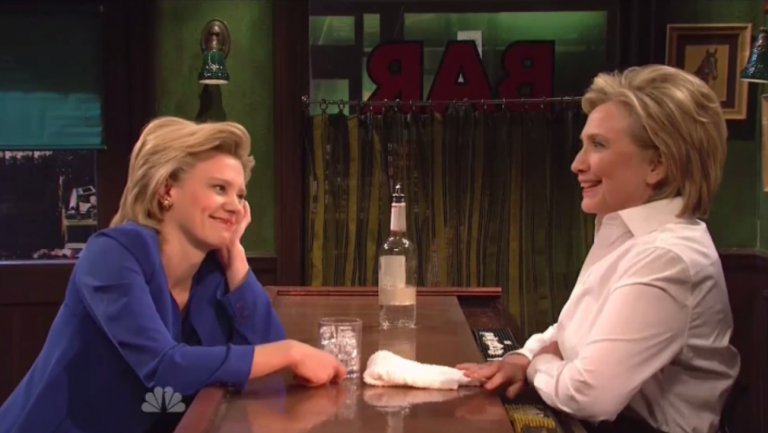 + Clinton also gave a speech to HRC saying she would fight to further LGBT rights if elected President. She talked about allowing trans people to serve in the military and ending discrimination wherever it occurs. She also condemned anti-gay county clerk Kim Davis for her actions.
+ In the wake of last week's mass shooting in Oregon, Clinton said on the Today Show she would take administrative action if Congress fails to pass legislation on gun control. Think Progress reports: "Under her plan, Clinton will advocate for comprehensive federal background check legislation, but if that fails, she has vowed to take administrative action to tighten the gun show and internet sales loophole. Her plan also calls for repealing a law which prevents victims of gun violence from suing gun manufacturers and pushing for legislation to prevent domestic abusers from buying guns."
+ Remember those Doritos Rainbows, the rainbow colored special edition chips that were created in an effort to raise money to stop anti-LGBT bullying? Mike Huckabee, presidential hopeful, is calling on Christians to boycott all snacks made by Frito-Lay to protest the connection of the Doritos Rainbows to Dan Savage.