If you were here yesterday, you may have spotted this guide to femme looks for the A-Camp 2017 Dance. Now we're back with even more sartorial inspiration for you.
Sometimes you're a masculine-of-center woman/person and wanna go full costume… and sometimes you wanna be "on theme" while also wearing an outfit you could potentially wear again in a non-theme setting. Well I have good news for you: that's what this post is about! With some help from my masculine-of-center activity partner, I've put together some looks that you can definitely wear to San Junipero if that's where you decide to go when you die. Or, I guess, if you are attending the "Heaven is a Place on Earth" dance at A-Camp. (Read more about that theme on Mey's post.)
ETA: This post is not intended to be representative of what lesbians wore in 1987, but rather outfits that go with the '80s beachy vibe of the "San Junipero" episode of Black Mirror, which inspired this year's A-Camp Dance Theme.
---
Lunch Date
Look for spread collars and flowy, short-sleeve patterned button downs you can wear a little open, or over a white or black t-shirt, paired with jeans or shorts. Add some shades and an obscene Casio watch and you're really gonna love that Raspberry Vinaigrette.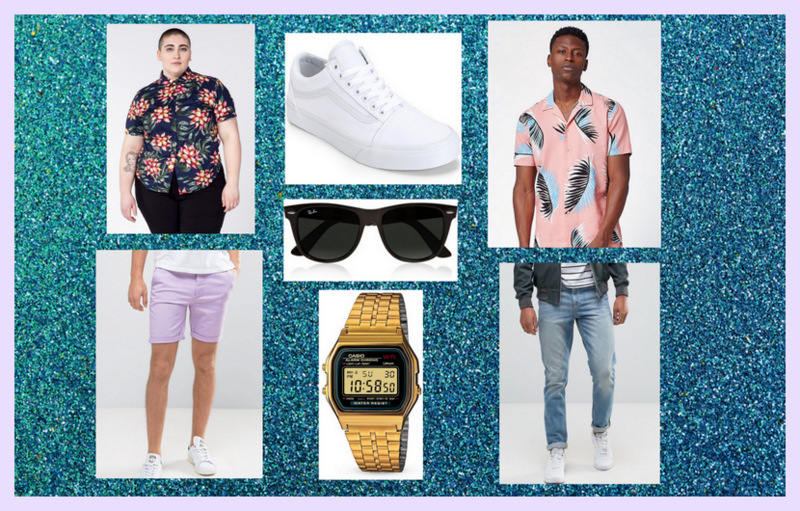 Top Row: The Ultimate WF S/S Button Up, Vans Old Skool Trainers, Palm Leaf Short Sleeve Button Up Camp Shirt.
Bottom Row: Produkt Chino Shorts, Wayfarer Sunglasses, Casio Vintage Digital Watch and asos Slim Jeans in Light Wash (also comes in Plus sizes).
---
Cocktail
Congratulations, you got a gig tending bar at Tucker's! You better roll up your short sleeves, get some bold prints (pair with a deep V), some sturdy boots and a strong attitude.
Top Row: Vintage-Inspired Shirt in White Stripe, Lace-Up Leather Boots,  New Look Roll Sleeve T-Shirt In Black, GUESS Retro Script Tee.
Bottom Rows: Casio Vintage Calculator Watch, Reclaimed Vintage-Inspired Shirt in Stone Abstract Fit, Revere Collar Retro-Fit Shirt,  Levi's 511 Sly Slim Jean
---
Miami Vice
A lot of the suit-related trends from the '80s should probably remain there, forever (it was a particularly unfortunate time for lesbians because blazers), but with a modern twist you can still get the jist while looking cool and staying hot.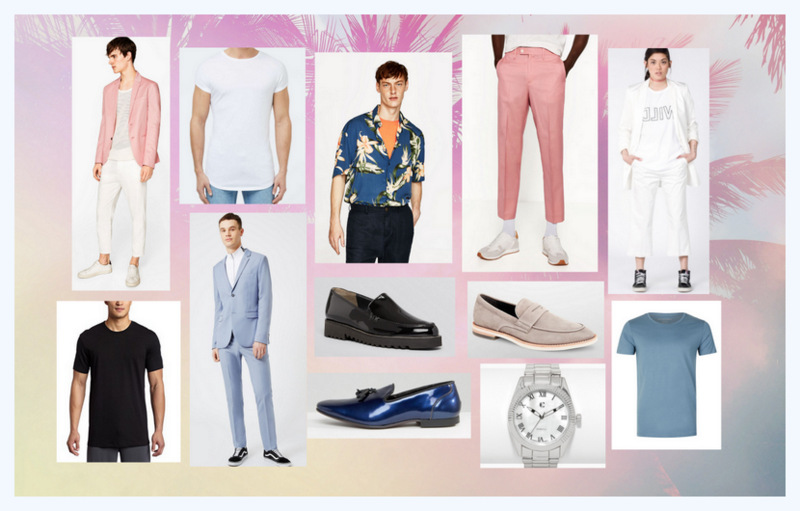 Top Row: Zara pink basic blazer, White Viscose Mix Drop Shoulder T-Shirt, Bold Floral Shirt, Sartorial suit trousers, Wildfang Newton Ivory Long Blazer & Wildfang Elba Pants.
Bottom Row: Black Calvin Klein T-Shirt, Dusty Blue twill skinny fit suit jacket & Suit Pants, Patent Leather Platform Flats, Asos loafers in navy metallic, Andron Suede Loafer, Blue Pima Cotton T-Shirt.
Also Pictured: Getting your own Rolex Oyster watch to look authentic Miami Vice will cost approximately five thousand dollars, so here's a $25 watch that'll do in a pinch.
---
Jackets
If you've spent any length of time glued to John Hughes movies or waiting in line for Top Gun at King's Island, you know that men in the '80s were a little chilly a lot of the time. Major trends include the classic denim jacket, print/plaid oversized blazers (think Duckie in Pretty in Pink), trench-style coats, Varsity jackets, bomber jackets in general, and leather bomber jackets specifically. The leather motorcycle jacket remains a strong pick throughout the ages, but in the '80s was mostly part of punk/biker looks generally.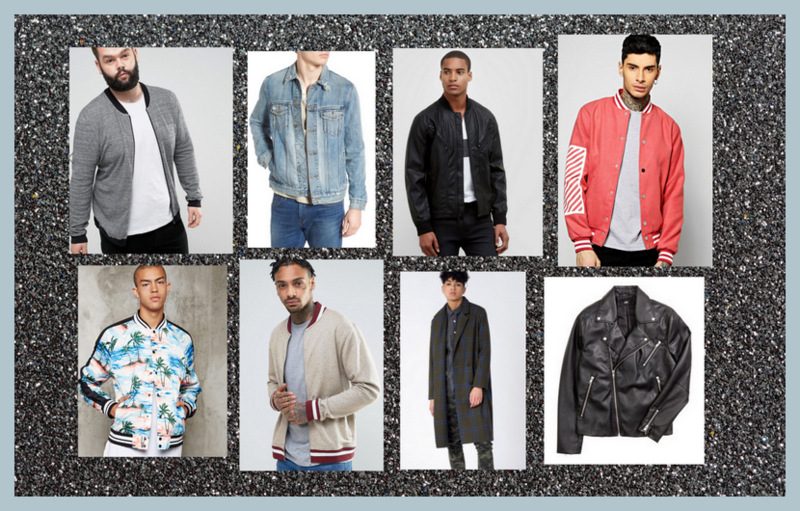 Top Row: Asos Plus Knitted Cotton Bomber with Contrast Trims in Grey Twist, denim jacket, Lakewood Distressed Denim Jacket (with a puffer vest for Marty McFly style, or roll up the sleeves and pair with light wash denim jeans and high-tops or solid dark pants) Faux Leather Bomber Jacket (google "Top Gun"), Melton Oversized Varsity Jacket With Print (let your crush borrow it when she gets cold)
Bottom Row: Satin Souvenir Bomber Jacket (roll up the sleeves, pair with a black tee), Brooklyn Supply College Bomber, Wildfang Fraser Coat (looks good over a white button-up with spread collar) and H & M Leather Jacket (pair with black concert tee)
---
Endless Summer: Surf Looks
Undoubtedly, a lot of awesome people chose San Junipero for its proximity to the beach. Probably you're in San Junipero in the first place for surf-related reasons, right? Surf brands were huge in the '80s (and early '90s) so you're really set for life I mean DEATH.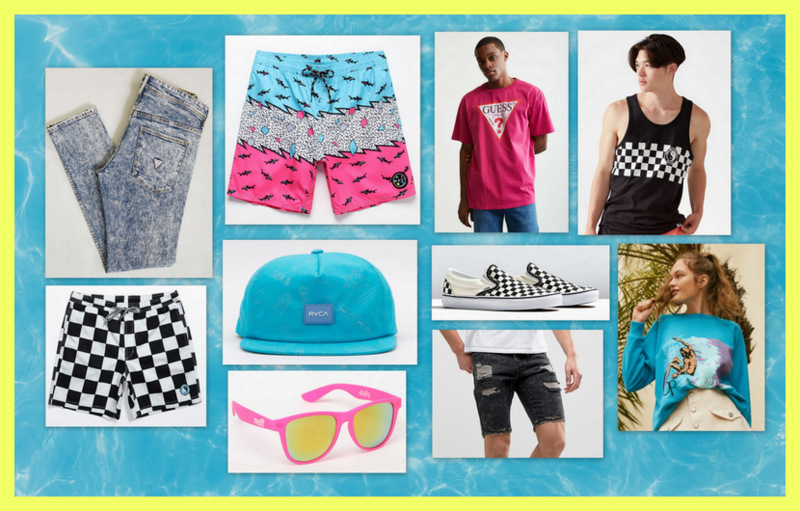 Top row: Guess  1981 Acid Wash Jean, Maui & Sons 80s Jumble Swim Trunks, Guess Oversized Tee, T & C Surf Designs Checkered T-Shirt
Second Row: T&C Surf Designs Checkerboard Shorts, Nile Blue Sea & Destroy Hat, Neff Daily Sunglasses, Vans Checkerboard Slip-On Shoes, Always Rare Donny Denim Short Black Acid Wash Shorts, UP for UO Surfer-Striped Crewneck Sweatshirt
Not Pictured, But Should Be, Because It's Gay: Keith Haring t-shirt.
---
Preppy
Crested blazers, layered polos, argyle sweater vests, sweaters draped over your shoulders and tied in the front, pleated khakis, Cricket sweaters, topsiders, loafers, expensive watches — the '80s were a time of Peak Prep, and left its mark on the early '90s (see: Carlton on the Fresh Prince of Bel-Air). Style icons for this look include every character Andrew McCarthy played in an '80s movie and the girls in The Facts of Life.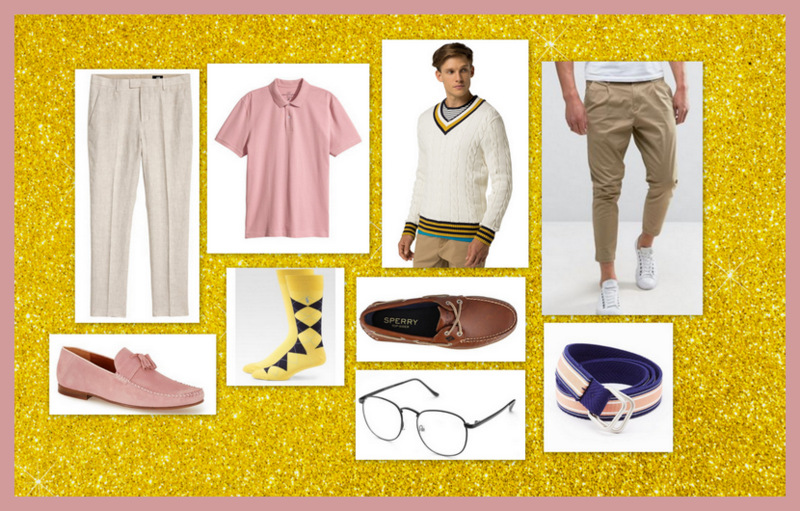 Roll up the sleeves on your Linen Blazer (not-pictured) and pair with Suit Pants and a Pink polo shirt (top row, first two) and pink loafers (bottom row, first one).
Other items for a preppy look include Top Row Items: Men's Coast Tommy Hilfiger Cricket Sweater and Only & Sons Cropped Chinos.
Bottom Row: Ralph Lauren Argyle Socks, Sperry Topsider Men's Boat Shoes (wear with bare feet), Blade + Blue Ribbon Belt and Oversized Circle Metal Eyeglasses Frame Clear Lens Glasses.
---
You can also do a lot with accessories: fanny packs, a single silver earring, sweatbands — the world is your retro oyster!! Or you could just dress like Duckie, that's always an option.