As you make your way past the big hair and bigger shoulder pads, you see her. You don't know her name, but based on her Frankie Says Relax shirt, you guess it might be Frankie. You've always had a thing for girls with guy's names, remember Molly Ringwald as Andie in Pretty in Pink? Wow. You make your way to Frankie, and you check your own hair. Obviously you're no Annie Lennox, but you are looking great. Really, it's the hair more than anything that makes 1987 your favorite year so far. Well, the hair, and now Frankie. Frankie looks totally rad.
"Hey Frankie, that's a totally righteous haircut, love the bangs."
She smiles and raises one eyebrow. Wow, this girl, is like, totally radical. Like, how did she get so cool? "So, like, is this your first time here?"
"At this bar? Yeah, I'm not much of a party animal, but I am into trying new things. So, Frankie, do you wanna dance? I'm a totally tubular date, I promise."
She looks at you again with that smile, "You know my name's not Frankie, right? It's a song?"
You can feel the crimp in your hair go away. "Oh my gawd! What is my damage??? I'm so embarrassed! I'm a huge nerd!"
She puts a hand on your shoulder, "No, no! Calm down! Nerds are like, totally cool. I like nerds. I like you"
Suddenly, the room stops and you hear the boombox. "Ooh, baby, do you know what that's worth? Ooh heaven is a place on earth!"
"Oh! This is my song," Not-Frankie shouts! "Let's dance! By the way, my name's Joey, what's yours?"
Your name is A-Camper and this is your dance.
---
The A-Camp dance theme this May is "Heaven is Place On Earth," so I want to see everyone in their best Billy Idol, Rhythm Nation, Whitney Houston, Jennifer Beals, Ronald Reagan, Paula Abdul, Bruce Springsteen and Jem & The Holograms drag. Obviously we're gonna start with Yorkie and Kelly, though.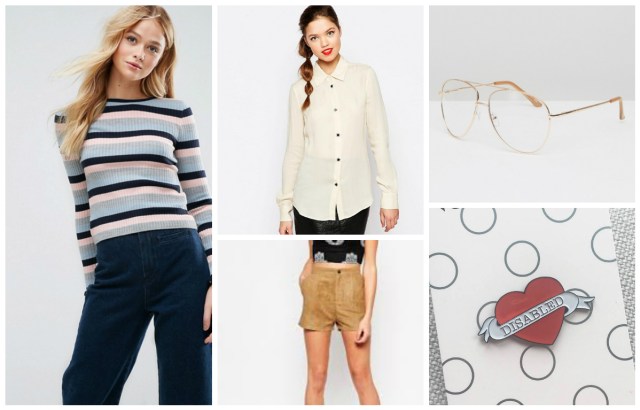 Yorkie is all about normcore meets nerdcore. She's just herself, you know? Yorkie wears her khaki mom shorts, cute striped sweater and collared shirt; and as Kelly points out, her outfit wouldn't be complete without her geeky glasses. She's also disabled, and in our Autostraddle version, she's proud of that and shows it by wearing this cute Disability Pride Pin.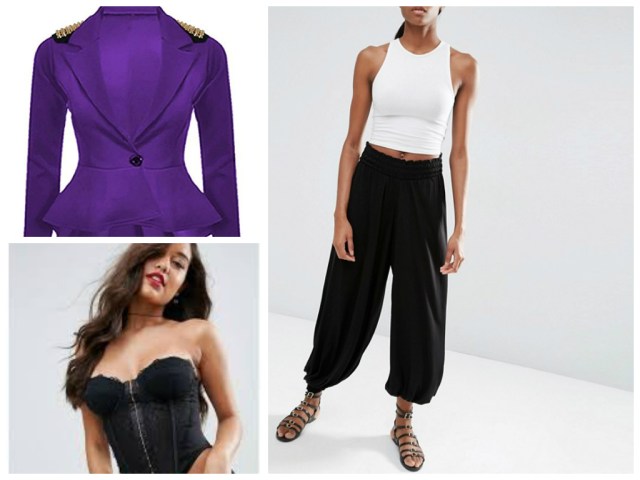 Kelly on the other hand, is like, totally radical. She knows what fashion is and she knows how to rock it. She's got those great harem pants and the absolutely cute corset top. To finish it off she has an amazing purple blazer with fringe and studs and a belt and all sorts of embellishments on the shoulders, and it's impossible to find, but this purple blazer with shoulder studs is a good start.
---
Bodysuits
I'm hoping that I see so many of these at the dance, just put one of these one with some leggings and a great jacket and do your hair and you'll knock everyone dead. This Short Sleeve Off Shoulder bodysuit is super cute. This V Front Body with Long Sleeves covers up a bit more but still looks amazing. Finally, this Daisy Street Plus Button Body Suit is absolutely adorable in it's simplicity.
---
Dresses/Skirts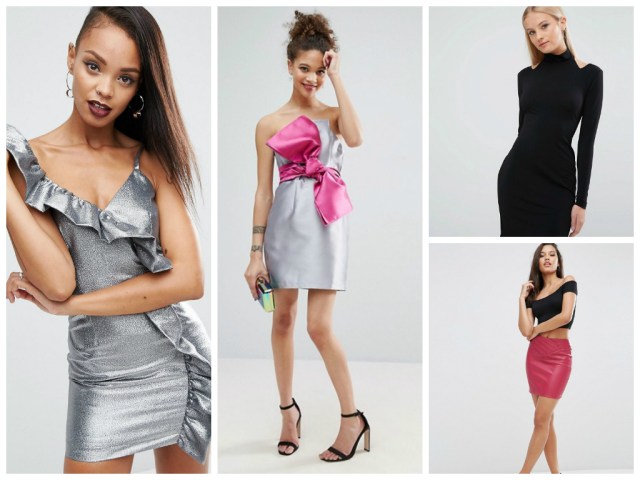 If you want to go a more traditional femme route and make a great statement, the Silver '80s Ruffle Mini Dress or Structured '80s Bow Cocktail Dress is perfect for you. To get that Robert Palmer backing band look, the Cold Shoulder Long Sleeve Mini Bodycon Dress in Crepe is the way to go. Or you could pair the Leather Look Mini Skirt with '80s Waist with a cute top and go from there.
---
Jackets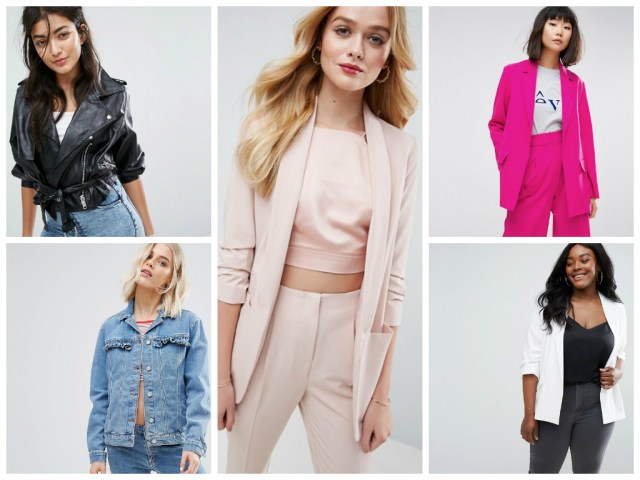 All of these outfits so far, and most outfits that you could imagine wearing to this dance will only look better when worn with the perfect '80s jacket. For the perfect leather jacket, I'd suggest the Bershka '80s Sleeve Leather Look Jacket, but if denim is your thing, I'd go for the New Look Frill Detail Denim Jacket. When it comes to jackets though, the '80s are most known for their blazers. This Mix and Match Blazer with Rouched Sleeve is cute and soft, while the Mansy Clean Blazer has a much more aggressive look. If you want the clean white look of a Miami Vice character, you could go for the River Island Plus Tailored Blazer.
---
Accessories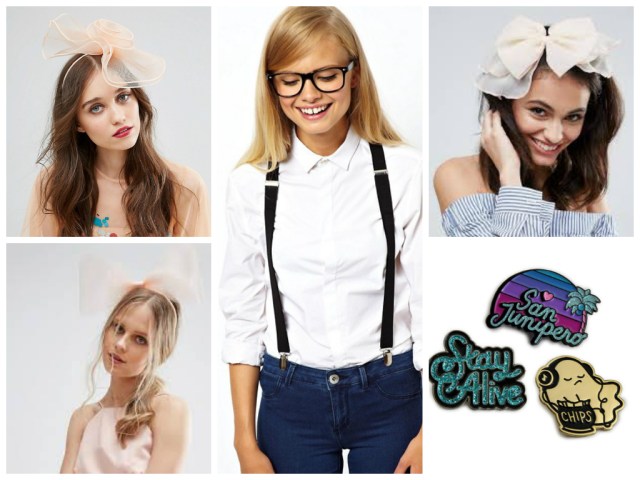 The '80s are also totally about the accessorizing. You could go for the '80s nerd look with these ASOS Suspenders. Or go for more of a pop princess look with the Large Ruffle Hair Fascinator, Occasion Bow Fascinator or Oversize Soft Bow Headband. I'm also gonna suggest Kate Leth's San Junipero Pin because it's actually extremely perfect. But again, the '80s was largely about the hair, and the hair was large. No matter what everyone's wearing, I better see some super amazing hairstyles at the dance.
---
A second "Heaven is a Place on Earth" A-Camp dance fashion guide focusing on more masculine-of-center presentations will be published tomorrow.