AJ is a regular co-host of The Beaver Bunch, a queer counseling/advice group on YouTube. She also takes questions from the gay masses on her personal channel, Ask AJ Anything.
AJ served in the U.S. Army for a bit right after high school, so when "Don't Ask Don't Tell" was repealed on October 12, she decided to re-enlist. See, some people are just cut out for this kind of thing – selflessly serving their country — and so when there's even the tiniest chance of not being turned away or pointlessly discriminated against, they take full stock of their lives and volunteer themselves to be the front line of defense / offense / help / duty. There's that saying: find a job you love and never work a day in your life. Everyone can relate to this desire to hold on to a job you love. You know you can go on without it, if you were to lose it, but nothing else really feels the same afterward.
AJ made her way down to the U.S. Army recruiting office in Long Beach, California. This is her account:
I fully understood that it was 'safe' to out myself to my recruitment officer, but that once I was officially enlisted, I was instantly back under the DADT policy, and I was fine with that. I went to the Army Recruiting office here in Long Beach, CA, with my DD-214 in hand (discharge paperwork they would need in order to see my military history). It's worth noting that Long Beach is home to the third-largest gay population in California.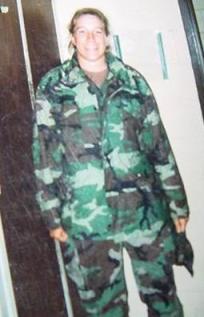 The office itself was tiny, which isn't unusual, and a little more relaxed than I'd expected – almost everyone had their feet up on desks and seemed uninterested in looking up from their laptops. The only female recruiter took me back to discuss my options.
Now's a good time to point out the obvious: I would never pass as a straight woman. One look at me and you'd know I'm either a lesbian or mistake me for a guy. I was clad in my usual attire: backwards hat and jeans and was wearing a purple shirt (it was "Spirit Day" after all).
Within a few minutes of filling out the paperwork with the female recruiter I hear a male recruiter in the background say "…did you hear about Sergeant [inaudible], but it's okay for him to be a faggot now in the army!". Cue uproarious laughter from the other men. No reaction from the female recruiter in front of me.
It happens again. This time a different male recruiter to another: "Hey be careful driving home on the 405 [freeway]. I hear it's okay for gays to drive now.  Do you have your AAA up to date for this!?" I'm now visibly uncomfortable. Finally, another comment: "Oh shut up you're so gay, but, wait, that's OK now!" At this point, I'm sure the female recruiter has heard the banter. I ask her who is in charge and she points over towards the corner where the jokes were coming from. To me, this clearly indicated that the sergeant in charge condones this type of behavior.  I followed up with "Are the gay jokes OK in this office?"

She said, "I'll talk to them" and I replied "No, that's not cool. Is there anything else you need from me?" I had to walk through the group of bigots when on my way out.
I should have said something. I wanted to turn around and scream at them, but something was holding me back. I regret it now, but that's why I'm telling you my story.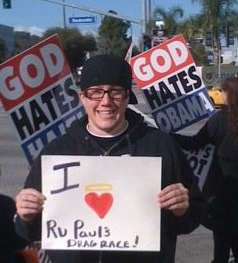 I am completely disillusioned by the incredible level of unprofessionalism that I witnessed yesterday: blatant and apparently condoned hate speech, the very week Don't Ask Don't Tell was repealed.
I know this kind of behavior isn't limited to Long Beach, but is probably taking place in tiny recruiting offices all over the country. How frustrating for GLBTQ youth who want to enlist. Your recruiter is usually your first experience with the military, and he or she should feel like a helpful mentor, not someone who will degrade you – more or less to your face – while you volunteer yourself and your life for the greater good of your country.
My story has to be told and I know I am just one voice.
"One voice can change a room, and if one voice can change a room, then it can change a city, and if it can change a city, it can change a state, and if it change a state, it can change a nation, and if it can change a nation, it can change the world. Your voice can change the world."
— Barack Obama