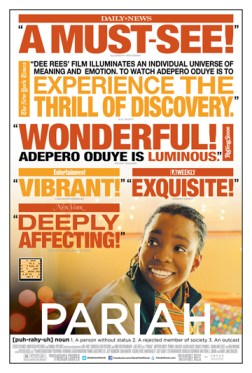 We've talked about Pariah semi-constantly for quite some time now and this discourse has been partially enabled by the fact that a lot of us are lucky enough to live in cities often utilized for "press screenings" and "limited release" affairs.
You've responded to our personal essays and interviews and previews by asking when the hell this fucking awesome movie is gonna hit your neck of the woods. Well good news ROYAL OAK, MICHIGAN (Yup, I'm talking to you Mom! Hay! Walking distance!), Pariah is getting all up in your grill now! And by "grill" I mean "neighborhood." Unless you live in another country or whatever in which case you're probably used to this feeling.
So your time is now, kids. Go see it and let us know what you think!
NOW PLAYING IN THEATERS:
Atlanta, GA – Midtown Art Cinema 8
Austin, TX – Arbor Cinemas @ Great Hills 8
Cambridge, MA – Landmark Kendall Square Cinema 9
Chicago, IL – AMC River East 21 ETX
Dallas, TX – Inwood Theatre 3
Evanston, IL – Cinemark Evanston 18 XD
Hollywood, CA – ArcLight Cinemas Hollywood 14 & Dome
Houston, TX – Sundance Houston 8
Irvine, CA – University Town Center 6
Los Angeles, CA – Rave Baldwin Hills 15 Xtreme
New York, NY – Elinor Bunin Munroe Film Center
New York, NY – Empire 24 ETX + IMAX
New York, NY – Landmark Sunshine Cinema 5
New York, NY – Magic Johnson Harlem 9
Palm Desert, CA – Cinemas Palme d'Or 9
Philadelphia, PA – Ritz At The Bourse 5
Phoenix, AZ – Harkins Camelview 5
Portland, OR – Fox Tower Stadium 10
San Diego, CA – Landmark Hillcrest 5
San Francisco, CA – Landmark Embarcadero Center Cinema 5
Scottsdale, AZ – Camelview Plaza 5
Seattle, WA – Landmark Harvard Exit Theatre 2
Voorhees, NJ – Ritz 16
Washington, DC – Landmark E-Street Cinema 8
+
OPENING IN THEATERS ON JANUARY 20th
Denver, CO – Mayan Theatre 3
Indianapolis, IN – Keystone Art Cinema 7
Minneapolis, MN – Uptown Theatre
Royal Oak, MI – Main Art Theatre 3
Santa Barbara, CA – Plaza Del Oro 2
St. Louis, MO – Tivoli Theatre 3
By the way, this film has been all over the press and garnered rave reviews from literally everyone in the entire universe. Its rating on Rotten Tomatos is 96%, which is better than every other American movie on their list right now. Hurrah!