Guess what? It's Earth Day, the anniversary of when Americans decided to wake up and notice the environment. Perhaps you feel celebrating Earth Day is daunting and/or pointless: "Big deal. I recycle. I buy local tomatoes and bring them home in trendy canvas bags. What more do you want from me, Earth? My soul?!" (Although … souls could be a great renewable energy source, riiiight?) You may even be threatening to screw in an incandescent bulb if you hear one more word about Earth Day. Well, before you clear-cut Yosemite, perhaps you'd like to take a look at what Autostraddle has to offer.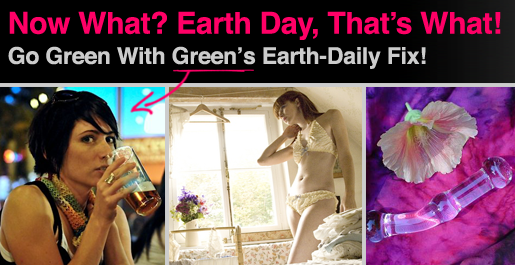 Earth Day Link Fix
Don't Throw That Away
Feel like recycling some random household items into other random household items? It can be done!
++ Old magazines can be magically transformed into neat little envelopes using only the power of folding and glue. Ooooh. [@cut out + keep]
++ Empty cereal boxes make excellent magazine, comic book and stationery holders. I like to cover mine in duct tape. Is duct tape eco-friendly? I don't know. [@replayground]
++ Save your tin cans! Turn them into vases or pencil/paintbrush/chopstick/anything containers. It's low country chic — my favorite. [@design sponge]
++ Same goes for glass jars! If you're throwing away glass jars, we can't be friends. In addition to serving the same fun purposes as reused tin cans, jars also boast a uniquely minimalistic aesthetic and you can store things in them. [@queering domesticity] Susan Powter makes chocolate milk with hers!
Let's Eat
Have you considered going vegan? That's right, my little lamb kabobs — breeding animals for food has a tremendously negative affect on our environment. I'll let Jeffrey Moussaieff Masson tell you all about it in his latest book, The Face On Your Plate: The Truth About Food. Ah soymilk, you've never tasted so good. [@indiebound] [reviewed here @chicagotribune]
Perhaps in your excitement to support local farmers, you purchased a few too many potatoes and lemons. No problem.
++ Before you throw anything away, check this list of 75 Tips for Leftovers and Ingredients. It's even organized by category! [@the kitchn]
++ Another handy tool to keep in mind when you have an overabudance of a particular item is AllRecipes.com's Ingredient Search. Just type in what you've got and see what you can make with it. Simple, Sally. [@all recipes]
Shop til You Drop [Your Pants]
Probably the most bright-eyed, optimistic, potentially world-changing thing you'll ever see is a Really, Really Free Market – "Because there is enough for everyone". It started as a protest to the G8 Summit and has grown into, in some cities, a monthly gathering of people giving away everything from haircuts to clothes and food. If you can find one, go. If you can't find one, organize your own.
++ What's better than getting new shoes? Getting new shoes and donating a pair to a needy child at the same time, that's what! TOMS Shoes, you guys. Buy some.
Sexy organic panties – because your ass is too awesome for regular panties.
++ Urban Fox: Bamboo and organic cotton blends are dyed and sewn by hand in the midwest. You can't get more patriotic than that.
++ Luva Huva: Joanna Ketterer makes super-feminine knickers using remnants and end of line fabrics that would otherwise go to waste. Sweet!
Don't forget that Etsy makes it easy to find handmade items from local artists with their Shop Local search!
Drinks For Everyone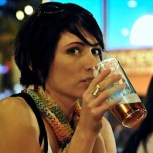 If your inanimate pet enjoys a good vodka tonic as much as Tinkerbell, you should encourage her to try Prairie Vodka. Since it's distilled from certified organic corn grown by a co-op of over 900 Minnesota farmers, you and your pet will feel like real do-gooders. Cheers!
The masterminds behind Treetini are truly special. For every Treetini sold in April, a tree will be planted! I don't know where they're planting these trees, but I love this idea. Check the map to find participating resturaunts in your area. There are also recipes available using the Veev Acai Spirit, because drinks taste good even when no one plants a tree.
I Wanna Sex You Up
Even your sex life can go green!
++ Earth Erotics has an ample selection of pretty glass dildos that I can't recommend enough. Glass production has a teeny tiny affect on the environment, so these toys are good for your G-spot and the planet.
++ Don't forget the organic lubrication! Slippery! [@good vibes]
++ When you're ready to part with your toxic, old sex toys [@bad vibes], send them off to be recycled with Dreamscapes' Sex Toy Recycling Program. They do all the hard work for you. Just mail them your toys and rest easy, knowing you're as green as you can possibly be. This topic also serves as an excellent ice-breaker at dinner parties. You're welcome!
How will you be celebrating Earth Day? If you have any tips or ideas for being eco-friendly without being a tool, tell us in the comments!