Grease Bats, a comic collection written by Archie Bongiovanni and published by Boom! Studios, is perfect. It will make you laugh, it will make you cringe, it will make you emotional, and best of all – it will make you feel seen as a queer person with a fully formed personality! The book, available for sale today, is a compilation of comic strips that Archie has been creating monthly for Autostraddle for the past five years (!!!) plus some brand new original stories that you won't find online. Autostraddle pal, New York Times best-selling author, and Noted Bisexual Millennial Gaby Dunn calls Grease Bats "the definition of for us, by us," and she's not wrong. Archie has successfully crafted a world where queerness, community love, and gay karaoke are the rules, not the exceptions. Whether you've loyally followed along with the Grease Bats adventures since the very first panel was published on Autostraddle in 2014 or whether this is the first you're hearing of the Grease Bats gang, the experience of holding 304 pages worth of inclusive queer stories in your hands is very special. This book is essential.
Grease Bats centers much of its action around Andy and Scout – "best buds, roommates, and gay disasters." The very first page of Grease Bats opens with an extremely relatable scene: Scout, an emotional, shy "long-hair butch but without the butch part" is begging Andy, a flirtatious genderqueer trans hard-partying "aggressive homosexual," to go to a straight bar so that Scout can see her crush… who she hasn't confessed her feelings to, even after months of pining. "Crushing is hard," Scout exclaims, while Andy puts their foot down. "I'll only go to this godforsaken sports hub if you tell her how you feel," they say, sighing with the quiet acceptance of an extroverted party queer who knows their BFF is absolutely not going to take their advice. "Well if we're going to this straight club," they say, "I'm going to need to look a lot gayer."
This opening perfectly sets up the most charming thing about Grease Bats: it's just regular homo life for a couple of queer kids in their mid-twenties. And while it may not be your homo life, it is undeniably relatable to many of us. That ping of recognition only gets stronger and deeper as the book progresses and we meet Scout and Andy's pals – Ari, a happily single sarcastic introvert, Gwen, an exuberant newly-out bisexual femme, and Taylor, a grad student. In Grease Bats, the queer characters aren't props or convenient story lines to further a straight person's narrative journey or teaching moment, nor are they dealt devastating blows and misery (though they do contend with some hard experiences, and Bongiovanni doesn't sugarcoat the realities of life as young broke queer people in today's world of late stage capitalism) – they are simply allowed to live their big queer lives. Archie gifts the reader extra nods of recognition through the fashion choices of each character – I covet Gwen's choker and am always delighted to see what words are scrawled across the chest of Andy's crop top in any given scene – and the particularly perceptive eye will note little details that ground the series in our particular queer moment, whether it's a protest sign on a bulletin board or a Halloween pumpkin that reads "FUCK TRUMP."
Though Scout and Andy are the glue holding all the pieces together, it's not hard to imagine (and desperately wish for!) a fully realized spin off starring any one of the "side" characters, either. Archie has done a fantastic job creating a nuanced, flawed, and lovable ensemble cast. The Grease Bats are the definition of a queer community.
---
When I spoke to Archie on the phone just a couple of days ago, they were biking to their part-time job in Minneapolis – an activity one could imagine any of the Grease Bats characters doing, too. Archie shared that their original inspiration for the comic came from wanting to represent their own life and the lives of their friends in the Minneapolis queer community at the time. "I think Grease Bats really got born with me being 25, horny, with a lot of emotions," they said, explaining that creating Scout and Andy from their own personality and the personalities of their friends allowed them to explore a wide range of topics and emotions with the characters. "I wanted something that represented what life was like in Minneapolis at the time too," they said, "because it's such a flyover state that people often don't see it as a thriving queer scene, and when people dismiss it they dismiss all the hard work that people put into the city."
That, too, is a triumph in Grease Bats. The cast of characters is solidly rooted in the Minneapolis queer community that their creator calls home, but at the same time, the friends could be anywhere. I see my Portland queer community in the pages and I see my Autostraddle queer community, too. In its specificity Grease Bats has created a universal story of a specific slice of queer community.
Something else Archie excels at is creating characters that speak to more than one kind of queer person. Over and over I hear friends and acquaintances recognize themselves as one specific Grease Bats character more than others (I'm totally Gwen, in case you were wondering) and Archie even has a "Tag Yourself" page in the book. I wanted to know how they were able to create such robust representations of so many different kinds of queers.
"I want to respect the community I'm part of," they told me, "so that means having a diverse cast of characters." I was particularly curious how Archie, as a white person, works to be inclusive but not tokenizing with their characters of color. "I try to be really mindful to draw characters with a personality first," they said. "I don't ever forget that they're characters of color but I also don't forget that I'm a white person and I make sure I have that in my mindset when I'm drawing." They explained that it was important to them to represent their community and its diversity accurately, but to not position themselves as an authority on stories that they have not experienced. "I'm not going to draw a story that is specifically about a character of color coming out to their family because I don't have that perspective," they said, "but I can draw them doing a lot of other things and have it be really real. I'm really mindful of what stories I'm telling… I try to be as much of a mirror as I can be with my perspective."
When we talked about what's coming next for the Grease Bats, Archie confirmed that while they're very excited about the book release, they also plan to continue creating brand new content for Autostraddle. They emphasized that they want their work to continue to be free and accessible, and that Autostraddle has been and will continue to be a perfect home for Grease Bats. I was curious if Scout, Andy, and the rest of the gang will be growing up and out of their shenanigans or if they'll stay forever young; Archie admitted that they'd love their characters to grow up with them as they grow up, but that this crew might indeed remain where they're at while they create new, older characters to take on new, older queer journeys.
It's been such a privilege to watch readers enjoy Grease Bats on Autostraddle over the years; month after month, queers leave comments saying they relate, they want Andy's crop top or Ari's skills with boundaries; their best friend is just like Scout or they want a best friend just like Scout or grad school has ruined their social skills just like it ruined Taylor's. These reader reactions line up with Archie's wish for the Grease Bats book. "I want readers to feel a sense of familiarity in a way that makes them laugh, and that resonates in a way that makes them feel good and seen," they said, noting that while queer representation in stories and comics is getting better, it still feels rare.
"I hope that it's funny," they said. "I hope they laugh."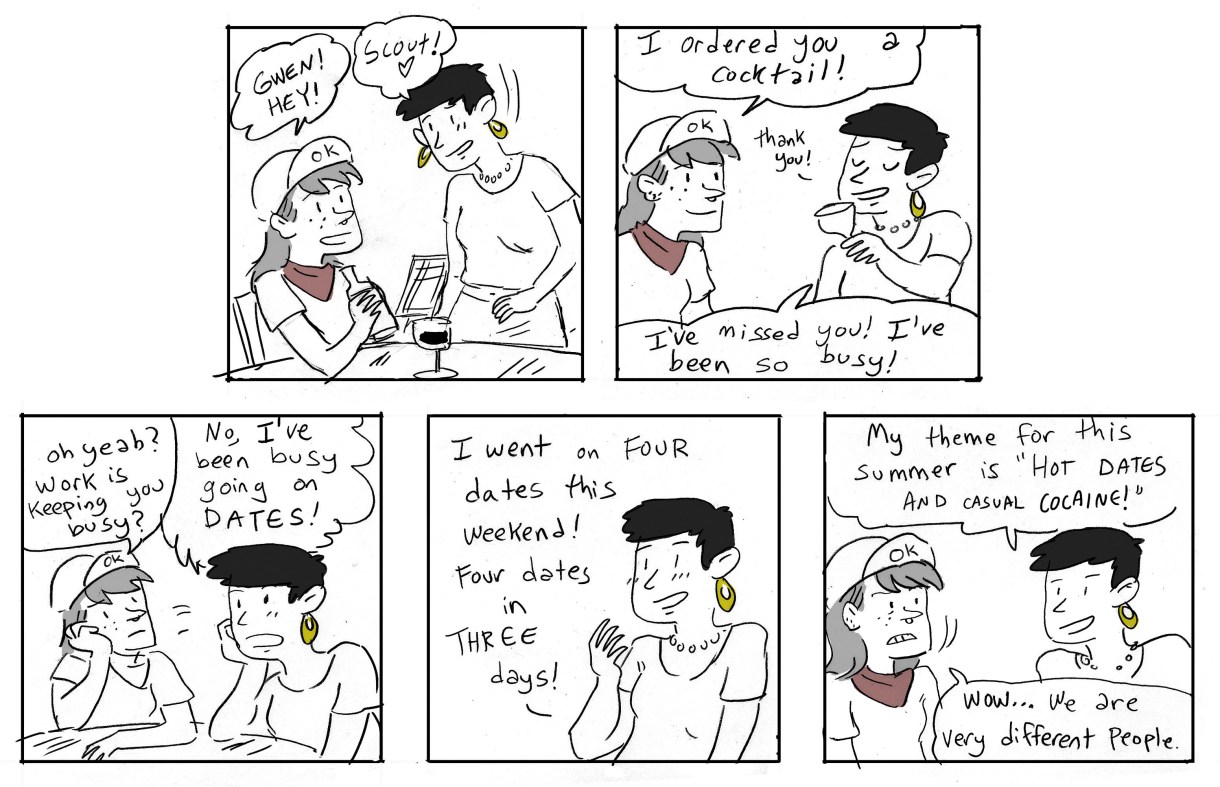 ---
You know the feeling when you recognize a fellow queer in a public place and you are suddenly both wildly excited and also deeply calm, as if everything is right in the world? That feeling is this book. It feels like too easy of a comparison to say, "This is the new Dykes to Watch Out For," and yet I don't want to not say that because a couple of years ago when I realized what Archie was creating with Grease Bats, I said to them, "This is the new Dykes to Watch Out For!" I am not the only one to make that comparison; it is accurate.
A couple of weeks ago, at Bluestocking Books in New York City, Archie led a live reading of some of the Grease Bats comics. They chose four people in the room to represent Scout, Ari, Gwen, and Taylor, and they read for the part of Andy. (Full disclosure – the author of this piece was chosen for the role of Gwen.) Hearing the comics come to life and hearing an audience full of queer people react in delight to the jokes and truths of the stories we were performing drove home the truth I've felt about Grease Bats for a long time – this is us.
Archie has taken a moment in queer history for a certain segment of the queer community and rendered it on the page in all its messy, loving, horrifying, beautiful, magical glory. It's hard to overstate how much I loved this book – and how much I think you will, too.

Grease Bats is out TODAY, September 3; buy it now!