It's the end of an era. After nine years, two shows — The Fosters and Good Trouble — and 156 episodes, Maia Mitchell took her final bow as Callie Adams Foster.
"While I have been so beyond fortunate to have this career and job that I love, with not an iota of regret, for quite some time I have suppressed an undeniable gravitational pull to return home to Australia to be closer to my nearest and dearest," Mitchell wrote note she posted to fans last night.
I'd speculated at the end of last season that Maia Mitchell might be leaving the Fosters-verse, but when the new season kicked off with Callie still helming the show, I was lulled into a false sense of security. When the show's previews talked about something going over like a lead balloon, I worried most about the Mamas and whether or not they were facing new challenges at home. I didn't see Callie's departure — to DC, to her dream job at the ACLU — coming and I didn't realize, until I watched Mariana cry while clutching her Callie doll (more on that later), how integral Callie still was to what I love about Good Trouble and how much I'd miss her once she was gone.
When you meet a character, you're lucky if you get one season to spend with them. To spend five seasons getting to know Callie — to watch Callie Jacob become Callie Adams Foster — already felt like a gift; to see her go from a victim of the system on The Fosters to a genuine change agent within that system on Good Trouble… that feels like a privilege that TV audiences are rarely afforded. It'll be interesting to see how Good Trouble changes without Callie's evolution driving it: how Mariana carries on the Fosters heart on her own or which Coterie member adopts Callie's zeal for justice and service. And, of course, which Coterie member will have the overly intense love affairs now that Callie's not around to do it?
---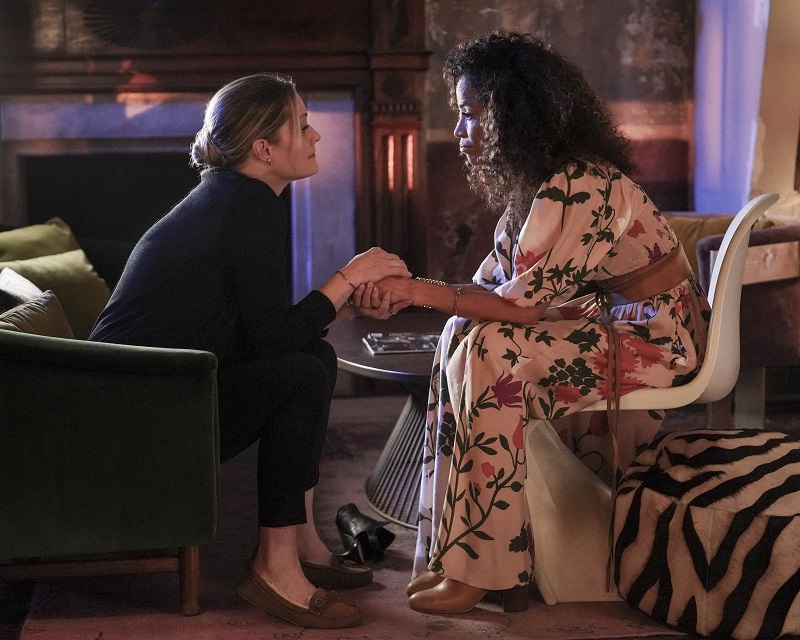 The Mamas return to the Coterie, eventually, becomes the party I expected it to…initially, though, they are worried about sharing the news of Callie's imminent departure with Mariana. Stef and Lena are greeted warmly by the Coterie members they've already met: Stef wraps Dennis and Davia in big hugs and Lena does the same with Malika. Isabella gets a lukewarm introduction — clearly, Stef's memory of Mariana and Isabella's issues remains fresh — but Mariana does her best to explain why Isabella's still at the Coterie. The Mamas assume that Isabella's baby is Dennis' but Mariana corrects them: it's Gael's. Stef Adams Foster can't mask her contempt. The family opts against going out and, instead, decides to stay and share dinner with the chosen family at the Coterie.
Kathleen arrives before dinner is served and is introduced to Stef and Lena. Again, Stef can barely mask her contempt but unlike Gael, Kathleen picks up on the tension and makes a joke at her own expense. She commends Stef and Lena on the job they did raising their daughters and then huddles with Callie in Malika's loft. Having avoided criminal charges thanks to Callie's intervention (read: extortion), Kathleen offers Callie a gift: the briefcase her mother gave her when she graduated law school. It's a gift that she once imagined giving to her own daughter…and one that underscores the depth of their relationship. She wishes Callie well and they both get choked up as they share their final good-bye.
At dinner, secrets start to funnel out. First about everyone's sexting habits, including Judicorn and the Mamas. Everyone wants to hear more about Lena's visual sexting tendencies — especially Alice and Sumi — but lest she die of mortification, Callie redirects the conversation back to Jude, who's been fighting via text with his boyfriend all night. Salty that he's being chastised for not being honest with Carter, Jude asks why Callie can't just be honest with Mariana…and that's when the truth comes out. The entire table falls silent and Callie admits that she got a job at the ACLU in Washington, DC and she leaves in two days. Hurt, Mariana storms off.
"I am upset, not that you got your dream job or that you're moving across the country. I'm upset that you thought I was so fragile that you couldn't just tell me yourself," Mariana admits. She laments that she can't even throw Callie a proper going away party so, instead, the sisters opt to turn the family dinner into a Coterie bash.
The party gives Callie the opportunity to say her goodbyes to everyone at the Coterie. Dennis offers his assurances that she'll be okay because Callie has a strong family support system to depend on. She has a touching good-bye with Malika — one that makes me disappointed that their friendship didn't get more of a chance to grow on-screen — and a warm moment with Gael. Alice, who stops by the Coterie during a tour break, gives Callie her framed picture of Sandra Bullock for good luck. She shares an embrace with her younger brother and ensures him that he'll always have a place with her.
"When you leave the family that you were born into or adopted into and you go out into the world, you get make a chosen family…of friends…and I will never find a better chosen family than you guys," Callie shares, echoing the sentiments of her portrayer. To break the weight of the moment, Malika turns on LMFAO's "Party Rock Anthem" — a callback to the sisters' first Coterie party — to celebrate Callie's last hoorah.
The show gives Callie and Mariana one last sister chat, with their feet dipped into the Coterie pool, but it feels less like the two characters we've watched grow up on our screens and more like a conversation between Maia Mitchell and Cierra Ramirez, two actresses who have toiled together for 10 years. Cierra's final message to her on-screen sister: "geography doesn't make a family, love does."
---
Good Trouble Coterie Sundries
+ This week's cold open featured two dancing dolls…and while the symbolism of them would become clear later — they're doll versions of Callie and Mariana discovered by the sisters during a thrift shop visit in Good Trouble's first episode — I watched too much Pretty Little Liars not to be freaked out by them at first.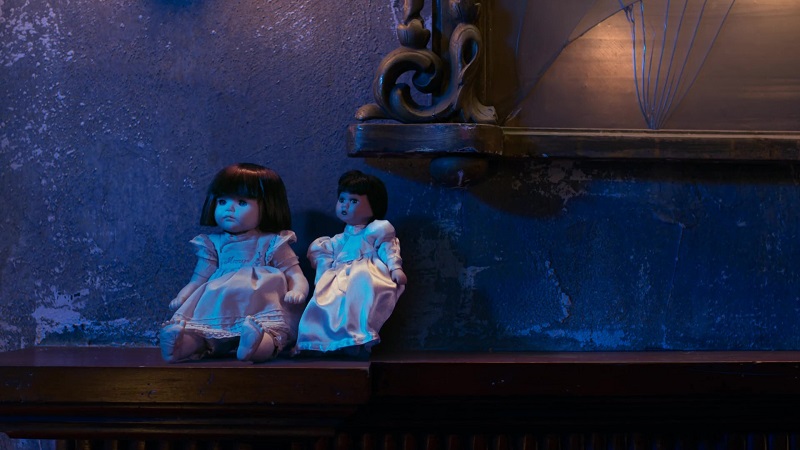 + My favorite thing about foreign actors playing American characters is hearing their accents pop out. This episode gave us as much of Maia Mitchell's Aussie accent as, perhaps, we've ever heard on the show, as the emotion of the moment overcame her acting.
+ There's lots of consternation about Callie maybe, possibly ending up with her moderate Republican ex-boyfriend, Jamie, to conclude her run…and, listen, I get why people are bothered by that…but once upon a time there was a very loud contingent of Fosters fans that wanted Callie to end up with her brother (#Braille) so I'm counting this as a win.
+ Though the episode focused primarily on Callie's departure, the show did give us some insight into what's driving Joaquin. Apparently, some time ago, his sister left their family's intensely religious home and, eventually, found a home at the Coterie. After her stay there, though, she disappeared and now Joaquin's trying to figure out what happened to her. He uses the family dinner as an opportunity to ply information out of everyone.
Could this be an interesting story? Maybe. Does this story feel woefully out of place on this show? Absolutely. As I watched Joaquin piece together the Coterie timeline, I just kept thinking, "why doesn't he just ask the people who lived in the Coterie back then about his sister?" Why all the secret investigative nonsense? Does he think that someone in the Coterie axe-murdered his sister? Whatever the case, I'm not sure I like where this storyline is going.
+ Boy, I am really bad at predictions…this reminder does not bode well for my March Madness brackets.
---
Next Week: A Guest Appearance from Nia Nal!