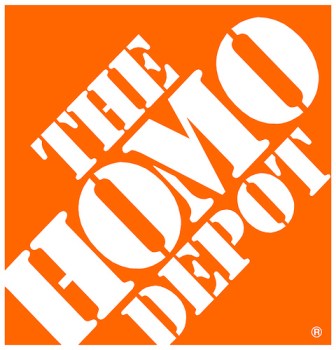 The American Family Association, a right-wing conservative religious group of imbeciles, is boycotting Home Depot. The American Family Association will stop at nothing to stop the spread of the gay agenda! They will sacrifice the potential varnished beauty of their back porches, the functionality of their toilets and the blossoming of their gardens if that's what it takes to send a message to Home Depot.
Except Home Depot really doesn't care about The American Family Association and it's ridiculous petition or boycott and won't apologize for supporting gay rights.
See, the American Family Association has been boycotting Home Depot since July 2010 on account of Home Depot's "participation in numerous 'gay pride' evens, parades, and festivals across the U.S. where small children are exposed to "open displays of homosexual activism." More specifically:
The American Family Association (AFA) has launched a protest against Home Depot for setting up a children's workshop at the Southern Maine Pride Festival…the AFA pointed out that homosexual "pride" events are generally marked by obscene displays, including nudity and public sex acts.
The Home Depot, which the AFA says conducted Kid's Craft Workshops at the festival, is shown as a sponsor of the event on the 2010 Southern Maine Pride website.
"To this end, Home Depot is basically encouraging the attendance of children at events which openly expose them to transvestites, cross-dressers, and homosexual activists," said Tom Wildmon, president of the AFA, in an email to supporters Monday.
Home Depot also sponsored and participated in the 2010 Boston Gay Pride parade.
"Gay pride events have a long track record for offensive public displays of homosexual conduct. Obviously, Home Depot is OK with the idea of exposing children to an unhealthy and risky environment," said Wildmon.
Furthermore, AFA executive vice president Buddy Smith (he ain't my buddy, I can tell you that) went all the way to Atlanta this week to attend Home Depot's annual shareholders meeting where he was given three minutes in heaven to address Home Depot chairman Frank Blake and other company executives and tell them all about his petition.
Randy Sharp, executive of "special projects" for the American Family Association, told OneNewsNow about this thrilling experience:
"We presented to the shareholders and to the chairman and the board of directors over 470,000 signature petitions asking them to remain neutral in the culture war, specifically when it addresses gay marriage and homosexual activist groups."
The reception was cool, adds the AFA spokesman. Blake thanked AFA for the petitions but again, as in the past, reiterated the company's support for "diversity," which includes same-gender "marriage." [sic]
Sharp adds: "We're disappointed that The Home Depot continues to close the door and not listen to the millions of customers who are offended that they are engaging in the culture war and taking a position in favor of gay marriage."
We talked earlier this week about how every corporation ever is at least partially evil and Home Depot is no exception — their PAC gave generously to PAC's associated with conservative anti-equality candidates like Eric Cantor, John Boehner, Pat Toomey and Lynn Westmoreland. Should we expect more responsible spending from Home Depot, or is this just par for the course?
As I mentioned in the aforementioned article, companies tend to support candidates whose policies improve the profitability of said companies and those candidates are often Republicans, who carry a lot of Social Issue Baggage with them. Here's Home Depot's spending: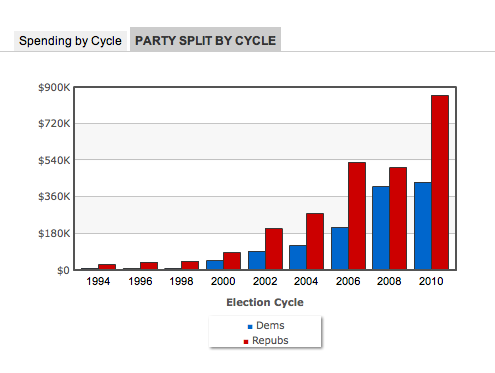 But didn't Home Depot donate to Yes on 8, you may be thinking? There were some rumors about that and well, yes and no. Basically when you search Home Depot on opensecrets, you'll see where many of its employees chose to donate privately, which includes such terrible recipients as Michelle Bachman and Christine O'Donnell. Can a company be blamed for its employee's political opinions? Probably not.
The HRC gives Home Depot an 85 on its Consumer Index, which puts it in the "green" or "the highest workplace equality score." You can access the entire Corporate Index here.
Remember the AFA is headed by Bryan Fisher, a man who has publicly said that gays are Nazis, that Glee gives people AIDS, and that prospective Presidential candidates should hate gays more than they already do.
You can express your gratitude to The Home Depot and help lessen the AFA boycott by shopping there. But know this: they also support Republican candidates.