Welcome to Part 2 of Crystal's big queer vacation. When I last checked in I was roaming the Mediterranean with my girlfriend; we got caught up in the romance of Malta and Sicily, pointed at some neat landmarks and ate our body weight in pastry products.
Regrettably, we've reached our final destination — the United Arab Emirates (UAE). The UAE is in the heart of the Middle East, neighboring Saudi Arabia, Iran, Iraq, Egypt & Somalia. Our plan was to explore 2 of its 7 emirates, Dubai and Abu Dhabi.
The United Arab Emirates is not the most popular holiday hot spot for the queer crowd. Here, being gay is not okay. Under Sharia, the law of Islam, homosexual conduct is punishable by fines, jail, deportation, or corporal punishment. (Or far worse, in neighbouring countries.) Despite knowing that many queer people must relocate or travel to Dubai often and without incident, I've gotta admit that I was a little nervous about spending time in a place where it's possible to be persecuted just for being who I am.
Stepping off the plane in Dubai, I had no idea what to expect. Would I be able to read Autostraddle dot com? Would it be okay to check into the same hotel suite as my girlfriend? Will publishing this article earn me a life-time ban from the UAE? All important questions, none of which were answered by googling all of those questions in all their possible permutations the internet.
My mother, who's been living and working in Dubai for a number of years, assured us that no suspicion or penalty would fall on our little homo heads. In fact — knowing that we had come from a place that can at times be just a tad Islamophobic — she made it her mission to debunk every concern and false preconception we had about Dubai, the UAE, and Islam in general. But more on that later.
First stop: Dubai
If Malta and Sicily were about tradition and romance, Dubai is about extravagance and excess. It's a magical place where gold is sold from vending machines, gas flows at the same price as bottled water, and Muslim women bedazzle their abayas with jewels and diamonds.
Old Town, where we were staying, was immaculate. Every view in every direction looked like a postcard. Matching low-rise sandstone apartment blocks lined perfectly manicured courtyards, gardens and lakes, their palace-style exteriors and arched entrances a modern take on old Arabia.
Here, palm trees line absolutely everything — from malls and hotel foyers, to the man-made lakes that make the village appear like it's afloat. There are even palm trees in the airport terminals. And because things in Dubai need to have just a little extra flair, those palm trees are decorated with fairy lights. Lots of fairy lights.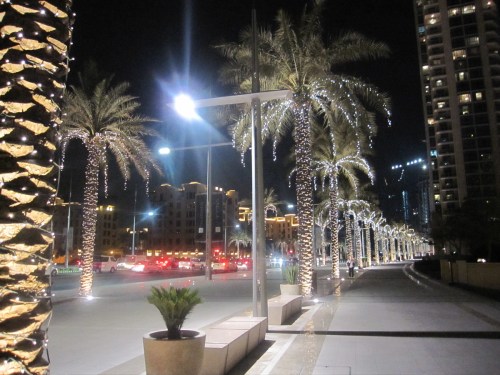 The first thing I fell in love with here were the people. Dubai has this beautiful, colourful population built from many ethnicities and, according to our proud taxi driver, up to 33 religions. Everybody here seems so happy, laughing and smiling always.
Many people in Dubai wore traditional Muslim dress – hajibs and abayas for women, and thawbs and bishts for men. Also, many didn't. Those of us who were not Muslim were asked to extend just a few basic courtesies: dress modestly, act with humility, and don't take photos of Muslim women. In tourist areas, 'Modesty Police' hand out educational brochures to tank-top wearing visitors who were unaware of local customs.
Leaving Dubai Airport, my mother pulled us into a Pink Lady Taxi – a taxi fleet operated by women, to support the safe and free movement of women and their children.
These taxis are not a new concept, but one that I wasn't expecting to see in an area of the world often associated with the oppression of women. I'd never suggest that Muslim women are treated equally, or that oppression does not exist — but I thought I would see signs of it, and I didn't. What we did witness were Arab men treating their wives like princesses, all 1 – 4 of them. And not just Arab women, either. I was treated with more courtesy and respect than I've been shown in many other countries.
Our activities in Dubai can be filed under four different labels:
1. Touring Hotels
In Dubai, alcohol is only permitted in tourist areas such as hotel restaurants and bars, and therefore we we were motivated to do a significant amount of hotel-hopping. We would have anyway, as the contemporary designs of Dubai's 5-star hotels are so spectacular and downright mind-boggling that they've become popular tourist attractions.
Rather than visit historical landmarks, sightseers in Dubai will scramble for a glimpse of modern monuments such as the 7-star Burj Al Arab and its famous 'Tennis Court in the Sky'. They'll flock to the dolphin-filled lagoons of Atlantis, or make reservations to have ridiculously perfect cocktails & appetizers on the picturesque waterfront of the Grand Hyatt. Apparently, taking photos of your food there is a 'thing'.
There was one hotel in particular that I was genuinely eager to see: the aforementioned Atlantis, the popular underwater-themed hotel located on a palm tree-shaped island called The Palm.
My mother made no secret of the fact that she'd rather walk on hot coals than spend time at a themed hotel. However given that 'see Atlantis' was quite literally the only item on my Dubai to-do list, she relented.
Sadly, somebody super important also wanted to see Atlantis that day, and as such the hotel was temporarily off-limits to tourists. Cheerful security guards redirected us to a small corridor containing a Starbucks, some Neptune-esq lamp posts and a gold bullion vending machine.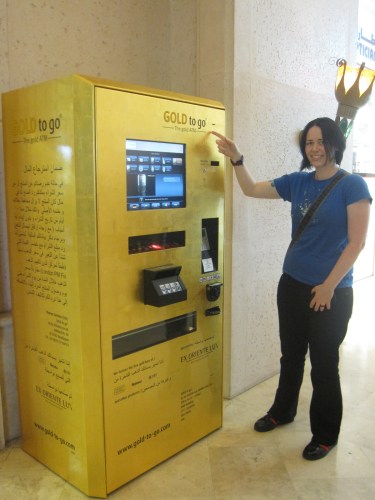 Me: Atlantis is shit.
Mom: I told you so.
To cure my crushing disappointment, my mother whisked us away to a Jumeirah hotel where she introduced us to a far less tacky water concept: Abras. One of my all-time favorite tourist moments ever has involved a gondola and the canals of Venice and, while taking an Abra through a perfectly-sculpted lake didn't quite have the exact same charm and authenticity, it was still beautiful.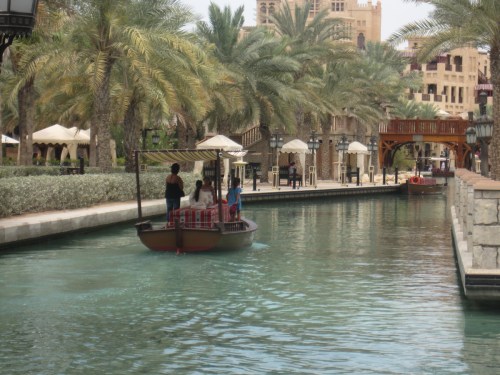 2. Seeing Objects Classified as 'World's Biggest' or 'World's Tallest'
From what I can gather, Dubai is the place where the architects of the world hold their pissing contest. It's home to numerous world record-breaking monuments, most notably the Burj Khalifa, the world's tallest skyscraper, and the Dubai Mall, the world's biggest shopping mall.
The Dubai Mall is 12.7 million square feet and home to 1,200 stores, an ice rink, an underwater zoo, and an aquarium that holds 10 million litres of water. I don't know what that translates to in American but it's f*cking huge.
We appreciated the insanity of jetting halfway around the world just to spend our days in hotel bars and shopping malls. It couldn't be helped, though – not when there was a dry, 500-million degree heat outside. Whenever we saw an opportunity to be entertained in a large air-conditioned space, we didn't pass it up – and it's that attitude that no doubt influences developers to fill their malls with winter-themed recreational facilities. For example, the Mall of the Emirates' indoor ski slope (another 'world's biggest', of course). I was speechless. I'd seen photos, but they couldn't prepare me for its real-life 3D ridiculousness.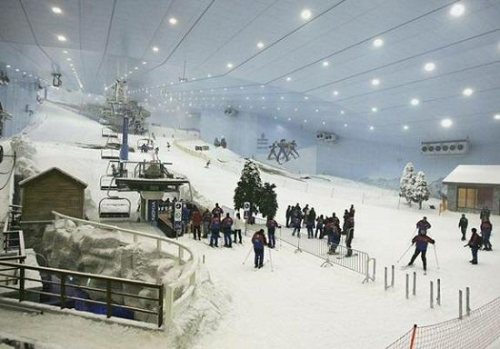 No amount of photos could prepare me for the reality of the Burj Khalifa, either. The skyscraper's 160 floors encompass the Armani hotel, plus observation decks, apartments, restaurants and corporate offices. Below is a picture of me standing in front of it. Can you see me? Exactly.
Inside the world's tallest tower is the world's highest restaurant, At.mosphere. It's on the 122nd floor, a dizzying 422 metres up in the sky. We booked months in advance to secure a table right against the window, which provided us with a view of Dubai that was so far-reaching you could see past the city and into the desert. I've never once been affected by heights, however after 30 minutes the altitude started to mess with my equilibrium and I had to leave before the meal was over. Sadface.
3. Smoking Shisha / Lesbian-spotting
As a former cigarette smoker with an oral fixation, the highlight of our trip was being able to sit in the courtyard of our hotel, the Al Manzil, huffing on a shisha — flavoured tobacco that is smoked from a hookah, which is a large water pipe.
It was explained to us that shisha cafes are a popular part of Middle Eastern culture. Throughout the day, Emirati men would sit at the tables with their laptops and cell phones, smoking shisha for hours as they did business. In the evenings, the locals would flock to the cafes for a smoke in the same way that, back home, we'd go to the pub for a drink.
It was at the hotel's shisha cafe that we had our first and only experience with Emirati lesbians. When the young girls first walked into the cafe they were covered head to toe in abayas and burqas. By the time they had reached their table, they'd shed their traditional dress like queer Clark Kents, revealing alternative lifestyle haircuts, tattoos, polo shirts and denim cut-offs.
When two of the girls began holding hands and kissing in plain view of the crowded cafe, I became concerned for them. My mind had equated their illegal behaviour to being as reckless as dealing crack in the hotel lobby. Clearly it wasn't. While I was (probably) staring at these girls like they were a rare species, remarkably none of the local Emiratis or hotel staff nearby bat an eye lid.
I was beginning to notice that Dubai seems to operate under a 'Don't Ask, Don't Tell' style policy when it came to homosexuality. And while there's no way of knowing whether the same leniency would have been afforded to these young queers in other parts of Dubai, or the wider UAE, the possibility made my heart burst.
4. Seeing the 'Real' Dubai

After spending several days touring 5-star hotels with gold-plated escalators and obscene water features, my mother was eager to prove to us that Dubai had a soul. Off we went to Satwa, a suburb a few miles outside of Downtown Dubai that's heavily occupied by migrant workers from India, Pakistan, Africa, everywhere. These were the people who kept Dubai running.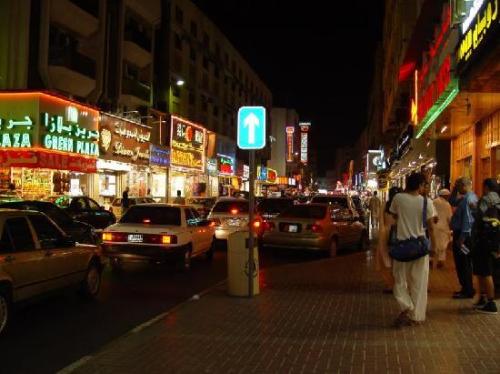 Compared to the rest of Dubai, Satwa felt most like home. The streets were lined with grocery stores and cheap restaurants filled with plastic furniture. People shopped from home wares from dollar stores with bright flashing neon signs and ate hot bread from street vendors. Pakistani men strolled down the street laughing and holding hands, because that's what male friends do in Pakistan.
Me: How do people know that these men are friends and not lovers?
Mom: People here don't suspect that people might be gay.

Next up, my mother insisted that we experience a real Abra, the sketchy kind that transports locals from one side of the city to another for an affordable fee. It was a far cry from the earlier Abra experience. Gone were the perfectly crafted ships and the sparkling blue man-made lake, and in their place were slightly less seaworthy vessels that skimmed across an actual body of water created by nature and not construction workers.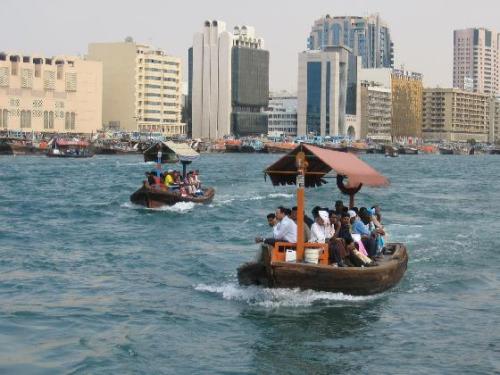 Second stop: Abu Dhabi
From Dubai, Abu Dhabi is a 1.5 hour drive through the desert on a camel-lined highway. These were the only camels we saw during our time in the Middle East because, as we quickly realised, camels are to the UAE what Kangaroos are to Australia. Sure, they exist – but you're not going to see the locals riding them across the tarmac the moment you step off the airplane.
The road to Abu Dhabi is called Sheikh Al Zayed Road, named after the founder and late President of the UAE. Sheikh Zayed is a revered man. We realised this when we saw his face plastered on everything.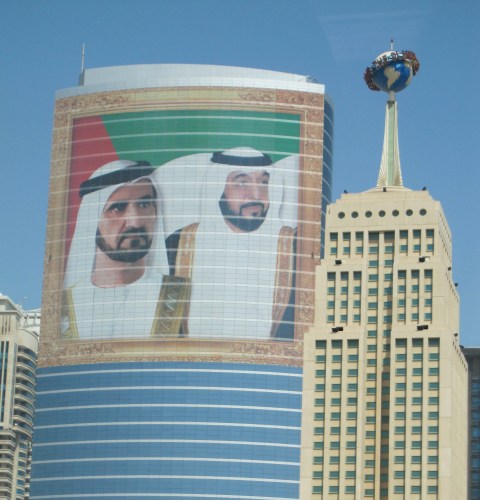 Our purpose for visiting Abu Dhabi was to take a tour of the Sheikh Zayed Grand Mosque, a stunning mosque that is open to tourists of all nationalities. It serves as both a place for prayer and as an educational centre for cultural understanding and tolerance. Unfortunately, it was closed.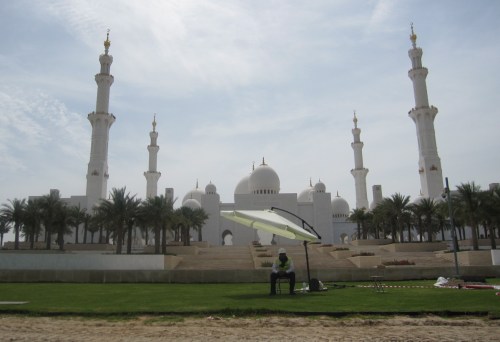 We decide to stop in at the Emirates Palace, a government-owned luxury hotel that primarily hosts Emirati royalty and local and foreign dignitaries. The interior design was outrageous. Almost everything at the Palace was covered in gold, from the escalators to the restroom fittings. They even put gold flakes on the coffee.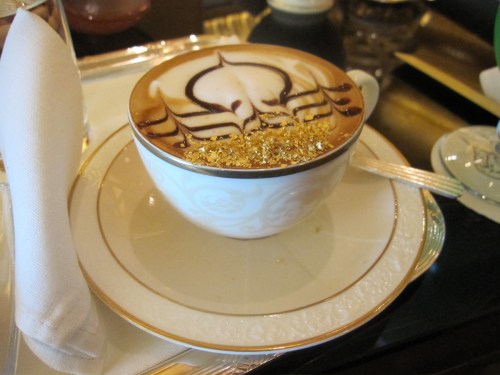 It was at the Emirates Palace that we saw an exhibition for Abu Dhabi's new cultural district, Saadiyat Island. Once completed, the Island will be home to the Louvre and the Guggenheim, as well as the Performing Arts Centre and countless museums and theatres. The replica models and plans left little doubt in my mind that Abu Dhabi will soon become the arts and cultural centre of the world, and I can't wait for the day that I can return to the UAE and see it in all its glory.