GLEE: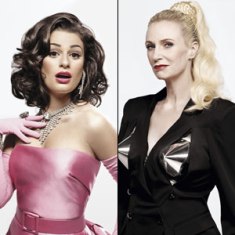 Glee's back nine premieres tomorrow night (Tuesday) at 9:38 pm on Fox with an episode entitled "Hell-O," directly following Adam Lambert's appearance on American Idol, making tomorrow night essentially the best night of television to happen since the 90210/Party of Five days, and really the gayest night of television since the last time we declared something the gayest night of television ever. ON FOX.
Will we need a new GLEE drinking game? Will Brittany & Santana ride the hobby horse? Will Sue Sylvester sing? How can Will Schuster have sex with someone who uses so much anti-bacterial hand sanitizer?
Early reviews are pretty glowing: "If you thought "Glee" was good before, get ready to be dazzled. Not since the heyday of "The Sopranos" has a series gone off the air for such a long time and returned with such energy and spectacle."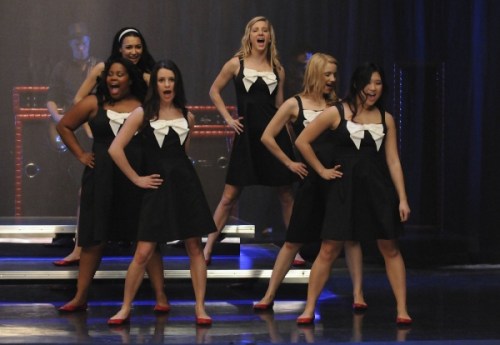 The season opens following the Gleeks' win at sectionals: "In the new spring season of Glee we find Glee club member, Rachel (Lea Michele) dating high school jock, Finn (Cory Monteith). Glee fans should expect plenty of fireworks from the unlikely couple this season as Finn becomes disgruntled with the rules of high school dating."
Guest Stars: Rachel will date a boy from the rival squad Vocal Adreneline, played by Jonathan Groff, one of Lea Michelle's best friends and her co-star from Broadway's Spring Awakening, where they fully had sex on stage and it was smokin' hot. (Groff is gay, P.S. FYI). Other Broadway stars slated to appear: Kristin Chenoweth will reprise her role in the April 27th episode "Home," Neil Patrick Harris in the Joss Whedon-directed episode and Idina Menzel (Maureen, RENT) as Rachel Berry's birth mother. You can catch interviews with these folks and more at SpoilerTV.com.
Here's the HD trailer for tomorrow night's Premiere:
Madonna Episode: April 20th's episode, "The Power of Madonna, will feature covers including "Borderline," "What it Feels Like For A Girl," "Open Your Heart," "Express Yourself" "Like a Prayer,wp_posts"Like a Virgin,wp_postsand "Vogue".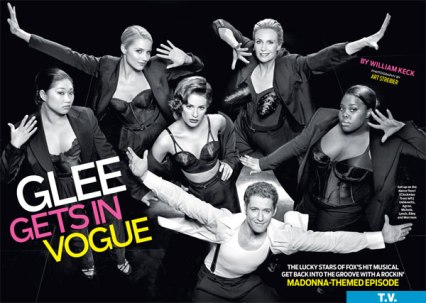 Lady Gaga Episode: May's Lady Gaga episode looks amazing, judging by these behind-the-scenes photos: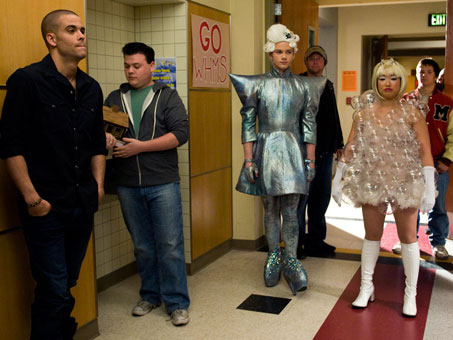 Brittana: Broadway World has a video of Rachel Berry (Lea Michelle) performing Give You Hell by the All-American Rejects from tomorrow night's episode and there are lots of little moments between Brittany and Santana in this — actually if you pay attention to them too closely you'll catch a sloppy cut in the middle but whatever — which brings us to this interview with the Executive Producers of Glee about a lot of stuff but most importantly, BRITTANA: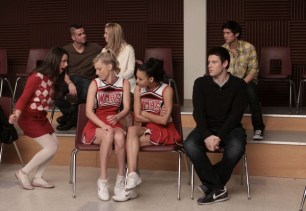 Can you talk about how the character of Brittany developed?
IB: "Heather Morris is just a total comic genius. Occasionally we would just kind of toss her a few lines, and then they ended up being so shockingly hilarious. And then randomly being able to pair her with this twosome in Heather's character and then Nya's character, Santana. They're like this kind of weird, wonderful, brilliant, comedic duo that we stumbled upon. They're absolutely my favorite stuff to write now."
Are you writing more towards them in the back nine?
BF: "Definitely. They have some stories. I know Nya gets to sing in the back nine. We have such an incredibly talented cast that a lot of stuff comes out of just sort of being with them and seeing what they do, what they're good at and what makes them laugh."
GLEE is also promoting the show by staging more dancing flash mobs, like this one where over 800 dancers performed in Westlake Park, Pioneer Square and Seattle Center on Saturday, April 10, 2010:
To recap, this is how gay Glee is:
– Two openly gay lead actors, Jane Lynch & Chris Colfer.
– Guest stars include openly gay actors Neil Patrick Harris & Jonathan Groff as well as major gay allies Kristin Chenoweth and Idina Menzel (who played gay in RENT, the movie and the Broadway show) (furthermore Kristin & Idina accidentally became gay icons via their lead roles in WICKED, in which they did not play lesbian lovers, but many young gay Broadway geeks like to think that they did.)
– Gay characters include lead role Kurt as well as Rachel's Two Dads (who we haven't met yet). Lesbionic undertones abound between Brittany & Santana.
– An entire episode will be devoted to the music of out bisexual and gay rights activist Lady Gaga and another to queer icon Madonna.
– This is all probs related to the fact that the show's creator, Ryan Murphy, is also openly gay.
ANYONE BUT ME:
Rachael Hip-Flores took home the "streamy" award last night for Best Female Actor in a Drama Web Series for her portrayal of Vivian in lesbian-themed series Anyone But Me, in a category that also included Crystal Chappell in weberies Venice.
Other winners of interest include Gamer goddess Felicia Day for Best Female Actor and Best Directing for a Comedy Web Series. Overall; the web's opinion of the ceremony seems to be 'it sucked' and everyone wore terrible outfits.
CORONATION STREET:
Coronation Street's first ever lesbian kiss was seen by around seven million people! (@digital spy)
OPRAH:
Kity Kelly's new Oprah book is coming out soon, and already there's speculation about Winfrey's sexuality and her relationship with Gayle King. Except honestly there really isn't. Quoting Rosie's comment about Gayle & Oprah is lame, and the quote from Erica Jong is as non-committal as it gets: "I would not be surprised if Oprah is gay. If she is, she is. It certainly fits." (@usa today)