Cut to Breadsticks, where Blaine and Blaine's Beautiful Idiot Brother are imbibing beverages and salad while Blaine's Beautiful Idiot Brother imparts unwelcome acting advice onto his young sweater-vested sibling.
Casanova Cooper: "So, nice job on the song today. Really nice."
Blaine: "Thank you!"
Casanova Cooper: "You were a little pitchy on Rio, though, and your dance moves lacked a theme."
Blaine: "My theme was dancing, I guess."
Cooper then rattles of some nonsense about the fingers being the eyes of the body and Blaine understandably launches into a long-harbored complaint regarding Cooper constantly telling Blaine what he's doing wrong and how much he sucks, which smears nicely into an Adorable Blaine flashback — young gay dances enthusiastically like nobody's watching, only to be interrupted by the brother, who was watching, like Big Brother, the name of this episode:
Young Cooper: "Your balance is completely off."
Young Blaine: "I just learned to walk three years ago."
Maybe this is how Blaine got so humble and empathetic, or whatever. Anyhow, NEXT!

Ah, fantastic – we sashay over to an ambiguous outdoor school area where Artie, heart a-flutter with affection and sisterhood towards his newly-handicapable friend, challenges Quinn to man up Jason Street style and roll that chair up the ramp.
Artie: "Push, push!"
Quinn: "That sounds familiar!"
Arte: "It's just like having a baby. Come on."
It's one of many scenes that suggests Quinn's been, in some sense, revived as a human being — she's confident, regardless of circumstances, and has shed the false presumption that she's better than everyone else. She's just a girl in the world in a wheelchair trying to get up a ramp. And aren't we all, Quinn, aren't we all. (Not really, but anyway)
Then Artie implores Quinn to ditch Senior Ditch Day, 'cause Six Flags is allegedly a drag for kids in wheelchairs.


Back to Glee Club where Blaine's Beautiful Idiot Brother instructs a room of possibly-drugged children on the ins and outs of the biz, like posing for headshots, eschewing New York ("Broadway is dead") for Hollywood, and preparing for your first callback.
What happens in this scene happens a lot in Glee — handsome guest star arrives in Glee Club and consequently children of all genders, sexual orientations and IQ levels are reduced to blundering illogical idiots. It's like they've got superpowers or something.
Anyhow, Blaine's Beautiful Idiot Brother is full of hilarious wisdom:
Blaine's Beautiful Idiot Brother: "Gotta figure out — is it comedic, or is it dramatic? Often it's hard to tell, right? So do what I do: ask the director. "Is this scene comedic or dramatic"?"
Blaine's Beautiful Idiot Brother's number-one trick, however, which he clearly learned from Santana Lopez, is that things are more dramatic when you point…
…and to that point, he shuffles the children into an impromptu scene study using his sides from a foiled NCIS audition and really it's all quite amusing except for the look on Blaine's face and his understandable confusion regarding why this fine group of semi-intelligent weirdos have all become drooling blockheads at the site of an objectively attractive man, if you're into that kind of thing.
Blaine's Beautiful Idiot Brother: "The secret to great acting — ignoring whatever the other actor is doing. Eye contact with a scene partner is incredibly distracting, I try to tune them out entirely. Sometimes I wear earplugs. That way I don't get distracted by what they're doing, and I can focus on the awesome acting choices I've planned ahead of time, like eating a roast beef sandwich."
Blaine and Blaine's Beautiful Idiot Brother tread into a public fight during which it'd be super-lovely for Blaine's boyfriend Kurt to stand up for his boyfriend Blaine but he doesn't and I'm not sure if I should hate Kurt for that, or just hate The Show.

Somewhere in the Ohio Mountains of Greater Lima's First Wives Club Compound, Finn and Puck are fixing a pool while drinking homosexual virgin-cocktails and fielding inappropriate sexual oral gumdrops from a Blonde in a Swimsuit who is probably the same age as the actors playing these teenaged boys, but do you actually even care about this scene? Of course not. All you need to know is that Puck thinks Finn should think about Finn for once and go huff chlorine together. I agree.
Meanwhile in conversations about selfishness, Blaine's Beautiful Idiot Brother wants Blaine to skip school and help him run lines for an audition for a Michael Bay flick but Blaine's like, "you fucking idiot, that is the worst reason to skip school I've ever heard," but not in so many words.
All this semi-forced conflict stirs to the anger-climax necessary to warrant a cover of Christina Aguliera's "Fighter" by Darren Criss, Teen Hearththrob:
The idea here is that Blaine's plagued by the psuedo-success of his handsome big brother who visits once every-other moon cycle and that Darren Criss works out a lot:
Although paling in comparison to the inappropriateness of this episode's crowning musical number, the song's barely appropriate for the situation. I would've voted for "Because Of You," but nobody asks me what I want on Glee, not ever.


Back in the Semi-Hallowed Hallways of McKinley High, Quinn, dressed like Paula Deen, snags Finn in a compromising position —
Quinn: "Hey! What are you doing?"
Finn: "Texting –"
Quinn: "While walking. Texting while walking. That's exactly how I started."
"Texting while walking" is the marijuana of mobile-related PSAs — one day you're texting while walking, the next day you're texting while blasting heroin into your virginal veins.
Also, there's only one hallway in this entire school, what's the BFD, Quinn? And also also also —


SENIOR DITCH DAY AT SIX FLAGS! I hope it's a Senior Ditch Weekend, since the closest Six Flags is nearly five hours away, unlike (as aforementioned) Cedar Point, America's Roller Coast and my favorite amusement park on the planet besides Disney World.
Artie's hauling Quinn via public transit to a special fun-park for handicapable kids where they can roll down ramps and watch teenagers with one leg skateboard and feel empowered, which is pretty cool and interesting.
Meanwhile in what can only possibly be CHICAGO — the kids, squealing with hormonal delight, tumble joyfully from their bus, arms and legs and eyeballs bursting with roller coaster anticipation.
They strap it in for a wild rollercoaster ride, which's cute because all the characters sort of fade and become the actors and also Santana and Brittany hold hands, and we like that a lot, don't we?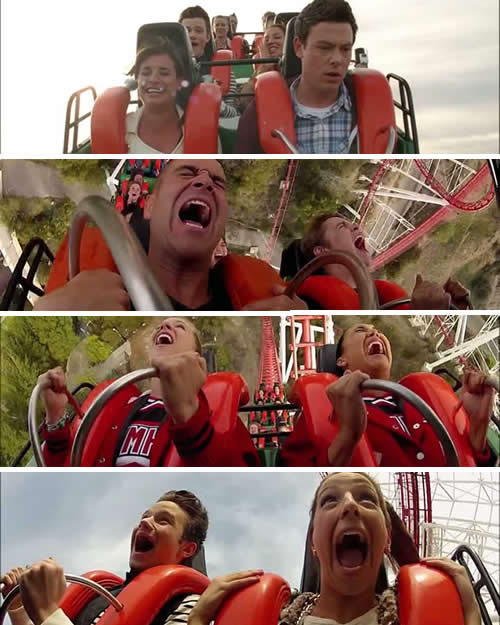 Also though, they're actually at Six Flags Magic Mountain in Los Angeles because Six Flags Great America in Chicago's VIPER rollercoaster is wooden, not like this:
… and I have no idea why I'm so hung up on this, I think 'cause I really wanted them to go to Cedar Point, like all self-respecting Senior Ditchers in the Midwest do. Anyhow!
Artie congratulates himself on getting Quinn to the fun-park to enjoy "people having a good time in the same situation" as her, but Quinn insists she's gonna be walking in like, a week or eight weeks or something quite soon, and Artie rains on that parade with a "Look, I've been where you are, I know how it feels, but you can't keep denying–" which is unnecessary and weird. Naturally, Quinn points out that actually she's not like him, but she says it in the strangest bitchiest way possible, which's maybe 'cause that's her first line of defense — being bitchy — it's what she always used before she became a Better Person.
Quinn: "I'm not denying anything. You're not me, okay. I'm not like you. This isn't my life. I'm going to Yale, I'm getting out of Lima, I'm gonna walk again."
Everybody knows you can't get out of Lima or go to Yale in a wheelchair, you've gotta do it on two feet! (WHAT?!)
Anyhow, Quinn turns from Artie and rolls offscreen defiantly despite the fact that they're taking the same bus and therefore will be sitting in the same location in approximately two minutes.

Back in the Quasi-Hallowed Hallways of McKinley High, Teen Jesus, still shoeless and obnoxiously coiffed, helps Quinn with some dropped books and offers to wheel her to class, like in that poem about the beach where Jesus carries somebody and leaves one set of footprints.
Teen Jesus opines that he's been praying for Quinndolyn, as is his way, and Quinn retorts —
Quinn: "I've been praying to walk again as well."
Teen Jesus: "Oh, I don't pray for you to walk, I ask god to help you accept whatever your journey may be–"
Quinn: "I appreciate your prayers, I do. But when you're done praying you need to get up off your knees and walk away."
1. THAT'S WHAT SHE SAID
2. Huh?
Quinn snaps out of the bitch-zone immediately with an apology and a reprimand muttered to herself of "self-obsessed bitch."
Teen Jesus says "it's cool" which inspires Quinn to tell him he's really inspiring and would "be inspiring to a few other people I know," which's such a bizarre leap that I almost love it for gifting us with a short fake contrived situation to get Teen Jesus into Glee Club rather than a long drawn-out fake contrived situation to get Teen Jesus into Glee Club.

Guess what, we're back at Booty Camp and Teen Jesus is gonna join Glee Club! Furthermore, Sugar is wearing a BANGIN' outfit like the lovechild of Jane Fonda, Rainbow Brite and The Big Gay Pimp. Anyhow, Sue's got some words about optimism, birth and adult friends, and says she's gonna be nicer. Kurt is dressed like the mainsail on a Captain America spacecraft.
Sue: "I thought I was being kind. For instance, I said absolutely nothing about the implausible sexual tension between Mercedes and the Kentucky Fried Stripper. Or the sorry fact that you wasted untold millions on a laser show for yourself just so Sandbags could dance with the night school's Polynesian janitor."
Santana: "Actually, he was Puerto Rican."
And that's Santana's second and final line of the episode!

Back in the semi-hallowed hallways of McKinley High, Kurt is oh-so-cutely attempting to charm his boyf with a tiny puppy-puppet named "Margaret Thatcher Dog," acquired at Six Flags through a surely-delightful carnival game of some kind, which is adorable although not as adorable as moral support, which Kurt's about to dish out in the losest sense of the word.
Kurt suggests Blaine amp up his love/affection for Cooper, just like how Kurt overcame the fact that he and his vaguely human stepbrother, Finn, who Kurt's been related to for about two years max and barely ever interacts with, "pretty much disagree on everything" to totally love each other, which doesn't even remotely parallel Blaine's sitch but really, really, really WHO CARES, let's move on —
"You only get one brother, Blaine," says Kurt the Up-and-Coming Mathlete. Yeah, tell that to John Wayne Gacy's sisters. Anyhow, barf barf barf, let's get to the auditorium for the creepiest most asinine number of the night, a cover of "Somebody That I Used to Know" by Goyte, not to be confused with "Somebody That I Used To Know" by Elliot Smith, which could truly break a young boi's heart in a way this creepy Flowers-In-The-Attic version never could.
This song has been stuck in my girlfriend's head for like four weeks and we both hate it.
G-Chat, 4/10/2012, 11:49 AM
me: omg marni
guess what they're covering on glee tonight
marni: idk
oh no
NO
me: mhm
marni: NO
me: yes
marni: NO!
me: oh yes
marni: DAMMIT
me: yup
marni: god i hate them for trying so obnoxiously to be current!
me: mhm
marni: so kurt and blaine break up?
me: no i don't think they break up
marni: ugh i have to watch it now
me: aren't you so excitant
for tonight's episode
marni: he's either singing it to an ex boyfriend or his brother
i think it's his brother
which is weird
like his estranged older brother
me: oh yeah
played by somebody famous
i forget who
matt bomer
marni: he looks like a lowe but isn't one
me: whoever that is
marni: god it's in my head already and i haven't even listened
Casanova Cooper: "We're not just brothers, right? We're friends, too?"
Blaine: "That's…exactly what I've always wanted us to be, Coop."
"Friends," right.
Blaine's Beautiful Idiot Brother says his audition's been cancelled, probably 'cause they found somebody better, and Blaine inexplicably offers to "show 'em" by creating/sending Michael Bay a video which, in a universe where one's admission to an acting conservatory is made or broken by an actor's student government record, just might work.

Back in the Barely-Hallowed Hallways of McKinley High, Finn confesses his simmering desire ditch The Big Apple in favor of cleaning pools and vaginal canals in the Napa Valley. Rachel's like, "when you're tired, you take a Napa, you don't move to Napa."
Actually she doesn't say that, that's from Sex and the City, and Finn didn't specifically name Napa, which isn't even near Los Angeles anyhow. Finn doesn't know all the cities, he's not an atlas. Bla bla bla, I hope they break up.
Rachel: "Finn, what are you doing?"
Finn: "Well I'm thinking about my future–"
Rachel: "I thought it was our future."
Finn: "Of course it is, it's our future but it feels like the convesation's been a little one-sided lately…"
Hey, I've got an idea — why don't you BREAK UP like all high school couples do after graduation when their dreams take them to separate geographical locations?
Rachel: "I'm going to New York. I need you with me, I can't do this without you."
What the WHAT? THAT IS A LIE, THAT IS A STUPID STUPID DUMB STUPID THING RACHEL BERRY WOULD NEVER, EVER, NOT EVER SAY OR THINK OR FEEL, EVER. Ugh, I wish Finn got hit by a truck. New Haven is really close to New York City, did you know that? I did.
Anyhow — this looks cute, doesn't it?

+++
How about this?

+++
Oh and… this just in!!

Pages: 1 2See entire article on one page