In the gym, a bunch of hot cheerleaders dance to a song I can no longer remember for a reason I can't recall. I think it's somehow related to Christmas or string cheese.
Sue and Roz fight, because NeNe Lekes, who plays Roz, is from The Real Housewives Show, which I think is about women fighting with other women.
Roz: "Sue, you can't have no baby. You are as old as a hill. You ain't gonna give birth to no child. You gonna give birth to a grandchild. You gonna get in them stirrups, and you gonna push and push, and a full-grown adult gonna pop out with a briefcase and a job talking on a cell-phone."
Wow, yeah, mhmh.


Rachel, still under a bizarre retcon spell, spills the beans regarding her engagement to Count Chumpula to her best friend Mercedes, and Kurt Hummel the Magical Sprite Gay. Rachel spews some nonsense regarding knowing Finn is "the one" and Mercedes and Kurt are all like "WHAT?!" but for all the wrong reasons.
Far more compelling, however, is their gripping Twilight-related conversation because it combines a stupid show lacking in lesbian action with a stupid movie lacking in lesbian action, and at the end we're all super-pale and dead.
We segue into Cuban-American Gloria Estefan's "I Don't Wanna Leave You Now," which you may recognize from the Dentist's office.
GAH THIS SHOW — Okay, look. I know what you need, reader/nation, I have predicted your desires. I think you need this:


Um.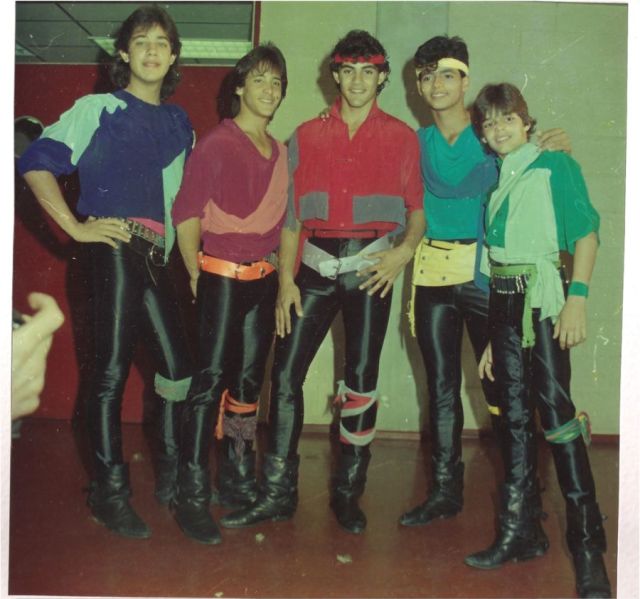 For the last three minutes I've been staring at the screen, trying to visualize little monkeys inside my brain searching for the bit of information surely stored somewhere in the "memory" area that will reveal what happens next on this show.
Oh yes! The boys perform to an Enrique Iglesias mash-up wearing those ridiculous cowboy string-ties and tiny skis on their boots which Finn explains are "Mexican Hipster Boots" because Finn is an Instant Mexican Historian this week. Also clearly Finn missed the part about Enrique Iglesias being Spanish, not Mexican.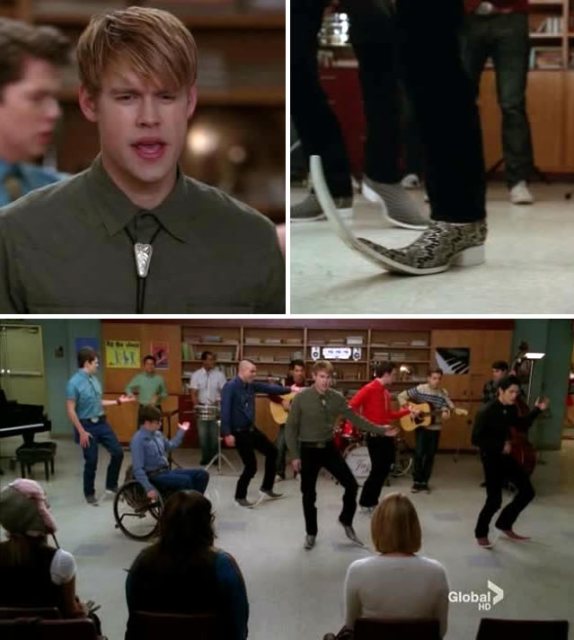 Then Santana wins the day:
Santana: "The teeth, the duende, the bizarre Mexican fads, Señor Martinez is, like, the best Spanish teacher EVER. I can't wait to see your performance, Mr. Shue?"
Will: "My performance?"
Santana: "Yeah, to defend your Spanish teacher honor. I'm sure you have something muy amazing planned."


Kurt recently injected thirty liters of rocksalt into his brain in solidarity with Blaine, and as a result, having heard word of Rachel and Finn's Disgusting Engagement, he's not worried that Rachel is settling for a dumbshit that'll squash her dreams like a bug. But he is worried.
In fact, he's just worried sick about Finn giving up his own dreams in exchange for the dreams of his far more talented girlfriend, who will almost definitely leave him for one of the Altar Boyz the instant she arrives in Times Square.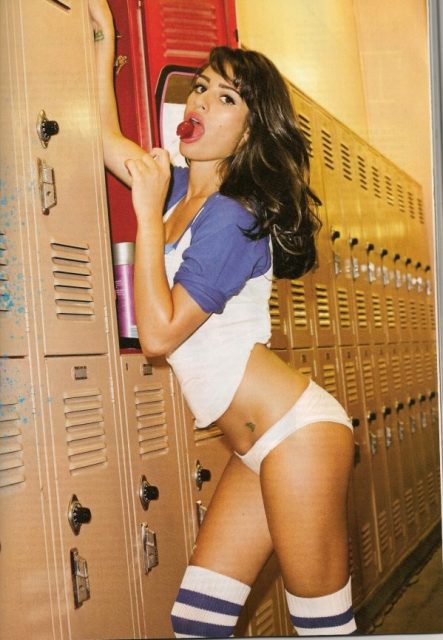 Look Kurt & Rachel, Finn don't know much, but he knows he's got no talent. Just let it be. I'm speaking words of wisdom: let it be.

Will & Emma fight and Emma says this:

Back in the auditorium, respite arrives in the form of Ricky Martin and Santana Lopez doing a strange but exciting duet to Madonna's "La Isla Bonita," because why do Spanish songs by Spanish people when you can do a Spanish song by a white person?! Santana's dressed in a black satin pillowcase, boots and lipstick.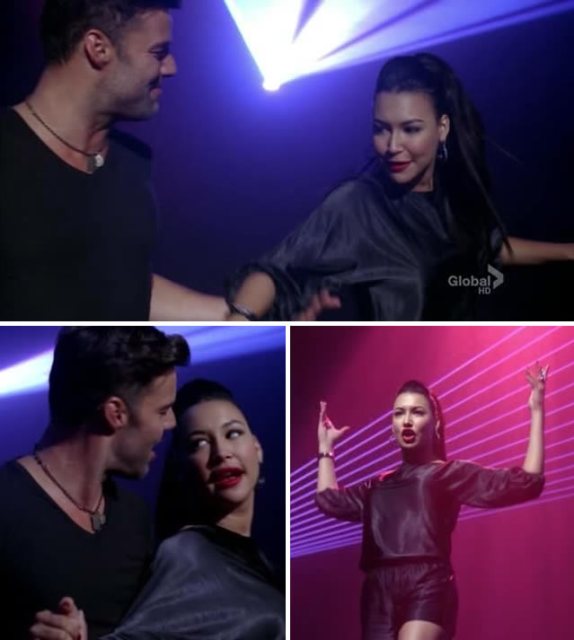 It's super hot and fun and the only thing missing is Santana's re-creation of this aspect of the original music video:
Will, jealous of Ricky Martin's groin, questions Ricky's inclusion in the number and Santana asks "Hey, wasn't that number fantastic and truly authentic?" which I believe is a reference to their ability to speak Spanish in a way that doesn't embarrass all of us here at home or make my ex-Spanish teacher laugh.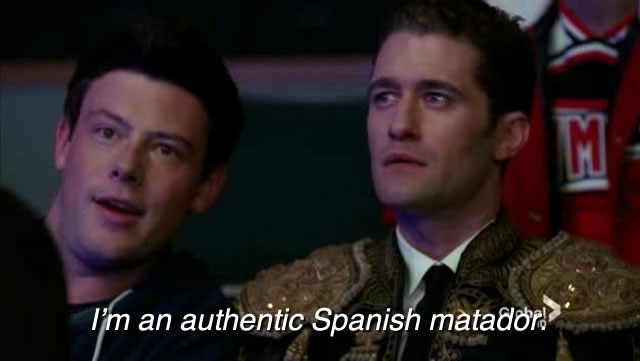 Then Will does something terrible I've blocked from memory involving singing and dancing. Even Brittany in a unitard can't save it:
At the conclusion of this atrocity, Santana slides into homebase, pillowcase-and-all, and wins the hell out of this episode:
Will: "It was you. You're the one who complained to Principal Figgins about me."
Santana: "Yeah, and I'd do it all over again after that performance."
Will: "You're messing with adult things here, Santana. This is my job. This is my life."
Santana: "And this is my education, and it's not a joke to me, although it seems to be one to you."
Will: "What are you talking about? They all loved my performance."
Santana: "Because they don't know any better. It's your fault. You're their teacher. You went from "La Cucaracha" to a bullfighting mariachi. Why don't you just dress up as the Taco Bell Chihuahua and bark the theme song from Dora the Explorer? You don't even know enough to be embarrassed about these stereotypes you're perpetuating."
Will, who clearly has never been accused of cultural appropriation on the internet, immediately strikes back in ignorance:
Will: "That's not fair."
Santana: "Isn't it? What did you want to be when you grew up? Why did you want to be a Spanish teacher, Mr. Shue?"
Will: "Because…it was the only teaching position open at the time."
Santana: "I want to remind you of something that an amazing teacher once taught me: without passion, you can't succeed."
Will: "Who taught you that?"
Santana: "You did. And you do. When you teach Glee."
However, this final tender moment (followed by Will offering his Spanish teaching job to Ricky Martin, who then shares a "my parents were immigrants" story that made me groan so loud the neighbors complained) brought to mind the AV Club Todd VanDerWeff's recap of Episode 306, Mash/Off, which noted that," There's something about this show that leads to messy tonal mash-ups. But where the show's musical mash-ups are usually pretty harmonious, the tonal shifts can often be brutally unsubtle."
VanDerWeff  points out that the show vacillates so recklessly between over-the-top wackiness and real emotional punches that it often ends up failing on both ends. In this episode, Santana's accurate consciousness of the ridiculousness of Will's Spanish Phase is dead accurate and surprisingly self-aware but it leads one to wonder who wrote the rest of the episode?
Because although there were hints that Glee was self-consciously mocking Will's ignorance —  like his usage of the word "Latin" instead of "Latino/a" — it also seemed dead-serious about that week's Spanish-Songs theme. Furthermore, Ricky Martin's character came off as surprisingly genuine and subtly crafted, unlike the over-the-top antics granted to previous guests like Kristen Chenoweth, Neil Patrick Harris and Gwenyth Paltrow. It was incredibly difficult to figure out how this episode wanted us to feel, which makes me wonder if all it wanted us to feel was "like buying some singles on iTunes."
From VanDerWeff's 306 review:
" …I find it hard to watch an episode like this and be entirely certain what's supposed to be satirical, what's supposed to be taken seriously, and what's supposed to be a mix of the two. Pull it off, and you get something like that Santana moment. Fail, and you end up with Kurt earnestly asking us all to reconsider dodgeball and a musical number that seems created exclusively to reflect the show's promotional campaign."
Although Sue remains super-funny, it seems the writers haven't figured out what the hell to do with her now that they're out of ways for her to try and sabotage Glee Club, and this episode's pregnancy situation — which'll undoubtedly be dropped next week — works about as well as the Senate Race (whatever happened to Senator Hummel, by the way?) and the battle-over-Cooter did.
Also where the hell is Tina? She's like the Angelica of Glee.

Then everyone ordered tacos and ate them, and then burritos rained out of the sky. Everyone came to my house, and I made them quesadillas, and then we watched racist movies from history! THE END.
Pages: 1 2See entire article on one page