Let's time travel back to the early 90's, when I was a ripe, blooming youngster enrolled in Sixth Grade Spanish with the same slightly off-balanced teacher who'd been attempting to teach me Español since Third Grade and had, thus far, failed. Specifically let's time travel straight into "student evaluation" day, which involved discussing our successes and failures as students in front of the entire class — in Spanish — which is, obviously, a terrible way to conduct said evaluations. For me personally this limited my ability to speak of my achievements in anything besides trips to the baño or gusta-ing la playa.
Of course The Spanish Teacher's first issue with me, Pia Luisa Campos (my Spanish Class name), was that I rarely spoke Spanish in class (although I passed notes in English near-constantly). "But when I talk and I mess up, you laugh at me," I told her, 'cause it was true. She laughed at me a lot.
She told me, very seriously and in English, "Pia — we're not laughing at you, we're laughing with you."
Anyhow, it wasn't true. She was laughing at me. Speaking of people lying about laughing, this week's episode of Glee was slightly worse than being attacked by a herd of wild elephants and slightly better than Work It!
Nation, I cannot watch this program again. I barely survived the first time. Therefore I'll be recapping from memory, guided only by pre-transcribed dialogue and Intern Grace's screencaps, and I'll be doing so with this facial expression and overall demeanor:
Furthermore, I ought to warn you immediately that this might be one of the worst recaps I've ever written in my life, but NATION! — what am I supposed to do with this shit?
Because I'm uninterested in recapping the adult parts but this episode was mostly adult parts, lemme sum that shit up as quickly as possible so we can dig in to the handful of scenes featuring teenagers: This week on Glee, Will Schuster wore a series of unfortunate outfits, lamented his poor Spanish-speaking skills, fought with Emma regarding pamphlets-as-advice, and invited Ricky Martin into the Wacky World of This Episode to save Will from repeatedly embarrassing his white ass with increasingly wretched attempts to she-bang his personality all the way to Tijuana.
Furthermore, the episode deep-sea-dived into some of adulthood's most fascinating life stages, like tenure-track teaching positions (the teachers are competing for one) and childbearing in mid-life (Sue decides to artificially inseminate herself 'cause this show is obsessed with non-traditional pregnancy). Then, we all rode the train to Trope-Town together wherein we encountered a Sassy Black Woman, amongst other tired racial stereotypes.
Alright, let's get into the "recap"!


We open in Taco Bell, where three gigantic young men have donned Authentic Mexican Heritage Gear to inexplicably serenade rows of gumdrop children with, I believe, "La Cucaracha."
Hey Glee, The Three Amigos called to say that Mexico called regarding "what the fuck you think you're doing."
Will, aroused all episode by Finn's triumphant future, travels "con sombrero" throughout the episode.


Then, the Nazis (not to be confused with Radical Lesbian Feminazis), so epically disturbed by Will's opening number and Sue's relentless focus on her own ovaries, invade all the countries except for Greenland and Iceland.


Cut to Will's Night School class, which was invented especially for this episode, after which Will takes Ricky "Menudo" Martin out for coffee in order to say condescending things and showcase his own porcelain whiteness and general inability to be Michael Scott, which is the only way this episode would've been funny.

Back in Glee Club, everyone's sitting around thinking about how bad Finn sucks when Will blasts through the door with a marker and a word and this week's word is "2030," which is the year in which I'll get over how much this episode sucked.
No but seriously, Will explains that 2030 is the year when Lima will be overtaken by Latin Hispanicos who only speak Spanish, which'll make Finn feel like one of the depressed leads in the classic feature film A Day Without a Mexican.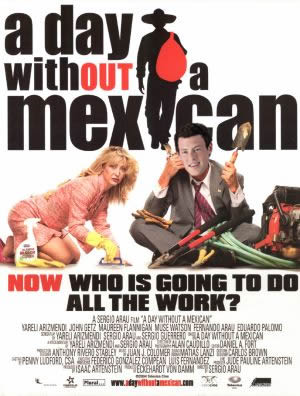 The class, unanimously in heat due to the introduction of Ricky Martin to a classroom previously dominated by Finn The Human Shovel and Will Schuester, salivate over their assignment to sing crappy pop songs in Spanish.
Ricky and the team bust into a chair-dancing somewhat-funny/entertaining cover of LMFAO's "I'm Sexy and I Know It," although Finn's Fimo ass somehow gets itself more screentime than Heather Morris's Serious Dance Skills.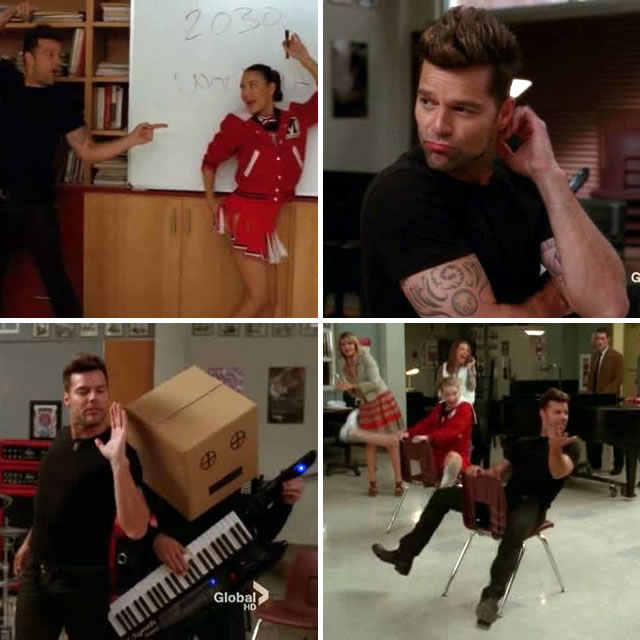 Irish Breakfast hand-jives, Ricky suffocates a keyboardist in a cardbord box, Brittany demonstrates Sex with Santana on a plastic chair, Sugar Motta does push-ups like a boss, and Santana demonstrates Brittany slapping her ass by slapping her own ass.
I'd like to announce we have reached the part of this "recap" where I've begun drinking some whiskey.
Meanwhile Will sulks 'cause he's not the Sexiest Snowflake. He ponders his worth as a man and his various manproblems, because let's be real — somebody's gotta think about that stuff all the time, and it's not gonna be anyone else in the entire world because nobody else cares and never will.
You guys, Will is EPICALLY self-involved, maybe he needs a spinoff. It can be called "The MEMEMEMEMEMEME Show" and every week the assignment is to sing a song about yourself. You know, like um, "I'm Sexy and I Know It."

Mercedes and Sam are one step and a pole vault away from having a mega-secret affair and Emma's real bad at her job. Emma's a counselor who can't counsel and Will's a Spanish Teacher who can't teach Spanish! This school is FUCKED and I am dRUNK anyhow!
Emma, an EXPERT on all things "desire-related," offers very little in terms of 'advice.' However, in line with this episode's casual borderline-racist nonsense, Emma offers a pamphlet for Mercedes…
…and tells them to stop talking to each other for a week and then decide their true feelings.
Mercedes: "I'm just trying to listen to my heart and I can't hear what it's trying to tell me."
Emma: "Well, if you really want to listen, then you need to stop talking. I'm serious. You know, there's a lot of communication in your lives these days. With texting and IM'ing and Facebooking, I mean you don't have any quiet time with yourselves to make informed decisions on your true feelings — [points at Sam on his phone] –– for instance"
Mercedes: "Sam just tweeted that I smell good."
Sam: "I won't stop 'til it's trending."
Anyhow, this show is either racist or completely weird about race. Like whatever they're doing — be it offensive, hilarious, or totally acceptable — it's not working. It's just not good. It's lazy in the worst way 'cause it's just like, leaning on race. Not being funny is always the largest sin, you know. We forgive the other sins if you make us laugh.
Let's PAGEBREAK for funsies!

Pages: 1 2See entire article on one page