Welcome to Movie Night! Where we choose a movie based on any number of variables and feelings, create a themed menu to match, then spend the night eating these foods and watching these movies! It's an uncomplicated but promising plan.
This movie night is inspired by the Hallmark/Hershey sponsored holiday that falls in February: Valentine's Day! Almost nothing sucks worse on Valentine's Day than attempting the traditional meal at a restaurant as part of a homosexy couple. Instead of a cozy booth in a quiet corner, you always get a table for four in the middle of the bar area, because the host/ess assumes you and your activity partner are just friends and they feel sorry for you because you couldn't get dates. Then there's all the straight people with their unself-conscious hand holding. (No hard feelings, straight people!)
A glooming peace this morning with it brings. The sun for sorrow will not show his head. Go hence and have more talk of these sad things. Some shall be pardoned, and some punished. For never was a story of more woe than this of Juliet and her Romeo.
– Anchorwoman
To avoid this altogether, my girlfriend/wife/soul mate Carrie and I decided early on in our relationship that we'd spend Valentine's Day at home. We have dinner and watch television and do whatever it is that people do on the 14th day of February. This year I invite you all to join us! We're making heart-related things and watching a timeless love story: Romeo + Juliet – the My So Called Life version. Because Claire Danes can make the straightest of straight movies relevant to our interests and Leonardo DiCaprio can easily be mistaken for a supercute lesbian if you squint.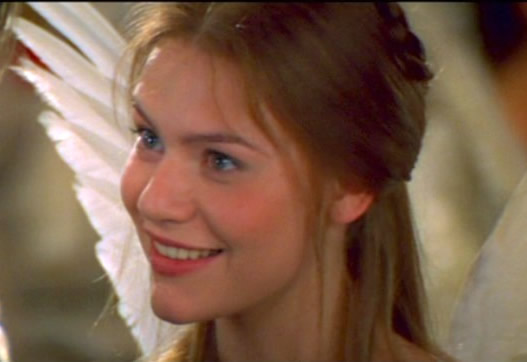 Did my heart love 'til now? Forswear its sight. For I never saw true beauty 'til this night.
– Romeo
When you get right down to it, this story isn't just about a boy and a girl — it's about two people who love each other so much that it doesn't matter when the whole world says it's wrong and that it'll never work, they've gotta fucking try. I can relate to this. Plus it's got Michael from Lost in drag.

THE MOVIE
Romeo + Juliet
[ buy me ]
Synopsis, from Netflix:
"In director Baz Luhrmann's contemporary take on William Shakespeare's classic tragedy, the Montagues and Capulets have moved their ongoing feud to the sweltering suburb of Verona Beach, where Romeo (Leonardo DiCaprio) and Juliet (Claire Danes) fall in love and secretly wed. Though the film is visually modern, the bard's dialogue remains intact as the feuding families' children pay a disastrous cost for their mutual affection."
Before this movie came out it was hyped as a modern day take on Romeo + Juliet. I was intrigued but also pretty sure it would suck. Even though I didn't want to watch it, Carrie did, so you can imagine how that turned out. We watched it. It didn't suck.
At the time we were both attending separate colleges. I was working during the day, going to school at night and then driving 1.5 hours after my last class to Carrie's dorm just to be in her presence for a few hours before I had to wake up and do it all over again. I almost fell asleep driving on numerous occasions, which is dangerous and stupid and the kind of thing you would only do if you are batshit crazy about somebody.
What I'm saying is, I had lots of feelings when we first watched this movie and love makes you do really wacky things — though hopefully nothing as dramatic as marrying a girl you just met, killing her cousin to avenge the death of your best friend, and then deciding you can't go on without her, but still. It's definitely an emotion worth celebrating.

THE MENU
Sweetheart Salad
Heart-Shaped Pizzas
Cinnamon Hearts Popcorn
+
Sweetheart Salad
Ingredients:
3 cups baby spinach
1/2 cup sliced strawberries
1/4 cup chopped glazed pecans (or whatever nut you prefer)
1 tbsp cider vinegar
1 tbsp honey
1 1/2 tsp sugar
For the salad: In a large bowl, combine the spinach, strawberries and pecans.
For the dressing: Mix the vinegar, honey and sugar in a container that has a lid. Just so you know, if you double the dressing you can save the rest for lunch tomorrow, which you are going to want to do because this salad is pretty awesome.
Drizzle the dressing over the salad and toss to coat.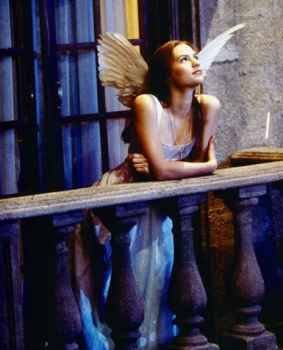 Romeo: O, wilt thou leave me so unsatisfied?
Juliet: What satisfaction canst thou have tonight?
Romeo: The exchange of thy love's faithful vow for mine.
Juliet: I gave thee mine before thou didst request it!
Heart-Shaped Pizzas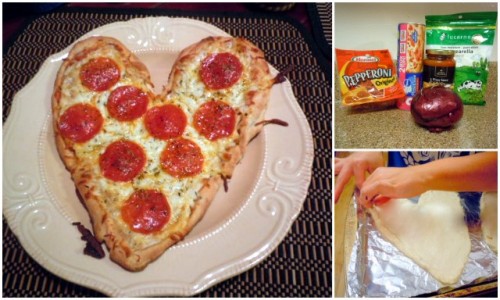 Ingredients:
2 cups Mozzarella cheese
1/4 to 1/2 cup of pizza sauce
1 can pre-prepared pizza dough (we used Pillsbury Classic Crust, but you do you)
Toppings of your choice (pepperoni, onions, peppers, sausage, pineapple, chicken, chocolate, additional exotic cheeses, etc.)
This can get as fancy or as simple as you want. For instance, you could make your own dough and/or sauce from scratch. But these things take time and every second you spend urging dough to rise is a second you aren't having a party in your pants.
You've got an oven, right? Pre-heat that beast to 425 degrees. Lube up a baking sheet and roll out the dough. Use a knife, cookie cutter or your fingers to make heart shapes out of the dough. Pinch the sides of each pizza to form a crust. We like our pizza crispy so we baked the crust for 8 minutes before adding the toppings. If you don't like crispy pizza crust then don't do that part.
Spread pizza sauce on the dough and add lots of cheese. This is not rocket science. When you think you have enough cheese, add some more. Add whatever toppings you and your activity partner want. The great thing about this is you can customize dinner to your individual preferences. OR if you agree on toppings, y'all could just share a heart and it'd be like real life.
Bake that motherlover for 7-10 minutes or until it looks delicious. It'll probs need to be baked for 15 minutes if you didn't pre-bake the crust.
NOTE #1: We fashioned the dough into two pizzas and they ended up being HUGE! I'd recommend  cutting the dough into four smaller ones. That way you each have one to build up your strength for the evening's activities and one left over for after you've worked up an appetite.
NOTE #2: Carrie wanted to add rosemary to the dough to make it taste more interesting and "look pretty," but in our excitement we forgot. So if ya'll try that let us know how it works out.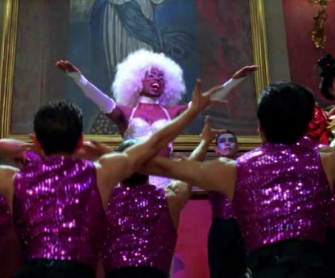 Ask for me tomorrow, and you shall find me a grave man. – Mercutio
Cinnamon Hearts Popcorn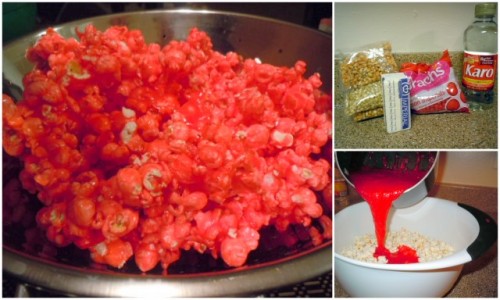 Ingredients:
1/2 cup butter or margarine
1/2 cup light corn syrup
1 1/2 cups cinnamon red hot candies
8 cups popped popcorn
Pop the popcorn, duh. Put the popcorn in a mixing bowl.
Pre-heat the oven to 250 degrees. Lube up that baking sheet again or line it with parchment paper. As with most things in life you'll need lots and lots of lube because this will get sticky.
Combine the butter, corn syrup and cinnamon candies in a saucepan over medium heat. Bring all that to a boil and cook for 5 minutes or until everything is melted. I'm not gonna lie, it looks pretty gross there for a minute. Pour the red syrup-y concoction over the popcorn and stir until all the popcorn is coated with pink goodness.
Spread the popcorn evenly over the baking sheet. Bake until the candy coating is set. The original recipe said 30 minutes, but it took closer to an hour. Probs just check it every 10 minutes after the initial 30 minutes is up. It should be hard (that's what she said).
The result is kind of like caramel corn, but hot like your girlfriend.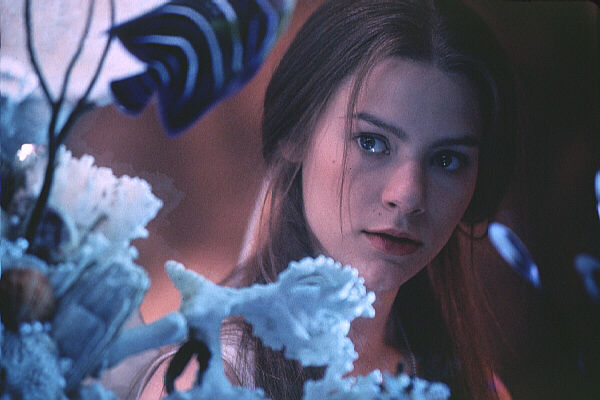 Well, Juliet, I will lie with thee tonight.
– Romeo
Go forth and lie with a person of your choosing!

Share any star-crossed lover related recipes / memories / favorite feelings in the comments!