Welcome to the fourth recap of the sixth season of Glee, a lively sitcom about four extraterrestrials who are on an expedition to the inferior planet Earth, where they must pose as a human family in order to observe the behavior of human beings.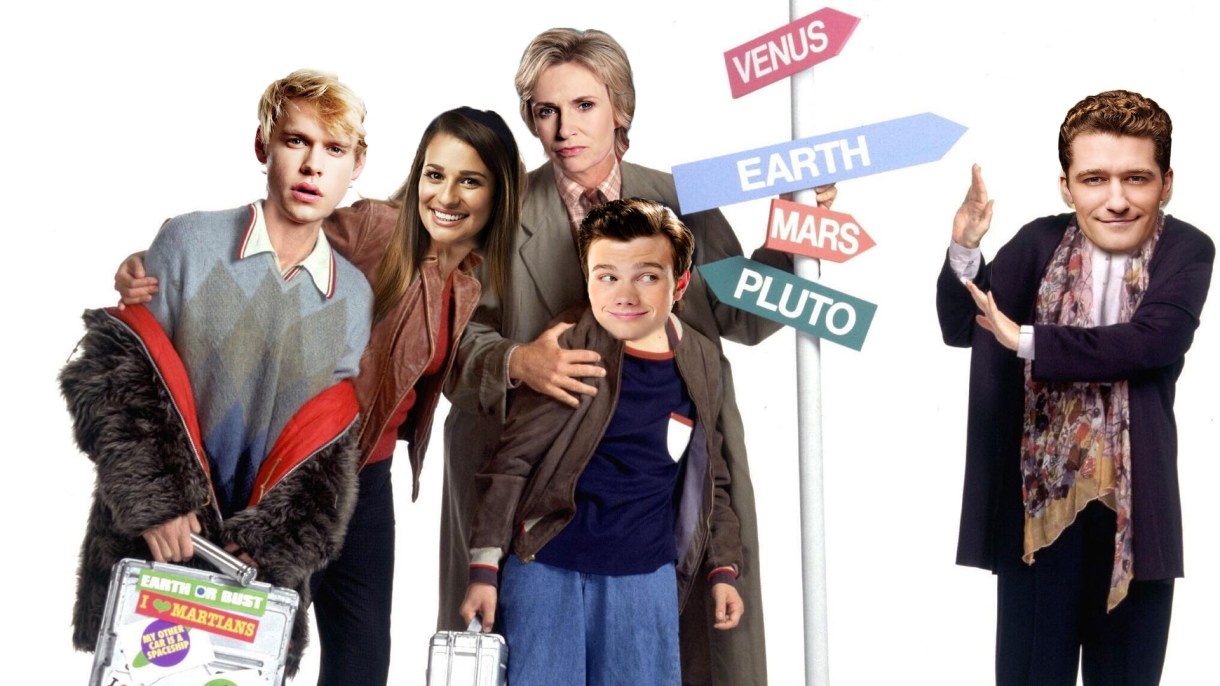 In this week's episode of Glee, entitled "The Hurt Locker, Part One," nobody scissored and barely anybody sang and when they did sing, it was super-weird. If you had high hopes that this season would attempt something resembling redemption or, at the very least, entertainment, I suspect your hopes were dashed on Friday night. Furthermore, if you were hoping for a "Papa Don't Preach" Brittany-Needs-A-Wedding-Dress Montage, hope no more my friend. Hope no more. (Just kidding, good things will probably still happen, like maybe a Brittany-needs-a-wedding-dress montage!)
---
We open in the teacher's lounge, where Sue's invited Will for a "Truce Chat" that'll set up this week's arbitrary shenanigans. Will drinks milk out of a carton, has a butt-chin, and leaves his stupid little green fork on the table, which sends Sue into a wild maniacal animal rage that she plans to maintain for the next two episodes at least.
This device brings us to Sue's storage locker, aka The Hurt Locker, where she's created an A-Lair, replete with a murder board.  "This is where I store my hatred," Sue tells Becky.
Then the alleged wall of The Lair is triggered by mechanical magic to reveal a larger, more disturbing Lair behind it: A KLAINE SHRINE. Yup, it turns out that Sue, who used to hate everything, has secretly been loving Blaine and Kurt all this time! Why? Why anything, my friends. WHY ANYTHING.
Sue: "I've been quietly shipping them since they first met. Apart, they're so shrill, so whiney, but together, a symphony of self-congratulatory sodomy. I believed their tender man-love was for the ages, and when they broke up I was devastated. Why?! They seemed to be doing so well, and then suddenly it's over? I hereby pledge to do whatever it takes to get them back together and achieve my ultimate goal, to be flower girl at their fabulous gay wedding."
Get in line, lady.
But honestly — this scene shocks your system 'cause it requires Jane Lynch to leap dramatically out of character to employ a tone and expression completely foreign to Sue's character before now. As Heather astutely pointed out in a chat, "I can't believe this is how they're spending the final season."
---
Sue informs Kurt that she's dedicated to reuniting him and Blaine, but unfortunately, Kurt's no longer interested in romancing Blaine's stone.
Also, Sue pulls a Chaiken and creates a little gay lingo of her own:
Sue: You and Blaine are blouses.
Kurt: What are blouses?
Sue: A blouse is a breezy, femmy top. It's a term I coined for my favorite type of gay. You always know where you stand with a blouse. And they can't sneak up on you, because for miles you can har their gentle swish, swish, swish in the summer wind.
Honestly, "blouse" is more likely to catch on than "nipple confidence," but regardless, we mustn't dwell. Not today. Not on INVITATIONAL DAY!
---
Yup, Sue's put together a little performance party for the rival Glee Clubs to sing and dance for their worst enemies, a move she hopes will destroy Glee Club forever, but probably will just destroy your Friday night. Rachel's understandably worried that the impressive twentysomething extras of Vocal Adrenaline will psych out her slapshot hopscatter rigamarole gang of instagram superstars. It could even convince them that they'll never be as popular or as homoflexible as the original cast.
Rachel reminds Schuster of the Glee 1.0 field trip where she met her gay boyfriend and how challenging it was for the Old New Directions to keep the faith following that lesson in humility. But they managed it, because of high ratings and Santana. Thus, Rachel gamely manages to convince Will to "throw the invitational," reminding him that if not for the Hallowed Hallways of McKinley High, he wouldn't be married to Emma Pilsbury, have given birth to their beautiful adult baby or sang so many inappropriate love songs with teenage girls. But Sue's watching and recording the whole thing via the drone she bought from A or like, the U.S. Military.
---
Now that she's secured anti-Will propaganda, Sue's next move is to track down Sam fondling jock straps and period-sex towels in the locker room and hypnotize him into falling in love with Rachel.
Sue: "You will kiss her, and the instant you do, you will wake up and will not remember anything."
The goal here is to fuck with Rachel's head by offering and then redacting a gesture of romantic companionship to a girl who'd previously sworn off romance after losing her boyfriend to an unnamed, mysterious and undoubtedly tragic death. Glee: It goes there (unfortunately).
---
Pages: 1 2See entire article on one page