Happy Sunday Funday! Mercury is in retrograde right now, so I'm betting you could use a whole lot of affirming news that doesn't disorient you, make you lose your wallet, or tempt you to completely change your life. Here it is!
We Won a Thing! IN ALABAMA!
A federal judge just struck down Alabama's ban on same-sex marriage. Y'all. Welcome to the club, #37!
Granade wrote that the state presented "no evidence" that the laws have any impact "on the choices of couples to have or raise children," and that those laws are in fact "an irrational way of promoting biological relationships in Alabama."

"If anything, Alabama's prohibition of same-sex marriage detracts from its goal of promoting optimal environments for children," Granade wrote in her ruling. "Those children currently being raised by same-sex parents in Alabama are just as worthy of protection and recognition by the State as are the children being raised by opposite-sex parents."

…"Alabama's Sanctity laws harms the children of same-sex couples for the same reasons that the Supreme Court found that the Defense of Marriage Act harmed the children of same-sex couples," Granade's ruling reads… "These laws further injure those children of all couples who are themselves gay or lesbian, and who will grow up knowing that Alabama does not believe they are as capable of creating a family as their heterosexual friends," the ruling concludes.
This Photo of Cara Delevigne Seems Relevant to Your Interests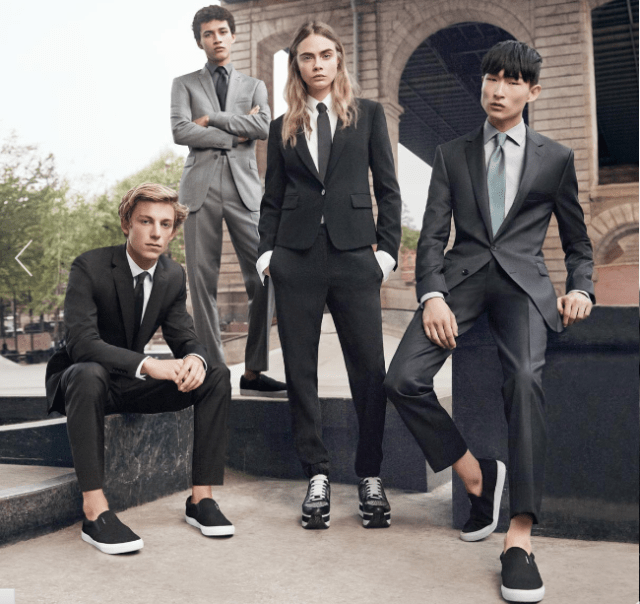 President Obama Appreciation Section
+ The Obama / Notorious RBG hug at the #SOTU was my everything. Ugh, Ruth Bader Ginsburg, you are my queen.
+ The President, like the rest of us, wants the Supreme Court to do the right thing when it comes to marriage equality.
"My hope is that they go ahead and recognize what I think the majority of people in America now recognize, which is two people who love each other and are treating each other with respect and aren't bothering anybody else, why would the law treat them differently?. ..

"I will tell you, people's hearts have opened up on this issue. I think people know that treating folks unfairly, even if you don't agree with their lifestyle choice, the fact of the matter is, they're not bothering you. Let them live their lives. And under the law, they should be treated equally.

"As far as me personally, just to see all the loving gay and lesbian couples that I know are great parents and great partners, the idea that we would not treat them like the brothers and sisters that they are, that doesn't make any sense to me."
How Did I Miss National Squirrel Appreciation Day?!
This is such a travesty. Happy Belated National Squirrel Appreciation Day, though. Luckily, it's never too late to love a fuzzy little lumpkins.