Welcome to the fifteenth recap of the fourth season of Glee, a show about human beings who have sex with bananas, get pregnant, give birth to half-banana half-human babies and then teach those babies to sing and then hook those babies up with a human-sized fingerling potato and slingshot the whole gaggle into stardom.
This week, Glee paid tribute to some of my favorite movies of all time and either alienated or enriched the lives of at least six passionate 12-year-old Gleeks who've never seen Ghost. Like every episode I've enjoyed in Seasons Three and Four, the episode's extensive setlist offered minimal time for actual lines or plot and therefore minimal opportunities for something terrible to happen! Let's get started on this highway to heaven, shall we?
---
We open in the drably-decor'ed recesses of William Schuster's old-fashioned subconscious, where William Schuster and Emma Pillsbury, rocking Lesbian Cater-Waiter Chic, are dancing on the ceiling to "You're All The World To Me" from the 1951 film "A Royal Wedding."
William is jolted awake by his realization that the house is upside-down, only to find himself alone in bed surrounded by open DVD cases. He really should close those DVD cases, worms could get in there!
Here's the original:

---
We then starsweep to the Glorious Glee Room in the charming hamlet of Lima, Ohio, where William proudly announces this week's theme: "MOVIES!" "Everybody loves movies," William begins, 'cause clearly he's not read I Don't Like Movies.
This week, the tiny koalas will be selecting their favorite songs from their favorite movies, creating mash-ups, and competing Boys vs. Girls, like on Survivor, but in Lima.
"Unique knows all there is to know about The Crying Game," says Unique. Oh yes? Like how it's one of the most transphobic movies of all time? I hate this show. "You don't get dibs on Les Mis just because you are the poster," Fake Quinn snaps at Marley-Kate, who's been known to dream a dream of time gone by, when hope was high and this show worth watching.
Will blathers about the language of cinema and "theatricality" and Artie announces that he'll cast the winning team in starring roles for his first "micro-budget feature" (because the only thing better than a student film is a high school student film). Obviously, Artie loves Queer Theory and hates Gender so therefore none of his characters are un-evolved enough to require a certain arbitrary biological assignment in order to live their truth. If the Girls win, his film will pass the Bechdel Test with flying colors!
Everybody's favorite Human Kugel, Finn Hudson, pulls William into the hallway to impart some 18-Year-Old Executive Realness Wisdom upon his new bestie regarding William's refusal to send a recon mission to Kobol to track down Emma Pillsbury. "Come on man, Stand and Deliver!" Finn belches down the hallway as William walks the other way, because I guess Glee Club is over now or something.
---
Finn, ruthlessly committed to other people's business, hits up Sue Sylvester for the inside scoop on Emma Pillsbury's whereabouts.
Sue:"Well I assume she's checked into some Ginger asylum somewhere now that she's escaped from Will Schuester's living dollhouse of the damned. Even if I were privy to that information, even if I did know, I certainly wouldn't divulge it to a flop sweat-smelling, fake-teen-teaching, army-deserting, high school lurking, sectionals-losing, special needs baby-hating —"
Cut promptly back to the Glee Room, where Artie suggests hunting down henhouses and outhouses or else just talking to her parents.
---
Meanwhile in the hallowed hallways of dear dear McKinley High, Blaine and Brit-Brit announce that they've knocked their prenaturally attractive heads together and birthed an idea: the first Boys vs. Girls number should be a Boys + Girls Number! Marley-Kate suggests "Wind Beneath my Wings" from Beaches, which's the first cool thing she's ever said, but Blaine suggests "a little ditty from the seminal college comedy Animal House!"
The now-enormous Glee Club, led by Heather Morris's sweet sweet thighs and Blaine's enthusiastic eyeballs, galavant gayly through McKinley's hallowed halls while delivering an energetic performance of "Shout!", a song I love like I love sunshine and apple pie. It's bouncy and colorful and cute, too.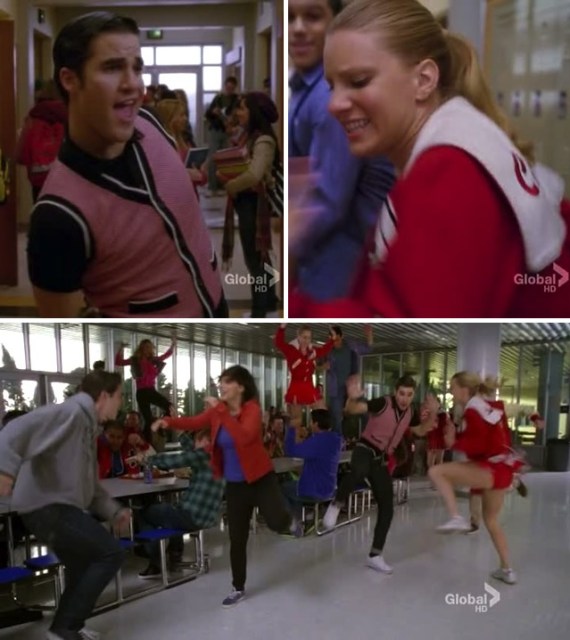 Here's the Glee version of Shout:
https://www.youtube.com/watch?v=ESx8mzsIjbQ
And here's the original:
---
We then journey across acres and centimeters and gallons of pure American soil, pausing briefly to visit some of Southeast Pennsylvania's legenedary outlet malls, until we at last arrive in New York City. Here, atop the Barbie Bushwick Dream Loft, Santana's bemoaning being snowed-in "with a bunch of musical theater geeks" dedicated to near-perfect re-enactments of dinnertime at Downton Abbey.
Santana: "It's like Eli Roth decided to make a gay horror movie and this is the scene right before we all eat each other."
I think there's a missing "out" on the end of that sentence. Just saying.
Restless, bored and hopelessly snowbound, Santana sets to Stirring Up Shit, first by remarking to Adam's Apple that Kurt and Blaine were pretty intimate throughout the Valentine's Day Wedding Spectacular Episode and noting that Rachel appears "pumpkin-like" and "not just 'cause of Tan in the Can." I think what she's suggesting is that Rachel is not a human being but is actually a vegetable, just like her ex-boyfriend, which is slander.
Rachel then burts forth from the chamber of the porcelain goddess to declare that Satana's fucking up their Sanctuary and must move out. Kurt demands they retract their claws and focus on the movie marathon, for which Santana's chosen Knocked Up, She's Having a Baby or Rosemary's Baby. Rachel vetoes, Kurt suggests my FAVORITE MOVIE EVER and THE FIRST DVD I EVER PURCHASED, Moulin Rouge. I listened to the Moulin Rouge soundtrack SO MANY TIMES in 2001 that the CD is no longer playable, an honor shared only with Lauryn Hill's The Miseducation of Lauryn Hill and Ani DiFranco's Like I Said. Just FYI.
I saw Moulin Rouge the week it debuted at the Village East Cinema in New York which was a few blocks from the Third Avenue North dorm, where I lived that summer with my BFF Becky from Westchester who had lived next door to me in the dorms at Michigan. We went with Becky's best friend from home, Ashley, and it was hot outside but really cool inside, and we didn't get snacks because Becky & Ashley didn't eat carbs, and they both kinda hated it and I was like, oh my god, I LOVED THAT FUCKING MOVIE. The next day at work, aka The Olive Garden, I tried talking to the gay boys about it but they just wanted to complain about Nicole Kidman's voice. So I settled for a private love affair with the film since nobody else shared my passion. Anyhow where was I?
After a disarming commercial break, we return to the snow-topped terraces of Paris (pronounced "Pear-EEE") for a super romantic and erotic re-make of the legendary (to me) musical number "Come What May" from the fantastic (in my opinion) movie-musical Moulin Rouge, replete with flashbacks to early Klaine days, in the style of the original.
The song is tender but enormous, too, with these two guys on a rooftop, their hearts afire with the reticent beat of teenage love, torn apart by a literal and figurative distance that seems to be growing greater every minute.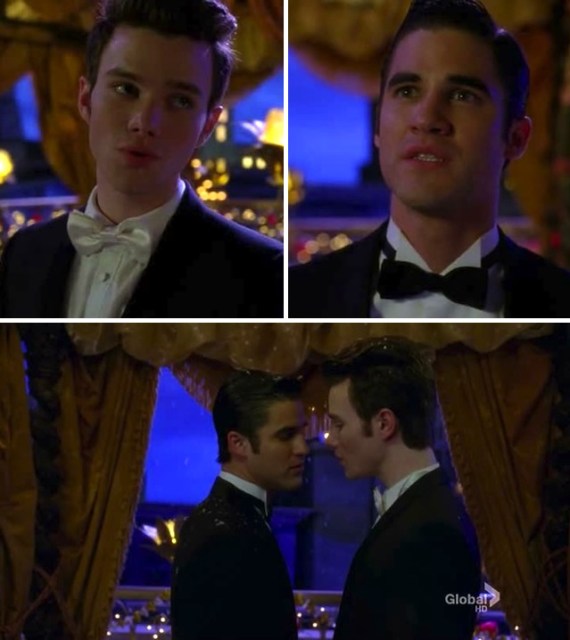 In short: it was really sweet, and really gay, and also really unfortunate for Kurt's British butt-buddy.
The original isn't on YouTube, but here's the Glee version:
http://youtu.be/eCGX4FBJfNc
Anyhow, we smear back to the couch, where Kurt insists the tears he's crying are caused by his contacts, even though he doesn't wear glasses, but Santana points out:
Santana: "Really? I would've thought that you were crying because you and Blaine used to talk about how this was your dream to sing this song to each other at your wedding."
Kurt: [shut the fuck up face] "Did we?"
Santana: "Yeah, I remember you telling me that singing this song to someone was a more intimate act than sex."
Kurt: "Who wants popcorn?"
Before any popping can begin dropping, Santana announces that she found a wad of cash and a pager in Geyerdean's coat, which means he's a drug dealer from the 90's. A really terrible drug dealer, honestly, for leaving his pager behind.
Santana: "When I first met him, totally thought he was weird. He smelt all talcum-y like a Cabbage Patch doll and then he said that I wasn't a real New Yorker until I had my first makeover and I was like what does that even mean? Like who are you?"
Adam: "Oh come on, Brody's a sweetheart."
Santana: "That's what I told myself, you know, so what if he's totally hairless and made out of plastic? I'm gonna look past the fact that he probably has a disgusting porn star landing strip. I'm gonna give Lars and the Real Boy one more chance. But them, I found… this."
Santana admits proudly that she goes through everybody's shit because she's the Baddest Bitch On The Block.  It's "a thing I do," she says.
The roommates are understandably aghast at this thought, especially Kurt with his vintage stash of XY Magazines and 2(x)IST Slimming Contour Briefs and especially Rachel with her vintage stash of sexy Lea Michele photos, but Santana rebuts:
Santana: "Oh, okay, I like how you guys pretend to be all accepting about everything, but when your friend suddenly shows up in your home, moves in and goes through all your stuff, you're offended?"
Har. Anyhow, Santana needs a Type-A girlfriend who does something dangerous or physically exhausting for a living, like Kara Thrace. I'm a Startana shipper.
---
Cut all the way back to Lima, Ohio, home to seven MasterBrand Cabinet stores, where Artie and a Spicy Potato Wedge have donned Stuart Smalley wigs in hopes of seducing Emma Pillsbury's parents into revealing Emma's whereabouts.
Emmas' parents provide a Murphy Nod, which's my new term for when Glee informs us that they're just as aware of their various inconsistencies as we are, noting that Emma's a shitty Guidance Counselor because "the kids at this school never seem to think about what college they want to go to until about a week before graduation. That's weird, you're supposed to figure that our when you're a junior."
In any event, Finn and Artie snag the addy.
---
We then dash easterly back to the Barbie Bushwick Dream Loft, where Kurt announces that they've been snowed in for 48 hours but apparently only managed to watch 45 minutes of Moulin Rouge, because now "should we finish Moulin Rouge?" is up for a popular vote.
Rachel tries to prove Geyerdean's not a drug dealer by calling him on speakerphone but he acts like a total sketchmonster, while Santana makes suggestive gestures in the background:
Kurt whispers "I'm with you" to Santana, which means Kurt must also be gay!
(Be sure to tune in next week for a game of "how much sex-worker-shaming can Glee indulge in before Riese totally loses her shit?")
---
We then gallop back over to Lima, Ohio, a fair-weathered village deep in the forest of ohiosville, where The Bois of Glee have prepared an ambitious tribute to Tom Cruise The Magical Scientologist by highlighting his best work, circa a long time ago: "Danger Zone," from the Top Gun ride at King's Island and I guess also the movie Top Gun, and "Old-Time Rock 'n Roll," from Risky Business, which requires New Puck, Sam, and Ryder Bieber-Strong to eschew pants.
Here's "Old Time Rock and Roll" from Risky Business:

Here's "Danger Zone" from Top Gun:

And here's the Glee version:
https://www.youtube.com/watch?v=3Qxq9v_x6N0
The most important thing to know about Top Gun is that Kelly McGillis is a lesbian.
---
Cut to the bathroom, where Marley-Kate tells Fake Quinn that Ryder Bieber-Strong kissed her and she doesn't know what to do, but she still likes New Puck, and after a 30-second power nap, I woke up to hear this:
Fake Quinn: "Boys are like lumps of coal. They're dirty and cheap and they get hot when they're rubbed. And some turn into diamonds. So collect as many of you can."
We then launch into a charming rendition of Diamonds Are A Girl's Best Friend/Material Girl, which is a mash-up of "Diamond's Are A Girl's Best Friend" from Gentlemen Prefer Blondes and "Material Girl" by Madonna, as prepared for my favorite movie Moulin Rouge.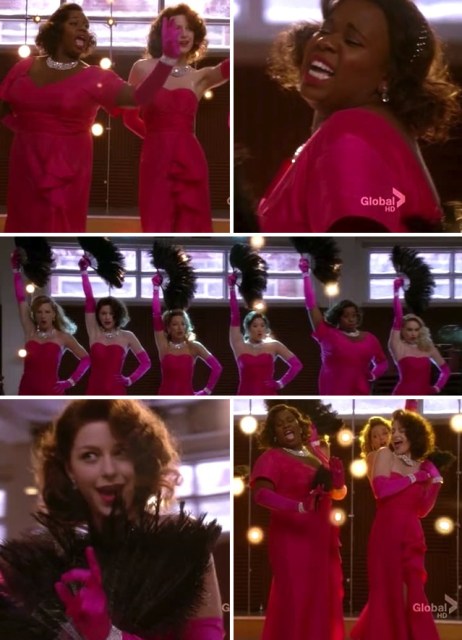 Artie comes in his pants and Ryder Bieber-Strong does the hand jive.
It's a big, brassy, campy number and therefore it's a great showcase for Unique's pipes and a welcome opportunity for Marley-Kate to sing and dance like a grown-up.
here's the Glee version:
https://www.youtube.com/watch?v=ZgmgBzjjER0
---
We then traverse the hinterlands once more, landing finally in New York City where we hit up Fake Julliard's only classroom, the Dance Studio, where Kurt's practicing his pirouettes and triple axels and long jumps and free throws and kickoffs and dodge balls and synchronized swimming and chicken-chasing skills.
Adam's Apple pops in to ask Kurt if he still loves Blaine and if he's just a rebound. Adam's Apple says he "can't compete with a fantasy," which's code for "I think you're being super-delusional about your ex-boyfriend." Kurt's not being delusional though, is the thing, it's just very complicated. In any event, Kurt says he desperately wants to be over Blaine but it's super-hard because of all the Klaine shippers.
---
Back in the sweeping valleys and breathtaking cornfields of Lima, Ohio, Finn has tracked down Emma at her sister's house on Pillbox Lane or something but Will would rather try on Mom jeans and feel sorry for himself than perform a grand romantic gesture just like in the movies. OR WOULD HE?
After yet another Darden International restaurant commercial, we return to Hillhat lane for Will Schuster to fuck with my deep memories and strong emotional attachment to Cameron Crowe's 1989 romantic comedy smash hit, Say Anything, which I ALSO OWN ON DVD and in fact named our regular after.
The most important part of this scene is that Emma's lingerie is totally a Ferngully ripoff, Unique's red coat is perfection and Sugar's wearing an exact replica of my 1992 Raccoon hat. Looks like somebody's found Geyerdean's time machine after all.
Will and Emma talk about their feelings because Will is a lesbian. Emma says she felt like Will came back into town and she didn't know him anymore and he said it was weird at the altar when everybody was staring at him and then they decide to go to a movie on Friday night. Probably to see The Last Exorcism Part II.
---
We then traverse back to the Barbie Dreamhouse Bushwick Loft, where Santana's announcing that she finally feels like a New Yorker because somebody gross touched her boobs and Rachel is staring forlornly into a mug of tea wishing it was a vagina.
Santana tells Rachel she found Rachel's pregnancy test in the Bathroom garbage bin and Rachel denies it for about three seconds and then her whole face scrunches up and she starts crying, because she's supposed to be this big famous put-together thing and this wasn't part of that plan.
Santana softens up because she can soften up when people are sad. Santana hugs Rachel and says it's gonna be okay, next week's writer probably won't even remember this ever happened.
---
Back in Lima, New Puck has summoned Marley-Kate to the Art Room to confess that Ryder Bieber-Strong was responsible for all the Valentine's Day specialness. New Puck explains that "trust and monogamy" is new for him so it's hard for him to do anything else besides concentrate on that I guess.
Then he starts singing "Unchained Melody" from Ghost while giving a clay vase a sexual massage, and it's even weider and more phallic than it was in the original.
Marley-Kate imagines that she's molding the clay with New Puck…
…and then imagines that it's Ryder Bieber-Strong…
…and I imagine if we were to put all three of these jokers in the kiln maybe Santana could get more screen time.
Here's the original:

Here's the Glee version:
https://www.youtube.com/watch?v=nvasEi3lBvo
Then Marley-Kate confesses that she knew it was Ryder Bieber-Strong planning the Valentine's Day festivities all along and also that Ryder Bieber-Strong kissed her and she let him. New Puck gets an indigestion look on his face and storms out. He's got clay all over his hands though so I hope he doesn't try to touch anybody's boobs.
---
We then put on our golashes and sunhats and stroll back down the hallways of McKinley High School in Lima, Ohio, home of the Econo Lodge Of Lima, where Will declares that "everyone" won this week's contest, which means we'll never get our all-lesbian edition of Hollywoood Hootenany, Artie's tribute to dance on film.
Everybody freaks out about this non-competition clause, except Marley-Kate 'cause she's a sad panda.
William calls Finn into the hallway to thank him for saving his marriage and making William a better man. So Finn tells William that he kissed Emma, because he's a selfish dicknail, but he fails to mention that Emma didn't kiss him back, which seems important. William looks sad and angry and then, for the second time this episode, ditches Glee Club for whatever lies beyond the river bend of these hallowed hallways.
---
Cut to the auditorium for Footloose which's totally fucking awesome because guess what, I love this movie and own the soundtrack obviously. (Of the 1984 version, OBVIOUSLY.)
Here's the Glee version:
https://www.youtube.com/watch?v=L7xttBF-QJE
The original from Footloose (the sound/video is kinda off, FYI):
https://www.youtube.com/watch?v=LBaVbbPJVl0
---
Next week, Glee will be paying tribute to N'Sync!
Pages: 1 2See entire article on one page