Cut to the bathroom, where Marley-Kate tells Fake Quinn that Ryder Bieber-Strong kissed her and she doesn't know what to do, but she still likes New Puck, and after a 30-second power nap, I woke up to hear this:
Fake Quinn: "Boys are like lumps of coal. They're dirty and cheap and they get hot when they're rubbed. And some turn into diamonds. So collect as many of you can."
We then launch into a charming rendition of Diamonds Are A Girl's Best Friend/Material Girl, which is a mash-up of "Diamond's Are A Girl's Best Friend" from Gentlemen Prefer Blondes and "Material Girl" by Madonna, as prepared for my favorite movie Moulin Rouge.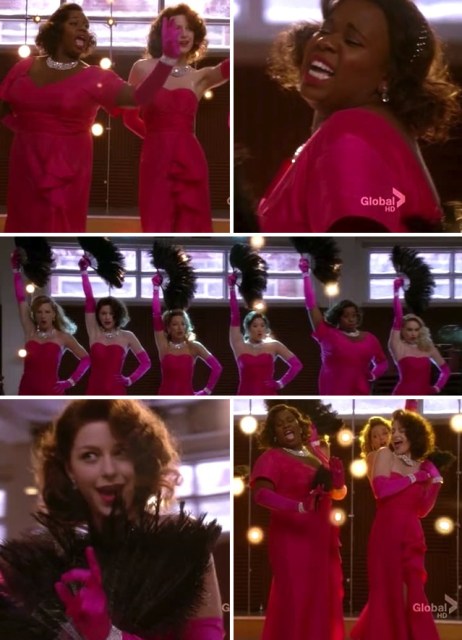 Artie comes in his pants and Ryder Bieber-Strong does the hand jive.
It's a big, brassy, campy number and therefore it's a great showcase for Unique's pipes and a welcome opportunity for Marley-Kate to sing and dance like a grown-up.
here's the Glee version:
https://www.youtube.com/watch?v=ZgmgBzjjER0
---
We then traverse the hinterlands once more, landing finally in New York City where we hit up Fake Julliard's only classroom, the Dance Studio, where Kurt's practicing his pirouettes and triple axels and long jumps and free throws and kickoffs and dodge balls and synchronized swimming and chicken-chasing skills.
Adam's Apple pops in to ask Kurt if he still loves Blaine and if he's just a rebound. Adam's Apple says he "can't compete with a fantasy," which's code for "I think you're being super-delusional about your ex-boyfriend." Kurt's not being delusional though, is the thing, it's just very complicated. In any event, Kurt says he desperately wants to be over Blaine but it's super-hard because of all the Klaine shippers.
---
Back in the sweeping valleys and breathtaking cornfields of Lima, Ohio, Finn has tracked down Emma at her sister's house on Pillbox Lane or something but Will would rather try on Mom jeans and feel sorry for himself than perform a grand romantic gesture just like in the movies. OR WOULD HE?
After yet another Darden International restaurant commercial, we return to Hillhat lane for Will Schuster to fuck with my deep memories and strong emotional attachment to Cameron Crowe's 1989 romantic comedy smash hit, Say Anything, which I ALSO OWN ON DVD and in fact named our regular after.
The most important part of this scene is that Emma's lingerie is totally a Ferngully ripoff, Unique's red coat is perfection and Sugar's wearing an exact replica of my 1992 Raccoon hat. Looks like somebody's found Geyerdean's time machine after all.
Will and Emma talk about their feelings because Will is a lesbian. Emma says she felt like Will came back into town and she didn't know him anymore and he said it was weird at the altar when everybody was staring at him and then they decide to go to a movie on Friday night. Probably to see The Last Exorcism Part II.
---
We then traverse back to the Barbie Dreamhouse Bushwick Loft, where Santana's announcing that she finally feels like a New Yorker because somebody gross touched her boobs and Rachel is staring forlornly into a mug of tea wishing it was a vagina.
Santana tells Rachel she found Rachel's pregnancy test in the Bathroom garbage bin and Rachel denies it for about three seconds and then her whole face scrunches up and she starts crying, because she's supposed to be this big famous put-together thing and this wasn't part of that plan.
Santana softens up because she can soften up when people are sad. Santana hugs Rachel and says it's gonna be okay, next week's writer probably won't even remember this ever happened.
---
Back in Lima, New Puck has summoned Marley-Kate to the Art Room to confess that Ryder Bieber-Strong was responsible for all the Valentine's Day specialness. New Puck explains that "trust and monogamy" is new for him so it's hard for him to do anything else besides concentrate on that I guess.
Then he starts singing "Unchained Melody" from Ghost while giving a clay vase a sexual massage, and it's even weider and more phallic than it was in the original.
Marley-Kate imagines that she's molding the clay with New Puck…
…and then imagines that it's Ryder Bieber-Strong…
…and I imagine if we were to put all three of these jokers in the kiln maybe Santana could get more screen time.
Here's the original:

Here's the Glee version:
https://www.youtube.com/watch?v=nvasEi3lBvo
Then Marley-Kate confesses that she knew it was Ryder Bieber-Strong planning the Valentine's Day festivities all along and also that Ryder Bieber-Strong kissed her and she let him. New Puck gets an indigestion look on his face and storms out. He's got clay all over his hands though so I hope he doesn't try to touch anybody's boobs.
---
We then put on our golashes and sunhats and stroll back down the hallways of McKinley High School in Lima, Ohio, home of the Econo Lodge Of Lima, where Will declares that "everyone" won this week's contest, which means we'll never get our all-lesbian edition of Hollywoood Hootenany, Artie's tribute to dance on film.
Everybody freaks out about this non-competition clause, except Marley-Kate 'cause she's a sad panda.
William calls Finn into the hallway to thank him for saving his marriage and making William a better man. So Finn tells William that he kissed Emma, because he's a selfish dicknail, but he fails to mention that Emma didn't kiss him back, which seems important. William looks sad and angry and then, for the second time this episode, ditches Glee Club for whatever lies beyond the river bend of these hallowed hallways.
---
Cut to the auditorium for Footloose which's totally fucking awesome because guess what, I love this movie and own the soundtrack obviously. (Of the 1984 version, OBVIOUSLY.)
Here's the Glee version:
https://www.youtube.com/watch?v=L7xttBF-QJE
The original from Footloose (the sound/video is kinda off, FYI):
https://www.youtube.com/watch?v=LBaVbbPJVl0
---
Next week, Glee will be paying tribute to N'Sync!
Pages: 1 2See entire article on one page