So I'm a parent now and, as everyone said it would, it's totally changed my life. My whole schedule now revolves around this tiny person who needs me for literally everything from feeding her face to cleaning her butt.
Holiday shopping with a newborn is a lot less "browsing stores for hours looking for the perfect gift" and a lot more "buying most everything online or shopping with a really specific list and plan." On the flip, my in-laws want to know what I'd like for Christmas, but there's not much I need right now other than a few consecutive hours of sleep and maybe some food that I don't have to make.
New parents of tiny babies are a weird bunch because we've become social recluses out of necessity, spend hours each day speaking in baby talk, and have generally lost touch with the outside world. If you have a friend or relative who has a little one, you might be befuddled about what to get them. Diapers? Vodka? More baby clothes? I've got you. If anyone wants to buy me these things, I would not be opposed…
Hungry Parents of Hungry Babies
You know what you barely have time for once you've got a baby at home? Healthy meals. All our focus is on making sure the baby is eating well and we barely have time to cook for ourselves.
Baby-Free Date Night
Want to win a new parent over for life? Offer to babysit so they can have a relaxing date night with their significant other or a night of quiet relaxation on their own.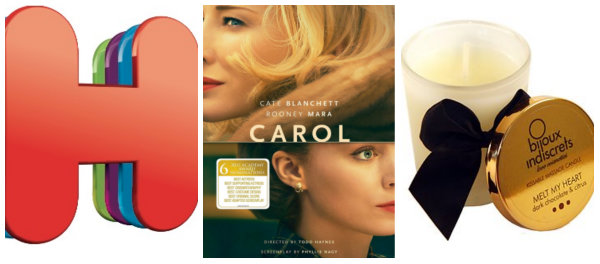 Book a hotel room close to home with Hotels.com. That way, the parents can get some alone time and some solid sleep time, but still be close enough in case of an emergency (or if they decide they need to come check on the baby).
Nothing like the best lesbian movie ever made, Carol, to set the mood…
…and an edible wax candle that turns into massage oil for some solo or partnered relaxation.
Exhausted Parent Pampering
At the end of the day, we could just use some extra comfort. That's all.
Baby Stuff, Duh
We all know what you really want is to spoil our baby with gifts. FINE. At least make it something useful!