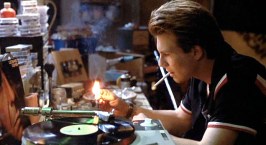 Last night I had 240 questions on formspring and I answered like at least ~100 of them, most of which I also published on autostraddle tumblr. (Unfamiliar with the magical cyber-enabled wondercrack that is formspring? Check out this post for an explanation.)
I didn't finish answering all of my unanswered questions, and got 25 new ones while answering. However, about 10 of these questions were cut off by formspring's character limit and therefore I was unable to answer them. 42 were compliments or other sweet things i keep in my formspring account to look at when I feel sad. 22 were statements, not questions. 10 were story ideas. 2 were insults. 1 was "Do You Masturbate?"
15 were questions I cannot answer myself. Can you answer them for me to help these people please? Thank you ladies.
1. I am studying abroad for one semester. Should I extend my stay and make it a year?
2. I want to get a tattoo on my wrist/lower arm but am struggling to come up with something that will look good/not tacky/is imaginative – suggestions?
3. I live in Texas and I encounter a lot of homophobia. It makes me feel like shit and I get so frustrated because I don't know how to react. What should I do?
4. How do you get over people not liking you? Not not liking you because you're gay, but just not liking you period?
5. Have you seen my Charles Saatchi book? I can't find it. It's small and white and rectangle-shaped. it's about art or ads or something.
6. Just wondering if you knew, generally, how gay-friendly college sororities are?
7. A student group I am part of at my university went to the national march for equality as a group event last year. our group wants to do another big lgbt travel event this fall. any ideas?
8. My friend goes to a boarding school. She can't go onto AutoStrad 'cause of adult content. I'm transferring to the same school too. We are sad. Is there anyway around this?
9. Tegan or Sara?
10. Once there was a GSA at my high school. it lacked a) gay kids and b) fun. how can i fix this and make all my fellow babygays happy & together & safe & proud? my school is only semi-homophobic- we risk no physical harm, if some social.
10. I live in New Zealand. It's small here. Reckon my life will get sweeter if I move overseas?
11. Are there any good/well written sci-fi/fantasy novels with girls liking other girls?
12. Do you know any good lesbian porn made by actual lesbians?
13. I took some time off from college, and now I'm thinking about going back. What do you/the staff of autostraddle know about Mills College and its girl+girl scene?
14. Is it shitty of me to sell books my dad gave me to buy books I actually want to read?
15. Is it true that taking ibuprofen preemptively (like before bed after what you perceive as a hangover-inducing night) can alleviate the pain the next morning?