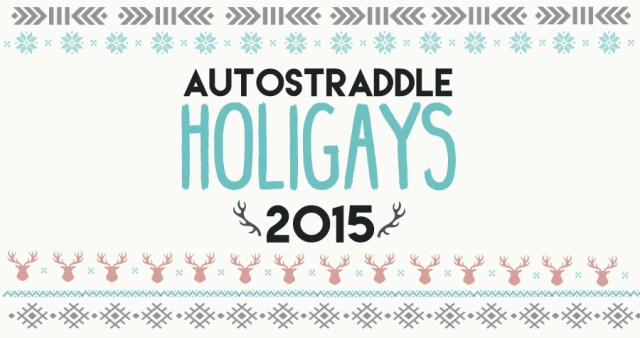 My whole life is books. I read books. I'm writing one. I'm getting married in a bookstore. Do you know how many books I have? I don't either. That's probably how I wound up with three copies of Pride and Prejudice. I mean that other people don't know how many books I have, or which ones exactly they are. Like, I only bought one of those; other people gave me the rest. I feel like this is true for many, many book people? The lesson is: never get a book person books unless they've asked for something specific or you've had some sort of conversation. Instead, get them book things that aren't books! Here are a few suggestions!
---
Wearable Book Things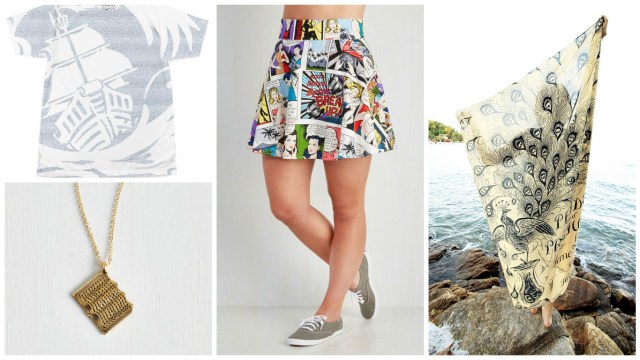 Books for your body! There are these lovely chiffon book scarves over on Etsy ($24) — there's a bunch of different ones, but I'm featuring Pride and Prejudice because, as previously mentioned, it is my favorite book. Actually, you're about to learn a lot about my book tastes, because I'm about to let you know about Litographs (one of my favorite companies) by showing you a tee shirt with the entire text of The Tempest on it ($34). The Tempest is my favorite Shakespeare. I also want to make sure to include something comics-related on this gift guide, because comics are just as much literature as anything else. So here's a skirt that looks like a comic book ($50)! If you're looking for something jewelry, here's an Open Book Necklace ($15). I want to point out that it is entirely possible to wear all of these things at one time.
---
Household Book Things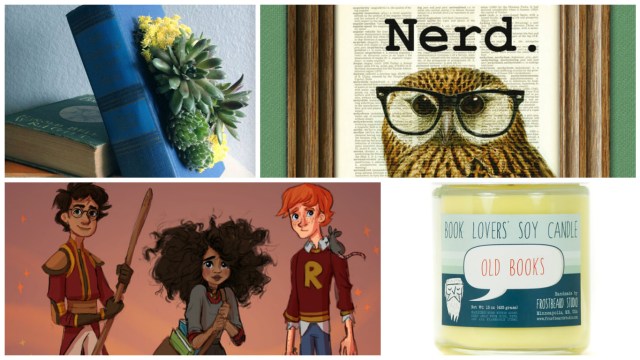 Book things for your house! The obvious thing to start off with is things to hang on the walls — check out this Harry Potter Golden Trio Portrait ($20) or this print of a nerdy owl on a dictionary page ($7). Plant in books with an up-cycled book planter ($50). I feel like that's a controversial suggestion — some book people might not enjoy that a book died for the planter. So proceed with caution. No books had to die for this Old Books Scented Candle ($18), so it might be a safer gift idea for the more purist among us. Frostbeard Studio also has scents from specific books (Sherlock's Study or Le Cirque des Rêves, among others).
---
Readers Who Are Writers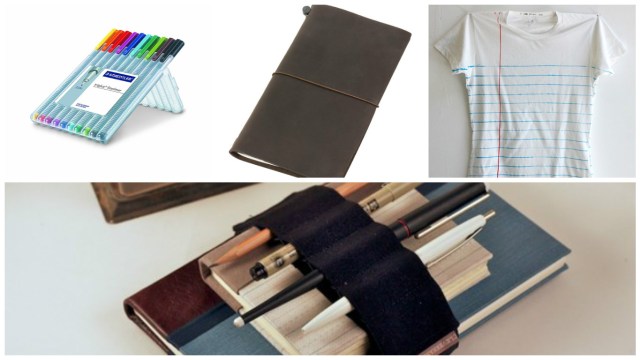 I feel like most readers are also writers, even if they don't do it professionally. Readers usually have a reverence for the written word that leads to journaling, fan fiction and personal project novels AT THE VERY LEAST. That love doesn't evaporate. So consider a Midori Traveler's Notebook ($35) with some planner and journal pages (and some binding-elastics to keep it all together). A set of good pens wouldn't go amiss ($13) — I have these exact ones and can highly recommend them. If your book person already has a journal, a bandolier to keep books and pens together ($26) in a bag is a nice thing to do. If you're not sure of your book person's writing preferences, maybe get them a loose-leaf tee shirt ($50) so they can wear their blank-page-conquering-pride on their sleeve — literally.
If you're not really sure what a Midori Traveler's Notebook is or is for, by the way, here's a really good overview.
---
Book Accoutrements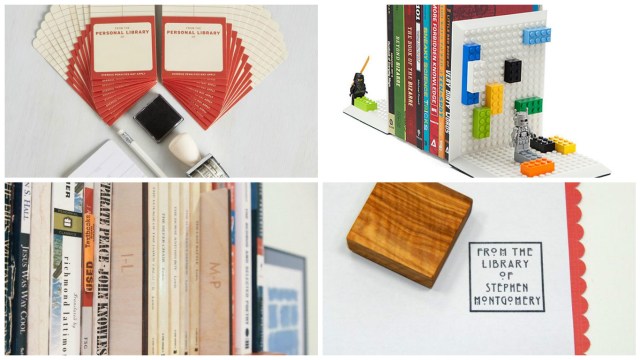 Lastly, things that are for the books that book people own. First, those bookends on which you can build with Legos ($25) because I'm your Geekery Editor and of course that's what I found on the internet. If your book person is a book-shelf-possessor, help them organize their life with Birch A-Z Book Dividers ($120). I'm pretty sure I've recommended this library kit before ($15), but a great alternative is a customizable stamp ($27) to just plomp that ownership right on the inside cover with some ink and a prideful smile.