Happy (almost) Hanukkah! Last year, Hanukkah marked the first post of what became this column when I invited you all to join me in making Jelly Sufganiyot. This year, I'm returning for Hanukkah to revisit a different fried favorite: our friend the potato latke. Fried potato deliciousness, served with apple sauce and/or sour cream, and subject to endless debates about ratios and recipes. For those who want to stay classic, Autostraddle shared a great basic recipe a few years ago.
This year, we're going to one-up ourselves. Why have plain latkes when we can have RAINBOW latkes?! There's no reason the fried thing has to be potato, but most of these have some element of potato as well as naturally colorful other vegetables.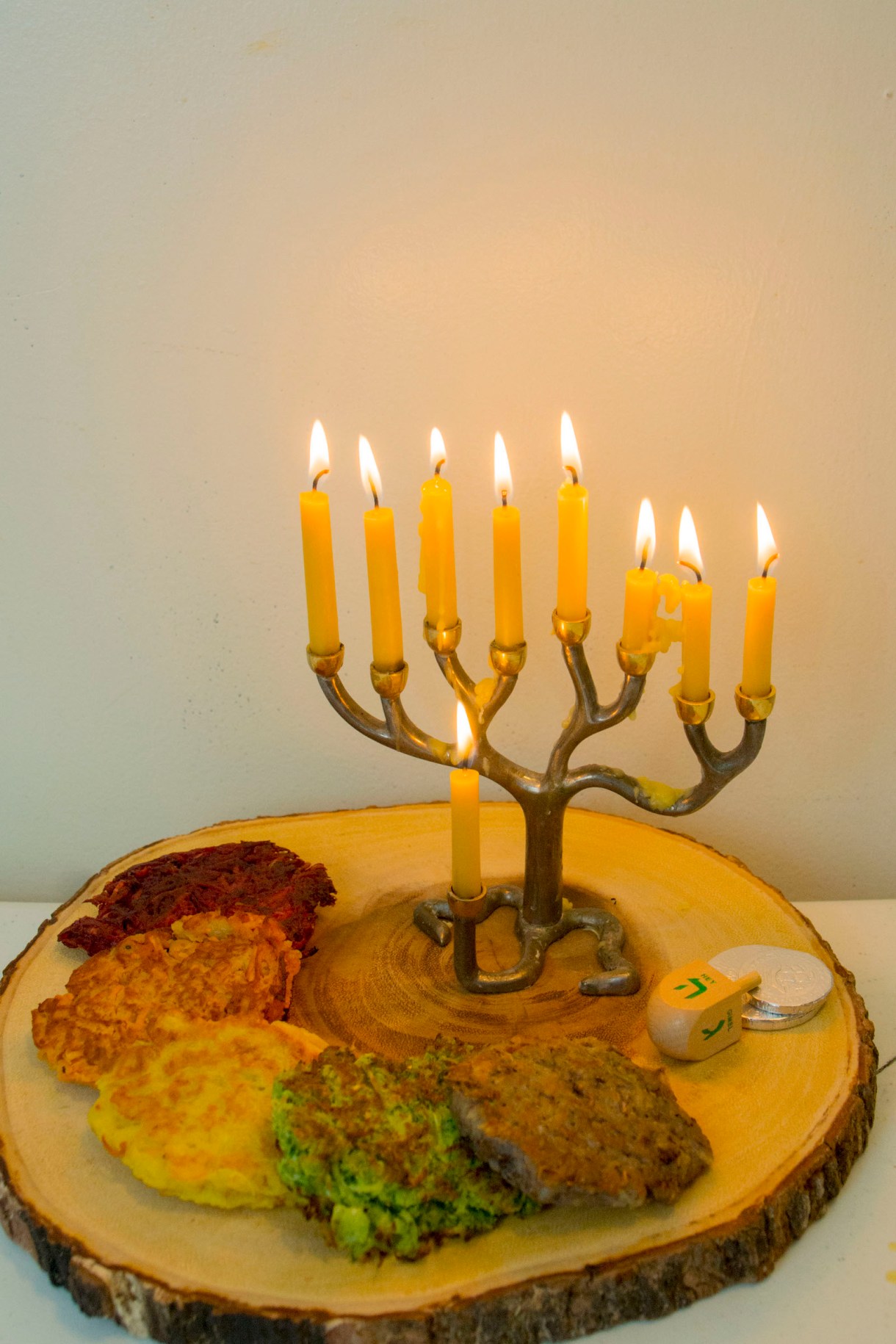 The inspiration for this recipe, from What Jew Wanna Eat has made its way onto a past Autostraddle post about Hanukkah, because rainbows are the gift that keeps giving.
As excited as I am to share rainbow latkes, I can't actually dive in without prefacing with my annual Hanukkah rant. Emily Burack succinctly summarizes: "Hanukkah, genuinely, is a minor holiday about religious extremism that only became super popular in America because of assimilation, which is something the Maccabees literally fought against." Most of the reason that Judaism is so often represented by menorahs is Christian hegemony and insistence that the holiday closest in time to Christmas must *obviously* be the most important.
Still, Hanukkah is a celebration of anti-assimilation and survival, and no Hanukkah would be complete without a hanukkiah, the official name for a menorah used for Hanukkah. The tradition is to burn one candle for each of the eight days, adding one more each day, in a publicly facing window.
For years now, I've been proud to burn Narrow Bridge Candles in my window.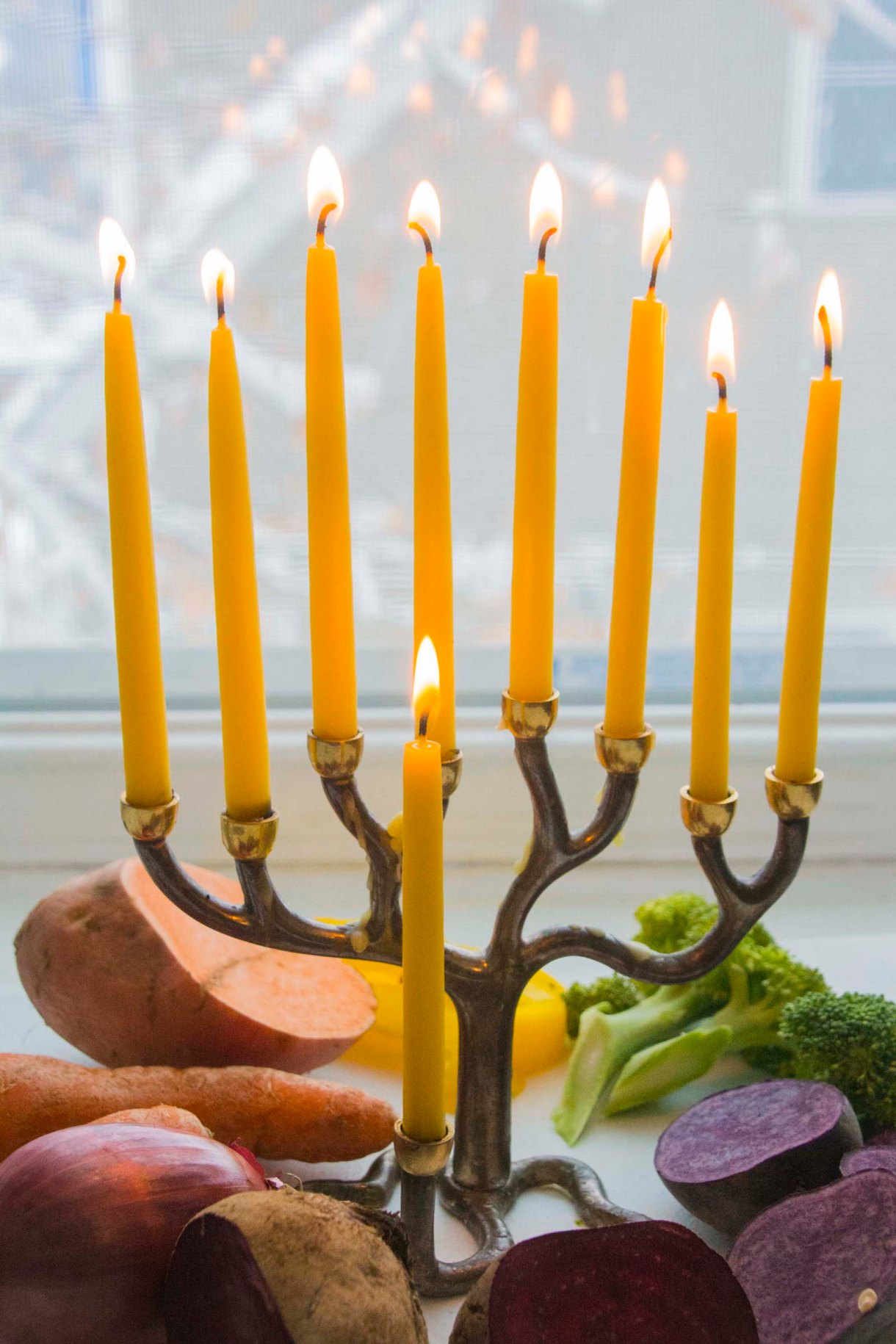 Handmade by Jonah Aline Daniel in Makahamo Southern Pomo Land, Sonoma County, California, Narrow Bridge Candles are beautiful, hand-dipped beeswax candles for Jewish ritual. Jonah is a "radical, ritual, rural, queer, disabled, hand-made beekeeper beeswax candle-maker" who has been running Narrow Bridge for nearly ten years. They see their candles as supporting people to integrate their ritual practices with political commitments. The website welcomes guests with a beautiful prayer, "May these candles fuel flames of resistance everywhere. May our hearts burn collectively with passion and commitment to justice." A portion of profits is donated to support Palestinian self-determination and US-based efforts for racial justice and Indigenous sovereignty.
Most Jewish ritual objects are produced in Israel or Palestinian occupied territories, and Narrow Bridge makes it possible to celebrate ritual Jewish observance in a way that disrupts the narrative that Judaism is synonymous with Zionism and Israel. Whether or not you follow the Palestinian call for boycotting Israeli goods, there is a value in having options for high-quality Jewish ritual objects that aren't related to Israel. As a diasporic religion, we have a tradition of multiplicity and complexity and argument and disagreement (see also: every conversation between two or more Jews), and Narrow Bridge Candles is an important contribution to that diversity.
While these candles are definitely more expensive than the $5 rebranded birthday candles at CVS, it feels good to invest in trans- and queer-produced, ethically sourced ritual objects that also support important causes & narratives. Narrow Bridge Candles offers a sliding scale that asks people to be generous within their financial realities.
Candles are available to order through December 14th, so get your orders in fast! They also offer a full range of other Jewish ritual candles (Shabbat, Havdallah, etc), as well as a range of multi-use ritual candles for other traditions. For those of us who somehow get surprised every single year by the arrival of annual holidays, there are a range of annual subscription boxes that will make sure your surprise doesn't render you unprepared ever again.
Rainbow Latkes
There are about as many recipes for latkes as there are households making latkes, and I'm not trying to convince you yours is wrong! Feel free to use your ratios to adapt these ideas. These are also really easy to make gluten free (using gluten free flour, potato starch, or cornstarch) or vegan (egg substitute of your choice)
Supplies
Paper towels. A lot of them. This is a good time to get higher quality ones.
Frying pan
Knife (and optional vegetable peeler)
A way to shred your vegetables – You *can* do it by hand, but if you have a food processor that can shred, or can borrow one for a day, your life will be easier, and you will have fewer shredded fingertips and knuckles.
Cheesecloth – Easiest way to strain the potatoes. You can do this in other ways, but this is the one I recommend.
Spatula
2 bowls
Ice cream scoop (optional, but helpful)
A note on ratios: My basic latke recipe is 2 medium potatoes, 1 medium onion (almost as much onion as potato, but not quite equal), 1-2 eggs depending on the actual size of the potatoes and onions, and a spoonful or two of flour. These are all variations and make about 12-15 medium sized latkes for the batch here. Latkes are one of those infuriating traditional foods where the most accurate explanation of a recipe is "add enough for it to be the right consistency" which can be understandably frustrating if you aren't in my kitchen to experience that consistency. Potatoes and onions are both vegetables with a lot of variation in size, and it's not worth the effort to weigh them for this. Start with less, add more until the mixture stays together but isn't too wet.
Also, I strongly recommend making these in order of lightest to darkest so that the bloody crime scene left by beets don't infiltrate the bright yellow, for example. The ingredient list is in rainbow order, the presentation is in rainbow order. but your cooking should not be.
This is a very adaptable recipe. Did your gay CSA leave you with too much butternut squash, or do you have a pound of corn in your freezer? You could probably use that! Prefer cilantro to parsley? Go for it!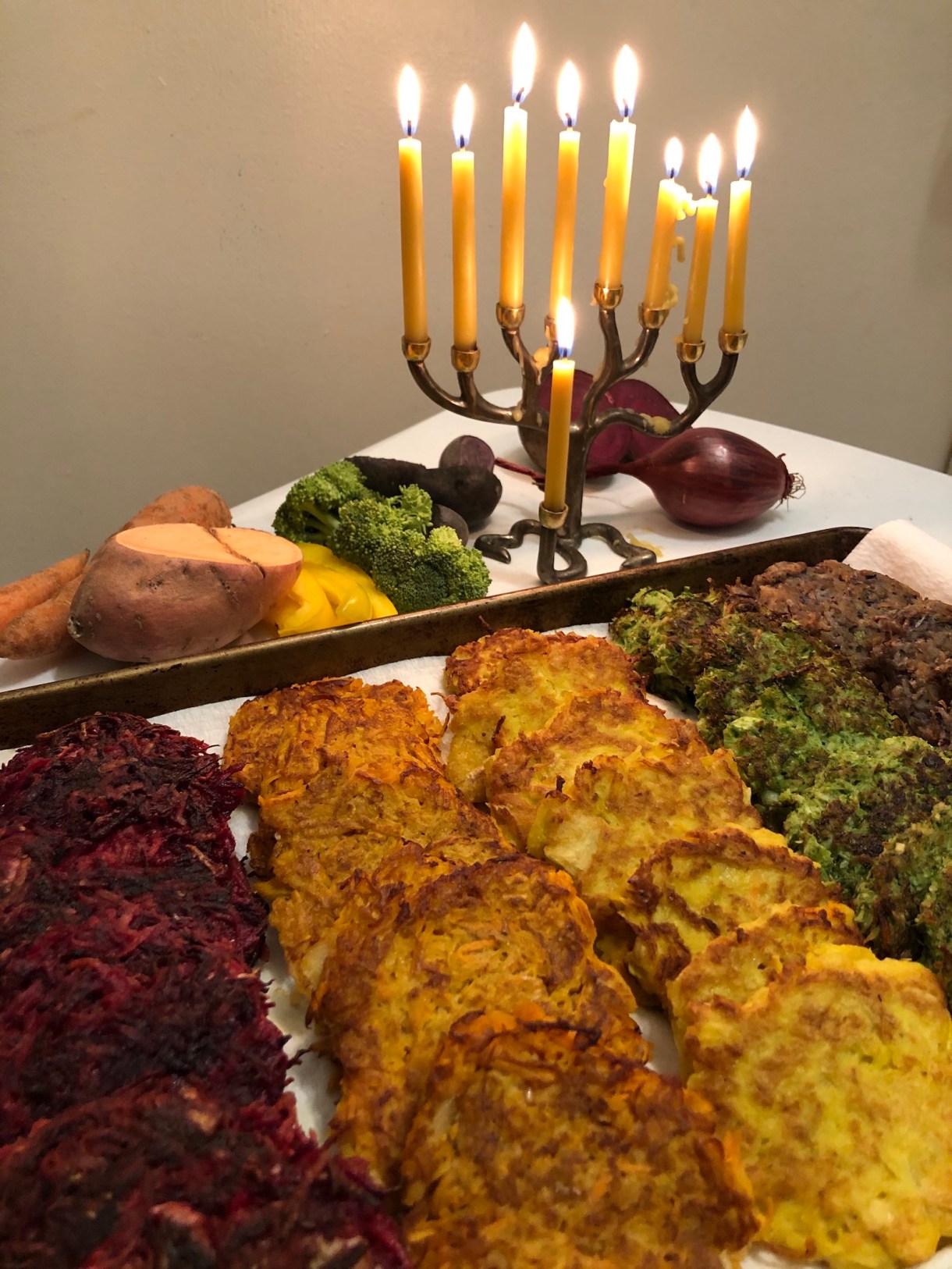 General ingredients
(that you probably won't use all of, but it's better to have extra than run out)
1 dozen eggs
2-3 cups of flour
Salt
Pepper
2 cups neutral, high-heat oil – olive oil will probably burn at this heat, so go for a vegetable, canola, or peanut oil.
Red Latkes
3-4 small/medium beets
1 small/medium potato (about half as much as the beets, but really, it'll be fine)
1 large onion
Orange Latkes
2 medium sweet potatoes
2 medium carrots
1 large onion
Yellow Latkes
1-2 yellow bell peppers
2 golden potatoes (or peeled standard white potatoes – remove the dark skin so the yellow shows brighter)
1 tsp turmeric
1 medium onion
Green Latkes
1 medium head of broccoli
1/2 bunch of parsley
1 large potato, peeled (of any standard type with white or yellow innards)
1 medium onion
Blue Latkes
4-5 blue potatoes (the only ones I could find were really small, adjust based on what you can find)
1 medium onion
Sooo… how many onions and potatoes? (A general estimate)
Total 5-7 pounds of onions
A note on potatoes: My local grocery had a great 5 lb bag of mini mixed color potatoes include blue, golden, and red that I used for this along with about 2 lbs of standard potatoes from my CSA
Overall, this made about two trays of latkes, enough to comfortably feed 8-10 people, and is very easy to scale up or down.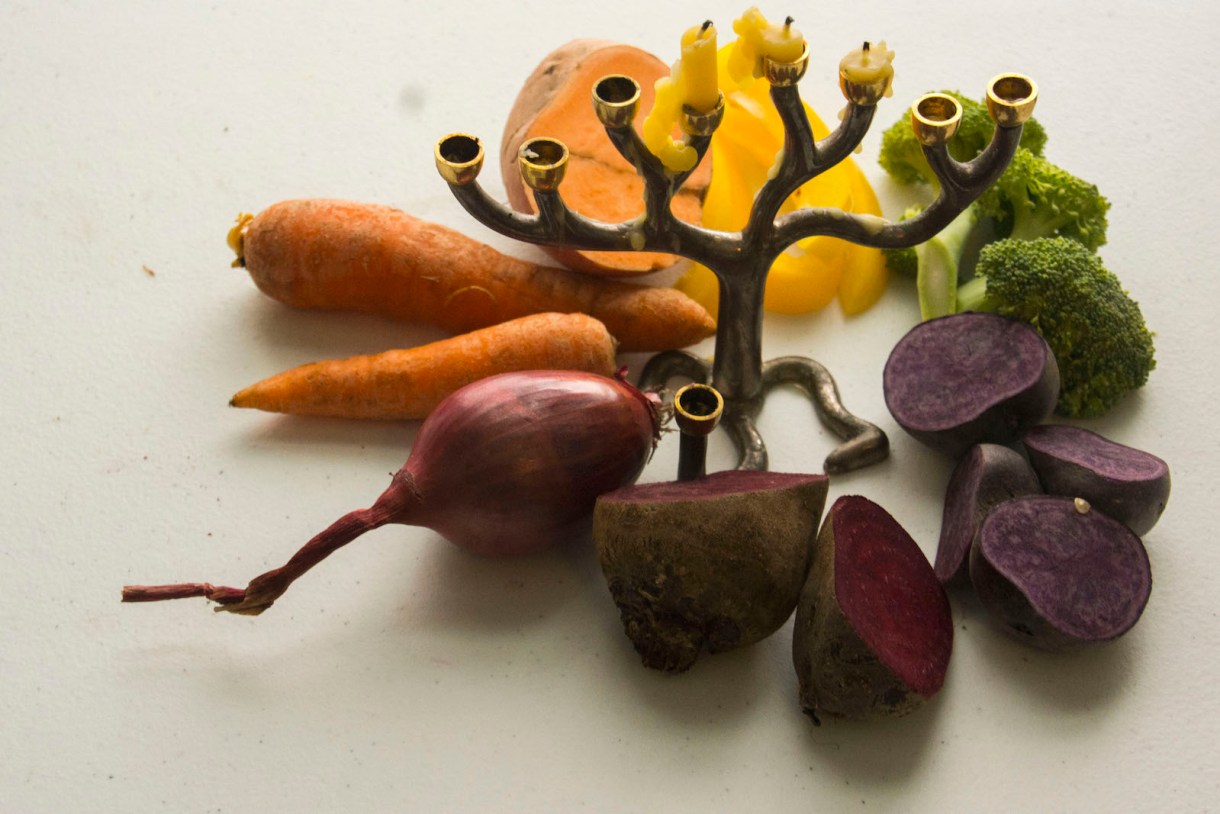 Basic Recipe
1. Peel (some) vegetables.
2. Shred vegetables.
3. Strain vegetables to remove natural liquid.
4. Add egg, flour, salt, pepper, and mix.
5. Shape into patties using ice cream scoop onto a cookie tray.
6. Heat non-stick pan on medium with a thick coating of oil until shimmering.
7. Add 4-5 latkes to hot oil.
8. Cook for about 1 minute per side, until lightly browned.
9. Flip.
10. Remove latkes with spatula onto a paper-towel lined cookie tray (I put paper towels on the same sheet I used to shape it as space frees up).
11. Repeat for other colors.
12. Serve with applesauce and sour cream!
Recipe with more details
We're going to make five batches of latkes. Start with yellow, then orange; do the beets absolute last. The order of the ones in between doesn't make a big difference.
1. Wash vegetables.
2. Peel (some) vegetables. It's not necessary for all the colors, but for the yellow I wanted to make sure the yellow comes through as vibrantly as possible. I also peeled the beets and cleaned up the broccoli ends a bit. Cut into pieces that fit into your food processor's shredder attachment.
Prepare your shredding station. Line the bowl that will be catching the shredded vegetables with cheesecloth. If you want to be proactive about keeping clean, throwing some newspaper under your food processor would be not a bad idea. You can do this by hand, but this is a LOT of shredding, and my $9 Goodwill food processor definitely belonged to someone's grandmother before I was born and I appreciate it very much.
4. Shred, baby, shred! Do the onions LAST. Your tear ducts will thank you.
5. Re-adjust the cheesecloth to create a nice bag and squeeze all that beautiful vegetable juice out.
6. Pour out the excess juice and return the dry shredded veggies to the bowl. If there's some starch at the bottom of the bowl, that's Good Stuff that you should keep – it helps things stick together! Add: 1-2 eggs, 1-2 large spoonfuls of flour, other spices as relevant, salt and pepper. Mix, and add more eggs or flour as needed. Eggs make it wetter, flour makes it dryer, your ideal consistency is fairly dry but able to be shaped and with enough binders to hold together when you fry. I'm sorry, I wish I could be more specific – I promise you'll figure it out.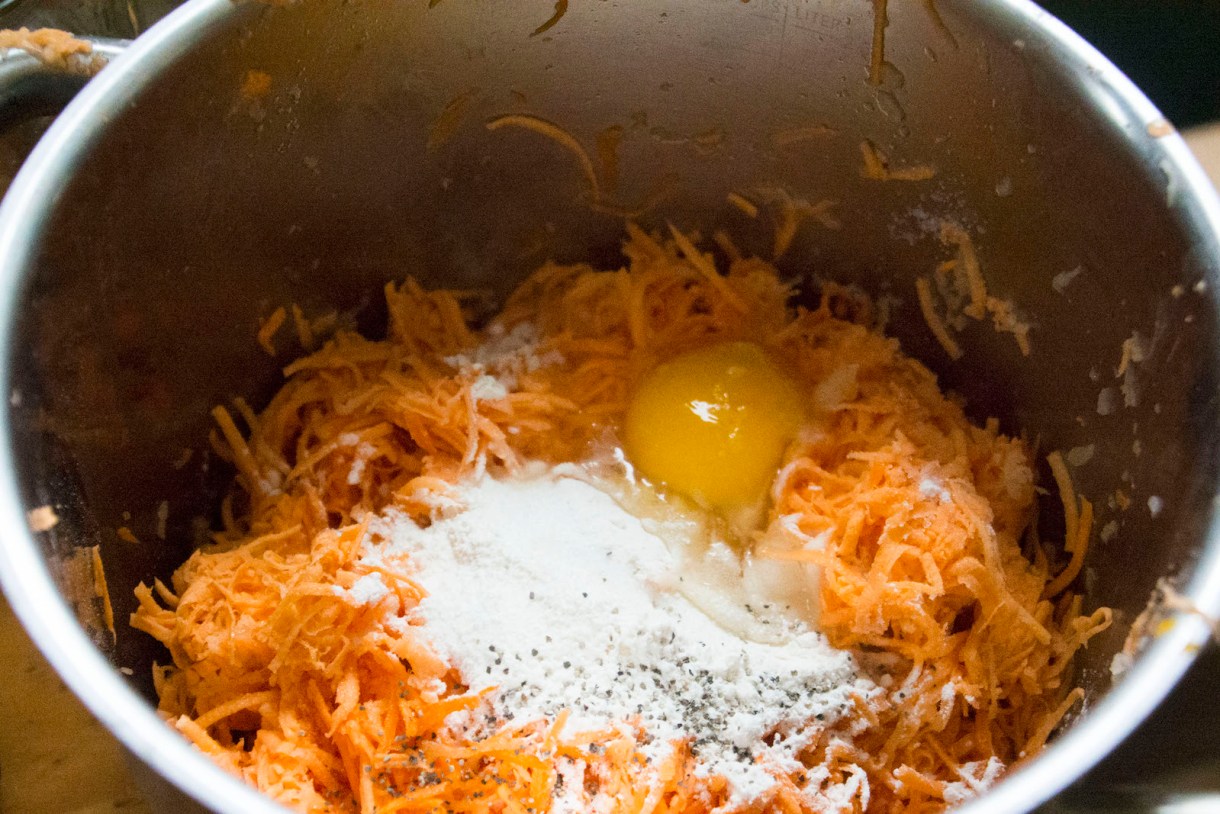 7. We're about to move to the stove! Supplies to get ready: Large frying pan, a lot of oil, a cookie sheet, ice cream scoop, and a roll of decent quality paper towels.
8. Heat your non-stick pan on medium (or slightly below medium) with a thick coating of oil until the oil starts to gently shimmer. If you start it before shaping your latkes, it will be ready by the time you return – but do not leave a frying pan full of oil outside your line of vision, as you do not want to take the chance of setting your kitchen on fire!
9. Use the ice cream scoop to get the latkes ready on your cookie sheet. They don't need to be perfectly even by any means, but this helps keep them mostly equivalent and means that your hands can stay clean-ish for frying later, rather than alternating shaping and frying. Once they're scooped out, use your (clean) hands to gently pat and shape them into patties.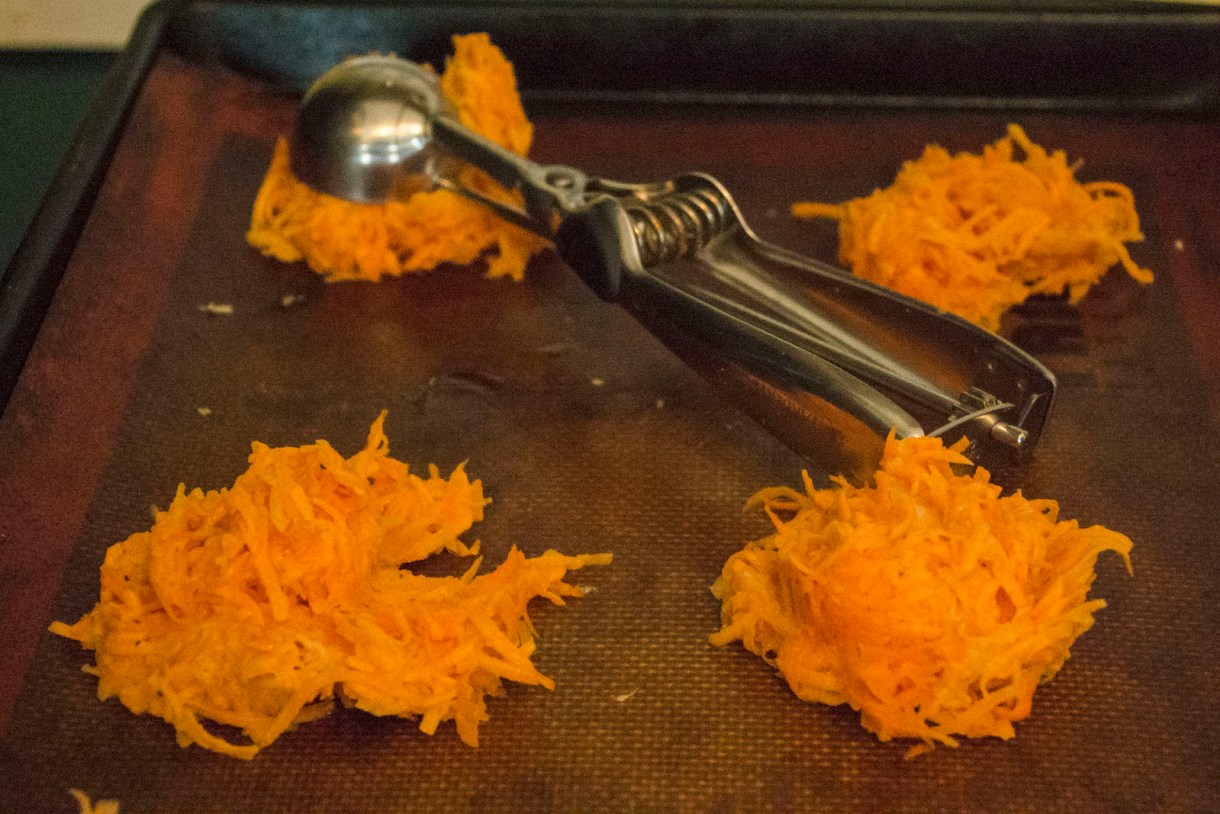 10. Fry! Using a spatula, add your latkes to the hot oil. Don't overcrowd them; 4-5 at a time is the max for the size pan I use. Cook for about 1 minute per side; you should see a little bit of browning around the sides and see some color change into the middle of the latke. Flip (gently) using your spatula, and finish. You might need to add more oil, and the second side often goes quicker than the first one.
11. Remove latkes with spatula onto a paper-towel lined cookie tray (I put paper towels on the same sheet I used to shape it as space frees up). You want a thick coat of high-quality paper towels here; there's a lot of grease to run off.
12. Once a bit cooled off, move to a separate cookie sheet for holding while you continue cooking.
13. Repeat.
14. Serving suggestions: These can be served lined on a tray, if you want, or you can be as creative as you want. The yellow ones would be nice served with applesauce or a fried egg. The green could be served with a sour cream with some green herbs in it. Cranberry applesauce would be lovely for the purple. Blueberry compote for the blue? Have fun with this! If by some chance you don't eat your entire rainbow in one sitting, these latkes can be reheated nicely in the oven, or slightly refried at a very low temperature.
---
Disclaimer: The author was provided with a free set of candles to photograph for this article, which did not affect their views.
This year, Hanukkah will start at sunset on December 22, 2019 and will end at sunset on December 30, 2019.