all photos by Ari Gofman
Happy Hanukkah!
Honestly, I tend to make a fairly minimal effort for Hanukkah. My frustration with the overwhelming presence of Christmas in the United States means that I would rather intentionally save the bulk of my annual celebrating for holidays that matter more to me (like Passover and Yom Kippur). Still, I'm looking forward to lighting my beautiful Narrow Bridge Candles and frying up some delicious foods.
The traditional explanation about why we eat deep fried foods on Hanukkah is to honor the miracle of a single jar of oil lasting for eight days and eight nights. It also solidly falls into the general trend of Jewish holidays that can be summarized as: "They tried to kill us, we survived, let's eat."
Many people are familiar with frying up latkes to celebrate Hanukkah, but that's not the only option for fried food on this holiday.
When I went to college, I was introduced to more Israeli-influenced Jewish practices, which included sufganiyot, or jelly donuts. Turns out, these have an interesting history: as summarized from the Encyclopedia of Jewish Food, sufganiyot and jelly donuts have been popular for Hanukkah for hundreds of years. They exploded into their current popularity in the 1920s when the Israeli Labor Union decided that latkes were too easy to make at home and weren't contributing enough to employment opportunities. It's true, sufganiyot are more complicated than latkes and often left to professionals to make, but I believe in you, queers! We can do this.
Last year, I decided it was the year I would learn how to make donuts, and proceeded to try four different recipes. I'm going to share two of them with you, and we're going to make the vegan option together right here in this post.
If you're looking for a traditional recipe, Smitten Kitchen's Jelly Donuts is the one. Over the course of seven batches last year, I did find that (a) you can absolutely stick the dough in the fridge all day if you don't have time to make it immediately before frying, and (b) sometimes the dough won't rise nearly as much as it should and will be weirdly dense, but the final product will still turn out okay. This tended to only happen when I doubled the batch. They are best immediately out of the fryer, filled with jelly, and powdered with sugar.
For this post, I decided to mess with a vegan recipe, adapted from the Jewish Vegetarian Society. As you're making it, you might as well know that Light One Candle was stuck in my head for about two days. Sorry!
Ingredients:
2 1/4 tsp or 1 packet fast action dry yeast
1/2 cup warm water
2 tablespoons vegan butter (I use Earth Balance)
1/4 cup granulated sugar
1/2 cup (approx.) powdered sugar for dusting
3 tablespoons warm soy milk (almond milk works if that's what you have)
2 2/3 cup bread flour, plus extra to adjust (all purpose flour will work ok in a pinch)
1 tablespoon flaxseed mixed with 3 tablespoons water, or one egg's worth of egg replacer of your choice
1/4 teaspoon salt
A large amount of a neutral vegetable oil; I used a 38 oz bottle of canola. See recipe for more discussion of oil types.
Instructions:
1. Proof the yeast. Mix the yeast into 1/4 cup warm (but not hot) water and allow to stand for about 10 minutes, until it "bloomswp_postsand puffs. It's worth noting that I included measurements for a packet of yeast or measured. I have had the same bottle of yeast in my fridge for almost two years, and it shockingly continues to work. I also bought some packets because I know they are popular. They work fine if you very rarely bake, but if you plan on making more than a few recipes or batches then you might as well get a larger container and have a bit more control.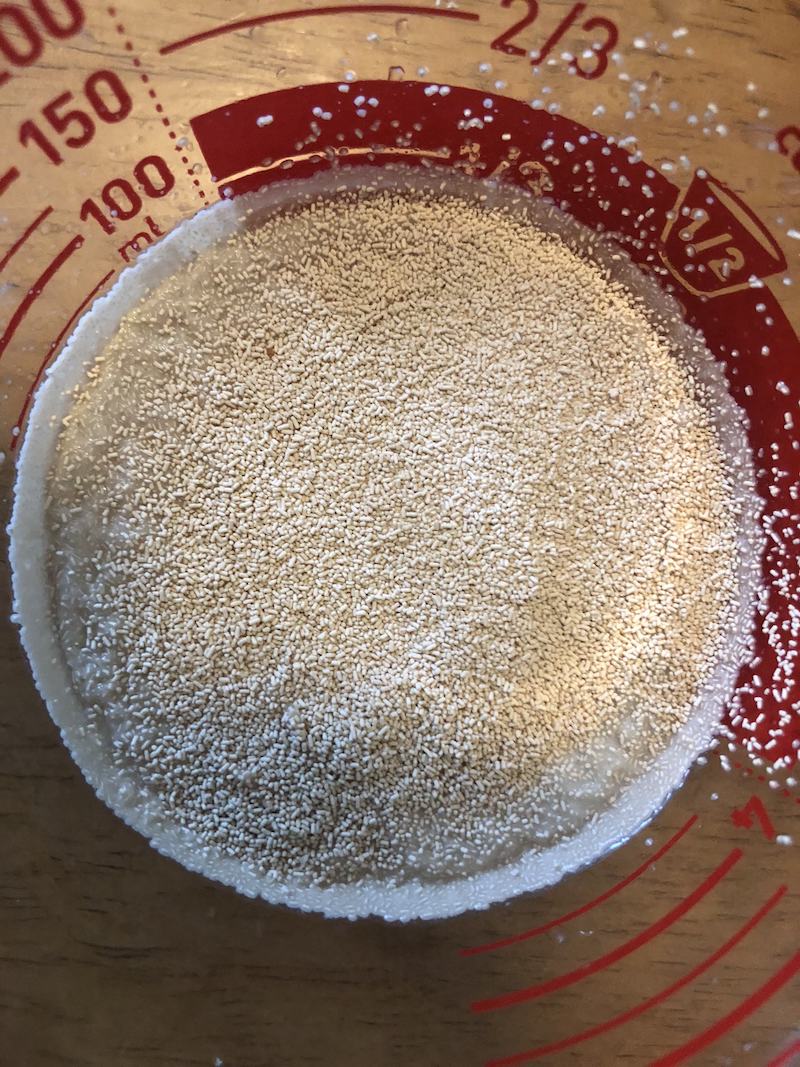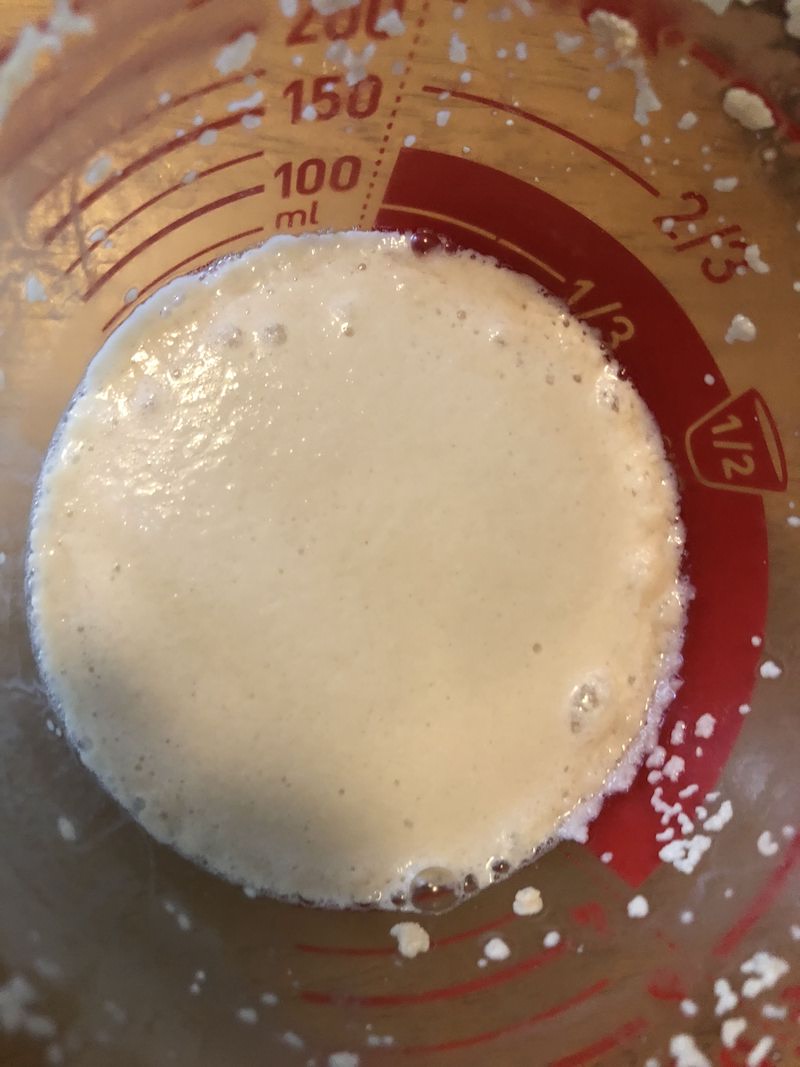 2. Melt the butter in a saucepan along with the remaining 1/4 cup warm water. Add the sugar and whisk until it is dissolved. Remove from heat and let cool.
3. Mix the flaxseed and water and let stand for a minute.
4. Warm soy milk. I put it into the microwave for 20 seconds. Combine soy milk with the yeast mixture.
5. In a large bowl (if using a KitchenAid, in that bowl), add the initial 2 2/3 cup flour, salt and flaxseed mixture or other egg replacer. Pour the sugar/butter mixture and yeast in and mix.
6. Time to knead! If using a KitchenAid, use a bread hook on medium for 3-5 minutes until the dough is fully smooth. It should be soft and not too heavy. If the dough is shaggy or wet even after kneading, you may need to add more flour – I have occasionally needed to add up to 1/3 cup flour. If you don't have a KitchenAid, don't worry you can knead by hand for about 5 minutes on a flat surface.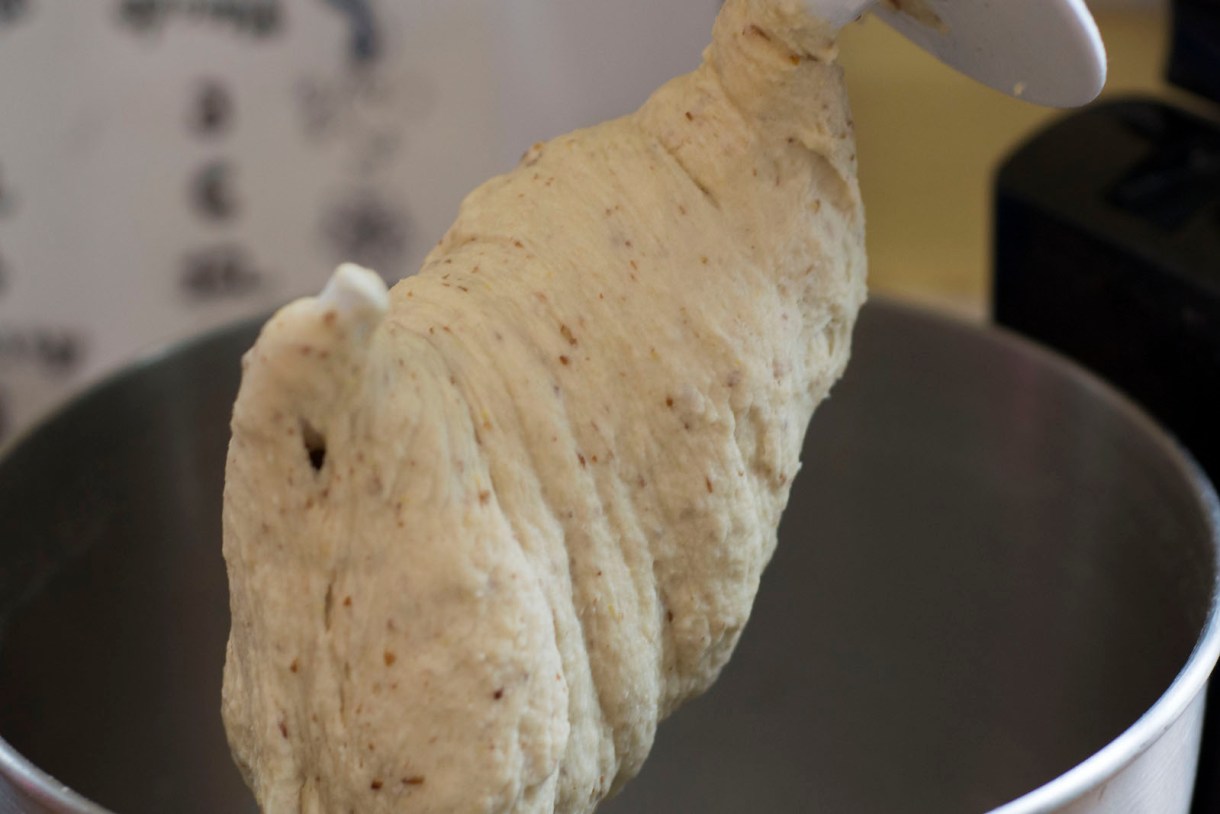 7. Coat the bowl with oil, return the dough to the bowl, and cover the bowl with cling film or a tea towel. Allow the dough to rise for about an hour until doubled.
8. Remove the risen dough from the bowl and roll it out to form a sheet that is about a 1/2 inch thick. In a similar way to pizza dough, the dough will stretch out more when firm against a surface, and then spring back a bit if you flip it or pick it up. Roll it out to 1/2 inch even after flipping it over so that when you cut out shapes, they hold their shape better. Cut out donuts out using a mason jar lid ring (or an actual cookie cutter, but a wide mouth mason jar lid really works fantastically well for the small/medium size donuts I like. If you want larger ones like at a bakery, use a 4 inch cookie cutter). When you've cut out all the doughnuts you can, combine and roll out the remaining dough and cut more donuts. The very last one will be ugly, and will be a great first test for the oil's temperature. Put the doughnuts on a baking sheet. You can use parchment paper underneath; I absolutely love my reusable silicone baking mats. Give them a centimeter in between so they have room to proof and grow. Cover them with a tea towel or cling wrap and let them rise for an hour in a warm space.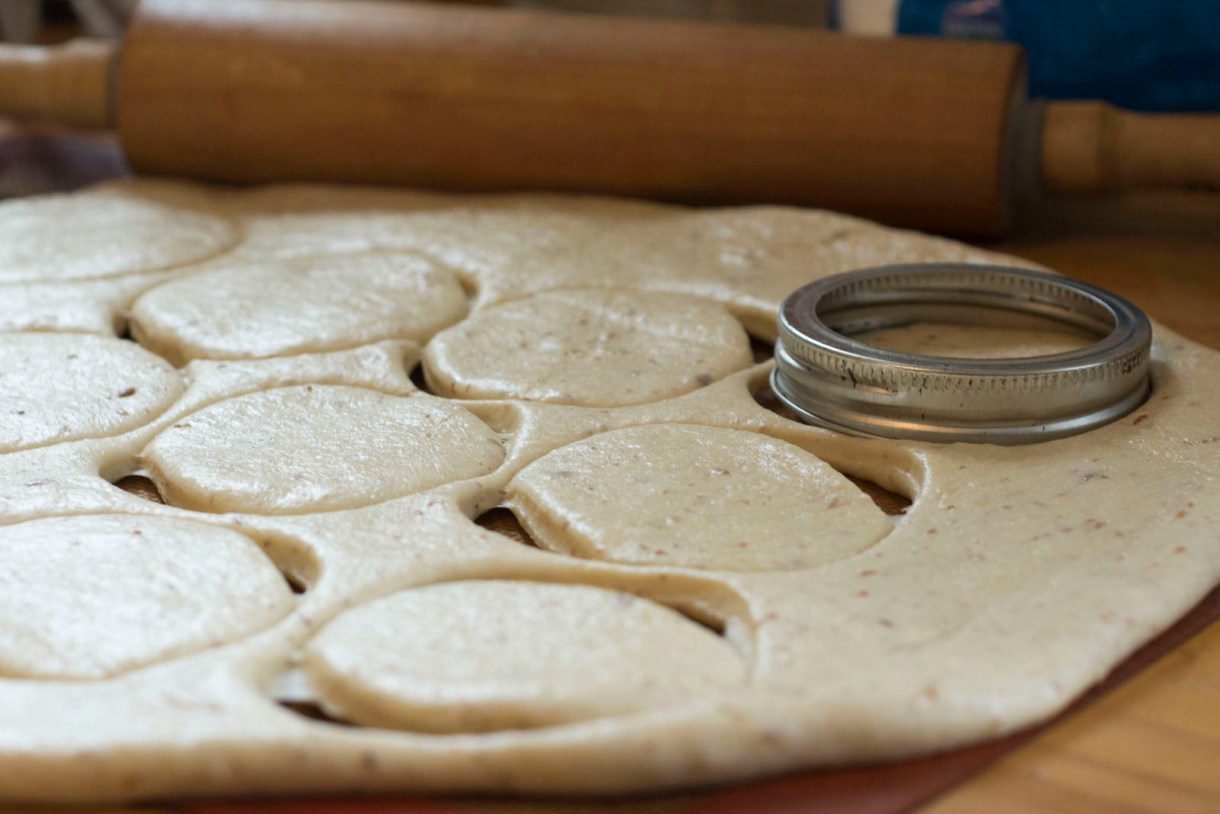 9. Near the end of the rising time, heat up the oil in a deep saucepan or large pot.
A note on oils: I know lots of folks love olive oil, and it's wonderful, but it's not good for deep frying because it burns at a comparatively low temperature. For this, peanut, canola or vegetable oil are your best choices (and conveniently, they're also cheap!).
I used my enamel cast iron pot – if you're going to use a pot, just be sure it has a thick bottom (I know.) so it doesn't burn through if you overheat. Donuts do well being fried at 350-375℉. Three methods for checking the heat: (1) a food thermometer, (2) sprinkle a bit of water, and if it splashes back, the oil is at least hot enough (but could still be too hot; also, be careful because oil and water really don't like each other and this oil is HOT). This year, I tried a new method of putting in a wooden spoon and checking the boil around it: small bubbles around the wooden spoon indicate a good temperature; if there are too many turn down the heat a bit for a minute and try again after the oil cools a bit. Don't be afraid to adjust the temperature of the stove as you fry!
10. Drop the doughnuts into the hot oil and cook them until they rise to the surface and turn light brown. Roll them over. Cooking takes about a minute or less per side – it's fast! Take them out fast using a wooden spoon or metal strainer.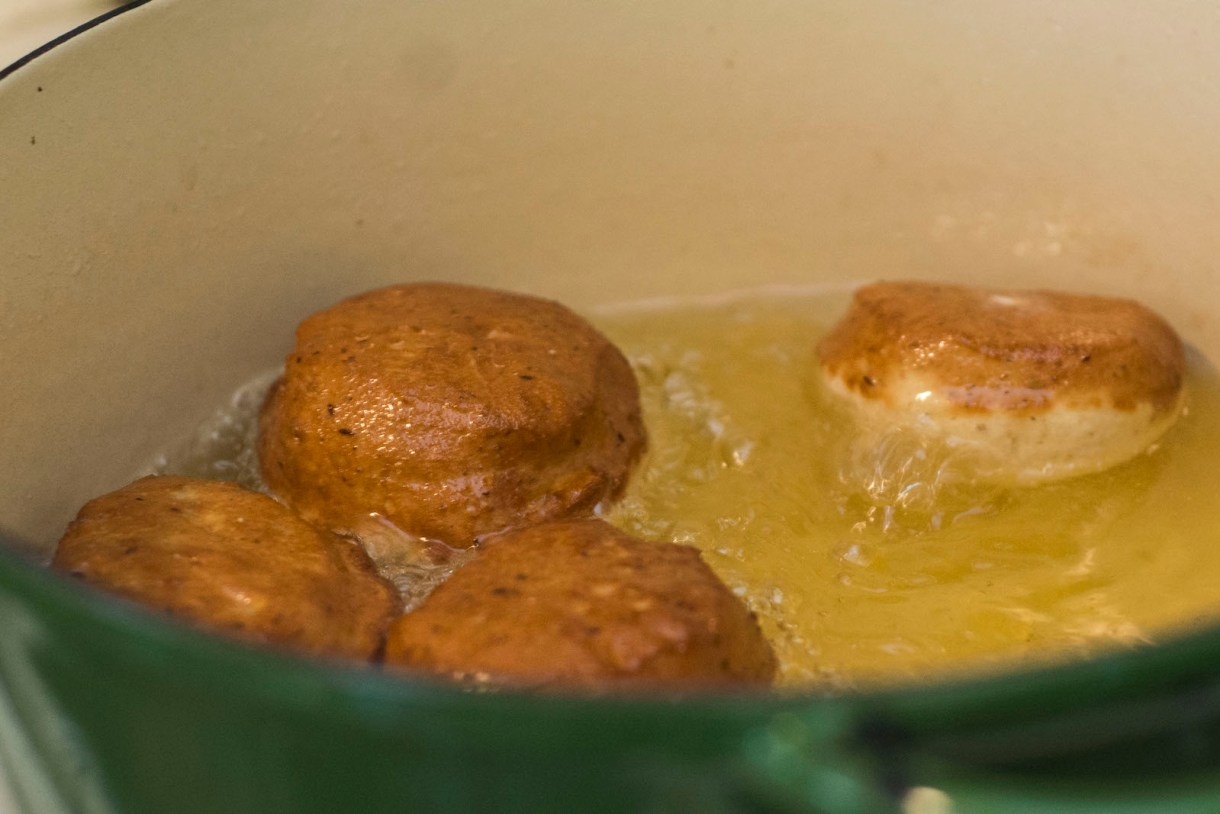 11. If you have a wire rack, cover it with paper towels to drain the donuts. Otherwise, place a thick layer of paper towels on a baking sheet.
12. Fill a pastry bag with jam and fit the bag with a pastry tip. Insert the tip into each donut on the side or at the top and squeeze in the jam. If the jam is very stiff, heat it in a microwave first for 20-30 seconds. Alternate filling strategies if your kitchen isn't completely stocked: use a squeeze bottle like a restaurant ketchup bottle ($2 at Michael's). If using this, use a sharp knife to cut off the top of the tip so it's large enough to get seeds through. Worst case scenario, use a ziploc bag with the corner cut off as a pastry bag. Take a break to let the cat play with the jam jar.
13. Dust with powdered sugar: pour some powdered sugar into a sieve and gently shake it. If not serving immediately, you may need to re-sugar them immediately before serving because it might be absorbed.
An exciting update shared by a friend who I carpooled with recently: you can fill sufganiyot with OTHER FILLINGS. Some non-vegan suggestions: nutella or lemon curd! YUM.
This year, Hanukkah starts at sundown on Sunday, December 2 and ends at sundown on Monday, December 10.