When I think of Orange Is the New Black, I first think of the way Laverne Cox is the most flawless woman ever to exist in the known universes. I then think about how the queue of queer women waiting to date Samira Wiley probably wraps around the moon by now. And finally I think of Piper Chapman and Alex Vause's sexy-destructive chemistry and how probably it is going to get them both killed one day, but it sure is fun to hold my breath and watch the inevitable doomsday play out in the form of scissoring and yelling.
At no point when I am thinking about Orange Is the New Black does food ever enter my mind, so when Orange Is the New Black: The Cookbook landed on my doorstep, I was bamboozled. When I opened the package and saw a prison food tray inside, I was intrigued. When I cooked some of the things, I was hooked. The recipes — which include Pennsatucky's Family Beer Can Bird, Red's Chicken Kiev and Miss Claudette's Easter Cake, just to name a few  — were compiled by Jenji Kohan and a handful of other OITNB writers and producers. And each recipe is written from the perspective of the character whose name is attached to it.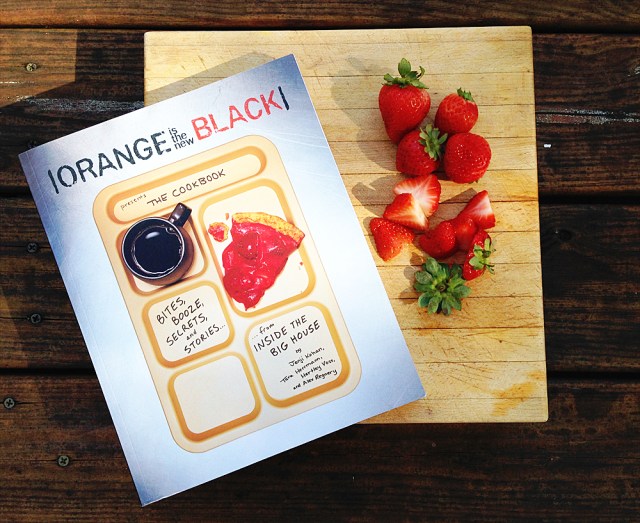 I* made a pie to throw for you. Crazy Eyes's Exploding Strawberry Pie, to be precise. I also made Pete's Pineapple-Marinated "Caribou" with Pineapple Salsa. And Big Boo's Roasted Corn. I wanted to make Poussey's Hooch, but I am visiting my grandparents in Georgia this week and making liquor in the basement didn't seem like a really respectful thing to do.
(*My sister did the hard work. I just chopped the fruits and vegetables, mostly.)
Pete's Pineapple-Marinated "Caribou" with Pineapple Salsa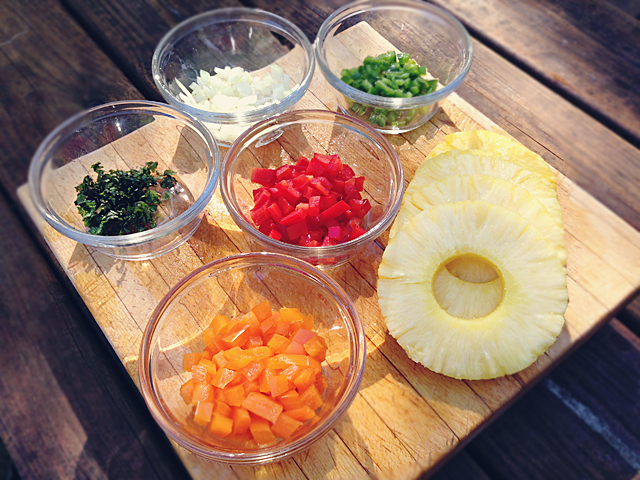 Who is Pete? Pete is Polly's husband, the guy who went away on a safari or whatever after his baby was born, and so lame-ass Larry swooped in and had an affair with his best friend's wife/ex-girlfriernd's best friend. That guy. That's Pete. I just wanted to make a recipe that gave me an excuse to shit-talk Larry, honestly.
Step One: Marinade + Steaks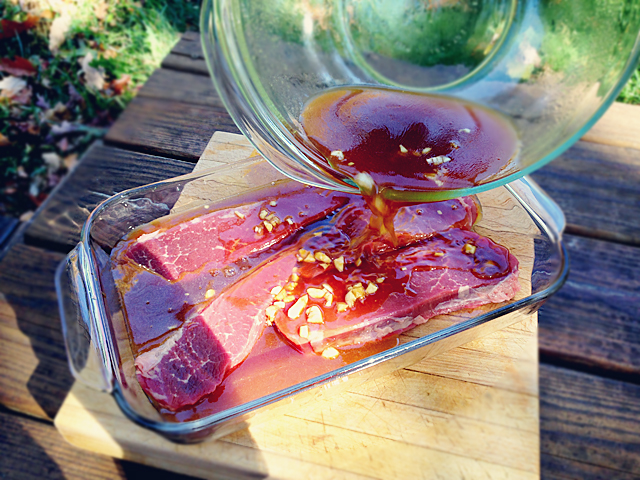 Marinade
1/2 cup fresh pineapple juice
2 tablespoons fresh lemon juice
3 tablespoons soy sauce
1 tablespoon olive oil
1 teaspoon fresh ground ginger
1/2 teaspoon dry mustard powder
1 teaspoon salt
3 garlic cloves, pressed
1 tablespoon Tabasco sauce
Caribou
Two 10- to 12-ounce (beef, venison, caribou, whatever) steaks (about 1 1/2 inches thick), trimmed of visible fat
The Process
Take all of those marinade ingredients and whisk the heck out of them in a big bowl. Whisk and whisk until the not-liquid stuff is dissolved. Then you can either put the steaks in a giant Ziplock bag, massage all the sauce into the meat (after the bag is zipped), and leave the bag in the refrigerator for 24 hours. Or you can place the steaks in a glass pan, pour the marinade over it, cover it with plastic wrap and refrigerate it like that. I guess it all depends on how many Ziploc bags have exploded on you in the past.
Step Two: Topping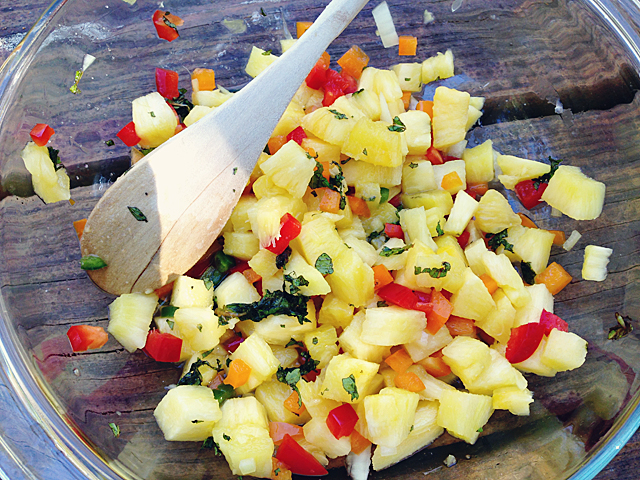 Salsa
1 cup finely chopped fresh pineapple
1 tablespoon finely chopped red onion
1/2 small red bell pepper, finely chopped
1 small jalapeño, finely chopped (keep the seeds if you like it hot, toss them if you don't)
1 tablespoon fresh mint, finely chopped
2 tablespoons fresh lime juice
1/4 teaspoon salt
The Process
Mix all these delicious ingredients together in a bowl. You can use the salsa right away, but if you leave it in the refrigerator for a while, it will allow the flavors to rub all over each other and get more delicious.
Step Three: Cook and Serve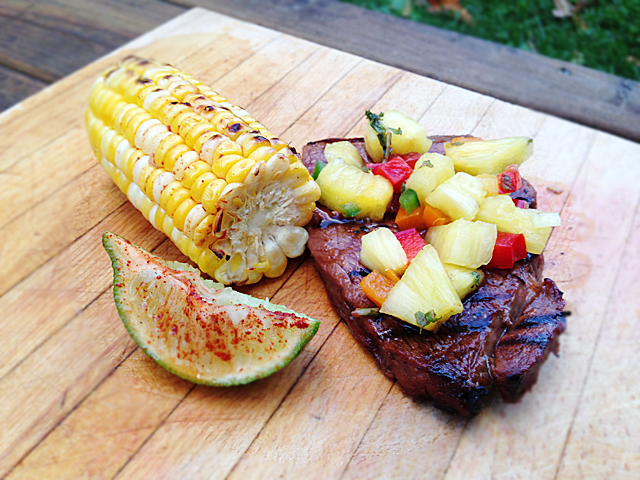 The Process
When it's time to cook the steaks, grill them over an open flame because that's the best way to cook all meats all the time. The rarer, the tenderer, the better. I don't care if it's winter time! Stand outside for ten minutes in a coat and deal with it! You know, or not. You can also cook the steaks on a cast-iron pan with peanut oil and butter (4-6 minutes on each side), and that's pretty delightful too.
If you have any pineapple leftover from the salsa, throw that onto the grill!
Let the steaks rest for five to ten minutes after cooking and then spoon the salsa on top and serve it to your the people you love, or the people who just came over for dinner because they heard you were cooking.
Next page: Big Boo's Roasted Corn and Crazy Eyes's Exploding Strawberry Pie!
Big Boo's Roasted Corn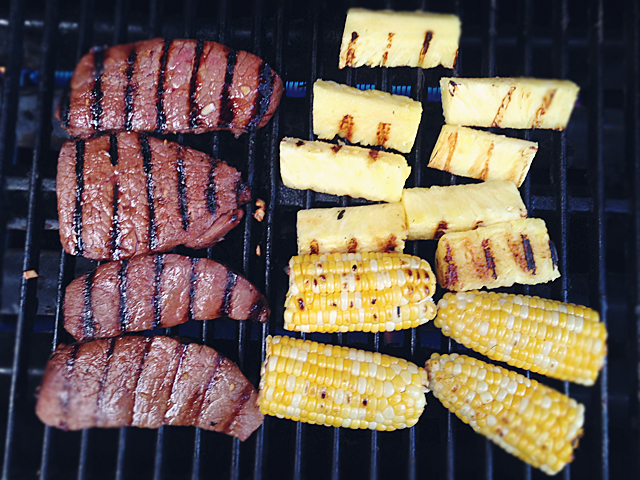 Corn is the great equalizer. Fancy restaurants serve it. Food trucks serve it. Any college student with a microwave can cook it in five minutes. The beauty of corn is three-fold: It is cheap, it is easy, and it can taste like a million different things depending on how you season it.
Roasted Corn Ingredients
Corn, husked with the silk removed
Lime wedges
Salt
Chili powder
The Process
You can roast corn so many ways. I grilled mine with my steaks and some pineapple. You can also shove a skewer in it, turn on your gas burner and roast it over that flame like a camp fire. Or you can put it on a roasting pan and broil it in the oven for ten minutes. The key, no matter which method you use, is to keep turning it until you reach your desired level of chard-ness on all sides.
While the corn is roasting, shake some chili powder and a little salt onto a plate. Coat the lime wedges with the powder. Then, when the corn is done, rub the chili limes onto the corn and serve with your caribou!
Crazy Eyes's Exploding Strawberry Pie
No Orange Is the New Black cookbook experience would be complete without Suzanne's pie. (In fact, the cookbook came with stickers that say "I threw my pie for you!") It's the last recipe in the book, and it is very, very tasty.
Pie Ingredients
1 1/2 quarts fresh strawberries, hulled
1 cup sugar
1/4 cup cornstarch
pinch of salt
2 tablespoons fresh lemon juice
3 tablespoons unsalted butter, cut into pieces
1 nine-inch pie crust
The Process
You can make a homemade pie crust if you have a million hours and are very talented and patient. I have/am none of those things, so I bought one of the refrigerated pie crusts that you roll into a pan and bake in the oven. It's as easy as cooking bake-and-break cookies. You can also buy one of the pre-made crusts that you just unwrap and use. They're the ones that taste like graham crackers. Get the pie crust sorted before you move onto the next thing.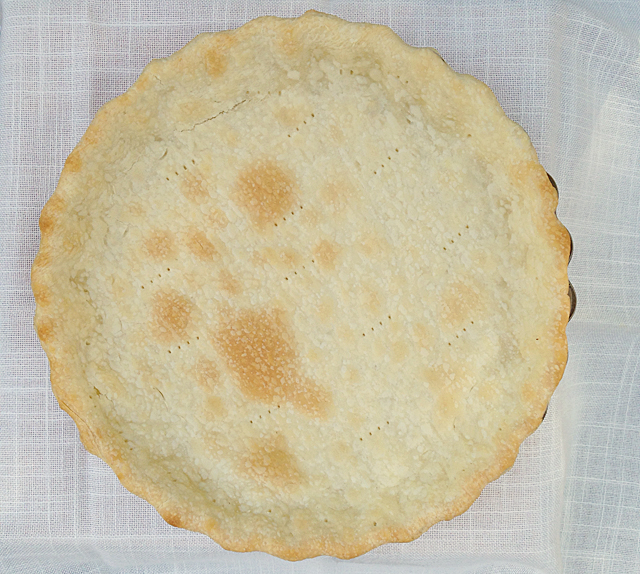 Blend the life out of two cups of strawberries. Keep smushing them until they are puree. Cut the rest of the strawberries in half and set them aside.
In a medium-sized saucepan, add the strawberry puree, the sugar, the cornstarch, the salt, 1/2 cup of water, the lemon juice, and the butter. Put the saucepan over medium heat and bring to a simmer. Let the sauce simmer while stirring constantly for two to three minutes, until it has thickened up and is glossy. Seriously, don't just let this sit there and simmer. Whisk it. Burned sugar is the worst thing.
Add half of your uncooked strawberries to the pie crust and coat them with half of the cooked strawberries. Add another layer of uncooked strawberries and another layer of cooked strawberries. Shake the pie around until all the strawberries are distributed evenly. Refrigerate for four to six hours.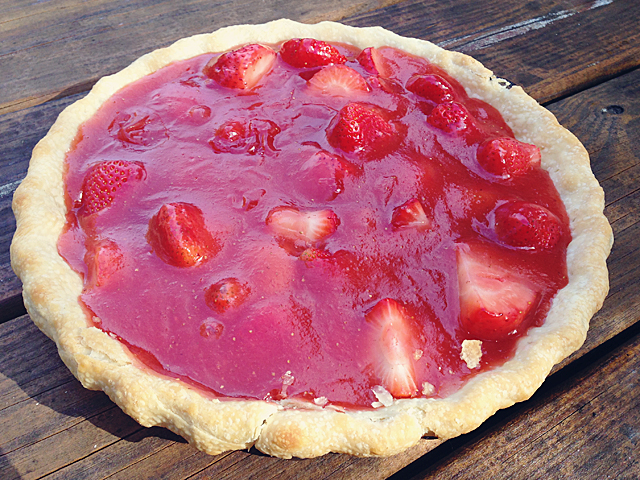 Now it is ready to eat or throw!
If you decide to make Poussey's Hooch, please ship me some/let me know how it turns out.
Pages: 1 2See entire article on one page