Feature image via jamesandeverett.com
---
You remember how I wrote an article recently about how to grow your own sourdough starter? In that article, I promised you the recipe for a sweet-savory rosemary apple pie. Fall is here, and it's baking season! If you've been growing your starter since that post, it should be thick, bubbly, and extremely sour. If not, go ahead and read through the above article to make your own (it's ready to use after about a week!) or ask a friend for some of theirs!
For the crust, you will need:
1 cup sourdough starter
2 cups all-purpose flour
1 teaspoon sea salt
1 ½ cups butter (or half butter, have lard if lard is your jam)
2 tablespoons butter, melted
Directions:
1) In a mixer (or using a hand-held), mix together the flour, salt, and sugar in a bowl on low. Cut in the butter or lard using a pastry knife or paddle until the dough looks crumbly, with pea-sized lumps in it.
2) With the mixer still on low, gradually pour in the sourdough starter, until the dough begins to come together.
3) Turn the mixer off and cover the dough bowl with plastic wrap, letting rise in a warm place for 7 hours.
4) After the dough has risen, remove the dough from the bowl and allow to chill in the freezer for upwards of ten minutes. This will harden the fat and create a flakey crust.
5) Roll out dough on a lightly floured surface using a rolling pin (when I created this, I used a beer bottle since I didn't have a pin but since then my dad gifted me a gorgeous marble pin for my birthday!). Brush with melted butter and drape over pie pan, cutting the edges with a pastry cutter. Save scraps to make a lattice top crust or discard!
For the filling, you will need:
1/3 cup brown sugar
¼ cup all-purpose flour
½ teaspoon ground cinnamon
¼ teaspoon nutmeg
two 2″ springs of fresh rosemary (or 2 tablespoons dried)
1/8 teaspoon salt
8 cups thinly sliced, peeled tart apples (I used pink ladies)
2 tablespoons butter
Directions:
1) Preheat over to 425 F.
2) In a large bowl, mix together apples, sugar, spices, rosemary, flour, and salt. Mix until apples are thoroughly coated, and spoon filling into pastry-lined pie pan. Cut butter into small pieces, dotting the apple filling. If making a lattice crust, follow these instructions.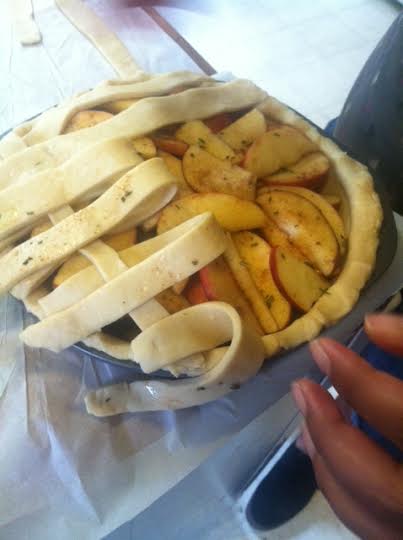 3) Cover pie edges with tin foil to keep from burning, and bake for 40-50 minutes, checking every twenty. Remove foil for the last ten minutes of baking. Allow pie to cool for fifteen minutes, and then serve or keep in fridge for up to four days.